Top 5 Heisman candidates for the 2020-21 season
Date: September 13, 2020
By: John Makuch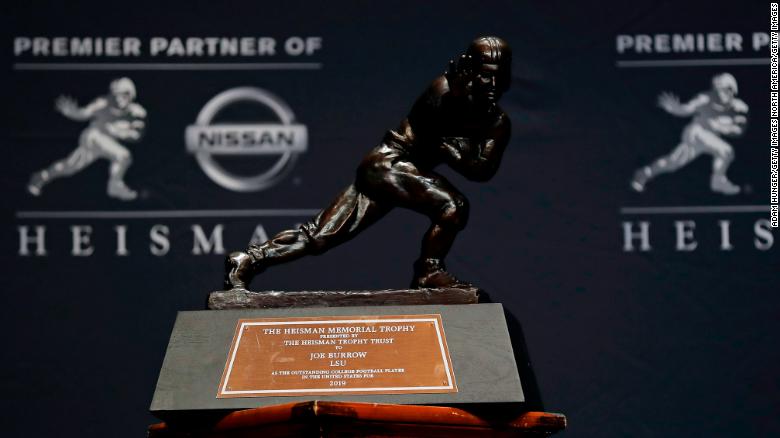 Adam Hunger/Getty Images
The Heisman Trophy is awarded to the best player in all of college football based on performance throughout the season. The award was most recently given to LSU quarterback Joe Burrow in the largest margin of victory ever by a Heisman winner and has been awarded to college football legends such as Barry Sanders, Tony Dorsett, Herschel Walker, and Charles Woodson, the only defensive player to win the award in its history The 2020 college football faces a bit of uncertainty with the Big Ten and Pac-12 conferences currently postponing their seasons. This could cause some changes to who is eligible for the award as it is unclear if players in a spring season will be considered for the award.
Currently, the Big 12, SEC, and ACC are planning their seasons to begin solely in conference play on Saturday, Sept. 26 so only players from these Power-Five conferences will be included in this list of the top-five potential Heisman candidates. 
Honorable Mentions
Brock Purdy, QB, Iowa State
Travis Etienne, RB, Clemson
Jaylen Waddle, WR, Alabama
D'Eriq King, QB, Miami
5. Chubba Hubbard, RB, Oklahoma State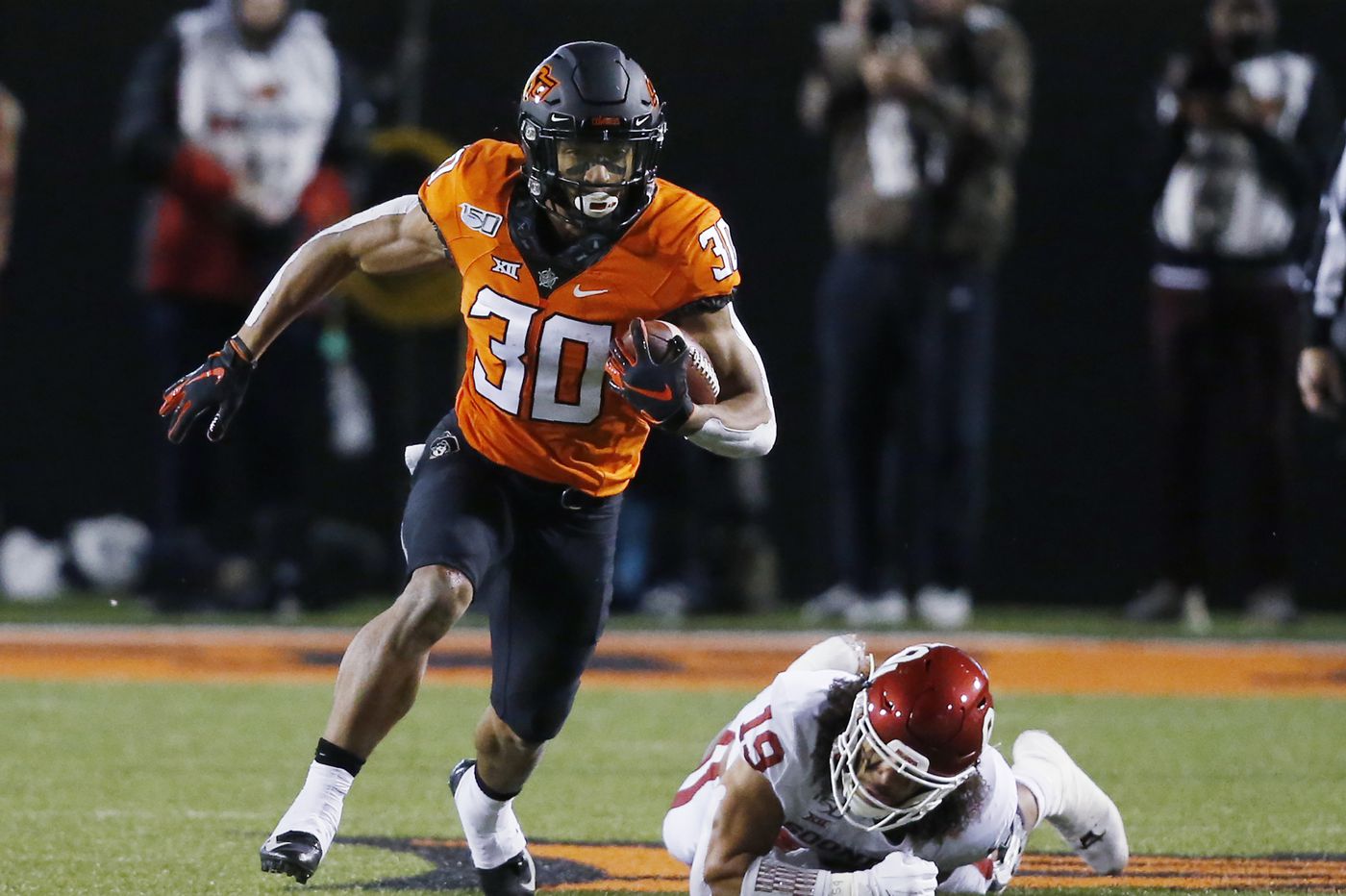 Sue Ogrocki/AP
Big-12 defenses hit the panic button when superstar running back Chubba Hubbard announced he was returning for the 2020 season. Oklahoma State is also expected to make a huge jump this season after finishing 8-5 in 2019. The defense returns 10 of 11 starters, and the offense brings back Tylan Wallace a 2018 Biletnikoff finalist who missed the entire 2019 season due to a torn ACL. The offense also returns quarterback Spencer Sanders who has shown a ton of promise after being named Big-12 Offensive Freshman of the Year.
With Oklahoma State locked and loaded for another run at dethroning rival Oklahoma who has lost multiple players to opt-outs and injury, it is entirely possible the Cowboys only lose one or two games this season, so the winning will not be something Hubbard has to worry about when it comes to the Heisman voters. This leaves a player who finished his 2019 campaign with 2,094 yards and 21 touchdowns while averaging 6.2 yards-per-carry in a great position to finish his junior year as the first running back to win the Heisman since Derrick Henry in 2015.
Arguably the best running back in college football gets to play nine games against Big-12 defenses that are known for being weak on that side of the ball. An improved passing game from the Cowboys will lead to more big-play chances for Hubbard, and an improved defense will lead to more possession time for the offense as well. The formula is there for Hubbard and Oklahoma State to run over the Big-12 this season, the big question is their consistency, which is something we have not seen from the Cowboys as of late.
4. Sam Howell, QB, University of North Carolina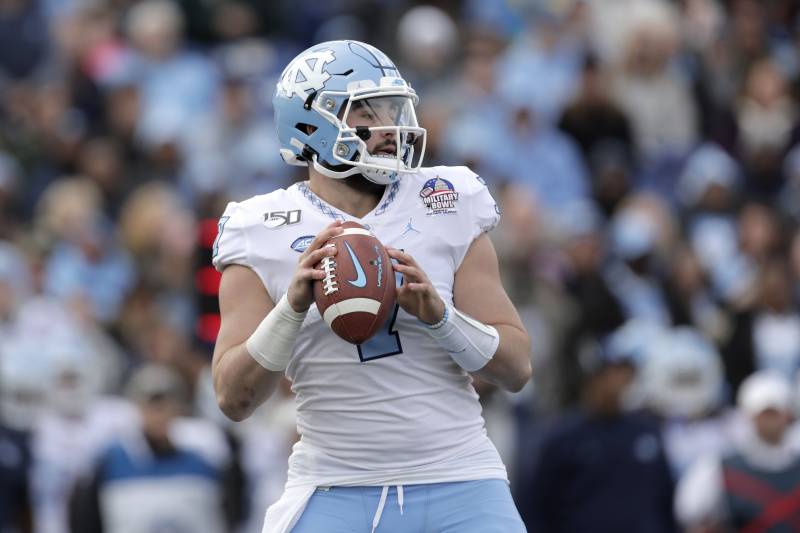 Julio Cortez/Associated Press
The true freshman for the Tar-Heels turned plenty of heads at Chapel Hill last season, with Howell throwing for 3,641 yards alongside 38 touchdowns and just seven interceptions. He led the charge in a near-upset of Clemson in 2019 and had plenty of standout performances throughout the season. Howell put his name on the radar for not just the ACC but the entire country and is being considered a player that can put UNC in a position to compete with Clemson for the ACC crown. But how will a team that finished 7-6 last season do good enough to have a Heisman winner?
The key is their youth constantly improving. Four of five starters will be returning on the offensive line, the receiving trio Dyami Brown, Dazz Newsome, and Beau Corrales are only looking to improve in 2020. The defensive side of the ball will look to rebuild after losing four starters, but the incoming recruiting class could make an early impact currently ranked 13th in the entire nation and head coach Mack Brown will look to make the most of these new players along with Howell. Howell has the weapons, Howell has the line, Howell has the coaching, so what is in his way this season?
UNC's most difficult games will most likely come against Notre Dame and Miami, if they were to make the ACC championship Clemson would most likely be there, so what makes this 7-6 team different besides their stacked offense? All of their losses in 2019 came by one possession, this team scratches and claws to keep themselves in games, and so will their quarterback Howell in the Heisman race if last season is any sort of sign for the future. 
3. Spencer Rattler, QB, Oklahoma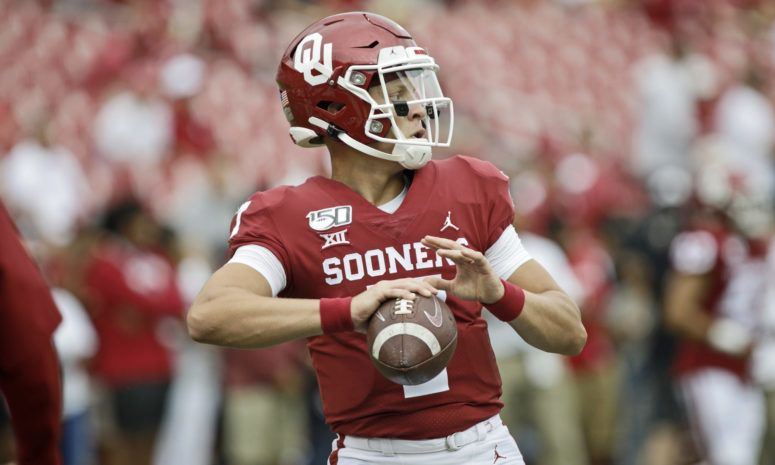 Brett Deering/Getty Images
 Baker, Kyler, Jalen, and now Spencer, there is a huge amount of pressure on the No. 1 dual-threat quarterback coming out of high school to perform to the level of the two Heisman Trophy winners and finalist that came before him. The key to this success however has been Lincoln Riley and his offense now in its fourth year at Oklahoma. The offense is efficient and produces at a level unlike many offenses the college football world has ever seen.
Now, this could potentially be a down year for the Sooners, losing first-round wide receiver Ceedee Lamb and losing Kenneth Murray and Neville Gallimore to the draft as well. On the defensive side of the ball, Caleb Kelly has been lost to injury, and sack leader Jalen Redmond has opted out of the 2020 season. The offense also loses starting-running back Kennedy Brooks for 2020 along with Trey Sermon who transferred to Ohio State earlier this year, so the Sooners will need to replace a lot of talent, but years past have shown this is more than possible in Norman. Rattler is the new leader in an offense that has lost talent from 2019, but is ready to stay in form in 2020, as for his receiving core, Charleston Rambo, and transfers Obi Obialo and Theo Howard, who has recovered from an Achilles tear look to provide a veteran impact in leading the core.
This opens up the young emerging talent most notably sophomore Theo Wease who showed plenty of promise in 2019 as a freshman. The offensive line includes a freshman at left tackle but returns four juniors most notably center Creed Humphrey who is to many the best center in the country. This line will be blocking for a running back room with plenty of depth in TJ Pledger, Marcus Major, Rhamondre Stevenson, and 4-star recruit Seth McGowan who has impressed in camp, it will just come down to who gets the bulk of the carries but this will allow Oklahoma to run plenty of play-action for Rattler.
Rattler is the first non-transfer quarterback of Lincoln Riley's tenure at Oklahoma so this will be an interesting year for the offense to show just how good they truly are. Rattler's talent has never been questioned however, in only seven games Rattler threw for 23 touchdowns with just three interceptions and has looked solid in his short appearances as a redshirt last season. Oklahoma has made it tradition for their starting quarterback to be in the Heisman conversation, and if Rattler is as talented as we all imagine, he will be a Heisman finalist at the very least in 2020.
2. Sam Ehlinger, QB, Texas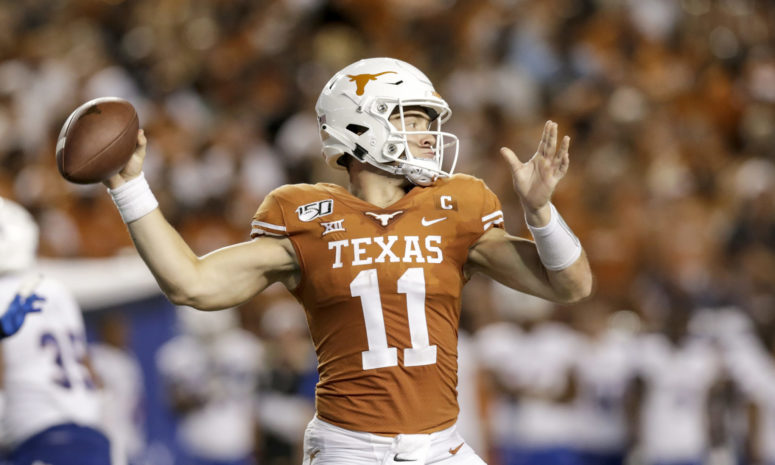 Tim Warner/Getty Images
The senior for the Texas Longhorns has had high expectations throughout his career and he has shown that he has all the talent in the world, but the winning has not been there. Texas has had aspirations of winning the Big-12 and even making a playoff spot the past few years but juggernaut Oklahoma has found a way to block Ehlinger's path to the playoffs the past few seasons. Texas has recruited well under Tom Herman and the talent has shown on both sides of the ball, it has just turned into seasons such as 2019 where the Horns finished 8-5.
Ehlinger made big steps in 2019, throwing for 3,663 yards and 32 touchdowns but doubled his 2018 interception total yet only threw 10 picks this past season. Ehlinger rushed for only seven touchdowns last season compared to 16 in 2018 but this total is a result of Texas improving as a collective offense, and Ehlinger improving as a passer. The increase in passing was also a result of receivers Collin Johnson and Devin Duvernay having star seasons, but they were both lost in the most recent NFL draft. With all this in mind, where does this leave Texas and their quarterback's Heisman hopes?
Texas has shown the potential to beat great teams, beating Utah in their bowl game this past season right after beating Georgia the year before. This season their main problem Oklahoma has lost defensive pieces and is starting a freshman quarterback opposed to Ehlinger in his senior season, Texas has the experience on the offensive line as well led by the anchor at left tackle Samuel Cosmi who looks to be a top ten pick in next year's draft. The run game is deep with five-star talent Bijan Robinson, along with junior Keaontay Ingram and Roschon Johnson. The defense most likely will not have a noticeable drop off this year, with Oklahoma losing pieces and with Ehlinger getting better and on a mission, there are not many reasons why Ehlinger and the Longhorns won't be able to capitalize on a worse Oklahoma and finally be able to tell the world "we're back" in a Heisman Trophy campaign. 
1. Trevor Lawrence, QB, Clemson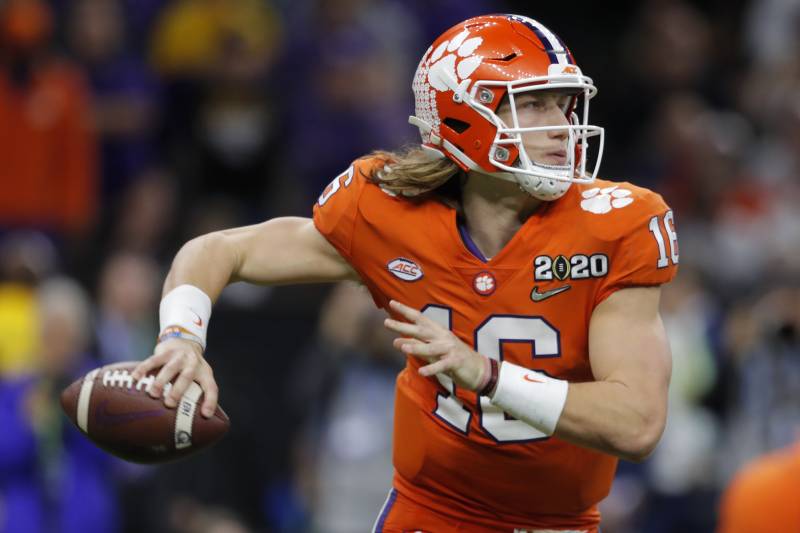 Gerald Herbert/Getty Images
The best quarterback, playing for the best team in college football that makes the ACC look like child's play. Clemson always finishes with one of the best-recruiting classes in the country and is a deep team with talent all over the field. Lawrence took a step back in terms of interceptions last season throwing eight compared to four in 2018 after a rough first few games where the interceptions made many fans question if he was as good as we all thought. But he showed throughout the rest of the year he was still the best quarterback in the country finishing with 36 touchdowns and 3,665 passing yards. A drop off in terms of what many across the country expected coming into 2019, but Lawrence will have a lot to prove after losing his first college game in this past national championship to LSU.
Losing star receiver Justyn Ross is a big blow but sophomores Joseph Ngata and Frank Ladson Jr. along with seniors Amari Rodgers and Cornell Powell will look to step up in Ross's absence. Lawrence will also have a top-three running back in all of college football in Travis Etienne who elected to return for his senior season in what should be a loaded offense for the Clemson Tigers. 
UNC will look to threaten the ACC crown for the Tigers, but Clemson's talent is clearly superior, and even a loss this season is unlikely. An undefeated team with Lawrence stepping up statistically and throwing over 4,000 yards and 43-46 touchdowns are realistic expectations for him this year. And potentially not having Big Ten players as competition, most notably Ohio State quarterback Justin Fields, sets the bar a bit lower in terms of the statistics needed for Lawrence to win the award. In what should be his final year as a Tiger, a Heisman and another national championship would further solidify his guaranteed slot not just as the No. 1 pick in the NFL draft, but as a college football legend, as well.
John Makuch can be reached at jmakuch524@gmail.com.