The WSOU Sports staff predicts the College Football National Championship
Date: January 10, 2021
By: The WSOU Sports Staff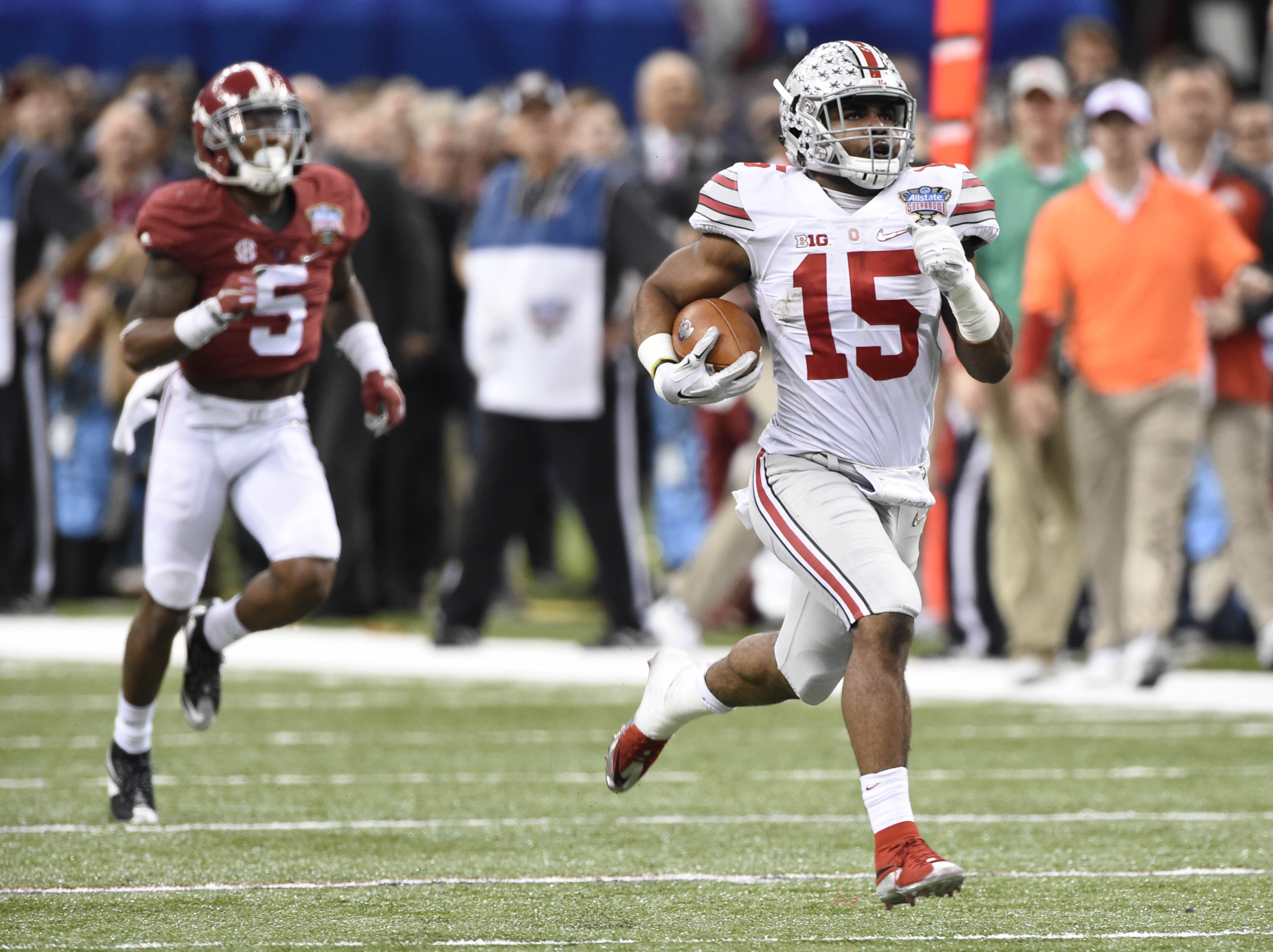 John David Mercer/USA TODAY Sports
As the College Football season comes to a close with the National Championship game tonight, we asked our staff to predict the winner of the game between No. 1 Alabama and No. 3 Ohio State. Here are our staff's picks for the National Championship:
Christian Gardner, Assistant Sports Director
It has been no secret all year the dominance that Alabama has shown the college football world. The 17-time national champions are on their way to another one with all the stars they have on offense. Devonta Smith won the Heisman at wide receiver for a reason. Smith has been nearly unguardable no matter who lines up across from him. In his last two games alone vs. Notre Dame and Florida he has 22 catches for 314 yards and five touchdowns. I don't see the Buckeyes able to slow that down but even if they can the Crimson Tide also has another national award winner in Najee Harris. Harris made headlines with his hurdle in the semifinal. His performance against Notre Dame was an example of his athleticism and elusiveness. Harris is a problem for anyone to bring down out of the backfield and just another weapon in the loaded arsenal that Alabama has.
Final Prediction: Alabama 45 - Ohio State 30
Michael Daly, Station Manager
The College Football Playoff National Championship between the Alabama Crimson Tide and the Ohio State Buckeyes is the culmination of the craziest college football season in history. The game features two of the best quarterbacks in the country in Alabama's Mac Jones and Ohio State's Justin Fields. When the game happens there will be fireworks and the Alabama Crimson Tide will be the favorites going in with the Heisman Trophy Winner DeVonta Smith and quarterback Jones. It is important not to sleep on Ohio State because they upset Clemson, and they have a ton of confidence going into this matchup against Alabama.
Final Prediction: Ohio State 48 – Alabama 42
John Makuch, Sports Staff Member
Betting against Coach Nick Saban and the Alabama Crimson Tide a majority of the time has been the wrong decision to make. But this Ohio State team that has gone through less wear and tear with a shorter schedule may have the edge yet again. The Buckeyes have a star running back yet again with former Oklahoma Sooner Trey Sermon who has been on an absolute tear and will be very difficult to stop. Not to forget future top-10 pick Justin Fields who showed he is the toughest player in the country. Ohio State seems to have the edge in this classic matchup, but Alabama could always prove me wrong here.
Final Prediction: Ohio State 38 - Alabama 32
Jimmy Bliss, Sports Staff Member
Two college football blue bloods will collide on Jan. 11 to crown college football's best. Ryan Day and Ohio State have a tall task ahead of them to take down Nick Saban and the 17-time National Champion Alabama Crimson Tide. With Justin Fields, Trey Sermon and Chris Olave, Ohio State have the offensive firepower to compete with anyone in the country. They embarrassed Dabo Sweeney's defense on New Year's Day and are hitting their stride at the right time of year. Against Mac Jones, Najee Harris, DeVonta Smith and potentially Jaylen Waddle, the Buckeyes will need to put up a plethora of points to take down the Tide. I believe they do just enough to sneak out of Miami with their ninth National Championship.
Final Prediction: Ohio State 38 - Alabama 34
Liam Plate, Sports Web Editor
For me, it's pretty simple. Alabama is and has been the best team in college football this entire year. While Justin Fields and Ohio State have had a successful season and defeated No. 2 Clemson, I think the number of games they've played this season will impact them. Alabama is the best team from the best conference, and I think they'll get the win.
Final Prediction: Alabama 42 – Ohio State 38
Liam Plate is the Web Editor for WSOU Sports, and can be reached at wsousportswebeditor@gmail.com.
Posted in: Sports