The story of the NFC Least
Date: October 17, 2020
By: Ryan Henry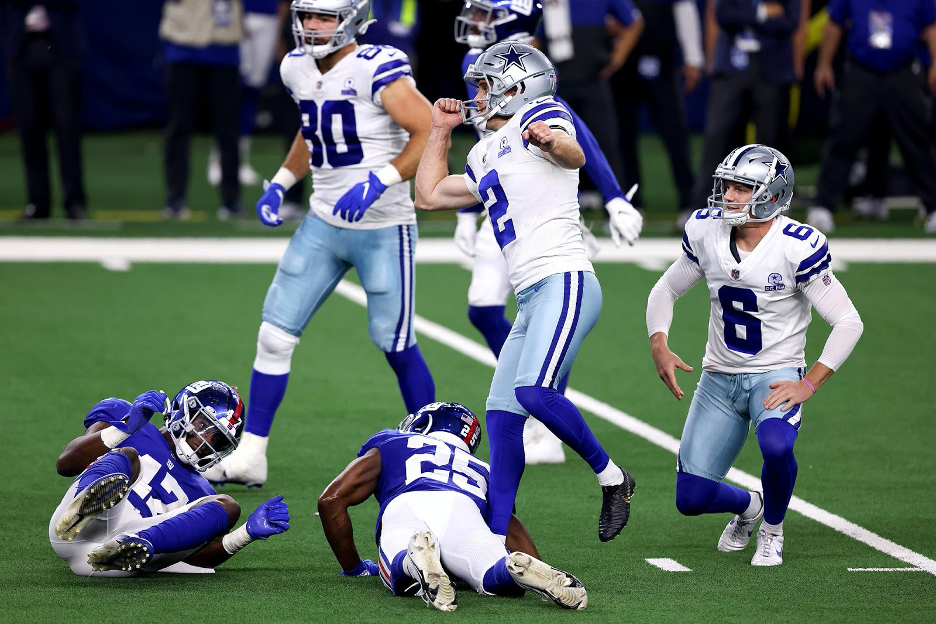 Getty Images
In an NFL season full of chaos, one of the more interesting storylines has to be the NFC East, and their lack of success throughout the entire division. At a combined record of 4-15-1, the NFC East by far has been the worst division in football. Due to a combination of bad injury luck, strength of schedule, and overall incompetent play on the field, NFL fans are witnessing one of the worst divisions in NFL history. No team in this division hasn't had any consistency so far.
By how the first five weeks have played out so far, it's going to be a long season for anyone who is a fan of the Eagles, Cowboys, Giants, or Football Team. Because every team in the NFC East has to play every team in the AFC North and NFC West, two very good divisions this year, whoever comes out of this division will probably win seven games, at most eight. So why has every team in this division struggled so much?
1. Dallas Cowboys (2-3)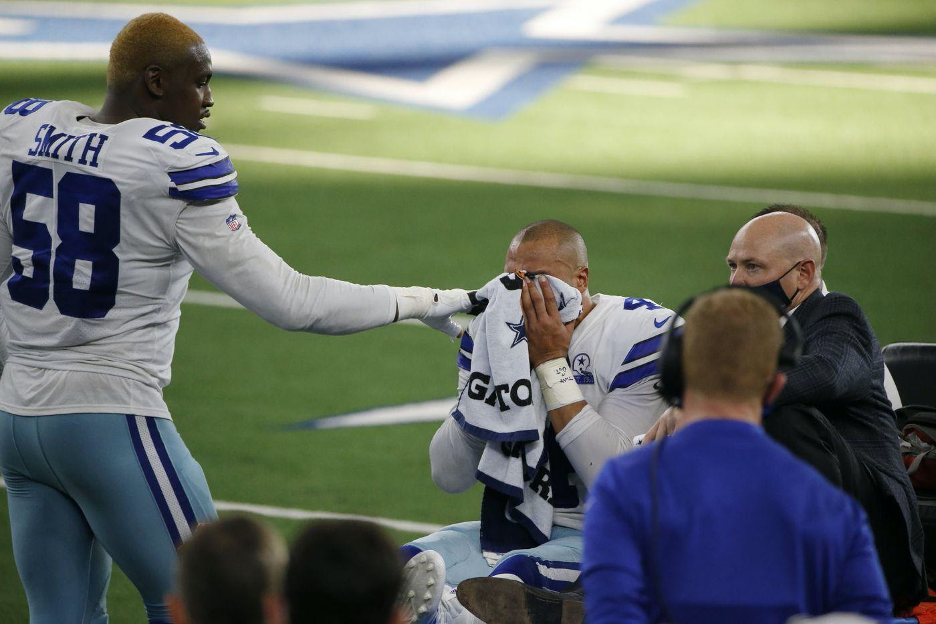 Michael Ainsworth/AP
Before the horrific injury to star QB Dak Prescott, the Cowboys weren't looking too great to start the 2020 NFL season. Their defense, which ranks 27th in yards allowed per game at 404.4 and last in points allowed per game at 36, hasn't been able to stop anyone. Their game against the Giants resulted in the fourth straight game where the Cowboys gave up at least 34 points. Their lack of defensive production has mainly been the result of injuries. It all started with free agency acquisition Gerald McCoy rupturing his quad in training camp, then linebacker Sean Lee went on IR after undergoing hernia surgery. Star linebacker Leighton Vander Esch broke his collarbone in week one, and Chidobe Awuzie, who replaced Byron Jones as the team's No. 1 cornerback, suffered a hamstring injury the following week.
The remnants of a Cowboys defense that was 11th in points allowed per game last year has now given up 34 and 49 points to Daniel Jones and Baker Mayfield. With Dak Prescott going down for the year and injuries to starting offensive linemen, Tyron Smith and La'el Collins, the Cowboys are going to have trouble maintaining their elite offense.
To be fair, Dallas does have the offensive firepower unmatched by most teams, and Andy Dalton is probably the best backup QB in the league with years of experience under center. Despite Dallas's injuries, they should be competing for the NFC East title.
2. Philadelphia Eagles (1-3-1)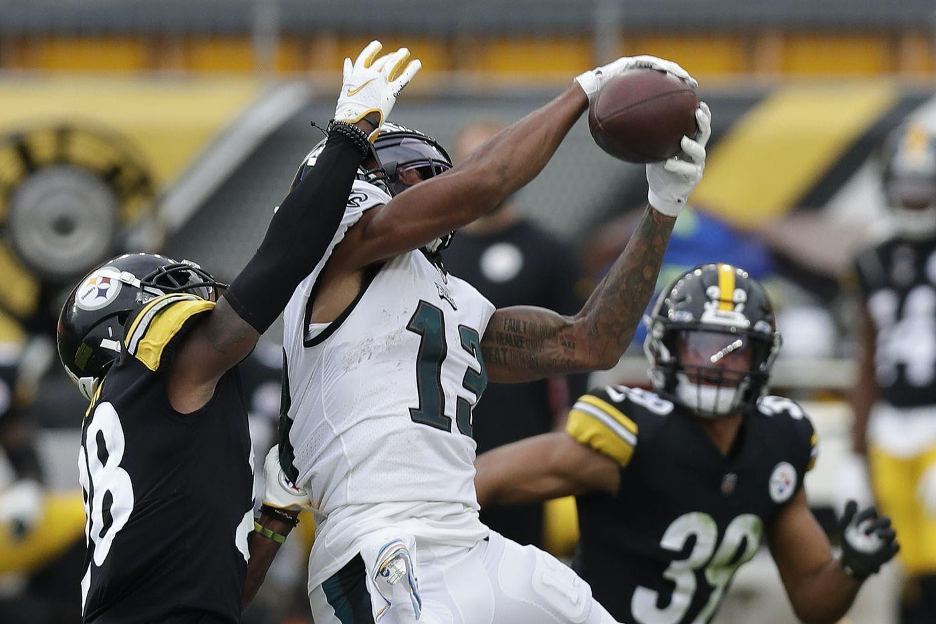 Yong Kim/Philadelphia Inquirer
Despite how unusual 2020 has been, some things never change. Sadly, for the Eagles, the injury plague that affected this team since their Super Bowl title in 2017 is still here. Going into the season, the Eagles' top receivers were supposed to be: DeSean Jackson, Alshon Jeffery, and Jalen Reagor. They have a combined 217 receiving yards. DeSean Jackson leads the four with 121 receiving yards, but he's missed the last two weeks with a hamstring injury. Reagor, the team's first round pick, went on IR after tearing his UCL in week 2. Jeffery hasn't played at all this season due to a Lisfranc Injury on his foot. The offensive line, who retained all their starters from last year, only has center Jason Kelce healthy right now.
Going into camp, Andre Dillard, who was supposed to replace stalwart Jason Peters, suffered a biceps injury. Peters, who replaced Dillard, went on IR with a toe injury before their week four game. All-Pro guard Brandon Brooks tore his Achilles in camp, the other starting guard Isaac Seumalo went on IR with a knee injury
after week two, and tackle Lane Johnson has been in-and-out of the lineup with an ankle injury.
Carson Wentz, who was the only source of consistency last year has regressed. He ranks last among all qualified QBs in passer rating at 68.5 and leads the league in interceptions with nine, more than any amount he has thrown in the last three seasons. If there is any sort of optimism for Eagles fans, this situation isn't unfamiliar territory. The Eagles have overcome bad injury luck to make the playoffs the last three seasons. With the mediocrity that is the NFC East, the Eagles should be in the mix for NFC East title with the Cowboys.
3. Washington Football Team (1-4)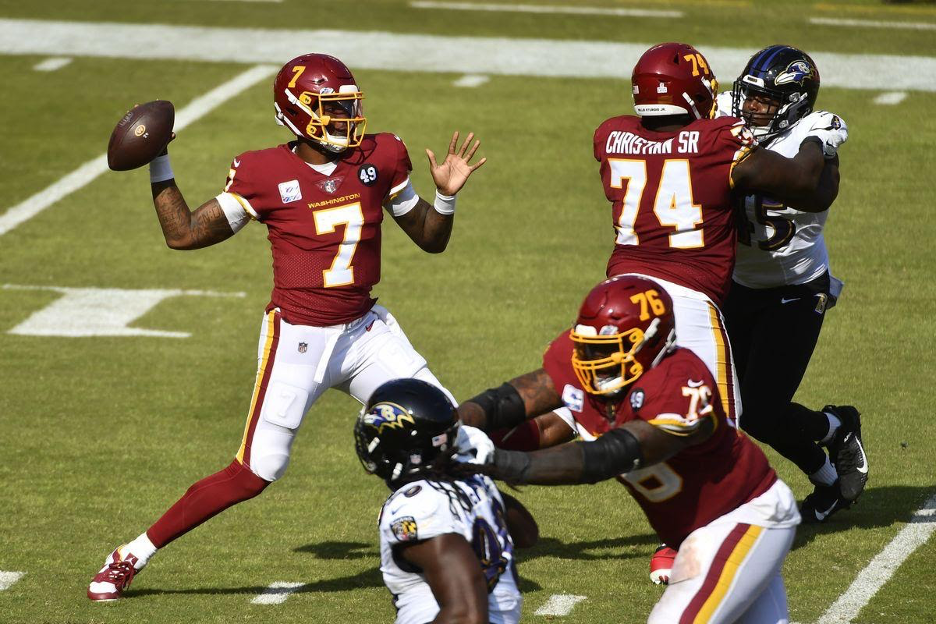 Brad Mills/USA TODAY SPORTS
With their impressive week 1 victory over the reigning division champs, many Washington football fans finally had hope for this team after years of mediocrity. But as great as the hype was for this team after week one, Washington has been on a downward spiral the last four weeks. They have made some great strides towards the future. Ron Rivera has been a great coach, and even with his battle with cancer, he is leading his men every week and establishing a great culture in Washington.
Antonio Gibson has emerged as a possible running back for the future in his rookie season, and their defense is loaded with talent in Chase Young, Montez Sweat, Jonathan Allen, Ryan Kerrigan, Kendall Fuller, and a resurgent Ronald Darby. But in the end, you need a great QB to be successful in the NFL, which Washington doesn't have. It's obvious that the Dwayne Haskins-era hasn't been successful, and this is why Washington sits at 1-4 with one of the league's worst offenses.
After scoring 27 against the Eagles, Washington has failed to score over 21 points in the last four weeks, and currently ranks last in offensive yards per game at 263 and 30th in points-pe- game at 17.8. Washington will probably once again be out of the playoff picture unless Kyle Allen or Alex Smith really step it up.
Good news for Washington fans, your future looks bright with Ron Rivera leading the team. Now, all you need is to draft a great QB, and thankfully for you, this class features Trevor Lawrence, Trey Lance, and Justin Fields.
4. New York Giants (0-5)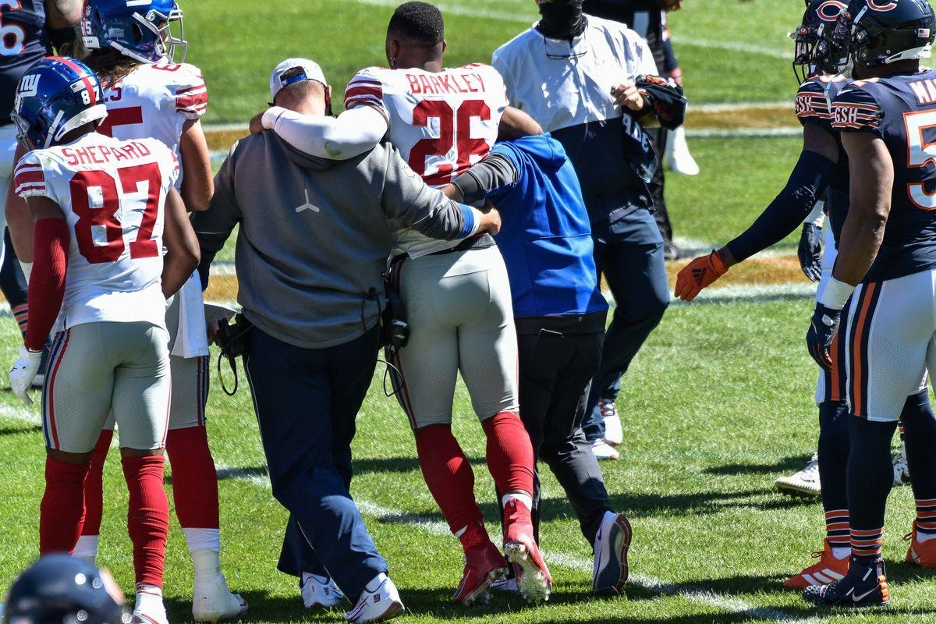 Jeffrey Becker/USA TODAY SPORTS
The only team who might be worse than the Giants this season is their New York AFC counterpart in the Jets. This year was supposed to be a rebuilding year for the Giants, but not many fans expected them to be this bad. Their offense is ranked among the worst in the NFL, being 30th in yards-per-game at 282.4 and 31st in points-per-game at 16.2. Injuries to superstar running back Saquon Barkley, wide receiver Sterling Shepard, and tackle Nate Solder have made an already bad offense even worse.
Sophomore QB Daniel Jones hasn't been that inspiring. He ranks 27th among qualifying QBs in completion percentage and QBR. He is also only thrown two touchdowns this season compared to five interceptions. With a draft class loaded at the QB position, the Giants might give up on Jones this offseason. If there is a positive to take from this season so far, their defense so far hasn't been a complete dumpster fire. They are top-10 in yards allowed per game and are in the middle of the pack for points allowed per game.
The offseason acquisitions of Blake Martinez, James Bradberry, and Logan Ryan have turned a defense that was 30th in points allowed per game last year into a competent unit. Unfortunately, this season looks like another rebuild year for the G-Men as the tank for Lawrence will be as strong as ever.
Ryan Henry can be reached at ryan.henry@student.shu.edu.