The NFL's next dynasty
Date: September 15, 2020
By: Jonathan Heite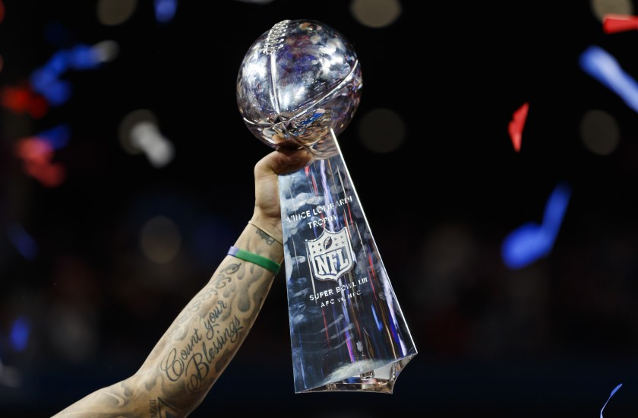 Ryan Kang/Associated Press
The balance of power in the NFL has officially shifted. After two decades of New England domination, the Patriots are no longer the team to beat. Tom Brady will look to start the next chapter of his legendary career in Tampa Bay, and Bill Belichick will look to find success with Cam Newton, his new quarterback looking for redemption. During their unprecedented run, New England won six out of nine Super Bowls and played in 13 AFC Championship games. The big question now is who the next team will be to take over the NFL for the next decade.
The Patriots' dynasty was rare in the world of sports, and there may not be any teams able to replicate this level of success. The Kansas City Chiefs are arguably the next team up after their impressive Super Bowl run last season, but there is still uncertainty about whether they can sustain their dominance for a long period of time. Here are three teams that I think could become not only the next dynasty, but forces to be reckoned with for the upcoming season.
Kansas City Chiefs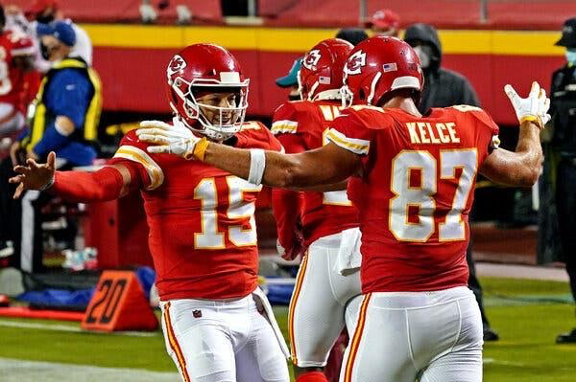 Denny Medley/USA Today Sports via Reuters
The keys to a successful dynasty as shown by the Patriots include a young dynamic quarterback, a great head coach, and a ton of weapons on both the offensive and defensive sides of the ball. The Chiefs check off all these boxes and more. Patrick Mahomes is a clear-cut superstar and has took the NFL by storm during his first two seasons in the league. After bursting onto the scene in 2018 with a campaign that included 5,097 passing yards and 50 touchdowns, Mahomes put the Chiefs on the map. During the 2018 playoffs, Kansas City was only one play away (Dee Ford penalty blunder) from making Super Bowl LIII and completing his historic season.
Despite the missed opportunity, Mahomes came back last year with a vengeance, throwing for 4,031 yards and 26 touchdowns, as well as finally leading the Chiefs to the promised land in a Super Bowl LIV 31-20 win against the 49ers. In July, his highly deserved extension came ($450 million plus incentives), locking him into the Chiefs' quarterback role for the next 10 years. Coach Andy Reid finally won his first Super Bowl last season and now has a generational quarterback to captain his high-octane offensive schemes. Mahomes also has a plethora of playmakers at his disposal, who can all change the momentum of a game in a single play.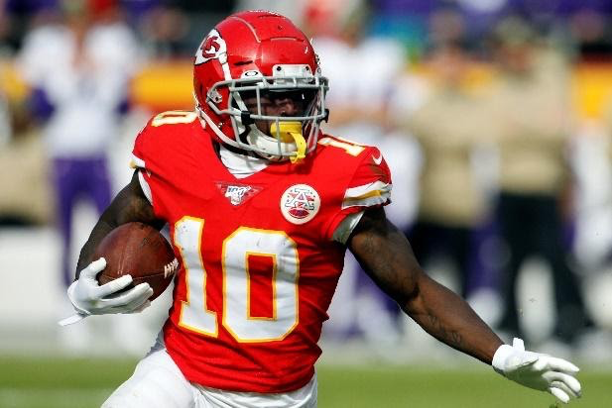 Associated Press
The speedy wide receiver core of Tyreek Hill, Sammy Watkins, Mecole Hardman, and Demarcus Robinson have dominated over the past two seasons, giving Mahomes the freedom to throw downfield with ease. Whether it is a screen pass to Watkins or vertical bombs to Hill, Mahomes can fly in and out of the pocket and use his cannon of an arm to make plays every single down. His reliable tight end, Travis Kelce, is coming off another 1,229-yard, five-touchdown campaign, and will always be Mahomes' right hand man.
Some questions that have recently been answered over the past two seasons include Reid's backfield, as well as his defense. After a 138-yard and one touchdown performance last Thursday night against the Texans to open this season, rookie Clyde Edwards-Helaire gives Mahomes another option both in the running and passing game. Look for the LSU running back to continue to breakout and be a focal point in this budding dynasty.
We got all weekend to watch these highlights 🤗

(via @NFL) pic.twitter.com/0uM60iPfn7

— Kansas City Chiefs (@Chiefs) September 11, 2020
Finally, on defense, led by safety Tyrann Mathieu (the Honey Badger), a defensive line of game wreckers in Frank Clark and Chris Jones, and a young group of corners including players such as rookie L'Jarius Sneed (also had his first career interception on Thursday), the team has a quality defense. Because the Chiefs are almost unstoppable on offense, the defense has the task of simply giving Mahomes as many chances as possible on the offensive end each game.
No one knows for certain if Mahomes and company can replicate New England's domination, but certainly know Kansas City will be Super Bowl contenders for years to come.
Baltimore Ravens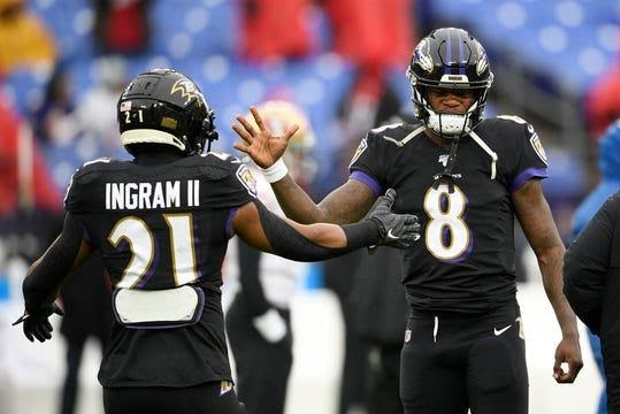 Associated Press
Next up on the list is currently the second of the two titans reigning over the AFC, the Ravens. Comparable to the Colts and Patriots battles of the mid 2000s, Baltimore will look to dethrone the Chiefs and start a dynasty of their own.
The key to the Ravens' future success fall on the shoulders of the reigning MVP, quarterback Lamar Jackson. Coming off a career year where Jackson threw for 3,127 yards and 36 touchdowns, as well as rushing for 1,206 yards and seven touchdowns, he is looking to avenge his postseason upset loss to the Titans, 28-12.
Human highlight reel @Lj_era8 pic.twitter.com/C0RpZbQRjt

— Baltimore Ravens (@Ravens) December 23, 2019
Jackson is currently in the third year of his four-year rookie contract, with the Ravens looking to sign him to an extension within the next few years. He is the exciting centerpiece of a complete team with many similar characteristics to Kansas City. Coach John Harbaugh is one of the best in the game and has developed the team into a force on both sides of the ball.
Surrounding Jackson on the offensive end includes a stellar running game that Baltimore heavily emphasizes, with four dynamic players in the backfield in Mark Ingram, Gus Edwards, Justice Hill, and second round rookie J.K. Dobbins. Baltimore is known for running teams into the ground while opening the door for a potent play-action game. Look for Ingram and Dobbins to thrive in this system not only next season, but to continue going forward with Lamar Jackson at the helm.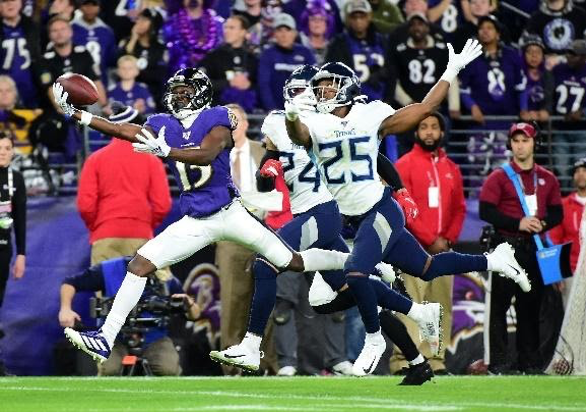 Sports Illustrated
The Ravens also have a solid receiver core led by Marquise Brown (Hill like explosiveness), who excels with his speed downfield. Tight end Mark Andrews is their other big-name target who plays a similar role as Kelce to Mahomes, acting as Jackson's reliable option.
One area that the Ravens are superior to the Chiefs is their solid defense. They added big time veteran linemen in Derek Wolfe from Denver and Calais Campbell from Jacksonville, and drafted linebacker Patrick Queen who will make an immediate impact on an already well-equipped defense. Despite releasing Earl Thomas at the end of August, their secondary still ranks towards the top of the NFL, led by cornerback Marcus Peters.
All the pieces are in place for the Ravens to challenge Kansas City for league dominance, but still face obstacles in the AFC (Chiefs and even teams like the Titans). Their time is now, and only time will tell if they can create their own legacy in the next decade.
San Francisco 49ers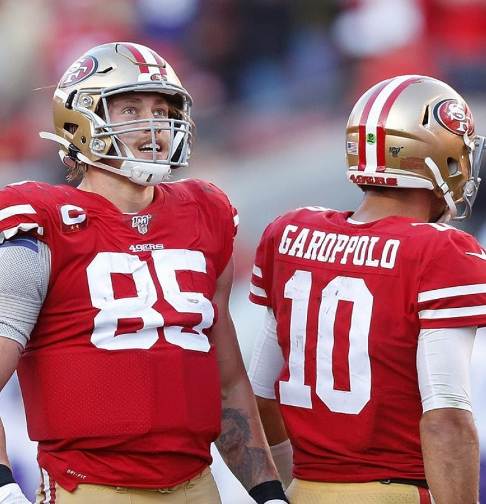 Getty Images
After having arguably one of the greatest dynasties in pro sports history in the 80s and 90s, the 49ers are looking to start a new chapter. Despite losing in the Super Bowl last season, San Francisco is on the right path to starting a new chapter in their storied history. Quarterback Jimmy Garoppolo is the oldest of the three quarterbacks on this list, but still a young and dynamic threat who threw for 3.978 yards and 27 touchdowns a season ago.
Although he is not as flashy as Mahomes and Jackson, Garoppolo gets it done from the pocket, with a 102.0 passer rating throughout all last year. He also signed a five-year, $137.5 million contract in 2019, so the 49ers are sticking with the former New England Patriot for the foreseeable future. The 49ers do not have as many big-name weapons as the two AFC teams, but players like All-Pro tight end George Kittle, who is arguably the best tight end in the NFL besides Kelce, give Garoppolo multiple options in the passing game. Wide receivers Deebo Samuel, Dante Pettis and rookie Brandon Aiyuk are also solid contributors in the offense, as well as a balanced running game that includes Raheem Mostert, Tevin Coleman, and a now healthy Jerick McKinnon.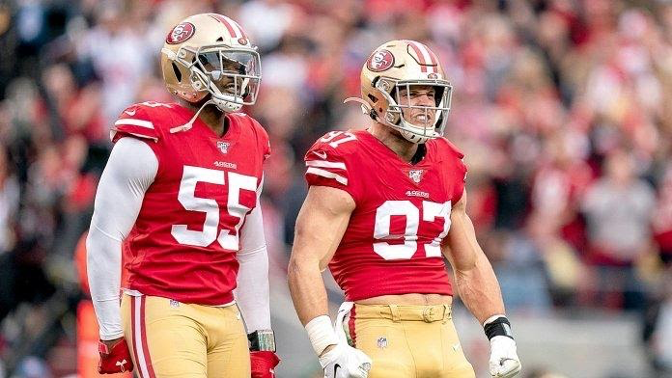 Kyle Terada/USA Today Sports
On the defensive side of the ball, Pro Bowl defensive end Nick Bosa, Arik Armstead, Dee Ford, linebacker Fred Warner, and cornerback Richard Sherman are among the best of this Super Bowl caliber group. They were one of the best in the NFL last season, and this core group will help elevate San Francisco going forward.
This defense hits different. highlights via @NFL 👇 pic.twitter.com/ZPko7R7sNm

— San Francisco 49ers (@49ers) November 26, 2019
Under head coach Kyle Shanahan, whose father Mike won two Super Bowls with John Elway and the Broncos, winning runs in his blood. Shanahan's winning pedigree will resonate on a team that needs to take one more step to bring home another championship. This is only the beginning for Garoppolo and company.
Jonathan Heite can be reached at jonathan.heite@student.shu.edu.