The curious case of Tanguy Ndombele
Date: June 27, 2020
By: Joe Cammarota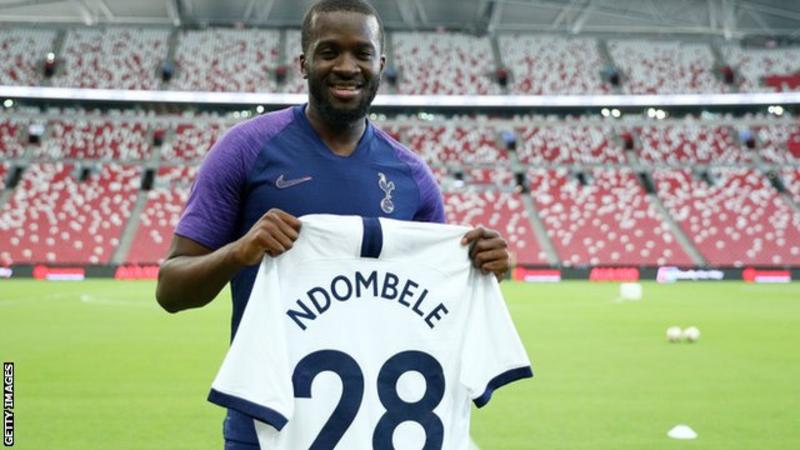 Getty Images
After Tottenham Hotspur defeated West Ham on Tuesday, reports came out that midfielder Tanguy Ndombele had a falling out with manager Jose Mourinho and now refuses to play for him. To understand how it may have come to this point and how Ndombele can begin to get playing time it is important to understand what has occurred this season.
The Prized Signing
Last summer, coming off their Champions League Final defeat, Tottenham Hotspur decided to break the bank to buy ultra-promising midfielder Ndombele from the French side Lyon. Ndombele was supposed to be the piece in the midfield that would help Mauricio Pochettino deliver Spurs their first trophy in over a decade.
On June 25, 2019, Tottenham and Lyon reached an agreement to send Ndombele to North London for 62 million pounds plus add-ons: the largest transfer sum Spurs have ever paid. Ndombele was praised by Pochettino and other players on the team and impressed in preseason.
Ndombele's first appearance in the Premier League was iconic. Spurs were struggling to break the Aston Villa defense throughout the game and after conceding early it looked like Spurs could drop all three points to start the season. in the 73rd minute, however, Ndombele received a pass outside the box and perfectly placed shot passed keeper Tom Heaton to equalize. This in turn brought all momentum to Spurs who ended up winning 3-1.
This led to expectations for the club and Ndombele to be sky high, but things quickly began to crumble.
Changing of the Guard
Tottenham began to drop points, and games they should have won turned into losses. Spurs were not in good form at all. The team that was supposed to compete for the Premier League title found themselves in 14th place. In November, chairman Daniel Levy and the board decided it was time to sack Pochettino. In his place came Mourinho whose style of play is the complete opposite.
Pochettino played a possession style of play that fit Ndombele's play style perfectly. Ndombele, a central midfielder, is extremely hard to take off that ball and does a great job of advancing the ball up the pitch and finding key passes to get the attack started.
Mourinho on the other hand sets up his team in a strong defensive position and looks to break down the opposition through quick and effective counter attacks. While Ndombele can still perform well in this system, there are questions of his work rate and he will sometimes fail to track back on defense. With Mourinho arriving at the club, Spurs now had the opportunity to regroup and push for a Champions League spot.
Tottenham Gets Back on Track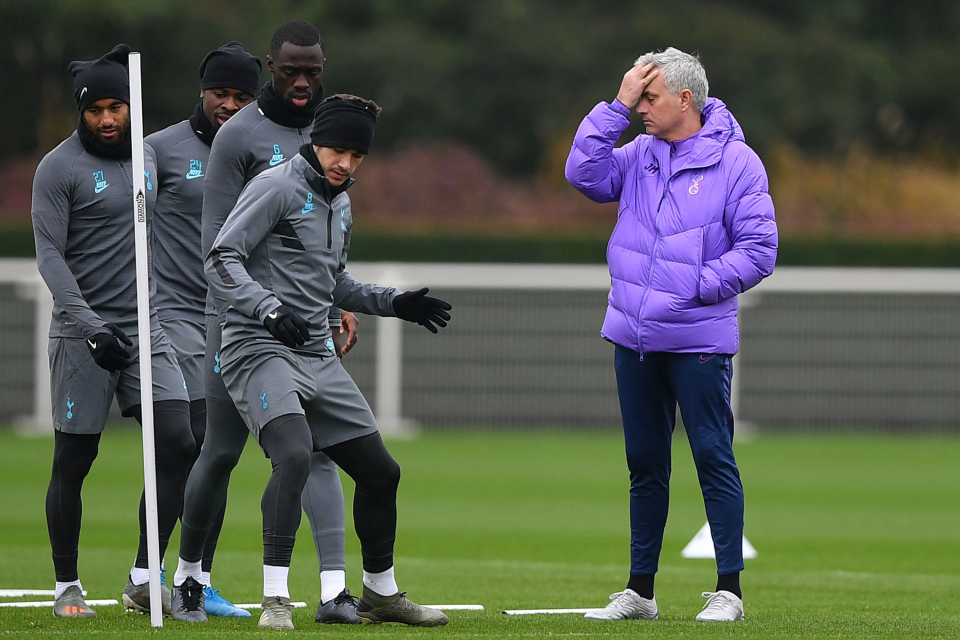 AFP or Licensors
After Mourinho took charge of the club, the mood change was evident from players at the North London club. Players were much happier, and Spurs form improved drastically. Ndombele was still receiving playing time, albeit fewer starts, and Tottenham began to move up the standings. Tottenham was as high as sixth place in the league in January and it looked like they were on their way to get back into the top four and play in the Champions League once again.
In addition to the form of the team improving, players began to renew their contracts. Shortly after Mourinho was hired, center back Toby Alderweireld signed an extension to stay with the club until 2023. They say winning hides problems and there is certainly a case to say this happened with Ndombele.
Ndombele's Fitness Problems
As the season progressed Spurs supporters still saw a healthy dose of Ndombele, but what not many had picked up at the time is that he rarely played a full 90 minutes. Of the 26 total appearances Ndombele has had in all competitions this season, he has only played the full 90 minutes three times. In addition to this, Ndombele has picked up a few injuries throughout the season that has slowed him down. This became a big issue in the media after the Burnley match on March 7. Ndombele was pulled at halftime after a poor first half performance in which he looked winded.
Mourinho, who is accustomed to throwing players under the bus, said, "In the first half we didn't have a midfield. Of course, I'm not speaking of Skipp because he's a kid of 19 who's played two hours in the last few days. I don't criticize him at all."
Mourinho then upped the criticism on Ndombele telling reporters, "But a player with his potential has to give us more than he is giving us, especially when you see how Lucas, Lo Celso and those players are playing. I was expecting more in the first half from him."
Tanguy Ndombele told Jose Mourinho he never wants to play for him again following a clash earlier this week, sources have told @LaurensJulien: https://t.co/5NSi7ljJU6 pic.twitter.com/gz6wqvi3PA

— ESPN FC (@ESPNFC) June 24, 2020
Ndombele has not seen action since them, but it should be noted only one more match was played before the COVID-19 break in action and only two games have been played since. Ndombele is not the only new midfield signing the club has made in the past year, and the other one was ready to take control of the position.
Giovanni Lo Celso's Emergence
It has not just been fitness problems that a have led to Ndombele seeing limited action. Over the summer Tottenham and Spanish side Real Betis came to a deal involving midfielder Giovanni Lo Celso. It was a deal that was a loan with the obligation to buy. This means that the team is expected that end up buying the player although it is not necessary.
Lo Celso struggled to break into the lineup for a long time, with both Pochettino and Mourinho playing him sparingly early in the season. Once December came along, however, Spurs fans began to see more of Lo Celso. Lo Celso did not disappoint, with him impressing Tottenham so much that on January 28th Tottenham officially bought Lo Celso.
Since then, Lo Celso has been a regular in the lineup and has been one of the most important players to the club. He has helped control the midfield with his hard work and ball retention rate while being the lone bright sport for Tottenham as they have recently been hit with the injury bug.
Lo Celso's hard work and relentlessness to get back on defense has won him favor over Ndombele. For as good as Ndombele is offensively and possession wise, he can be lazy on the defensive end. This does not fit well in defensive play style and can lead to an overwhelming of the defense. Since Mourinho feels that way, he can trust Lo Celso over Ndombele on defense Giovanni could get the nod over him.
As Giovanni now had a starting position at midfield, his run of great performances became halted by a pandemic.
Lockdown and Mourinho's Praise
As COVID-19 began to strike Europe, the Premier League decided to suspend the season. Teams were prohibited from meeting and training. The British government also put in lockdown laws to try and slow the spread of the virus.
In April, Mourinho showed up to Ndombele's apartment complex and instructed him to come on a run with him and other teammates. This faced much backlash from media outlets, but resulted in Mourinho praising Ndombele's work ethic and his drive to get better. Since clubs returned to training in late May, Jose has been singing praises of Ndombele and how much he has improved.
Tanguy Ndombele is benched for the second game in a row...

Clearly the lockdown sessions at the park didn't work pic.twitter.com/8zgYFEZLKT

— ODDSbible (@ODDSbible) June 23, 2020
Before the Manchester United match Mourinho said of Ndombele, "When he was back to the training ground, he was committed, he worked." Mourinho continued, "So I'm happy with his last couple of weeks where he showed us some of the great qualities that we know that he has. So yes, [he's] ready for tomorrow."
Spurs fans also saw a training video where the team scrimmaged 11-on-11 and Ndombele made the highlight video as he scored a goal. Tottenham supporters were extremely excited to see what could happen with a fully fit squad and a rejuvenated Ndombele. The team was still pushing for a top four finish and fans believed he would be crucial to Spurs chances. With the restart approaching the feeling from supporters was similar to that of week one: excitement.
Gedson Feranandes over Ndombele?
As Tottenham faced off against Manchester United, Spurs lined up in a 4-2-3-1. The two central midfielders were Moussa Sissoko and Harry Winks. Spurs played a very defensive game but were hoping Mourinho would bring on Ndombele and Lo Celso later in the game to relive some tired legs after a lon layoff. Lo Celso did sub into the match in the 70th minute for Erik Lamela to play an attacking midfield role, but to also track back and help try and preserve the lead.
The shocking part of the game was that midfielder Fernandes got the nod to sub in the game over Ndombele. Fernandes replaced winger/midfielder Steven Bergwijn. Fernandes does not offer anything that Ndombele does not, and Fernandes performed pretty mediocre. Fernandes failed to make a positive impact on the game, and made a few poor decisions such as not chasing after a ball that he had a chance of retaining that cost Spurs possession. It would not be a stretch to say putting Ndombele in could have led to Spurs securing all three points instead of sharing them.
This was the first game back however, and Jose maybe just did not feel Ndombele was ready for action against a teach such as Manchester United.
Still no Ndombele
As Tottenham continued the restart, they took on relegation battling West Ham. This game seemed like a perfect fit to see Ndombele in as West Ham was likely to sit back and hope not to concede so they could pick up a point. Instead, Jose decided to go with a midfield of Moussa Sissoko and Lo Celso.
Sissoko has been a constant in the Spurs midfield for some time now as his box to box defending and high effort has earned Mourinho's trust. Sissoko is a more defensive minded player and as the team is currently without a Central Defensive Midfielder, Mourinho tries to plug Sissoko in this spot as best he can. With that being the case, it then turned into a Lo Celso or Ndombele choice for the other central midfielder spot which Jose gifted to Lo Celso, most likely because of trust.
Spurs were able to win the match 2-0, but offensively they still had problems breaking the West Ham defense.
Shortly after the game French television station TF1 reported that the Mourinho and Ndombele relationship has been severed. Mourinho denied the allegations but there is history to point to that this could be true.
In Mourinho's last managerial stint with Manchester United, him and superstar Paul Pogba had a similar situation where there was a falling out after Mourinho would call him out to the media and would refuse to play him.
With the situation possibly entering dangerous levels, something may need to change soon, or the locker room could turn toxic.
Summer Transfer Window to the Rescue?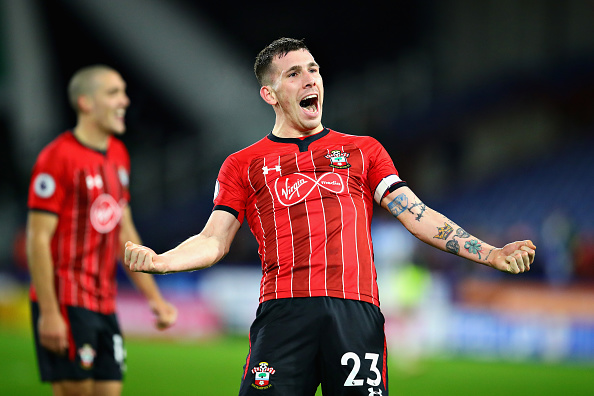 Chris Brunskill/Fantasista/Getty Images
Tottenham currently plays a 4-2-3-1. That means that there are four defenders, two central midfielders, an attacking midfielder plus two midfielders on the wings and a striker. As of now Ndombele does not fit into Mourinho's plans in this formation, but there is a chance the formation changes for next season depending what happens this summer transfer window.
Spurs are currently eyeing Southampton CDM Pierre-Emile Højbjerg who wants out of the club. He is a young promising player who wants a move to a bigger club and Tottenham can fill that request. Tottenham is looking to pursue him and if they can it could mean in a change in formation to a 4-3-3.
A 4-3-3 means there are four defenders, three midfielders, and three attackers. With Højbjerg in the fold, Tottenham can have him play the traditional CDM role while Ndombele and Lo Celso play the other two midfielder roles and feed attackers Son Heung-Min, Harry Kane, and Steven Bergwijn.
Off the bench could come Dele, who currently starts in the attacking midfield role in the current 4-2-3-1. This looks like the best possible option and it would make the most sense. Ndombele and Lo Celso would flourish in the 4-3-3 and it could possibly lead to Tottenham securing a long awaited trophy.
The Other Option
There has been one other option that has been floating around: a loan or transfer deal to Barcelona. Barcelona has been tracking Ndombele since he was at Lyon. They currently have an attacking midfielder in Phillipe Coutinho, who is struggling at Barcelona and was sent on loan to Bayern Munich.
This deal could satisfy Ndombele if Mourinho continues to refuse to play him or does not want to change the formation. This could also be beneficial to Spurs as if they choose not to make any changes to the 4-2-3-1 formation, they can have Coutinho play the attacking midfield role. The attacking midfield position is somewhat in question as Dele has had some injury problems of late and is not in great form.
Both sides do not want this to happen though. Mourinho and the board still want Ndombele at Tottenham as they see high potential for him. Ndombele says he wants to stay in North London as well, and only wants Mourinho gone. For now, however, the curious case of Ndombele continues.
Joe Cammarota can be reached at joseph.cammarota@student.shu.edu.