"Talkin' Baseball" with Matt Ambrose: All-Star Game Rosters Announced
Date: July 3, 2017
By: Matt Ambrose (@mambrose97)
With the Midsummer Classic is right around the corner, rosters for the 88th MLB All-Star Game were announced last night. Of the 62 players named to rosters yesterday, a whopping 23 of them are first-time selections. Here are the starters for both the American League and National League:
American League
C- Salvador Perez, Kansas City Royals
1B- Justin Smoak, Toronto Blue Jays
2B- Jose Altuve- Houston Astros
3B- Jose Ramirez- Cleveland Indians
SS- Carlos Correa- Houston Astros
OF- Mike Trout- Los Angeles Angels
OF- Aaron Judge- New York Yankees
OF- George Springer- Houston Astros
National League
C- Buster Posey, San Francisco Giants
1B- Ryan Zimmerman, Washington Nationals
2B- Daniel Murphy, Washington Nationals
3B- Nolan Arenado, Colorado Rockies
SS- Zack Cozart, Cincinnati Reds
OF- Charlie Blackmon, Colorado Rockies
OF- Bryce Harper, Washington Nationals
OF- Marcell Ozuna, Miami Marlins
There's a couple of things to sink your teeth into here. First, on the American League side, the middle-infield combination of Jose Altuve and Carlos Correa will be starting in Miami on July 11th. George Springer gets the start in the outfield as well, which gives the MLB's best team three starters. Additionally, Justin Smoak and Jose Ramirez will both be making their first ASG appearances along with Correa and Springer. Rookie Aaron Judge will also be making his first appearance, making it five AL starters who will be playing in their first All-Star Game.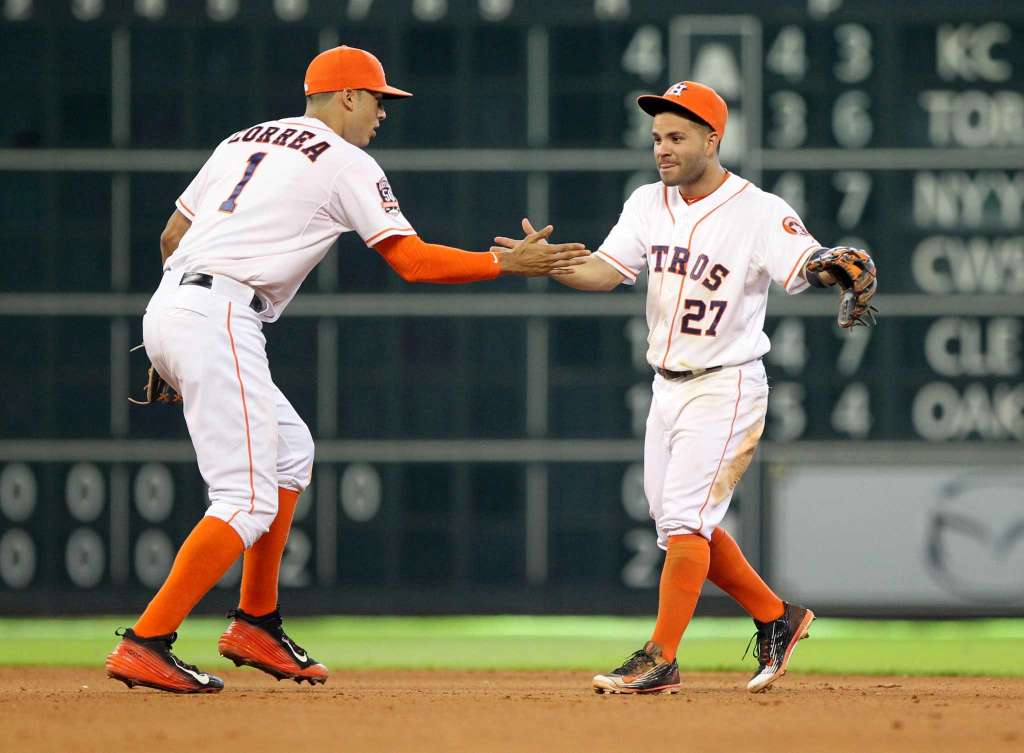 Mike Trout was voted in by the fans, however he has been on the disabled list since the end of May with a thumb injury. He took batting practice recently, and hopes to return in time to start the All-Star Game next Tuesday. If not, it will be either Mookie Betts, Avisail Garcia or Michael Brantley to fill his spot starting in the outfield.
On the National League side of things, there are no starters from either of the two best teams record-wise in the league, the Dodgers and the Diamondbacks. For the Diamondbacks, they received four All-Star nominations, one of which was first baseman Paul Goldschmidt, who has been putting up MVP-caliber numbers so far this season. Washington Nationals first baseman Ryan Zimmerman got the starting nod over Goldschmidt, and though Zimmerman has been having a fantastic bounce back season (.335 this season after hitting just .218 last year), Goldschmidt gets on base more and is flirting with a 20-20 season. How often do you find a first baseman who hits for power and can run?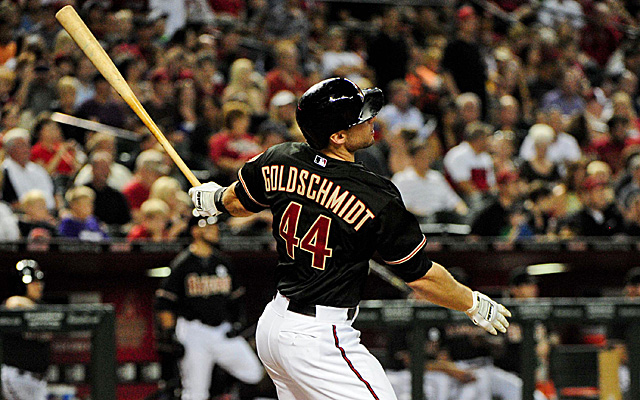 For the Dodgers, third baseman Justin Turner is in the Final Vote, where fans vote for who gets the 32nd roster spot for each league. This one just makes no sense, as Turner is hitting .382 in 59 games this year. His on-base percentage is an astronomical .472, and he is second in the National League in Wins Above Replacement behind fellow All-Star snub Paul Goldschmidt.
No disrespect to Nolan Arenado, who I believe is the best third baseman in all of baseball. He is having a nice season, and I still believe he should be the starter at third base for the National League. But to put Justin Turner on the Final Vote ballot? That's just insulting.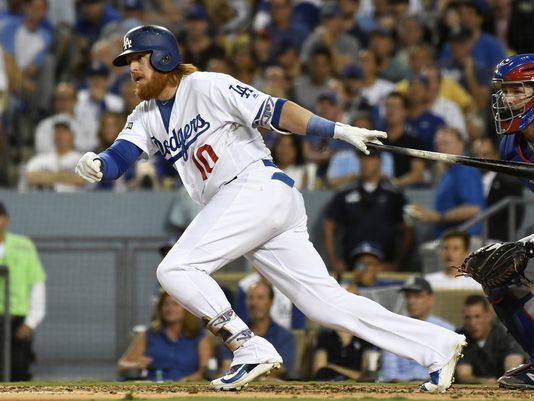 Pitcher Alex Wood was left off the All-Star rosters as well, even though he has a 9-0 record with a 1.83 ERA in 73.2 innings pitched this season. However, he will likely be the replacement on the NL squad for Clayton Kershaw, who is scheduled to pitch the Sunday before the All-Star Game, making him ineligible for the midsummer classic.
As for the game itself, the MLB finally decided to get rid of the Home-Field Advantage rule, which gave Home-Field Advantage in the World Series to the league that won the All-Star Game. The rule was implemented after the 2002 All-Star Game in Milwaukee, a game that ended in a tie after 11 innings after both teams ran out of players. Major League Baseball decided to ditch this rule in the new CBA, now awarding Home-Field in the World Series to the team with the best record.
The American League has won each of the last four All-Star Games, while the National League has only won three since 1996. A win for the American League this year would give each league 43 wins a piece.
The All-Star Game festivities kick off with the Futures Game next Sunday, followed by the Home Run Derby on Monday night. So far, only five players have announced they will compete in the Home Run Derby: Miguel Sano, Aaron Judge, Gary Sanchez, Giancarlo Stanton and Cody Bellinger.
The 88th MLB All-Star Game in Tuesday, July 11th at 8 PM ET from Marlins Park in Miami, Florida.
Matt Ambrose in a journalism major from Exeter, N.H. and an Assistant Sports Director at 89.5 FM WSOU. He can be found on Twitter @mambrose97 and can be reached by e-mail at matthew.ambrose1@student.shu.edu.
Posted in: Sports