No. 23 Seton Hall Downs Fairleigh Dickinson in Season Opener
Date: November 11, 2017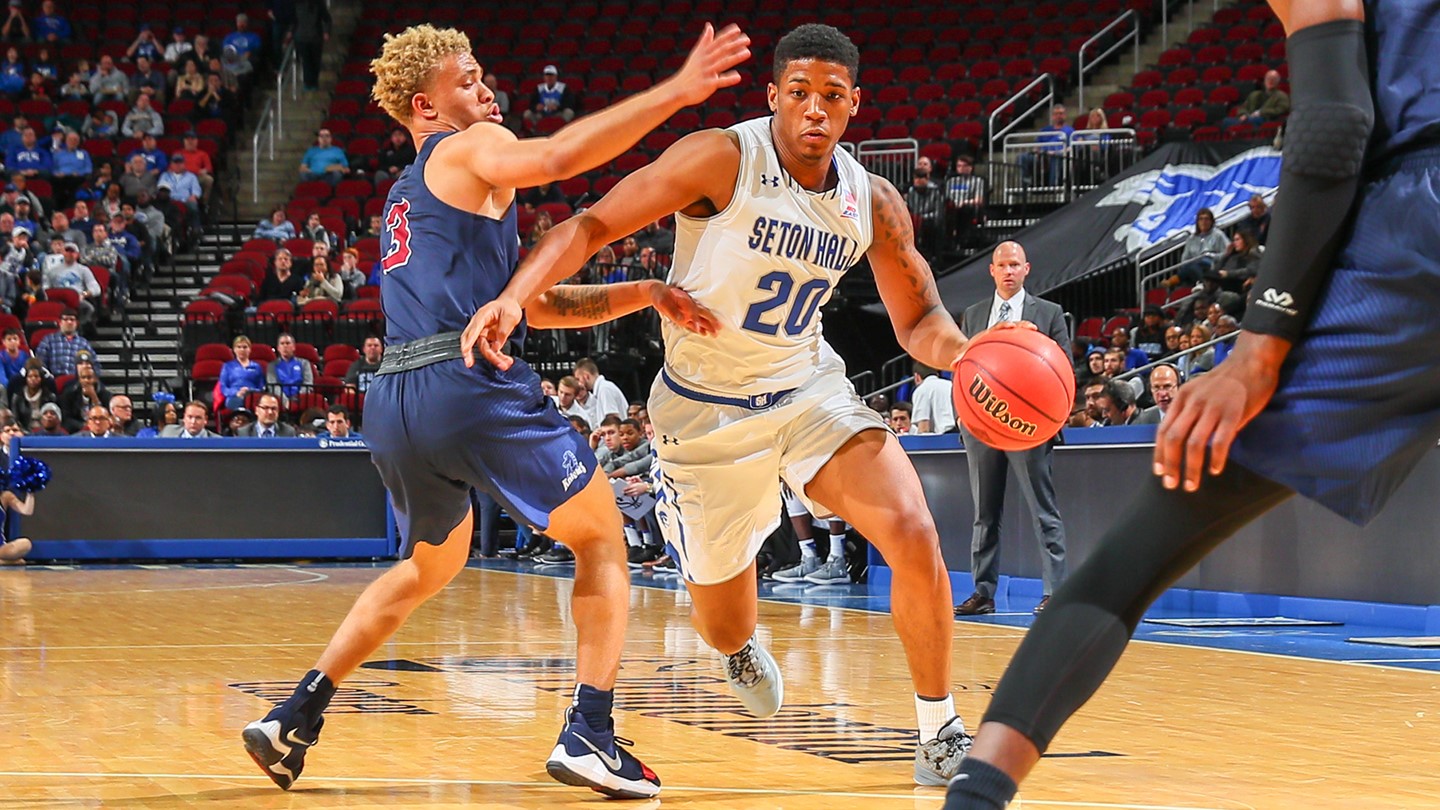 (Photo: SHU Athletics)
By: Jose Feliciano
The Seton Hall Men's Basketball Team (1-0) won their season opener at the Prudential Center against the Fairleigh Dickinson Knights (0-1) in dominant fashion with a 90-68 victory.
The Pirates were led by senior forward Desi Rodriguez, who led the team in points scored today with 17. Angel Delgado, who was honored prior to the game for being the nation's best rebounder last season, did not show much rust as he picked up a double-double (10 points, 10 rebounds), something he did 27 times last year.
The Pirates looked sluggish to start out the game, at one point being down 12-7 to FDU. The reserves came in soon after and jumpstarted the offense and led them to a 7-0 run that gave them the lead. Later on in the first half, the Pirates really picked things up when they managed a 15-0 run thanks in part to Rodriguez, who scored nine points in that stretch. The Pirates finished the first half strong, leading by 19 by the end of it with a 47-28 lead.
Both Head Coach Kevin Willard and guard Khadeen Carrington said that they were not once worried about Seton Hall's initial slow start.
"You had four seniors out there and a sophomore so they are going to take care of business," Willard said when asked about the slow start.
"I think we were sleepwalking a bit," Carrington said. "I told the guys we have to pick it up and they did just that like we all expected."
Seton Hall managed to look even better in the second half, shooting much more efficiently than they did in the first half. The Hall hit 39.3% of their shots in the first and 30.8% from outside the arc but improved that to 46.4% and 54.3%, respectively. Seton Hall's biggest lead of the night was 30 points, and got help from their freshman four-star guards Myles Cale and Jordan Walker when they hit back-to-back three-pointers to give them their 30-point lead. Cale, in particular, looked very impressive in the game today, scoring 12 points as well as hitting two from outside the arc and managing five rebounds and four assists. What is even more impressive with Cale was the fact that he only started practicing in October as he was recovering from surgery for a torn labrum in his left shoulder that he suffered from in March.
The new freshmen should play an important role this year and did their part in today's win. The Pirates did not have much depth last year but seem to have improved on that with the new guys.
"It didn't even felt like I played today," Carrington said, despite playing the most minutes for the Pirates with 23. Now with the depth, the Pirates will not have to use their older guys as much in the games like they did last year.
The Pirates will be back this Sunday on November 12, as they will take on the Monmouth Hawks (1-0) at the Prudential Center.
"Monmouth is a really good team," said Angel Delgado when asked about the Hawks, "I think they are a better team than [Fairleigh Dickinson] and we really have to prepare for them and get ready. That is why we practice every day."
Coverage of that game will begin at 1:15 p.m. on 89.5 FM WSOU.
Jose Feliciano can be found on Twitter @JFeliciano1101 and can be reached by e-mail at jose.feliciano@student.shu.edu.