Terrell's Game-Winner Gives Rhode Island 75-74 Victory over Seton Hall
Date: November 24, 2017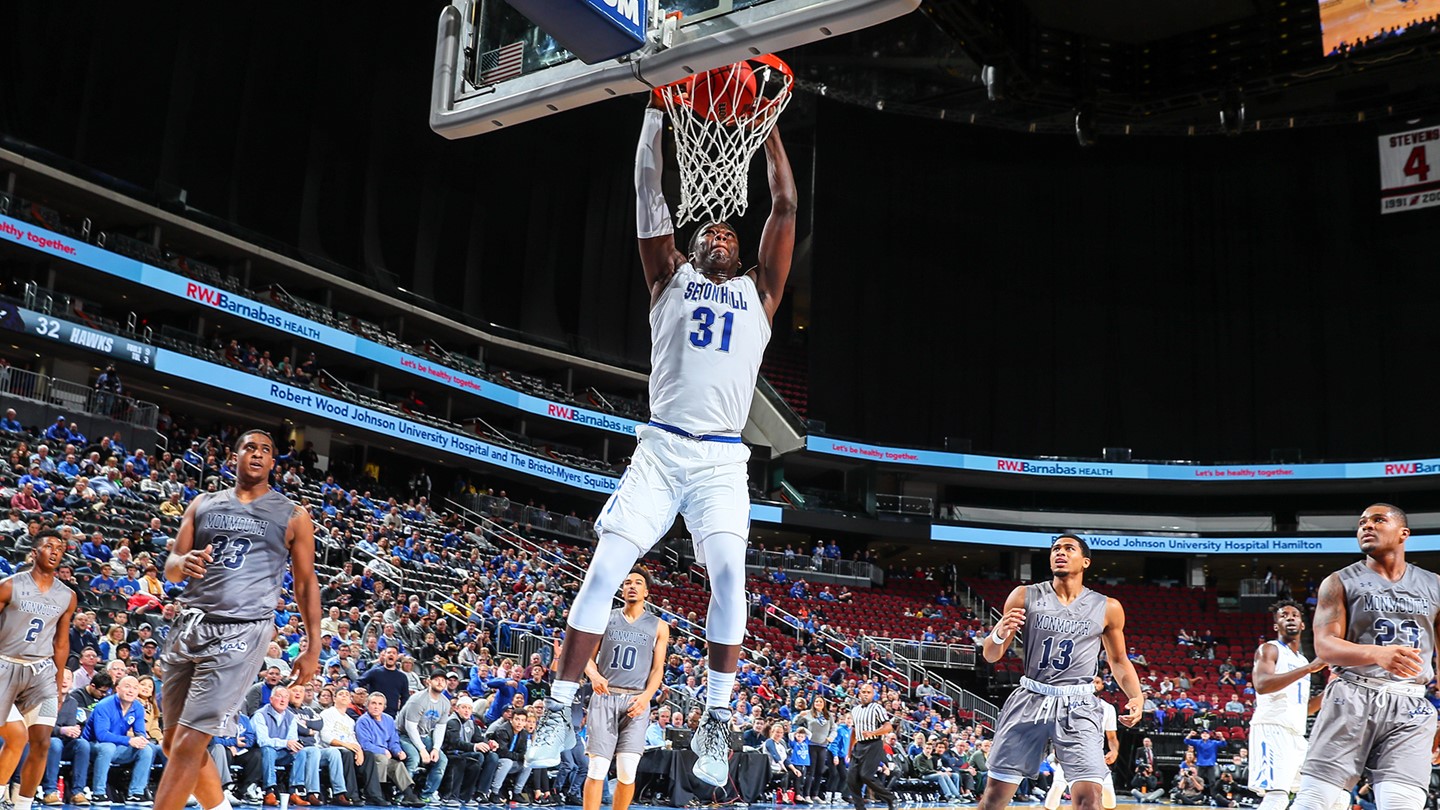 (Photo: SHU Athletics)
By Dylan Schreibman
Jared Terrell drove right and hit a magnificent floater off the glass with five seconds to play to give Rhode Island the victory over number 20 ranked Seton Hall in the NIT Season Tip-Off Thursday night, 75-74. The Pirates dropped their first game of the season to go to 4-1 and Rhode Island improved to 3-1.
"He (Terrell) played phenomenal," Head Coach Kevin Willard said. "Made a really tough shot over three guys. He played with poise all game."
This was part of Terrell's terrific showcase for the Rams as he took over at Barclays Center. Terrell finished with 32 points on 9-17 shooting. The senior leader also finished 10-10 from the free throw line adding four rebounds.
The Pirates struggled to produce late in the game. The team finished one for their last eight from the floor, not scoring for the final 2:03 after they stormed back to take the lead 74-73. This was part of a run that included five turnovers in the last 5:54 of play.
In a game that came down to the final possession, the Rams dazzled the crowd leading for nearly 32 minutes of the contest.
Rhode Island started quickly out of the gate. The visitors began the game on a 7-2 run and led by as much as 11 in the first half. This helped the Rams take a nine-point lead into the intermission, 54-45.
"I didn't mind the starts we were getting off to but defensively we have to get off to a better start," Willard said.
This effort was led by the senior leader Terrell, who had 18 points in the first half for URI. The Pirates got a retaliating performance to keep them in the game by Myles Powell. Powell scored 18 points on 6-for-11 shooting. Powell finished with 21 points.
Senior Angel Delgado recorded his 54th career double-double scoring 18 points and 14 rebounds.
Seton Hall outscored Rhode Island 29-21 in the second half but fell short. Seniors Desi Rodriguez and Khadeen Carrington struggled from the floor. Both finished with 12 points but shot 5-for-13 and 5-for-12 from the floor, respectively.
Despite the loss, Seton Hall dominated the rebounding battle. The Pirates outrebounded the Rams 41-31 and outscored the Rams 16-0 on second chance points.
Seton Hall will take on Vanderbilt in the consolation game Friday night. Game time is set for approximately 9:45 pm. You can listen on 89.5 WSOU or the iHeart Radio app.
Dylan Schreibman can be reached at dylan.schreibman@student.shu.edu.