Recap: UFC Vegas 11
Date: September 22, 2020
By: Michael Daly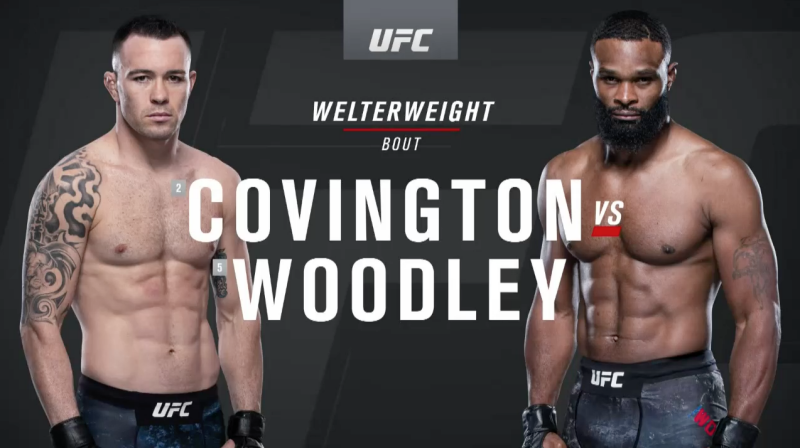 UFC
In the welterweight main event of Saturday night's UFC Vegas 11 card, No. 2 contender Colby Covington defeated No. 5 Tyron Woodley via TKO in the fifth round at the UFC Apex in Las Vegas. Covington put on a striking and grappling clinic for well over four rounds.
His high volume and offensive pressure were too much for Woodley to thwart on a consistent basis during the bout. Covington looked extremely comfortable in the pocket and he marked his territory in the Octagon in the early stages of the fight. He scored a takedown on Woodley in the opening moments of the fight, and that seemed to force Woodley to fight on his back foot for the rest of the night.
20-18 Covington after 2. Cardo Colby with that crazy output on display.

— Ariel Helwani (@arielhelwani) September 20, 2020
Woodley's main problem in the fight was his inability to land consistent shots on Covington. It seemed that he was sitting on his back foot waiting for that one punch, but unfortunately for Woodley, that big punch never arrived. In between rounds, Woodley's corner wanted him to work to the body because he found early success with knees and punches to Covington's body.
As the fight progressed, Covington made the proper adjustments and Woodley had a difficult time hitting his opponent with the body shots that worked in the first two rounds. Covington backed Woodley up against the cage on several occasions, and he used that position to perform multiple high-crotch takedowns on Woodley. Heading into the fight, Woodley and his camp wanted him to "let his hands go." Covington never gave Woodley a chance to let his fists fly as he was pressed up against the cage for a solid chunk of the bout.
Woodley telling the in-cage physician that Covington scratched his eye. Warning for Covington and we are back #UFCVegas11

— MMAFighting.com (@MMAFighting) September 20, 2020
The momentum shifted away from Woodley after the fight was momentarily paused for an accidental eye poke that he suffered from a Covington strike in the third round. The accident gave Woodley a respite, and he came out of the break throwing, but Covington seemed to benefit from the timeout more than he did.
While in his corner at the end of the fourth round, Woodley's coach Duke Roufus exclaimed to his fighter that the only way he would receive a win would be stopping Covington. He came into the fifth round mixing up his jab with significant strikes, but Covington found a way to take Woodley to the canvas.
"This is it!"

We go into the Woodley corner between rounds. #UFCVegas11 pic.twitter.com/H8jNWajtLB

— UFC (@ufc) September 20, 2020
Almost halfway through the final round, Covington took Woodley down, and Woodley had Covington's head secured, while Covington was advancing from the top position. When Woodley tried to lean forward, he screamed in pain and explained to the referee Dan Miragliotta that something happened to his ribs. Miragliotta jumped in to call a stop to the fight, and Covington won by a TKO. It was a semi-anti-climactic ending for Covington because he was in Woodley's guard and he was performing ground and pound strikes on Woodley. When the fight ended, Covington celebrated and called out the UFC welterweight champion Kamaru Usman and No. 4 welterweight contender Jorge Masvidal.
Not only did Covington call out Usman and Masvidal, but he used his post-fight interview with Jon Anik to show his support for President Donald Trump. He also called out LeBron James and other athletes for their stances on social issues. Covington had a final interview with Megan Olivi on ESPN's UFC Fight Night Post-Show. In that interview, he received a call from President Trump, in which Trump congratulated him for his performance.
President Trump called @ColbyCovMMA during the #UFCVegas11 post show pic.twitter.com/FJsUMQV8Xk

— ESPN MMA (@espnmma) September 20, 2020
In the phone call with Trump, Covington assured the president that he will win the UFC welterweight title and visit the White House with the belt. Saturday's win for Covington put him on the fast track to challenge for the welterweight title again. Welterweight champion Kamaru Usman is set to face No. 1 contender Gilbert Burns in December.
For Woodley, his career is very uncertain. He is now on a three-fight losing streak--the longest of his career. Woodley, 38, has very limited options if he wishes to continue a career with the UFC. The welterweight championship seems to be out of reach for him now, and he does not look like the same fighter he was when he was the welterweight champion.
"[Woodley] has had a great run. The kid has had a great career," said UFC president Dana White on wanting to see Woodley retire. "He's at the end of the road."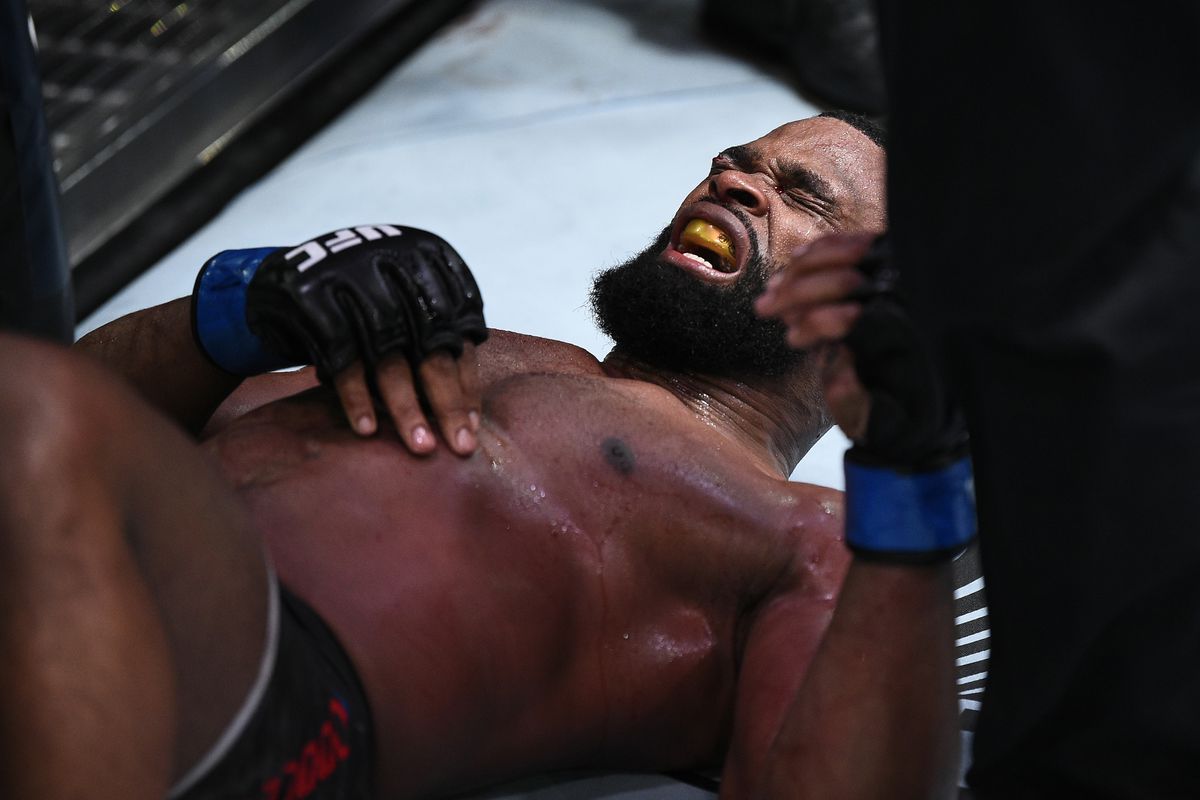 Chris Unger/Zuffa LLC
Woodley's loss did not come as a result of a lack of effort. He certainly tried to get the best of Covington, but he was unable to put it all together in the Octagon. If this was the last time Woodley stepped in the Octagon, it needs to be said that he left an indelible mark on the UFC during his reign on the welterweight division from 2016-2019.
The co-main event finished in a majority draw between Donald Cerrone and Niko Price. Price had a point deducted for an eye poke on Cerrone, and that seemed to cost him a victory. Cerrone looked sharp towards the end of the fight, despite a slow start against Price.
KHAMZAT CHIMAEV JUST DID THAT

(via @ufc)pic.twitter.com/Y0LJDQb3rR

— Bleacher Report (@BleacherReport) September 20, 2020
A star was born in Khamzat Chimaev with his 17-second knockout victory against Gerald Meerschaert. Chimaev will fight Demian Maia in the coming weeks at Yas Island, Abu Dhabi.
UFC Vegas 11 did not disappoint with a stacked card that rivals any pay-per-view card. The UFC is back in action next week at "Fight Island" for UFC 253.
Michael Daly is the Station Manager of 89.5 FM WSOU, and can be reached at wsoustationmanager@gmail.com.