Preview: UFC Vegas 11
Date: September 16, 2020
By: Michael Daly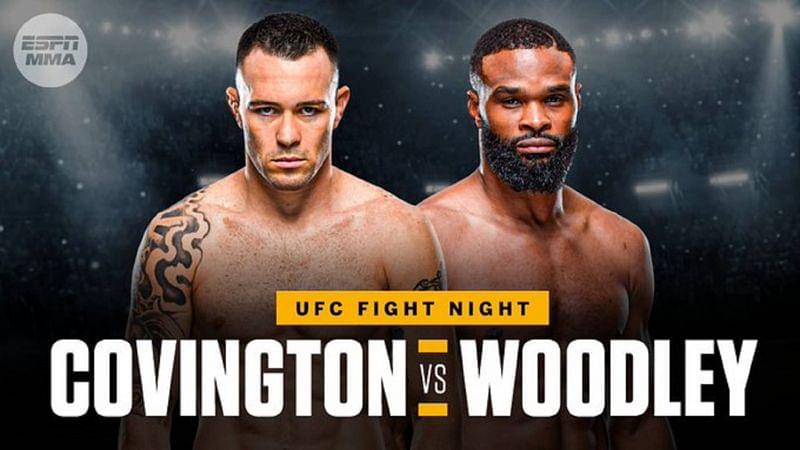 ESPN MMA
UFC Vegas 11 will be headlined by a top-five welterweight bout between Colby Covington and Tyron Woodley on Saturday, Sept. 19 at the UFC Apex. Covington and Woodley were on each other's radar for a long time, and now their paths will finally intersect in a 25-foot Octagon in less than a week.
The fight was initially targeted for a UFC Fight Night event on Aug. 22, but both sides were not able to agree to terms with the UFC. The bad blood will be palpable on Saturday because Covington and Woodley have not been shy about their disdain for one another.
Sept. 19th Green Light pic.twitter.com/LO63MxO0FS

— Tyron T-Wood Woodley (@TWooodley) August 15, 2020
To add another level of drama to the lead up to the fight, Woodley tapped Covington's former training teammate, Jorge Masvidal, to help him with his training camp. Covington and Masvidal trained together at the American Top Team gym in Coconut Creek, Fla. In recent months, Covington left ATT due to problems with several professional fighters that belong to the gym. Covington and Masvidal were very close friends for a long time, but their relationship went sour.
These former best friends that were inseparable reached a point where they could not be in the same room without wanting to go to blows. What makes this fight even more compelling is the storyline between the two men that will be locked in the cage, Covington, and Woodley. Not only was Covington teammates with Masvidal, but he was also Woodley's training partner at American Top Team for several years.
The degree of animosity displayed after the fight was signed reached an all-time high. When Woodley defended his welterweight title against Darren Till in September 2018, many people around MMA believed it was the wrong match to make. They felt it was a rushed decision to give a title shot to Till.
The person that deserved the title shot in their eyes was Covington because he held the interim welterweight championship at the time. Covington made a great case for a title shot then, and with a win on Saturday night, he will be back in the championship mix.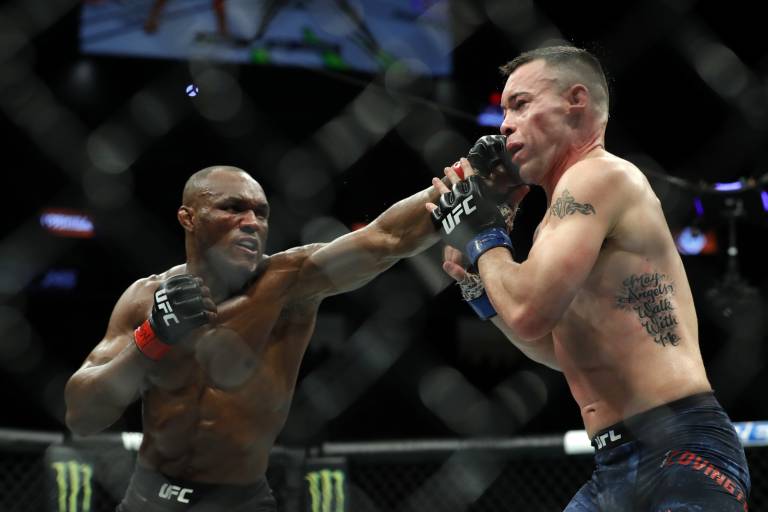 Steve Marcus/Getty Images
Covington, the current No. 2 contender, last fought on Dec. 14, 2019, when he challenged Kamaru Usman for the UFC welterweight championship. Covington lost in the fifth round to Usman via TKO. It was an extremely competitive fight and it was viewed to be an even fight up until the stoppage finish in the final round. Although Covington did not land the rematch with Usman, he is still considered to be a serious threat to Usman's belt. In order to reach that point in the future, he must win against Woodley on Saturday.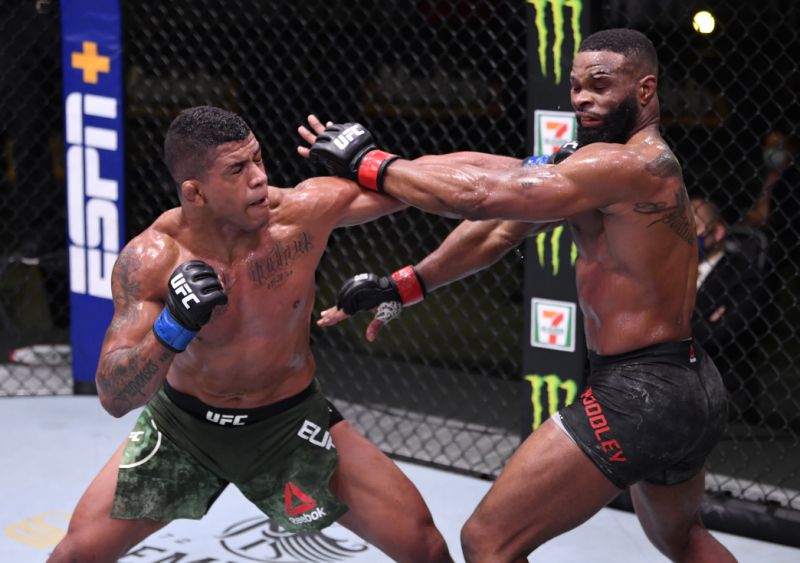 Jeff Bottari/Zuffa LLC
For Woodley, the past year-and-a-half have not been kind to him in the UFC. He lost his belt to Usman at UFC 235 in March 2019, then followed that losing performance up with a loss to Gilbert Burns in May. Woodley suffered back-to-back losses for the first time in his 14-year career.
The twilight of Woodley's career is certainly in motion, but Woodley should not be counted out in the main event of UFC Vegas 11. A win on Saturday might not guarantee Woodley an immediate title shot against the winner of Usman vs. Burns in December, but he will elevate his stock in the division. It is easy to determine that Woodley has the most amount of pressure on him in this fight because he ranks No. 5 in the welterweight division.
If he were to lose, his ranking in the division would plummet, and it would be improbable for him to earn another spot in a championship fight. Three consecutive losses would force Woodley to reassess his future.
Tyron Woodley has said he'll let his hands go vs Colby Covington on Saturday
When he does let them go it's always fun pic.twitter.com/FrDhXRCK8K

— Spinnin Backfist (@SpinninBackfist) September 14, 2020
His recent fall from grace made people forget about his reign as the welterweight champion of the UFC. Woodley was not a champion that challengers were foaming at the mouth to face. He packed a massive overhand right, and his wrestling skills were virtually unmatched in the division.
It is unclear if Woodley will ever get back to the point of being the welterweight champion, but his legacy in the UFC is one that will never be forgotten. What could work for Woodley is that he cut out a lot of the distractions that surrounded him when he was a champion. Now he can just focus on fighting and working his way up the division.
Luckily for UFC fans, they will be treated to an action-packed card on Saturday night that rivals most pay-per-view main cards. Donald Cerrone and Niko Price will face off in the welterweight co-main event bout, while rising prospect Khamzat Chimaev battles Gerald Meerschaert in a middleweight clash.
'here's a new dude on the ranch pic.twitter.com/mHtxeYmVVL

— UFC (@ufc) September 10, 2020
In personal news for Cerrone, he welcomed his latest child, Riot River Cerrone, to the world, last Thursday. Cerrone is on a four-fight losing streak, and the Price bout will be his latest challenge.
Saturday night's card could be the best non-PPV card of the year based on the depth and experience of the fights. The main event should not disappoint, and it will feature a ton of striking and grappling.
Michael Daly is the Station Manager of 89.5 FM WSOU, and can be reached at wsoustationmanager@gmail.com.