Pirate News Desk 1/21/17
Date: January 20, 2017
Here is a preview of the stories covered in this week's Pirate News Desk:
-- The Department of Labor is suing Oracle for allegedly paying white men more than other employees and discriminating against job applicants. As a federal contractor, Oracle is required to show the government that its hiring doesn't discriminate based on race, religion, sexual orientation, gender and more.
-- The premiere of "A Dog's Purpose" has been canceled after a video appeared to show a German shepherd struggling against a trainer during filming. The movie is still set to open nationwide on Jan. 27.
-- NYC Transit is testing two prototypes of portable vacuum systems that can be moved from station to station on a regular passenger train. The prototypes are part of Operation Track Sweep, which aims to reduce trash on the track and prevent fires.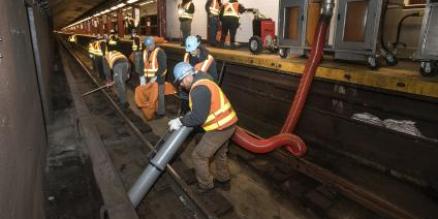 -- The National Highway Traffic Safety Administration confirmed that a fatal crash involving a Tesla Model S was note the result of a defect. The statement follows a six-month investigation into the death of Joshua Brown who died when his Tesla Model S drove a tractor-trailer truck.
-- The Maplewood Township Council passed Resolution 3-17, which makes Maplewood the first town in New Jersey to declare sanctuary status in 2017. The resolution states that "the Federal Government is the authority responsible for enforcement of Immigration Laws" and that Maplewood officials will not assist with arrests solely related to citizenship status.
-- New research shows 62% of U.S. adults with health insurance and a primary care provider would be open to virtual care treatments such as a video conference with their physician. According to the Salesforce 2016 Connected Patient Report, patients also want their doctors to have access to their wearable health tracking device data to provide more personalized care.
-- Dr. Forrest Pritchett uses his personal experiences to assist students as a faculty mentor in the Freshman Studies department. He has received numerous awards for his involvement in education and civil rights activism.
-- Seton Hall University is constructing a new Welcome Center on its South Orange campus. It is the first of many projects SHU has scheduled, including plans to renovate Mooney Hall, Duffy Hall, and the University Center.
The Pirate News Desk is produced by the WSOU news department. The "Setonian Soundbites" segment is produced in partnership with Seton Hall University's official undergraduate newspaper, The Setonian. Any questions regarding topics covered or suggested for local coverage can be directed to wsounews@gmail.com.
Posted in: News, Pirate News Desk