Pirates Take Down Indiana in Gavitt Games Matchup
Date: November 16, 2017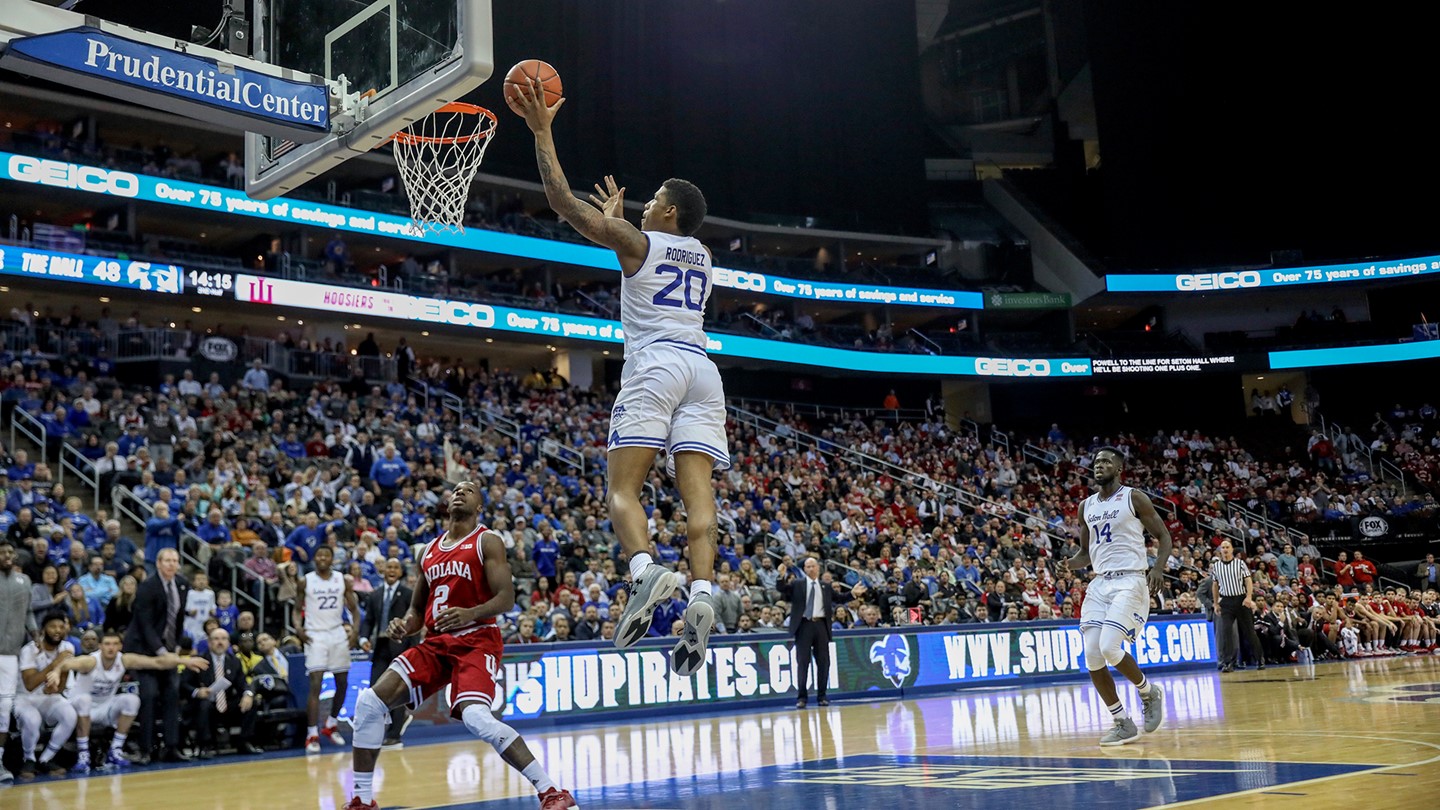 (Photo: SHU Athletics)
By: Keith Egan
The Pirates of Seton Hall defeated the Indiana Hoosiers 84-68 in the Gavitt games at the Prudential Center on Wednesday night.
Seton Hall came out ready to play, starting the game off with a 7-2 into the first media time out. Desi Rodriguez got his 23-point scoring night started with a short hook shot and a three-pointer from the wing.
"I just wanted to set the tone for my team today," Rodriguez said. "I played with a lot of energy, I got my fellas going and that's what my coach relies on me to do."
Out of the time out, Myles Cale brought the crowd to its feet with a ferocious two-hand slam over a couple Indiana players. However, Indiana followed it up with a run to make it a one-point game at the U12 time out.
Seton Hall took back momentum to make the score 25-18 with a three-pointer from both Khadeen Carrington and Myles Powell contributing to the run, but Indiana fought back once again to take their first lead with 2:15 left in the half off a couple Juwan Morgan free throws.
As the two teams fought back and forth, Seton Hall took a one-point lead into the half, despite shooting nearly 56% and just over 57% from behind the arc.
In the second half, Seton Hall came out with a new energy, which reflected on the way they played. Starting out on a 13-5 run, Seton Hall began to click offensively as they looked to their big man Angel Delgado more often.
"We got into half time and we just talked about getting the ball back inside," Head Coach Kevin Willard said. "Sometimes you just need a friendly reminder."
The Pirates really picked up the momentum right before the U16 time out, when Powell sparked the run with a three-pointer with 15:17 remaining. From there, Powell hit a couple free throws, Rodriguez took a steal to the rim for a lay in, followed by forced a five-second violation on the ensuing inbounds pass. Powell would knock down another three-pointer to force an Indiana time out with the score 53-39.
With Indiana sticking around, the Pirates were eventually able to stretch their lead to 20 with 3:40 remaining after a 9-0 run.
Seton Hall finished it out from there and left the floor with a 84-68 win over Indiana.
"I tell my guys 'We got to protect the Big East,'" Angel Delgado said regarding playing a Big 10 team in Indiana. "The Big East is the best league in the country, so we come out with the mindset that we have to destroy everybody."
Seton Hall will face off against NJIT on Saturday at 4pm in the Prudential Center. You can catch the game on 89.5 WSOU.
Keith Egan can be found on Twitter @keith_egan10 and can be reached by e-mail at keith.egan@student.shu.edu