Pirates End Non-Conference Slate with Win over Fairfield
Date: December 21, 2017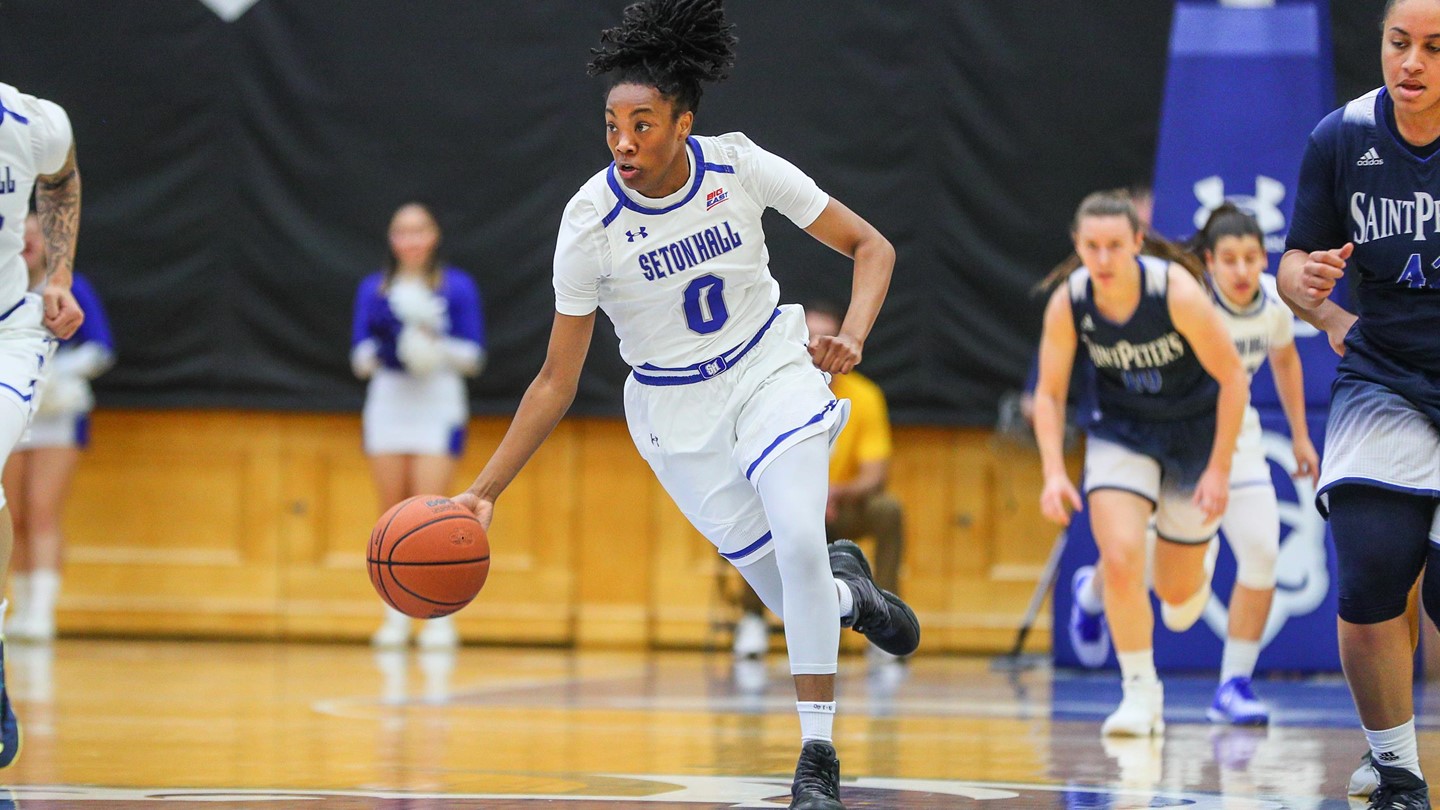 (Photo: SHU Athletics)
By: John Pirsos
SOUTH ORANGE- The Seton Hall women's basketball team outlasted the Fairfield Stags in an 80-61 victory in the Hall's non-conference finale. The Pirates are now 8-3 overall.
After scoring just three points on 1-for-8 shooting against UCLA over the weekend, JaQuan Jackson came back in a huge way today, scoring a season-high 28 points on 11-for-13 shooting and 5-for-6 from three-point range.
"I was just trying to bounce back from the UCLA game," Jackson said. "It was just a really big just confidence booster."
Head coach Tony Bozzella was raving about Jackson after her performance. "She could have pouted after UCLA. She didn't shoot the ball well; she was very upset," Bozzella said. "But she comes in the next day and works on her game. She comes in the next day again and works on her game. And that's why I'm so proud of her. She's a captain and I named her a captain this year because she earned it." Jackson had 18 of her 28 points in the second half.
Despite the final score being lopsided, this was no easy game for the Pirates. The Hall went on a huge first quarter run to give themselves a 21-9 cushion after ten minutes. But the Stags responded with 7-0 run of their own to open up the second quarter and would not go away. Seton Hall led at halftime 38-37 thanks to a Deja Winters last second three-pointer.
Seton Hall's defense stepped up in the second half, giving up just nine points in the third quarter. The Pirates opened the game up for good at the start of the fourth quarter when they went on an 18-4 run to push the lead to 16.
After allowing 28 second quarter points, and 19 first half points to Samantha Cooper, the Pirates had to change something defensively. And the difference maker was Shadeen Samuels.
"I think Shadeen made a big difference," Bozzella said. "Shadeen is a tremendous defender and I mean that as the ultimate compliment. I've known Ish Sanogo for four years, since he's been here. If she can aspire to be as impactful as him, she'll be a tremendous player." The Pirates allowed just 24 points in the second half and Cooper was limited to two second half points.
Today's game was back and forth for the first half. But Tony Bozzella said that it didn't faze his team.
"I didn't see anyone pointing fingers today when Fairfield came back and took a one-point lead," Bozzella said. "We could have crumbled but we did stay together...Even though we were struggling today, we were still playing hard."
The Pirates closed out their non-conference schedule with two wins in their last three games. Seton Hall opens up Big East play next Thursday as they travel to Marquette to play the 8-3 Golden Eagles.
John Pirsos can be reached at john.pirsos@student.shu.edu.