Pirates Drop First Game of 2017-2018 to Princeton
Date: November 17, 2017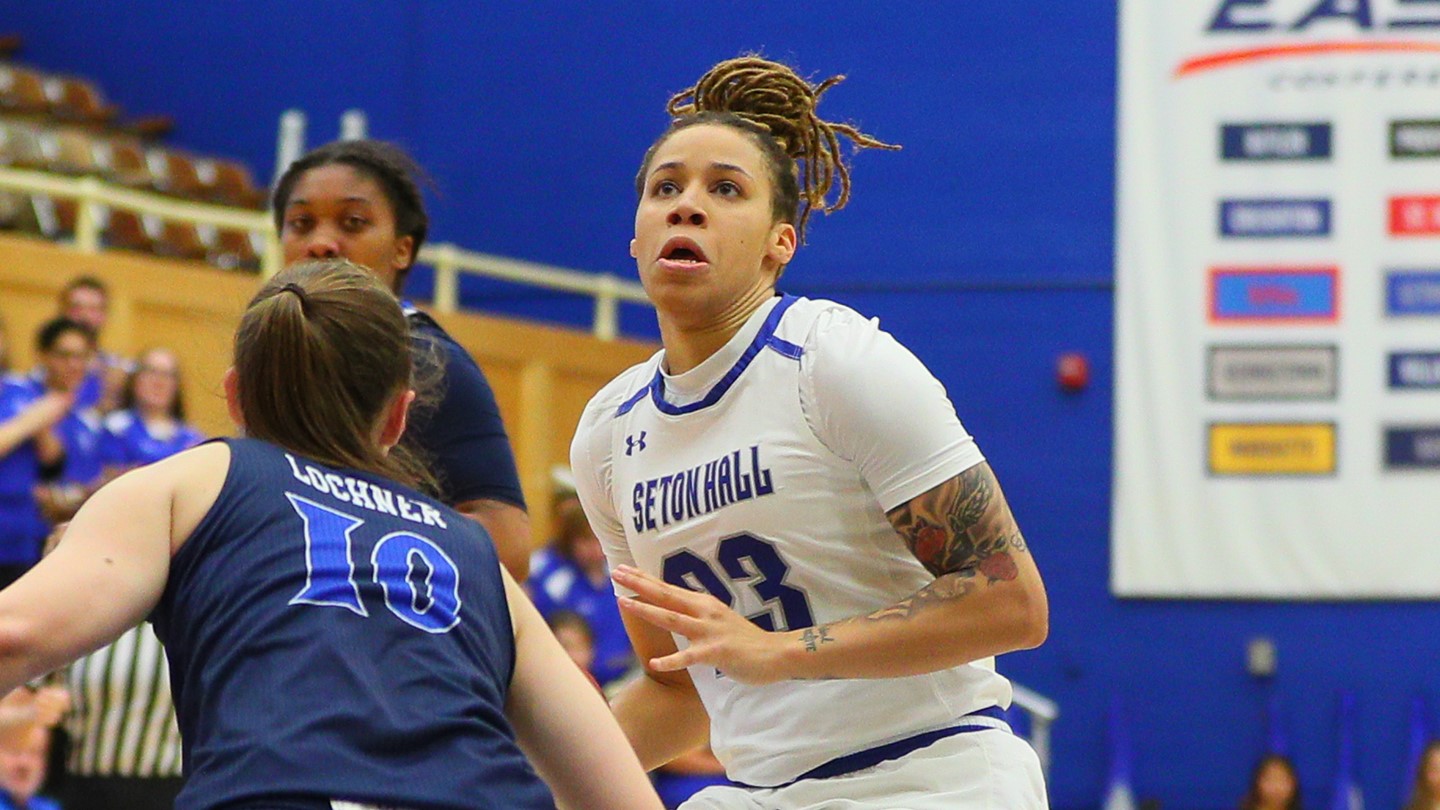 (Photo: SHU Athletics)
By: Angelo Maltese
Despite a late comeback effort from Seton Hall, it was not enough, as Princeton was able to hang out just long enough to defeat their in-state counterparts by a score of 85-83. It was in the third quarter that the Tigers took control the game, outscoring the Hall 24-18 in the frame.
Donnaizha Fountain led the way for the Pirates in scoring with 21 points. Taylor Brown finished the game with a double-double, finishing with 13 points and 11 rebounds. Coach Bozzella was pleased with his team's effort in the fourth quarter, watching his team claw back from a ten point deficit to bring the game to a single possession.
"I thought in the end that we did everything they could to come back, but we lost the game in the mid-third, early fourth quarter," Bozzella said. "But we fought to the end, and we did the important things."
The Pirates lead at the half, 40-35. Their largest lead was 10 points before the Tigers cut the advantage to five just before the halftime break. Seton Hall had nine different players contribute in the scoring department in the first half.
In the third quarter, Princeton took over, led by their sophomore leader, Bella Alaire, who finished the night with a game-high 22 points. Alarie and Tia Weledji played a big role inside, as they paced the Tigers to a 48-28 advantage in points in the paint.
Although the Tigers enjoyed the advantage down low, Seton Hall's transition offense had the team off and running all game long. Princeton committed 19 turnovers, and Seton Hall capitalized scoring 23 points off the turnovers, and beat Princeton 12-0 in fast break points. Seton Hall's ability to create easy buckets off the mistakes of the opposition has been evident in all three games they have played in this young season.
The Seton Hall Women's Basketball will have an extended break from action, as their next game is in nine days, as the Hall hosts the annual SHU Thanksgiving Classic on November 25 and 26. Seton Hall will take on another in-state foe in the Rider Broncs on Saturday at 12 p.m. They will then go on to play either East Carolina or Jacksonville State on Sunday at 2:30 p.m. Catch all of the Seton Hall Women's Basketball action on 89.5 FM WSOU, WSOU.net, or the iHeart Radio App, all season long!
Angelo Maltese can be reached at angelomaltese21@gmail.com.