NFL Week 6 games to watch
Date: October 17, 2020
By: Chris Kiely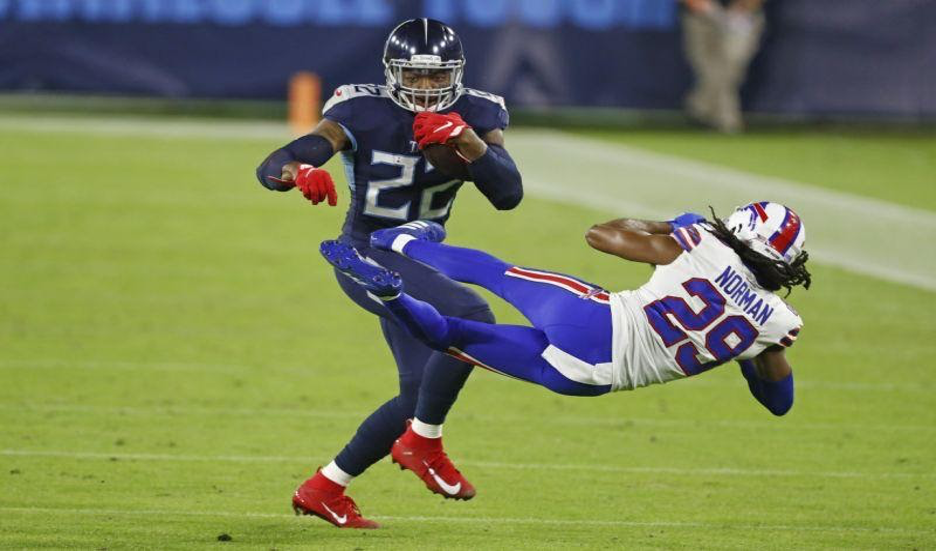 Wade Payne/AP Photo
After what has been probably the most normal of any of the major sport returns, the NFL finally was finally hit with their first bump in the road of this season. For the first four weeks, the NFL was almost the same as last year, except with limited to no fan attendance, until week five where multiple teams were dealing with Coronavirus positive cases. Therefore, the NFL had to make changes of the fly that included Tuesday Night Football for week five and no Thursday night game for week six. This season is continuing its path of oddness with the third straight week of multiple games after Sunday.
This week's storylines include another team firing their coach, Alex Smith making his emotional returning to the field, multiple quarterbacks getting benched, multiple false positive tests for the Falcons and Colts, and Le'Veon Bell getting released by the crummy New York Jets and then quickly signing with the Super Bowl contending Kansas City Chiefs. By the way, those that are part of any survivor poll and are still alive are probably well aware of the scarcity of easy picks this week. With that here are your games to watch for this week six.
1. Cleveland Browns (4-1) at Pittsburg Steelers (4-0) 1:00 PM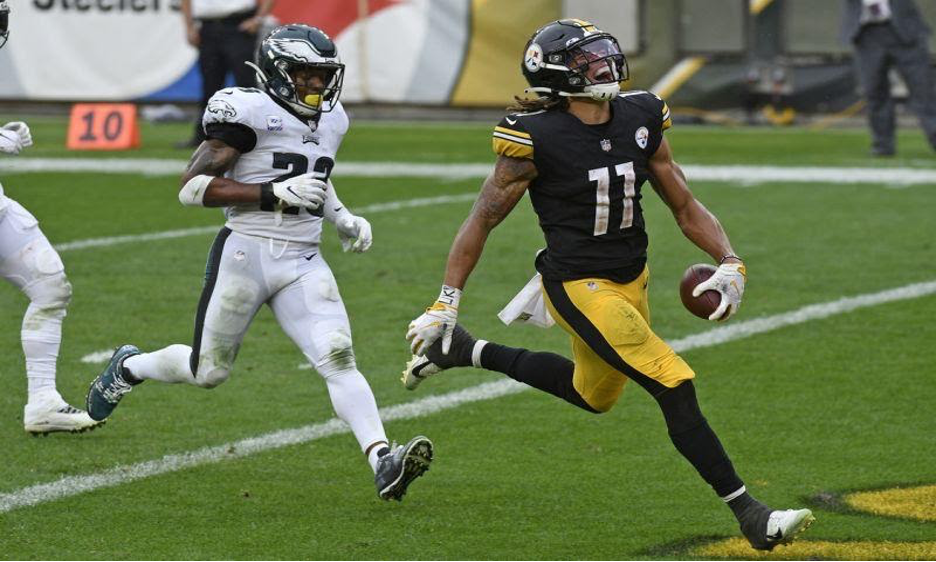 Don Wright/AP Photo
While many predicted the NFC West to be the best division heading into the year, the best division so far has been the AFC North with a trio of teams combined to be 12-2. While both the Steelers and Browns have looked very good at times, they do have some questions of concern. The Steeler's opponents' combined record has been 3-15-1 meaning they have played no team that is above .500. Their upcoming games against the Browns, Titans, and Ravens will tell a lot on if they are legit.
What is without a doubt legit has been the Steel Curtain's run defense which has been impenetrable so far and a d-line that has averaged five sacks a game. On the offensive side, Ben Roethlisberger has come back incredibly with a 10-1 TD-INT ratio and is a potential late bloomer for the MVP this year. He has been able to keep defenses guessing with a plentitude of receivers in JuJu Smith Schuster, Eric Ebron, James Washington, and Chase Claypool who exploded onto the scene last week against the Eagles.
In Cleveland, Kevin Stefanski is the clear front runner for Coach of the Year. He has discovered the blueprint to win with Baker Mayfield which is to rely on your big play running game that creates opportunities for the quarterback. Even without Nick Chubb, the Browns are top-two in rushing yards per game, rush yards per carry, and rushes of 10+ yards. On the defense, they are very similar to the Steelers as they are among the top in sacks, and turnovers.
The key matchup to watch for this game will be the Brown's run offense versus the Steeler's run defense. If Pittsburgh get the edge in that battle, expect a lot of passing attempts for Baker which would be a win for Pittsburgh.
2. Carolina Panthers (3-2) at Chicago Bears (4-1) 1:00 PM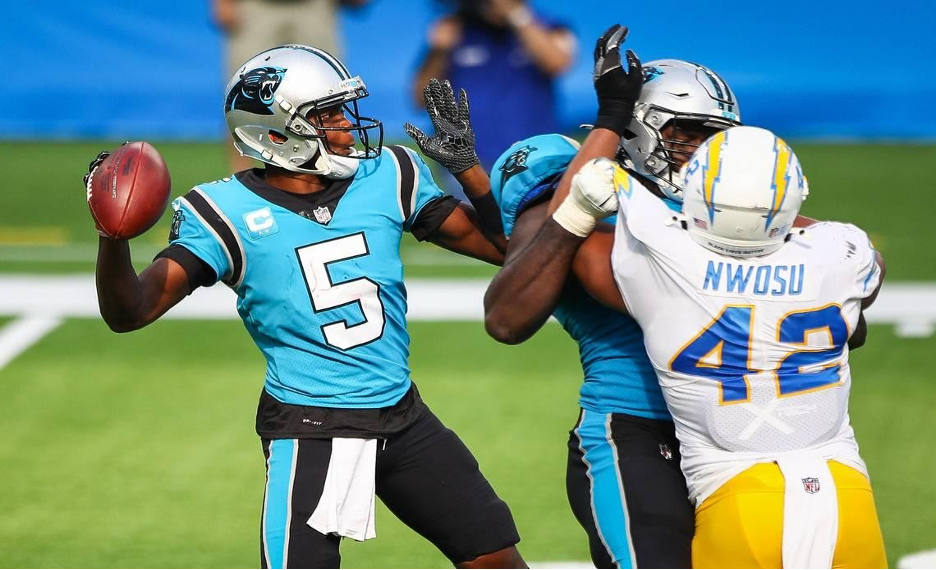 Meg Oliphant/MEG OLIPHANT
The two teams that have exceed expectations the best so far this year have been the Panthers and the Bears. For Carolina, the had a tough two game start but have bounced back with authority winning three straight games. For a team that many thought to be a bottom dweller this year in the NFC, Matt Rhule has changed the narrative completely. With Christian McCaffery out until likely the end of October, the Panthers have shown that they can hold their own without CMC.
While he seems to have been in the league forever, Bridgewater is only 27 and now a sole starter for the first time since 2016 and has exceptional. With DJ Moore, Curtis Samuel, and newly acquired Robbie Anderson, Carolina has embodied the high scoring home-run offensive style that has spread all across the league. The Panthers only problem is their defense which they will need to somehow improve as soon as possible if they want to compete in a deep NFC.
The Bears have also been an eye popper so far with all four of their wins coming down to the last two minutes. With Foles being mediocre, Matt Nagy's key to victory is going have to be relying on Ty Montgomery and their running game. Defensively, the Bears have gotten good performances out of their play makers in Kyle Fuller and Kahlil Mack who was an absolute game wrecker for the Tampa Bay Buccaneers. After what was a "down year" for him, Mack looks like he is back to being one of the top three best pass rushers in the league. One major worry is probably their defensive backs such as Eddie Jackson and Jaylon Johnson who have been torched as of late and need to give better production if this Bear's team is indeed for real.
3. New York Jets (0-5) at Miami Dolphins (2-3) 4:05 PM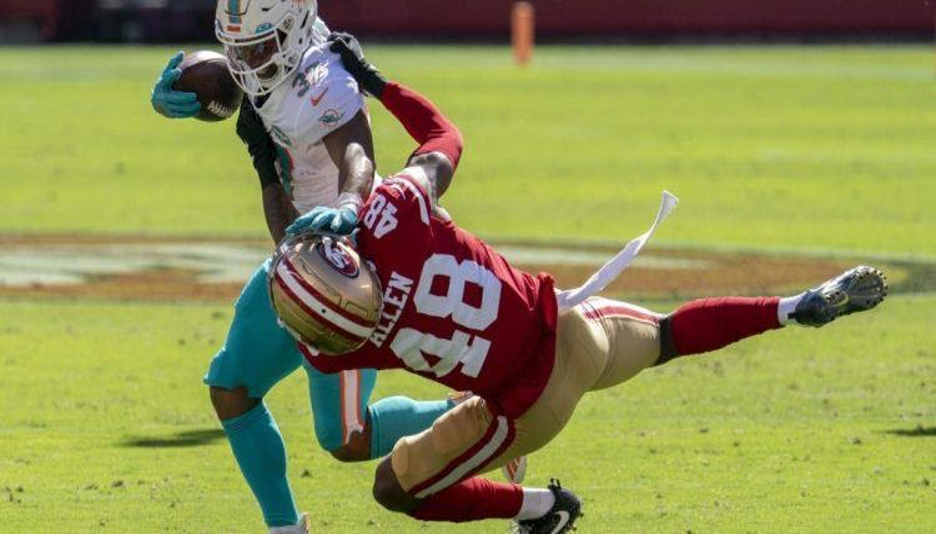 Kyle Terada/ USA TODAY Sports
I know! With the Green Bay Packers playing at the Tampa Bay Buccaneers as America's Game of the Week, this should not be the game to focus on. But let me explain why people should keep their eye on this matchup. Starting with the Jets, the absolute disgrace of this NFL franchise from Florham Park, N.J. is showing all its colors this year. As the worst team in the NFL, the Jets have little to no NFL worthy talent around a young regressing quarterback in Sam Darnold who is not even playing. As if things could not get worse, the Jets released Bell who is now rejoicing as a member of the Kansas City Chiefs. With how dysfunctional the organization has been, it seems that Adam Gase is a dead man walking and the team is six feet under. Advice for Jet fans: Start watching Clemson quarterback Trevor Lawrence. But then there are the Dolphins.
They are 2-3 but have played well in all five games and their three losses are to the Patriots, Bills, and Seahawks. What is particularly eye catching with Miami is that in their last game, they blew out the 49ers in Santa Clara, Calif. which is never easy. Now the Dolphins are starting to get a lot of hype around them with still not much to show for as they still are searching for their identity. While people are still waiting to see Tua Tagovailoa under center, Ryan Fitzpatrick is still going to be the Dolphin's quarterback. Even though his production is that of a roller coaster, Fitzpatrick is looking efficient with his weapons such as Preston Williams, DeVante Parker, Mike Gesicki, and Myles Gaskins.
In addition, their defense is now finally intact with Byron Jones and Xavien Howard both on the field. If the Dolphins come out of Sunday at 3-3, their remaining schedule consists of the Cardinals, Chargers, Broncos, Jets, and Bengals. If they can find a way to upset a couple other of their opponents as the underdog, do not be surprised if you see the Dolphins in the playoff hunt this December.
4. Arizona Cardinals (3-2) at Dallas Cowboys (2-3) MNF 8:15 PM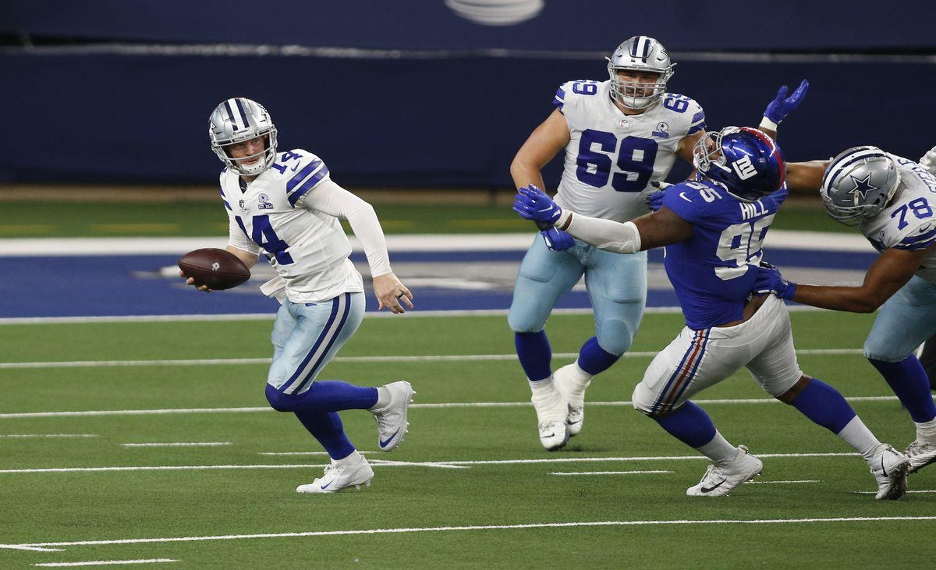 Daniel Mears/ Detroit News
Now the Chiefs and Bills is clearly the better game of the two Monday Night games. However, these Cowboys and Cardinals should be a bigger focus because of how much uncertainty there is between the two of them. For Dallas, it is going to be very interesting to see how Mike McCarthy is going to handle their two major concerns. While we know Andy Dalton is a solid QB, he is not at the level Dak Prescott was at through the first five weeks of the season before he suffered his gruesome season-ending injury against the Giants. This means you should expect a heavy load for Ezekiel Elliot in this prime-time game.
The second other worry is how dreadful the defense has been so far this year. They have been so terrible that they made a Giant's offense that had scored three touchdowns all year prior to facing them, look like a force to be reckon with scoring 34 points. Now with Anthony Brown, Leighton Vander Esch, and Chidobe Awuzie all back from injury this week, the Cowboys might finally turn the corner with their defense.
After two straight weeks of being disappointing, the Cardinals finally got back on the winning side with a convincing win against the Jets. How they continue this path for success is to rely on their passing game which they unleashed last week as Kyler Murray threw for 380 passing yards. More importantly, Murray was able to show he is not completely dependent upon DeAndre Hopkins as he involved every major member of this offense in the passing game. With a defense that is good at times, Arizona is still a playoff contender. What will be very important though is that they are going to need every non-division win they can get as they still have both the Seahawks and Rams on their schedule twice.
Chris Kiely can be reached at christopher.kiely@student.shu.edu.