NFL games to watch for Week 2
Date: September 19, 2020
By: Chris Kiely
Dale Zanine-USA TODAY Sports
After a season opening Sunday full of great matchups, Week Two is here. Teams that started off with a win in Week One will try to continue their hot start. Teams that lost last week are trying to get back to the drawing board and bounce back. Personally, the NFL season is broken up into four, four-game stretches. Although the four games into the season do seem too early to make judgements on team's seasons, they are drastically important as the first four games of a team's season can make or break whether they have a chance of making the playoffs or sitting on the couch in January.
Statistically, less than 4% of teams start 0-3 and make the playoffs, and only one team has made the playoffs starting 0-4. Therefore, while every game of a 16-game season matters the first four really say a lot about team's overall seasons.
However, it has only been one game for these teams who are without a preseason, so there should not be any panic or overreaction for teams that lost last week. With that, these four games should be paid attention as some of the best storylines this week.
1. Minnesota Vikings (0-1) at Indianapolis Colts (0-1) (1:00 PM)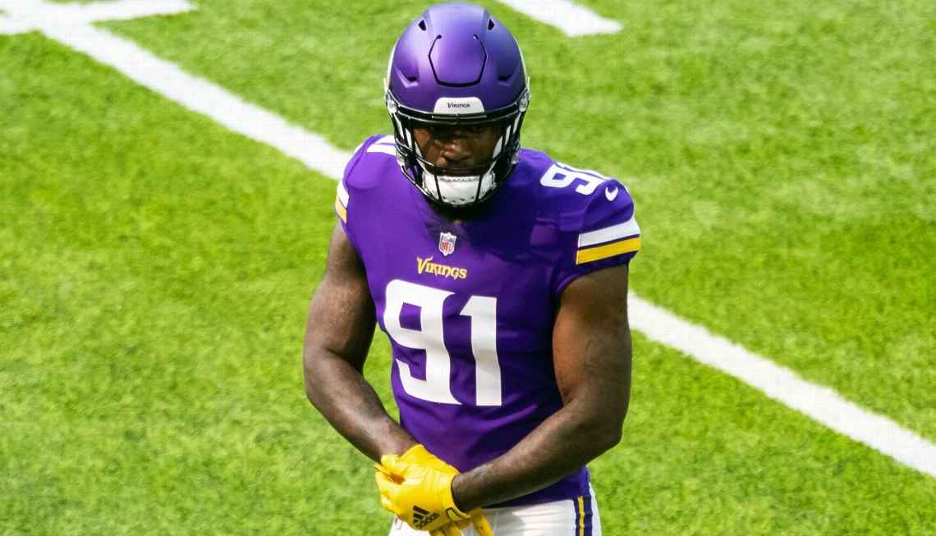 AP Photo/David Berding
As mentioned above, getting off to a good start to a season is very important. For both of these teams, who suffered losses in Week 1, bouncing back this week is really important. For the Vikings, last Sunday's loss to the Packers is not how you want to start your season, but it should not make people lose complete faith in them. They did have some notable positives such as their running game averaging 6.1 yards-per-carry and WR Adam Thielen torching the Packers' secondary with 110 receiving yards and two touchdowns.
However, their defense was horrendous allowing over 500 yards, and 31 first downs as a mad Aaron Rodgers carved them up with ease. In addition, the Vikings' defensive offseason acquisitions such as DE Yannick Ngakoue were very infective as their pass rush could not get anywhere close to Rodgers. To be fair, over half of the Viking's starting defense was not on the team last year so they are nowhere near their potential. In all, no reason to panic yet but this game against the Colts would be a big win for a team with a top-10 strength of schedule, and a team in a division with Green Bay and Chicago.
As for the Colts, their game at Jacksonville last Sunday had to be the worst loss of all last week. Some of their problems include depending upon QB Philip Rivers too much with 46 passing attempts and having only 88 rushing yards. In addition, the Colts' offense had several big problems going 2-5 in the red zone, only going 4-12 on third down conversions, and committing two turnovers.
Like the Vikings, the Colts should not panic with a loss but there are some problems they need to focus on like their struggling secondary, and inconsistent running. One of the benefits the Colts do have, unlike the Vikings, is that their schedule is easier, and their division is less clear-cut.
2. Los Angeles Rams (1-0) at Philadelphia Eagles (0-1) (1:00 PM)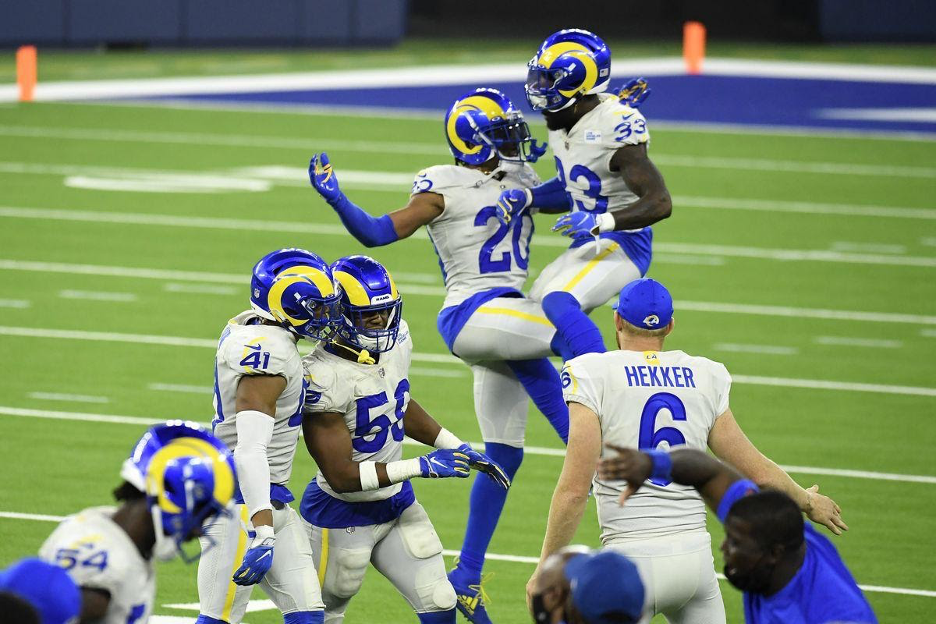 Kevork Djansezian/Getty Images
Last week's takeaways for the Rams and Eagles were complete opposites. For the Rams, their performance against the Cowboys was good but not dominating. Under Sean McVay, the Rams showed their running game potential with 153 running yards and 422 total yards, yet they were inconsistent going 2-5 in the red zone. However, the defense looked very good as they harassed Dak Prescott all game with three sacks and three QB hits.
Now against Philadelphia, the Rams seem to be in a good position to go 2-0. With the Bills, Giants, and Washington following, the Rams could possibly start off at 4-1. With the Rams being in the same division as the Seahawks, Cardinals, and 49ers, they are going to view every non-division game as a must win.
While the Rams had a noteworthy win against the Cowboys, the Eagles looked horrible against Washington. What made the Eagles look disappointing was their collapse in the second half allowing 27 straight points. What was worse was the complete breakdown of their offensive line as they gave up eight sacks, 13 tackles for loss, and allowed two turnovers. With a nonexistent rushing game and no clear-cut No. 1 wide receiver, the Eagles will really need to rely on a big game from QB Carson Wentz, and TEs Dallas Goedert and Zach Ertz.
Their biggest priority is to slow down Aaron Donald and the Rams vaunted defense. Lastly, the Eagles have a brutal schedule that include 49ers, Ravens, Seahawks, Saints, and among others so a win on Sunday would be major for them.
3. Washington Football Team (1-0) at Arizona Cardinals (1-0) (4:05 PM)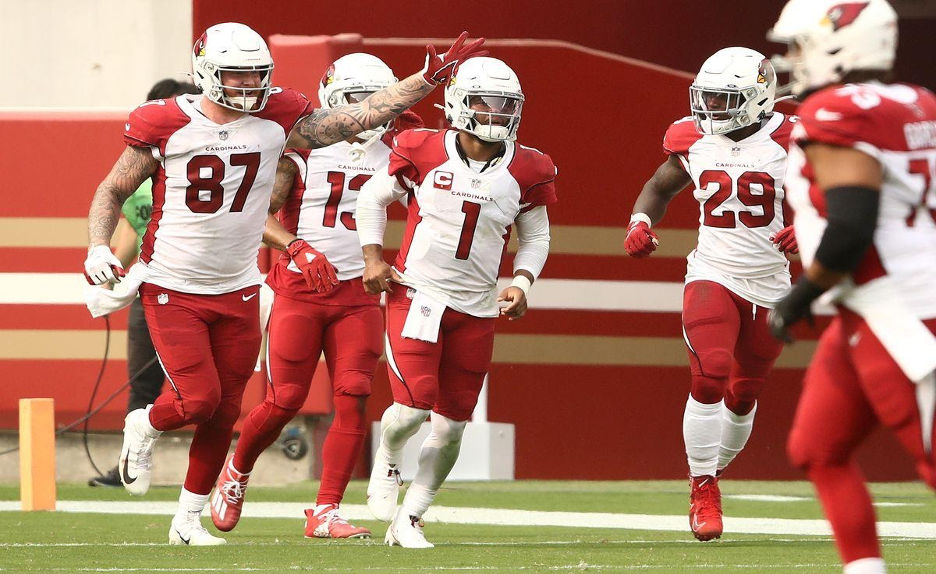 Ezra Shaw/Getty Images
Had I told you this last year, no one could get five of their friends to watch this game with these two teams. After Week One this year, it has been drastically different. For Washington, their focus on the defense showed the potential it has with last week's win against the Eagles. In the second half, their defensive line of Matt Ioannidis, Jonathon Allen, Montez Sweat, Daron Payne, and rookie Chae Young displayed how lethal they can be.
While the offense is still shaky with no definitive running game, Dwayne Haskins looked much better last week than any time last year. Even though Washington headed into this season with a rebuilding mindset, a potential 2-0 could rapidly change that. With new head coach Ron Rivera, the culture of being insignificant to their opponents has already been changed in just 60 minutes.
Like Ron Rivera, Kliff Kingsbury has done the same in Arizona. His No. 1 area of focus by far has been to get the quarterback for his fast paced dual-threat offense. While it has only been 17 games, it has so far looked like it has been successful with the selection of Kyler Murray. Last week against the reigning NFC champion 49ers, Kyler showed his dual threat ability with over 300 total yards of offense and two touchdowns.
To complement Murray, Kingsbury has surrounded him with plenty of offensive weapons. That was on complete display in Santa Clara as newly acquired WR Deandre Hopkins made his debut with authority as he caught 14 receptions for 151 yards on 16 targets. Like Washington, Arizona particularly was not supposed to be a division winner this year with their brutal division. Yet a win at the 49ers, and a win against Washington could change a lot of people's views on their chances in the NFC West division.
4. New England Patriots (1-0) at Seattle Seahawks (1-0) (8:20 PM)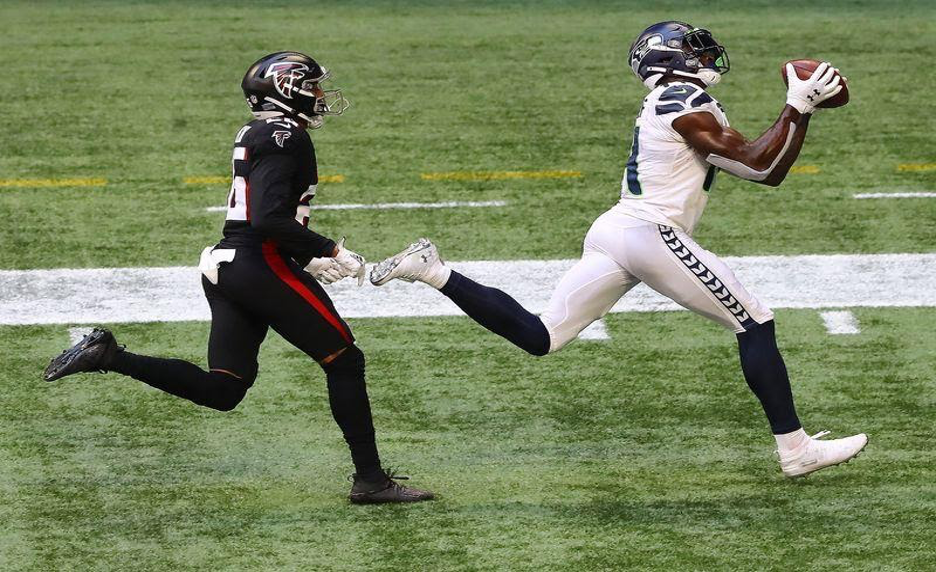 Curtis Compton/AJC
Of all the games this Sunday, Seattle and New England is by far the best matchup. Both teams started the season off with convincing Week One wins. For Seattle, it may have been only one game, but it seems that Russell Wilson is already working his case to be the MVP. In Atlanta, Wilson went 31 for 35 on passing attempts, threw 322 passing yards, totaled four touchdowns, and was incredibly efficient. With the skill players of DK Metcalf, Tyler Lockett, and Chris Carson around him, this Seahawks offense could be a lot of trouble for opposing defenses.
As for Seattle's defense, it was not as impressive as their defense let Matt Ryan throw for over 350 yards. But what was eye grabbing was the first game of newly acquired safety Jamal Adams who balled out with 12 tackles, two QB hits, 2.5 tackles for loss, and a sack to top it. With Pro Bowl LB Bobby Wagner among others, the Seahawks defense will likely have little to worry this year based on how impressive they have looked so far.
If Russel Wilson was the most impressive quarterback in Week One, Cam Newton was a close second. In Foxborough, Mass., Newton was a breath of fresh air as he showed glimpses of his former-MVP self with over 225 total yards and two rushing TDs. The rushing game of New England was unordinary and impressive as they steam rolled the Dolphins with 217 rushing yards and three rushing touchdowns.
On the Defensive side of the ball, the Pats seemed to replicate their 2019 defense slowing down Miami's running game and forcing Fitzpatrick to throw three interceptions. But their biggest weapon is the mad genius Bill Belichick on the sidelines who I predict will find a way to slow down Mr. Unlimited and the vaunted Seahawks offense.
Trivia
Q: Who is the only team in NFL history to start the season at 0-4 and still make the playoffs?
A: The 1992 San Diego Chargers
Chris Kiely can be reached at christopher.kiely@student.shu.edu.