NBA Bubble recap
Date: October 13, 2020
By: Jorie Mickens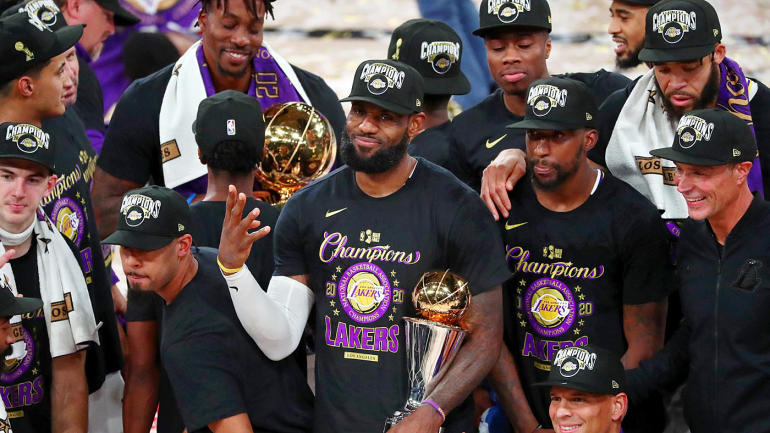 Kim Klement
Nearly seven months ago, minutes before the tip-off of a divisional matchup. between the Utah Jazz and the Oklahoma City Thunder, a team medical staffer emerged from the locker room, hurried onto the court and huddled with the game's referees. Both teams stood puzzled for nearly 15 minutes, speculating the causes of the delay. Was it a leaky ceiling? A bomb threat? The situation left players, fans and coaches bewildered.
"I thought it was the FBI," Jazz guard Donovan Mitchell said. "I walked back thinking 'alright, we'll be back in 45 minutes.'"
Then the news broke—Jazz center Rudy Gobert had tested positive for the coronavirus. Up until that point, the NBA had been tracking the coronavirus pandemic closely. Two days before that game, the league closed locker rooms to news media and any non-essential personnel. The Golden State Warriors also announced that their March 12 matchup with the Brooklyn Nets would be played without fans, following San Francisco's order that prohibited mass gatherings.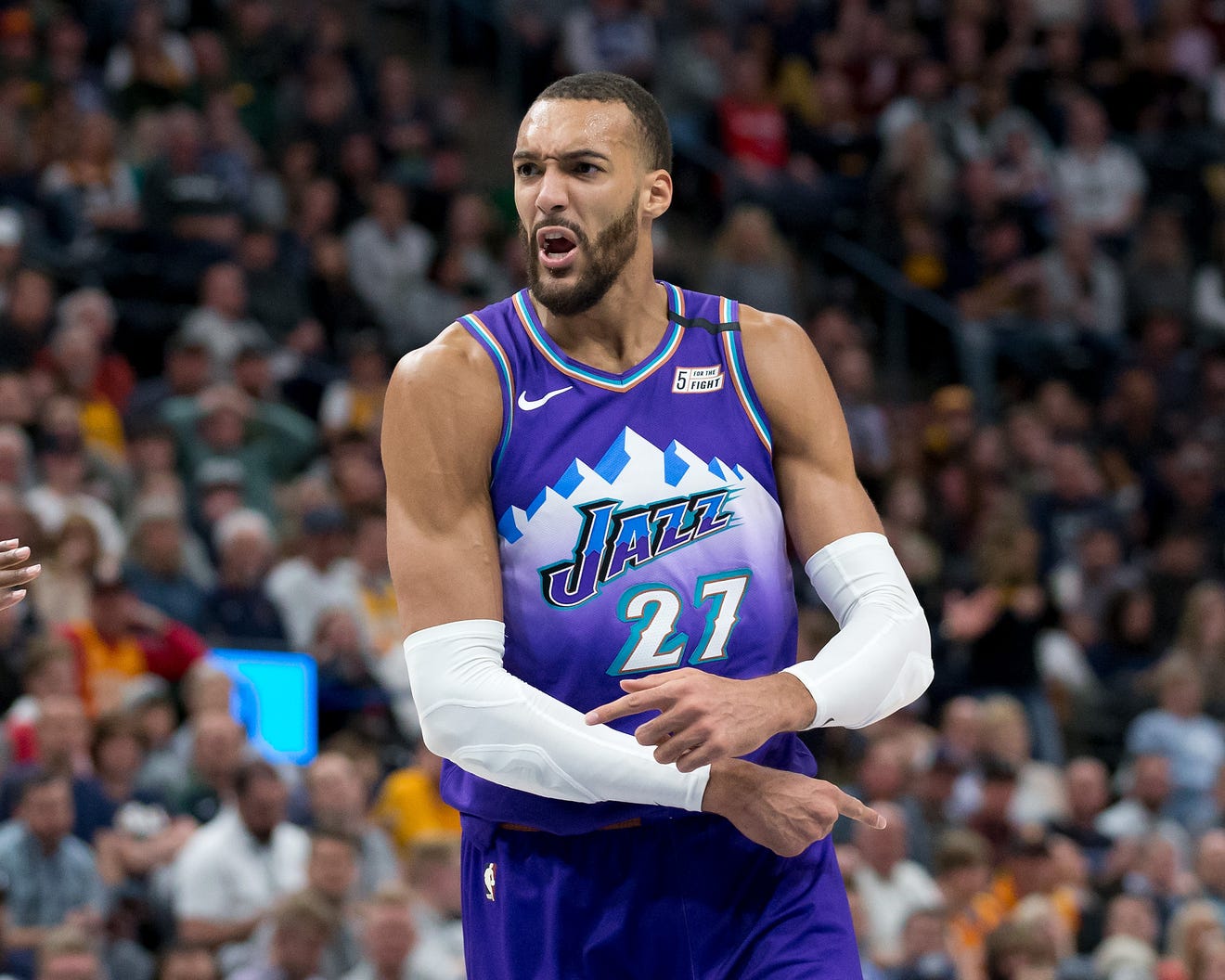 Russell Isabella/USA TODAY Sports
The NBA originally suspended their season for 30 days, a lengthier time frame than Mitchell's estimated 45 minutes, but what became a 142-day suspension was devasting for the league's pocketbooks. Already struggling to recoup the losses of Chinese sponsors following a feud between the Chinese government and Houston Rockets general manager Daryl Morey, the pandemic costed the NBA nearly $690 million in ticket revenue, according to Forbes. But after three months of consultation, on June 4, the NBA Board of Governors approved the resumption of the 2019-20 season at the ESPN Wide World of Sports Complex in Orlando, Fla.
For various reasons, several players opted not to attend the "NBA Bubble." Washington's Bradley Beal sat out with a nagging shoulder injury, the Lakers' Avery Bradley prioritized his six-year-old son with respiratory issues and Portland's Trevor Ariza spent the summer with his 12-year-old child.
Prior to the NBA restart though, multiple NBA players and personnel tested positive for the coronavirus. Mitchell, Gobert's teammate, tested positive one day after the center's diagnosis. Brooklyn Nets forward Kevin Durant and Denver Nuggets center Nikola Jokic were also among the notable players who got infected, and New York Knicks CEO James Dolan was one of the 34 league members who tested positive for the coronavirus.
As the league approached its July 30 return-to-play date, concerns about the nation's mounting coronavirus cases grew, and players' faith in the bubble dwindled.
Sixers center Joel Embiid, who wore a hazmat suit and gloves to his team's flight to Orlando, said, "I don't think it's going to be safe enough."
Portland Trailblazers point guard Damian Lillard relayed the same message. "My confidence ain't great because you're telling me you're gonna have 22 teams full of players following all the rules? When we have 100% freedom, everybody don't follow all the rules. I don't have much confidence," Lillard said.
But as players finally arrived at the bubble, those doubts quickly vanished. The league announced during their July 7 testing period (first testing period inside the bubble), only two of the 322 tested players returned positive tests. While there were a few instances of players breaking quarantine, the NBA posted zero positive tests throughout the remainder of the restart, even as the league allowed players to invite family and guests on Aug. 30. With the necessary safety precautions in place, another large concern was how quickly players would return to form on the court.
The NBA invited 22 teams to participate in the NBA restart, nine Eastern Conference teams and 13 Western Conference teams. Each team was scheduled for three scrimmages, which did not count toward the team's record, and eight seeding games to determine playoff standings. At the end of the eight seeding games, if an eighth-seeded team was four games or fewer ahead of the ninth-seeded team in the same conference, that triggered a best-of-two series between the two teams to decide the conference's eighth seed.
In that scenario, the No. 9 seed had to win both games in the series to advance, while the No. 8 seed had to win just one game. While most of the scrimmages were treated like preseason games, they were full of no-look passes, high-flying dunks and this ridiculously tall starting lineup:
Damn pic.twitter.com/dOgw5PO4TK

— Joe Olivo (@golddeath) July 22, 2020
And as the league transitioned into the seeding games, it was all systems go for every team.
Opening night consisted of two nail-biters. Brandon Ingram, the 2019-20 Most Improved Player, tallied 23 points and eight rebounds for the New Orleans Pelicans during the league's first seeding game. But the former Duke product missed a game-winning three-pointer as time expired, and the Jazz escaped with a 106-104 victory. The battle of Los Angeles followed that game, as the first-seeded Lakers took on the second-seeded Clippers. Paul George and Kawhi Leonard combined for 58 points in that game, but LeBron James converted a go-ahead layup with 12.8 seconds remaining, and the Purple and Gold secured a 103-101 victory.
The next 15 days were jam-packed with exceptional performances. In his first three seeding games, Indiana Pacers forward T.J. Warren averaged 39.7 points, 5.7 rebounds and 3.3 assists while shooting 65% from the field, 61% from three and 92% from the free throw line. Denver Nuggets rookie Michael Porter Jr. also issued a string of phenomenal performances, as he averaged 22.0 points and 8.6 rebounds and became the first Nuggets' rookie since Carmelo Anthony to total 35 points and 10 rebounds in a game. But the two biggest stars of the league's seeding games were Phoenix's Devin Booker and Portland's Damian Lillard.
The Phoenix Suns had the second-worst record among the 22 teams invited to the bubble (26-39) and needed a near flawless run to have a shot at making the playoffs—and the Suns did just that. Phoenix went 8-0 in their seeding games and their young superstar averaged 31 points, 6.3 assists and 4.9 rebounds-per-night. Booker's kodak moment came in the Suns' third seeding game, when he drilled a game-winning jumper over the outstretched arm of Paul George to give Phoenix a 117-115 victory over the Clippers.
An obvious choice.@ConnsHomePlus #MakeItHappen Play of the Game! pic.twitter.com/l9IIQVz2gw

— Phoenix Suns (@Suns) August 4, 2020
But despite the Suns' historic run, Phoenix missed the play-in tournament by virtue of losing their season series with the Memphis Grizzlies. Who made the play-in tournament you ask? None other than "Dame D.O.L.L.A." himself.
Nobody played better than Lillard during the seeding games. "Logo Lillard" went for 40+ points in four separate games (including a 61-point performance against the Mavericks), averaged 37.6 points, 9.6 assists and shot 44% from three. Lillard's performance helped Portland secure the eighth seed in the Western Conference and earned him a unanimous bubble MVP award.
While three first round Eastern Conference playoff series were sweeps, the Western Conference provided three captivating first round matchups. Luka Doncic and the seventh-seeded Dallas Mavericks nearly took down the Clippers in a competitive six-game series, and the young Slovenian averaged 31 points, 9.8 rebounds and 8.7 assists in his first career playoff run.
LUKA OMGGGGG pic.twitter.com/v3gPhPzbie

— SportsCenter (@SportsCenter) August 23, 2020
Oklahoma City's Chris Paul nearly got revenge on his former team, but a game-saving block in game seven from Houston's James Harden advanced the Rockets into the next round.
@Toyota l #OneMission pic.twitter.com/VFRmfIGWSb

— Houston Rockets (@HoustonRockets) September 3, 2020
And perhaps the best playoff series of the entire NBA restart was the duel between the Denver Nuggets and the Utah Jazz. A 57-point performance from Donovan Mitchell in Game one (third-highest scoring playoff game in NBA history) was not enough for a Jazz victory, as Utah lost the series opener 135-125 in overtime.
Then Utah responded by winning the next three games, withstanding a 50-point game from Denver's Jamal Murray in game four. With their backs against the wall, Denver fought back. Murray totaled 92 points in games five and six, and a 30-point, 14-rebound performance from Nikola Jokic in game seven aided Denver in becoming the 12th team in NBA history to overcome a 3-1 series deficit.
In the second round, Denver once again fell behind 3-1, this time to the Clippers. But from game five on, Los Angeles seemingly imploded. Once again, on the backs of their two young superstars, Denver became the first team in NBA history to come back from a 3-1 series deficit in consecutive series.
"We believe in each other."

Hear from Murray & Jokic after the @nuggets completed their 2nd consecutive 3-1 series comeback with the Game 7 win!

DEN/LAL WCF Game 1: Friday - 9pm/et on TNT pic.twitter.com/iusiapXpkC

— NBA (@NBA) September 16, 2020
Also, in the second round, the Lakers handled the Rockets in five games, and out East, the fifth-seeded Miami Heat took down Giannis Antetokounmpo and the first-seeded Milwaukee Bucks, also in five games. Antetokounmpo was later named the league's MVP and Defensive Player of the Year, becoming the third player in league history (Michael Jordan and Hakeem Olajuwon) to win both awards in the same season.
The Celtics-Raptors series was also an intriguing one. The defending champs fell down 2-0 in that series and were on the brink of losing three-straight before a miracle game-winning three from Toronto's OG Anunoby.
OG Anunoby with his Kawhi Leonard playoff walkoff winner. Can watch this over and over to see different things each time. pic.twitter.com/tbV2xWbYVR

— Adam Schefter (@AdamSchefter) September 4, 2020
Toronto also took Game four, but Boston responded with a dominant performance in game five. Toronto's Kyle Lowry then came up huge in the Raptors' double-overtime win in game six. In game seven, Boston's Jayson Tatum and Jaylen Brown combined for 50 points, and helped the Celtics secure their third Eastern Conference Finals bid in four years.
During the Western Conference Finals, the Lakers defeated the Nuggets in five games, and that series included an Anthony Davis game-winning three in game two, and a 38-point, 16- rebound, 10-assist performance from James to close out the series in game five.
AD WINS IT AT THE BUZZER pic.twitter.com/pcAe63xESj

— NBA on TNT (@NBAonTNT) September 21, 2020
And in the Eastern Conference Finals, the Heat continued their Cinderella run by eliminating the Celtics in six games. Miami's Bam Adebayo also provided one of the best playoff blocks in recent memory.
Heat's Bam Adebayo meets Celtics' Jayson Tatum at the rim for a clutch block in overtime pic.twitter.com/fqaELhkjNY

— Ben Golliver (@BenGolliver) September 16, 2020
Then, making his 10th NBA Finals appearance, LeBron James led the Los Angeles Lakers to their 17th championship in franchise history, further cementing his legacy as one of the greatest players of all-time, and becoming the first player in league history to win Finals MVP with three different franchises.
"Without y'all's strength and loyalty, it wouldn't have been possible." -@KingJames to the Lakers Faithful pic.twitter.com/CgDZbvS7eM

— Los Angeles Lakers (@Lakers) October 12, 2020
But even as players provided world-class performances on the court amid a global pandemic, that did not stop them from voicing their concerns on perhaps the country's most pressing issue—racial injustice.
As multiple U.S. states instituted lockdowns to slow the spread of the coronavirus, a demoralizing video made national headlines. On Feb. 23, Ahmaud Arbery, a 25-year-old Black man, was pursued and fatally shot by three white residents, Travis and Gregory McMichael and William Bryan, while he was jogging in a Georgia neighborhood.
Less than a month later, Breonna Taylor, a 26-year-old Black woman, was fatally shot in her Louisville, Ky. apartment by three, plainclothes police officers Jonathan Mattingly, Brett Hankison and Myles Cosgrove. Then, on May 25, George Floyd, a 46-year-old Black man, was killed by Minneapolis police officer Derek Chauvin after the cop knelt on Floyd's neck for eight minutes and 46 seconds.
The injustices sparked worldwide protests of police brutality and systemic racism, and players took to the streets and social media to voice their displeasure with the treatment of the Black community:
We're literally hunted EVERYDAY/EVERYTIME we step foot outside the comfort of our homes! Can't even go for a damn jog man! Like WTF man are you kidding me?!?!?!?!?!? No man fr ARE YOU KIDDING ME!!!!! I'm sorry Ahmaud(Rest In Paradise) and my prayers and blessings sent to the..... pic.twitter.com/r1PNxs8Vgn

— LeBron James (@KingJames) May 6, 2020
Malcolm Brogdon, Lil Yachty and Justin Anderson joined Jaylen Brown in Atlanta to protest.

Brogdon: "I got a grandfather who marched next to Dr. King in the'60's and he was amazing. He would be proud to see us all here. We have to keep pushing forward."

(via @FCHWPO) pic.twitter.com/E4yXxWjGGr

— ESPN (@espn) May 31, 2020
Jaylen Brown drove 15 hours today to peacefully protest in Atlanta.

"Being a celebrity, being an NBA player don't exclude me from no conversations at all. ... We're raising awareness for some of the injustices that we've been seeing. It's not ok."

(via @FCHWPO) pic.twitter.com/VABgXUu7cd

— Bleacher Report (@BleacherReport) May 30, 2020
A large concern among players was whether they would be able to fight racial inequality from within the bubble, so the NBA implemented measures to show support for racial equality. The NBA allowed players to wear pre-approved social justice messages on the back of their jerseys, painted the words "Black Lives Matter" on all the courts and allowed players to kneel during the national anthem.
A closer look at some of the social justice messages on the players' jerseys tonight for the NBA restart. pic.twitter.com/MJEQoFo4Eu

— NBA on TNT (@NBAonTNT) July 30, 2020
The bubble exceeded expectations in every aspect until Sunday, Aug. 23, when news broke that Jacob Blake, a 29-year-old Black man, was shot by police and paralyzed from the waist down.
The NBA's performative social justice measures were deemed insufficient, as just three days later, the Milwaukee Bucks (Blake was shot in Kenosha, Wis., about 45 minutes away from Milwaukee) refused to take the court for Game five of their first round series with the Orlando Magic. The boycott was unprecedented, as all three games that day were eventually postponed, and it sparked a similar trend among other professional sports leagues such as the MLB, WNBA, and MLS.
George Hill, a point guard for the Bucks, said, "This world has to change. Our police department has to change. Us as society has to change. Right now, we're not seeing any of that. Lives are being taken as we speak day in and day out. There's no consequence or accountability for it. That's what has to change."
After a heated deliberation among players, the NBA resumed its playoffs. Many players said they already sacrificed so much coming to the bubble, it would be counterproductive not to finish the season.
Yahoo Sources: There was a change in position from last night with LeBron James, among others, relaying it was in their best interest to finish out the season.

— Chris Haynes (@ChrisBHaynes) August 27, 2020
But as the boycotts stopped, the players' push for social justice did not. NBA commissioner Adam Silver and players' union executive director Michele Roberts announced that league arenas would be converted into polling locations for this fall's general election.
The National Basketball Players Association also announced a plan to "immediately establish a social justice coalition, with representatives from players, coaches and governors, that will be focused on a broad range of issues, including increasing access to voting, promoting civic engagement and advocating for meaningful police and criminal justice reform."
Considering the amount of uncertainty there was heading into the bubble, for the league to crown a legitimate champion, have zero positive coronavirus tests and enact multiple social justice initiatives, the bubble must be deemed a success.
As for next season, Silver said he prefers to avoid another bubble and wants to have fans back in NBA arenas. That said, the 2020 NBA Bubble will be on the short list for the most memorable experiences in sports history.
Jorie Mickens is an Assistant Sports Director for WSOU Sports and can be reached at jorie.mickens@student.shu.edu.