MLB stadium grades
Date: June 30, 2020
By: Chris Kiely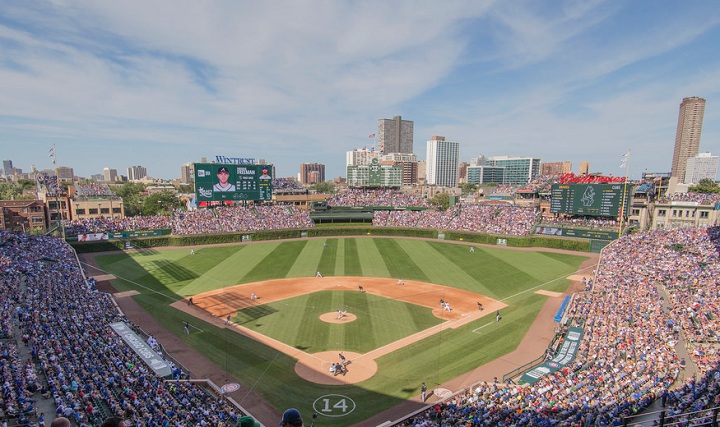 Ballparksofbaseball.com
Before I begin, I wanted to introduce myself as this is my debut article for WSOU. I am Chris Kiely, a sophomore from just outside of Washington D.C., and a fan of the New York Yankees, Chicago Bears, and our Seton Hall Pirates. I also want to quickly thank my dad, Michael Kiely, as I could never write this article without him making these opinions possible.
Overview
Baseball is back! After three long months, Major League Baseball is no longer up in the air on whether the season will be a possibility. While we are still not 100% guaranteed to see America's pastime in what has been a very bleak start to this summer, the teams are finally returning to their parks. It is why I have wanted to bring up this topic that baseball stadiums are unlike any other sporting complex. In football, every field is 100 yards. In basketball, every basket is 10 feet high. In hockey, every rink is boarded.
It is only in baseball where no two stadiums are exactly the same. It is why I wanted to give my straightforward opinion on all 30 of them. (Except for that period from the 70s-00s where stadiums looked a group of classmates coping each other's homework and changing only 1 answer to make it seem different. I'm not joking, take a look for yourself)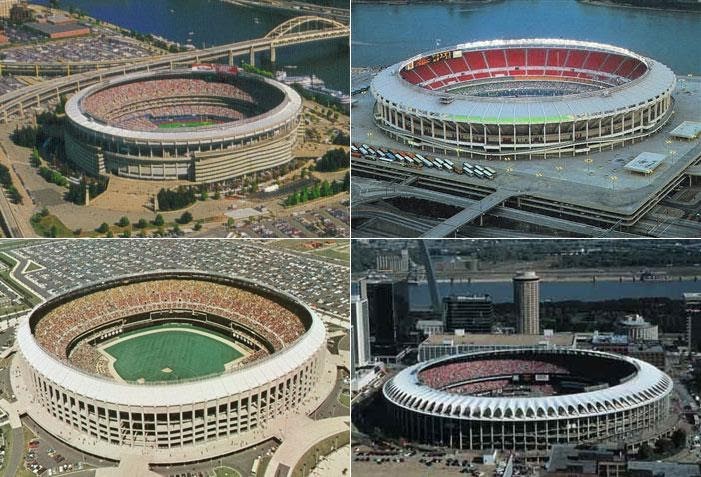 With the way MLB stadiums are currently, it seems impossible to compare all 30 in one collective category. It is why I commonly put them in three different categories:
Old School (Pre-1992): 7
New School (1992-): 15
Indoor/Retractable Roof: 8
P.S. There might be several "Hot Takes" for some of these
Old School
Fenway Park (1912) Boston Red Sox Last Seen: 2017
Fenway is great. For anyone who calls themselves a baseball fan, Fenway needs to be high on the bucket list as it is a must-see. From the tall green monster to cramped confine feeling to the wooden seats, there is little to none to complain about the style of Fenway as it is probably the best old school stadium. Again, this is all coming from a Yankee fan.
10/10, A+, Anyone who says this stadium is bad, they're wrong.
Wrigley Field (1914) Chicago Cubs Last Seen: 2018
I know I just said that Fenway is the best old school stadium, but when it comes to Wrigley Field . . . It's actually better. Many baseball fans like to say that the friendly confines is the best stadium in baseball. The tradition of afternoon baseball at Wrigley has practically made fans always think of Clark and Addison when it comes to afternoon baseball. Even with it's addition of two jumbotrons, the ivy on the brick wall and general admission in the bleachers still make it have an old-school feeling. As well as the fun and uniqueness of Wrigleyville, the North Side is as much of a must-see for baseball fans as Fenway is.
10/10, A+, Greatest place to experience baseball in America.
Dodger Stadium (1962) Los Angeles Dodgers Last Seen: 2015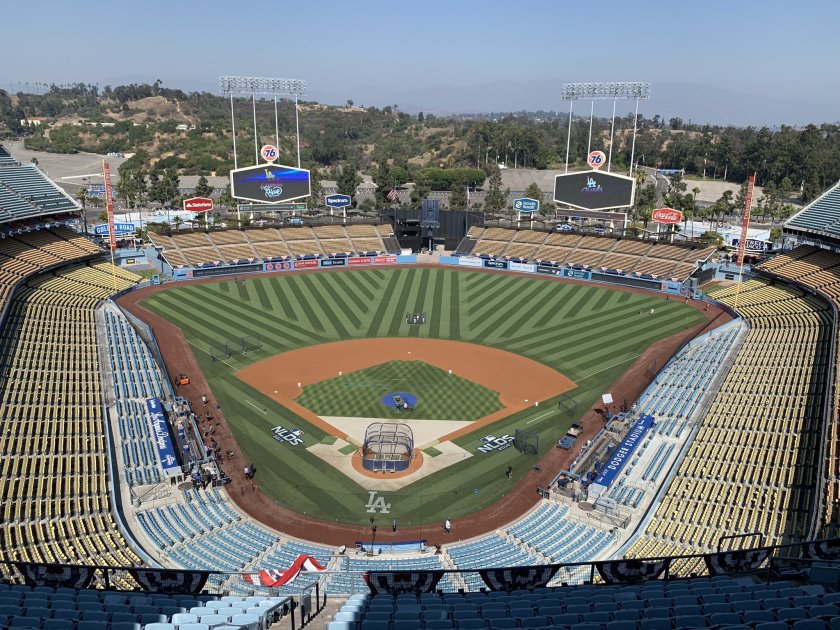 Arash Markazi/Los Angeles Times
Similar to how the Star Wars movies deteriorate after the oldest two, the same is with old school MLB stadiums. After Fenway and Wrigley, the next oldest stadium is Dodger Stadium which is very overrated (Hot take No. 1). While I will admit the weather at Chavez Ravine is one of the best areas when it comes to baseball weather, it does have some issues.
First, Dodger Stadium is way too big as it has the largest seating capacity in MLB stadiums with 56,000. It causes the concourse to be way too crowded. Second, the concessions are from the 1960s and have little to no variety. Lastly, the structure of the stadium was unintentionally made that fans are too far from the field, particularly the seats in the upper deck.
5/10, C, below average, People that think this a great stadium are brainwashed.
Angel Stadium (1966) Los Angeles Angels Last Seen: 2015
Angel Stadium is good but not extraordinary. Although it was built in 1966, Angel Stadium had a huge makeover in the 1990s after the Los Angeles Rams left to make it solely a baseball stadium. It is why the stadium in Anaheim does not have an old school feeling. Some of those renovations include the "Disney Renovations," which give it some character but not enough. With its structure being like Dodger Stadium but being smaller in capacity and having seats closer to the field, Angel Stadium is a good stadium to go to, but not must-see ballpark.
7/10, B-, Mike Trout makes it a B.
Oakland Coliseum (1966) Oakland Athletics Last seen: 2015
Now this is where old school stadiums hit a rough patch. Without a doubt, Oakland Coliseum is the weirdest/ugliest/most characterized stadium in baseball to most fans. Being the last dual-purpose stadium, the coliseum is a dinosaur by architecture standards. From its gargantuan Mount Davis beyond centerfield (named after Oakland Raiders Owner Al Davis) to its thousands of tarped seats to the two jumbotrons in foul territory, Oakland Coliseum is simply weird. It is even the last ballpark to use boxed TV's within the concourses for fans to watch the game while waiting in lines. If the Angel Stadium renovations in the 1990s were a makeover, the renovations for Oakland Coliseum in the 1990s were diminishing. Judge for yourself
3/10, D-, One of the strangest stadium experiences I have had.
Kauffman Stadium (1973) Kansas City Royals Last seen: 2015
Hot take No. 2: Kauffman Stadium, the most underrated ballpark in the MLB. Now for a lot of the stadiums, I have only been to them once, including Kauffman Stadium. So first impression counts a lot. When it came to the Kansas City Royals who I had very low expectations for, they blew the doors off. Now, granted, the Royals had just gone to the World Series and would go on to win the World Series the year that I saw them. So, fans had a reason to go to the games.
However, the atmosphere was nearly a postseason level for a week-day game in June against the last place Brewers at the time. Besides the atmosphere, the stadium was a lot smaller than it seemed on TV and was constructed so that the seats are slanted towards and facing the field. Lastly, Kauffman Stadium is one of the last old school ballparks that does not have multiple decks of seating in the outfield that block long portrait views from the upper decks from behind home plate.
9/10, A, Again the most underrated stadium in baseball.
Guaranteed Rate Field (1991) Chicago White Sox Last seen: 2019
The last of the old school ballparks, Guaranteed Rate Field is the definition of poor timing. Opening just one year before Camden Yards, the first new school stadium, Guaranteed Rate Field is a symmetrical stadium with a symmetrical field. Having nothing that stands out, the stadium is commonly referred to as New Comiskey Field, the previous stadium for the White Sox. Another negative it has is that being on the South side of Chicago, it had an opportunity to have the view of downtown Chicago and the Sears Tower but instead is looking at housing projects behind the outfield. On the bright side, you do feel the old school style of the stadium when in the concourse. Also, the ballpark has some of the best concessions in baseball when it comes to appropriate variety. Lastly, the stadium does a great job at showing off their teams' history with a dozen or so statues in the outfield.
7/10, B-, If you're in Chicago, go to Wrigley Field if you have choose between the two.
New School
Oriole Park at Camden Yards (1992) Baltimore Orioles Last seen: 2019
Prior to 1992, Baseball had gone 20+ years of playing their games in dual-purpose stadiums that were shared with their neighboring football teams. That all changed with Baltimore's Camden Yards that brought stadiums back to the center area of cities. From its asymmetrical stadium to it view of downtown Baltimore, Camden Yards was a game changer that brought back the meaning of a day at the ballpark. It also brought back the idea for stadiums to have character and be unique. Those include the warehouse in right field, the flagpole court near the right foul pole, and the plaques on Eutaw Street to mark home run distances and who hit them. Fun fact: the only person to hit a ball that hit the warehouse is Ken Griffey Jr. in the 1993 MLB Home Run Derby.
10/10, A+, Everyone's first time here says it is a great ballpark.
Progressive Field (1994) Cleveland Indians Last Seen: 2018
Like the Orioles, the Indians left their terrible dual purpose stadium with the new blood of Progressive Field. If you look carefully, you can see that Progressive Field is a reflective image of Camden Yards as their outfield seating are mirror images of each other if reversed. This form of similarity is one I really enjoy. Like Baltimore, Progressive Field has a great backdrop as it looks upon downtown Cleveland. Characteristics include the biggest scoreboard in baseball, and terraces in the upper right field deck that pay homage to the team's past success and former players. Lastly, another great trait the stadium has is that they have seating right next to the bullpen where you can get within feet of the players. Really good stadium but not in the great category.
9/10, A-, A great follow-up if you go to the Rock & Roll Hall of Fame during the day.
Coors Field (1995) Colorado Rockies Last seen: 2010
Ballparksofbaseball.com
Now having only been nine years old at the one and only time I was there and having yet to be back there, my memory of Coors Field is slightly foggy. The memories I do have of it were mostly positive. Its biggest pluses are the breathtaking views of the Rocky Mountains in many seats. The exterior of the stadium also pays great homage to the Ebbets Field, former home of the Brooklyn Dodgers, by looking very similar. The stadium also a purple row of seating throughout the upper decks to stand for the one mile above sea level mark that Denver, Colorado is well known for. My only problem is that it is a little too big and has some seats, such as the Rock Pile in dead center, that are very far from the field. Well it is a very good stadium; it does not have the qualities that allow it to be in the A territory for New School ballparks like Cleveland.
8/10, B+, If you want a high scoring game to see, this is your ballpark.
Comerica Park (2000) Detroit Tigers Last Seen: 2015
While the team in Comerica Park is not the best, the stadium is satisfying. As my previous opinions have shown, I am a big fan of non-double deck stadiums. Comerica features that. Also, Comerica is in downtown Detroit and allows you to see the city's skyline on the Detroit River. In addition, Comerica is low to the ground and the stadium has the seating sloped for better views. Lastly, an organization like the Detroit Tigers, which has existed since 1894, must have a lot of history and the Tigers do a great job showing all of it off. Like the previous ones, Comerica is pleasant, but should not be on the top of your list.
8/10, B+, If you go, you get to see future Hall of Famer Miguel Cabrera.
Oracle Park (2000) San Francisco Giants Last Seen: 2015
Now, this is where the New School stadiums get really good. Oracle Park/AT&T Park/Pac Belle Park is one of the top five parks in baseball. There are a ton of things that make this stadium amazing. Probably the trait that makes it unique from all other stadiums and skyrockets its' grade is that it sits directly next to San Francisco Bay and McCovey Cove, named after Giants Hall of Famer Willie McCovey. Like most MLB parks, the stadium has single decks in the outfield which gives an amazing portrait view. In total, 132 times has a player hit a ball in the water on the fly with Barry Bonds leading the way with a whopping 35 splashes.
The stadium also has some of the best weather you can get while also being directly on the cool windy bay water. Another part of Oracle Park is that they have some of the best food of any stadium in baseball. Lastly, the Giants are a long-storied franchise, and like Detroit, show off their team's history in both New York and San Francisco extremely well. There is not much else I need to say other than that this is a great. By the way, this is the stadium where Kayne West proposed to Kim Kardashian.
10/10, A+, Other than Wrigley, the best place for an afternoon game.
PNC Park (2001) Pittsburgh Pirates Last seen: 2017
PNC Park is unequivocally hands down the best stadium when it comes to new school baseball and possibly even with all the others. The architects absolutely nailed this stadium. Anyone that goes here loves this it. Like my previous favorites, they have an absolute stunning view of Pittsburg as well as the Roberto Clemente Bridge, named after Pirates great Roberto Clemente, over the Alleghany River. It also follows other great stadiums guidelines by not having multiple decks in the outfield. There is not much else I need to say about this stadium. If God has a league for the post-mortem players, they must be playing here. With Camden Yards in Baltimore and Oracle Park in San Francisco, these are the three "S-tier" stadiums for the modern era.
11/10, A+++, Sit in the upper deck behind home plate and you will thank me later.
Great American Ball Park (2003) Cincinnati Reds Last seen: 2013
Continuing with this string of a golden-era stadiums, Great American Ball Park continues this trend. The park sits right on the Ohio River neighboring the state of Kentucky that you can see beyond the outfield. Like Denver and Cleveland, The Reds have one side that is double decked and one single deck on the other side. Also, a nice characteristic the stadium shows is a ferry boat style deck in center which are commonly seen on the river. Being the oldest organization in the MLB, the Reds have tons of history. They show it off well extremely outside of the stadium behind Homeplate. My only major complaint is that there are obstructed view seats under the smaller jumbotron in right field.
9/10, B+, Similar to Cleveland and Denver again, good but not great.
Citizens Bank Park (2004) Philadelphia Phillies Last seen: 2013
Of all the fanbases that rejoiced that they were leaving their cookie cutter stadium for a retro ballpark, no team could have been happier than the Phillies who left the abominable Veterans Memorial Stadium for the exceptional Citizens Bank Park. Although it is one of the few ballparks that are not right in the downtown area of their city, Citizens Bank Park still gives a great view of the city of Philadelphia. The stadium also has great sight lines of the field for the fans of Philadelphia who learn to boo before they learn to talk. The only problem the stadium has is that the dimensions are too small as many refer to it as a bandbox. As you can see the trend here, Citizens Bank Park has great qualities but not enough to be in the "best" category.
9/10, B+, Not the place in Philly to expect a great cheesesteak
Petco Park (2004) San Diego Padres Last seen: 2015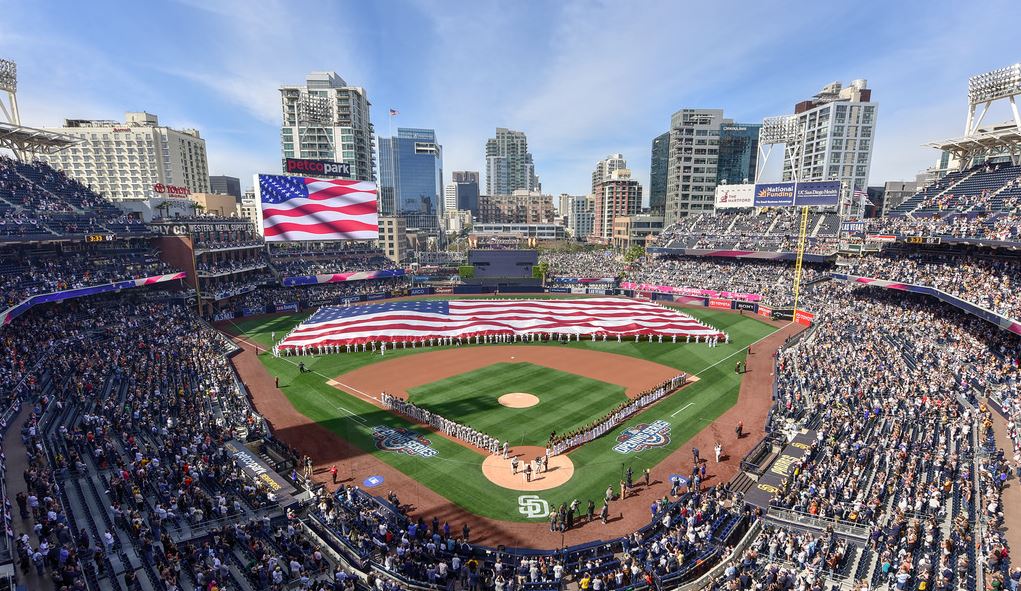 Ballparksofbaseball.com
With Camden Yards, Oracle Park, and PNC Park as top stadiums, the last new school stadium in the A+ tier is Petco Park. One of the most beautiful cities in America, The Padres have an equally great stadium with probably the best weather in any baseball city. From the second you get in your seat, your immediately look out and see the San Diego skyline. While some stadiums would lose their view of their city with double-decked stadiums, San Diego does it perfectly by almost perfectly framing it with the outfield seating. When it comes to Petco Park's features, one of its most well-known characteristics is the Western Metal Supply Company warehouse is left field. Another quality trait is their park in the park in right centerfield which gives fans a variety of where to be at a game. In addition, the stadium is not big and is perfectly sized when it comes to seating capacity.
10/10, A, The best baseball weather in the United States.
Busch Stadium (2006) St Louis Cardinals Last seen: 2013
If the Phillies were the happiest fanbase to leave their cookie cutter stadium, the Cardinals were a close second. Compared to the scorching hot AstroTurf of Old Busch stadium, the new Busch Stadium is a million times better. If you are going to have an outdoor stadium in St. Louis, there is one requirement and that, of course, is the arch somewhere in sight. Busch Stadium does it perfectly by having it where it is almost always visible inside the stadium. Like San Diego, St. Louis also has its upper decks as almost a frame of downtown St. Louis. Second, one of Busch Stadium's biggest attractions is ballpark village beyond left field, which is very similar to the attraction of Wrigleyville. Also the team, like other old organizations, does a great job of showing off their team's history. My only dislike, coming from only seeing it once, is that the stadium gets insanely hot in the summer and does not always have the best baseball weather.
9/10, B+, Best fans in all of baseball.
Nationals Park (2008) Washington Nationals Last seen: 2019
Of all the stadiums I have been to, Nationals Park, the closest one in proximity to me, is the one I have been to the most. However, that does not mean I like it. With where the park is, the Nationals had an opportunity to have a view of the U.S. Capitol. But instead, after disgruntled neighbors, they really have had a view of nothing for almost an entire decade. That is just the beginning. In an era, where stadiums pride themselves in having open concourses so fans can move around while still being able to see the game, the Nationals have almost tried to prevent it with moveable concession blocking those views.
Another problem the stadium has is its excessive focus on club and private seats behind home plate which really drive up prices that are unnecessary. You compare these prices to prices of seats behind home plate in Baltimore and it is night and day. Lastly, Nationals Park has nothing that distinguishes itself from other parks and is simply boring. My only real pro for the stadium is that it is better than our next stadium.
7/10, C+, So much potential but a major letdown
Citi Field (2009) New York Mets Last seen: 2014
Hot take No. 3: Citi Field is incredibly overrated. While I will say that the Jackie Robinson Rotunda behind home plate is great and is a phenomenal tribute to one of the most important players in baseball, the rest of the stadiums is filled with cons. One of its most annoying traits is the excessive amount of advertisements that fill the park. Another problem it has is that there are many restricted areas around the park including upper right field, the party terrace in left field, behind the dugouts before the game, and behind home plate. Other problems include the team moving the fences in and creating strange empty areas in right center field.
My last big problem is that they have obstructed view seats near left field foul pole and left field upper deck. But Chris, doesn't Fenway have obstructed view seats. Unlike an old school stadium, such has Fenway, where obstructed view seats are expected and are a part of the experience of going there, a new school stadium like Citi Field should never have seats where you can not see 1/3 of the outfield. If they do, they should be planned to immediately remove them and fill them with something else.
6/10, C-, You are a Mets fan if you think this is a great stadium.
Yankee Stadium (2009) New York Yankees Last seen: 2019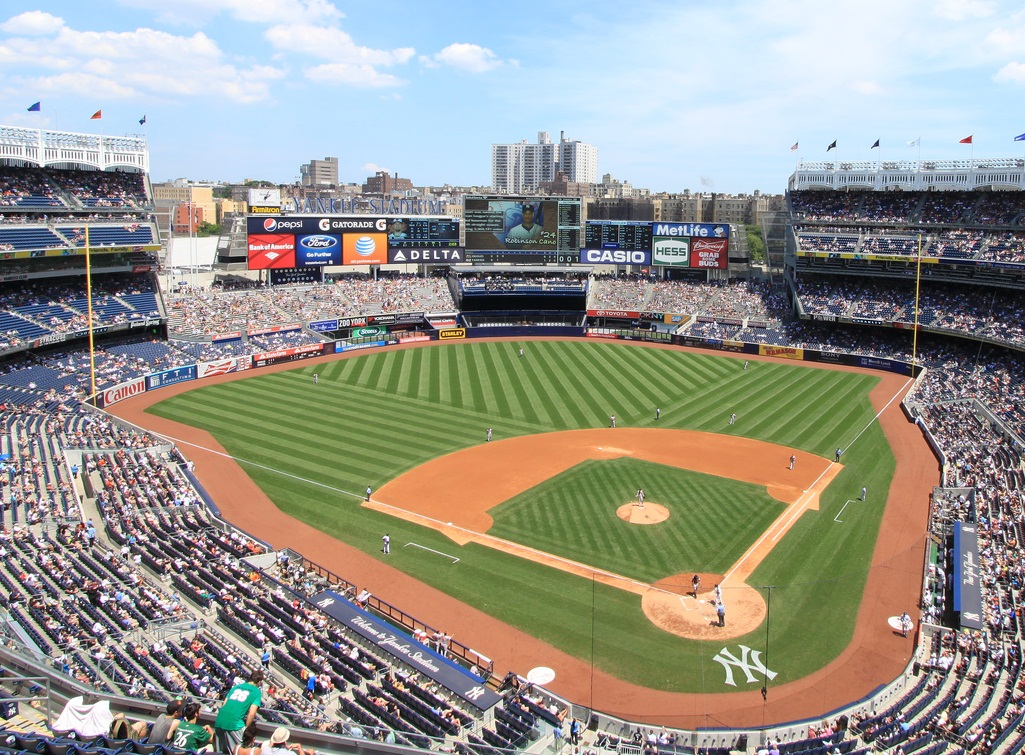 Ballparksofbaseball.com
Yankee Stadium absolutely sucks. I know, you're surprised that this is coming from a diehard Yankees fan. But it is the truth. Since the announcement of the new Yankee Stadium in 2004, many Yankee fans have great disdain with the Yankees destruction of the great Cathedral that was Old Yankee Stadium, that was their home for 85 years, for the newer more corporate Yankee Stadium. Since opening day in 2009, Yankee Stadium's primary purpose and focus has never for one day been about the average fan's experience at the ballpark but rather how much money they can squeeze out of your pocket.
From the ridiculous prices of food to tickets, new Yankee Stadium has, is, and probably will always be about robbing fans of their cash. What particularly makes me dislike the new stadium is its focus for the non-diehards with needless accessories such as outrageously expensive club seating, excessive box seats, a sushi bar, an art gallery, a butcher shop, and the selling of obstructed view seats from 2009 to 2016. One Yankee fan said it best on Opening Day in 2009. "We hate the new Yankee Stadium. The new Yankee Stadium is not meant for real fans. We don't want a sushi bar, an art gallery, or a Hard Rock Café. We want a hot dog, a beer, and a clear sightline of the field." The only thing that I will approve of is the façade and white frieze around the roof.
1/10, F, The new stadium is like slamming neon lights on a classic Chevrolet.
Target Field (2010) Minnesota Twins Last seen: 2010
Continuing with this streak of non-great new school stadiums is Target Field. While most baseball fans were delighted that the Twins were finally leaving the Hubert H. Humphrey Metrodome, the worst place ever for a baseball team to play in, for an outside park, The new Target Field is not the best park in the world. What really hurts Target Field is that, like Washington D.C., there is nothing special about. You look around and you will see nothing about the park is unique.
Another similarity they have with the Nationals is that they could really boast their grade if the turned it 45° to the right and have a really great view of downtown Minneapolis. Again, 100 times better than the Metrodome, but below average when compared to new school parks
7/10, C+, I advise not to go during April or early May if you are expecting a fun time in the ballpark with Minnesota's weather in spring.
Truist Park (2017) Atlanta Braves Last seen: 2017
Truist/SunTrust Park is the newest park to be opened. I had the fortunate opportunity of seeing its first game in its inaugural season. One of the best things the park does is showing off the team's long history behind home plate. Compared to it previous tasteless stadium, Turner Field, Sun Trust makes the park more fun such as it mall theme outside the park in right field. Another interesting trait it includes is the chop house next to the right field foul pole. However, the team went a little over the top with the attractions beyond center field such as ziplines and rock climbing. In all, way better than Turner Field and good stadium overall.
8/10, B, You'll never find a Pepsi in that ballpark.
Indoor/Retractable roof Stadiums
Rogers Centre (1989) Toronto Blue Jays Last seen: 2013
The oldest of the current indoor stadiums, Rodgers Centre is a mixed bag. One immediate problem it has is it is one of the two stadiums that still uses AstroTurf which usually makes a field look more amateur and less professional. Another problem it has is that the stadium is too big which you will see as a common trend for indoor stadiums. The last, although tiny, problem is the gap between the lower deck seating and the wall for the field.
However, the Rogers Centre does have two features that distinguish them from other parks. One is the colossal CN Tower standing over the stadium. The other trait Toronto has that no other park can claim is that the Renaissance Hotel attached to the park has rooms with terraces that look into the park allowing fans to watch games from the rooms.
7/10, B-, Rogers Centre does not have foul poles but rather yellow nets held up by cranes in the upper decks.
Tropicana Field (1990) Tampa Bay Rays Last seen: 2012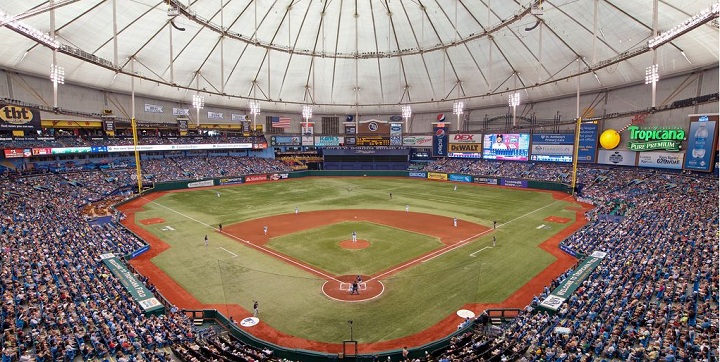 Ballparksofbaseball.com
The worst stadium in the MLB by far. You ask most people and they will say that this is almost always at the bottom of the barrel. For most parks, going to them is never a problem. The Tampa Bay Rays, however, are one of the few exceptions. Now, the Rays are not in Tampa but actually neighboring St. Petersburg which is extremely hard to get to as the only way to get there for a majority of their fans is via only one bridge.
If you are a sport that markets itself to fans that can just go to after work or school, you can not have your stadium be impossible to get to. The next point which connects to the previous one is that fans don't go to games. Attendance is low which causes the teams to tarp nearly 40% of all seats which is never a good look either on the television or at the park. Other problems include the dome's color which resembles too much of the color of baseballs as well as the dome being too low as it sometime interferes with high fly balls. As for positives, they have the ray tank.
2/10, F, The team that deserves a new stadium the most.
Chase Field (1998) Arizona Diamondbacks Last seen: 2015
Chase Field is not great nor terrible. Its major positive is that you do not have to watch a baseball game in Phoenix outside in the scorching heat. But like several other indoor fields, there are a lot of bad seats which comes with having a dome. As for its features, the pools is right center is a little overkill which has actually caused problems between the Diamondbacks and the Dodgers. As for its positives, it probably has the least expensive food, and is the cleanest stadium in baseball. Even with its mixed bag, the Diamondbacks apparently want a renovated or new park so they probably think that it is worse than what I am grading it as.
6/10, C, It has been almost 20 years since their World Series and they still have it all around the venue.
T-Mobile Park (1999) Seattle Mariners Last seen: 2015
Probably the second best retractable rook stadium, Safeco Field feels more like an outdoor stadium than indoor. One of the hardest stadiums to get to due to its location in the northwest Seattle is a hidden gem. With a view of Emerald city and neighboring Century Link Field, Seattle is another underrated ballpark. First, Safeco is, without a doubt, the stadium with the greatest choices of food that almost no other stadiums have such has Chinese food, sushi, and even crickets. Other than Progressive Field in Cleveland, Safeco allows fans to get the closest to the players in the bullpens. The stadium even allows people to get golfing lessons in right field and has an interesting feature of the city's train track that you can in the park flying by. While it might have some bad seats, the house that Ken Griffey Jr. built is still a quality ballpark.
8/10, B+, Mariners have one of the best color combos in the MLB.
Minute Maid Park (2000) Houston Astros Last seen: 2013
Minute Maid Park is probably the best indoor stadium. As said above, Minute Maid and T-Mobile's parks are best retractable roof stadiums that when open feel like a normal outdoor stadium. But the Astros also can make it indoors to let fans escape the blazing hot summers in Texas. The ballpark also is in prime location in downtown Houston. The design of the stadium was also executed well at limiting the bad seats in the upper decks that are common with roof stadiums.
Therefore, the seating capacity is also not excessive like other indoor stadiums. Features of the park include the Crawford box seats in left field, and the train track near the windows in left field. As for cons, Minute Maid is the only indoor stadium with no negatives.
9/10, A, Hit a trash can when you're there.
Miller Park (2001) Milwaukee Brewers Last seen: 2013
For a lot of these stadiums, the trait that almost always makes or breaks them is the location. For Miller Park, it is the same but on the worse side of it. Miller Park is one of the worst locations for ballparks as it is the middle of nowhere. For a city like Milwaukee on Lake Michigan, the Brewers could have had a great location but are just in an area of western Milwaukee with nothing else around it.
Another problem is that Miller Park falls into the group of indoor stadiums that have too many seats that are too high or far away from the field. As for its positives, the stadium has remarkable concessions as well as more parking than any other stadium minus Dodger Stadium. The stadium also has one of the most unique features with a slide beyond left field that the mascot slides down after every home run. In conclusion, good features but location really hurts its grade.
7/10, C, The stadium looks better closed rather than open.
Marlins Park (2012) Miami Marlins Last seen: 2015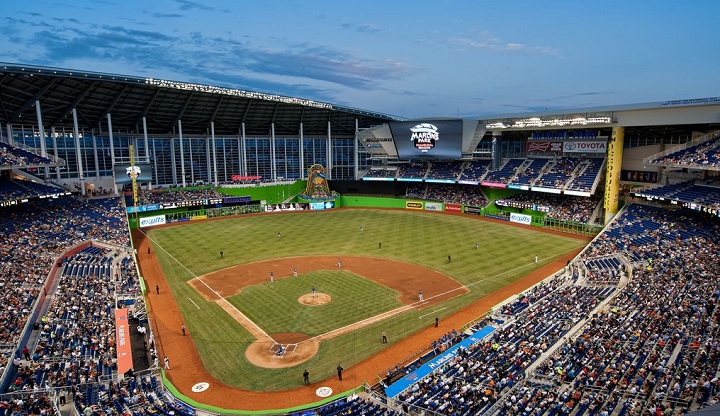 Ballparksofbaseball.com
I know. I know that Marlins Park constantly get mocked for having fewer fans than some Single A minor league teams. I put that however on the people of Miami, the most fickle fans in all of America. The stadium itself is rather good. The team recognized that with the yearly amounts of rain in Florida, an indoor stadium is an enormous requirement. The stadium gives a great portrait view of the Miami skyline beyond the glass panels of left field. The team also has features that probably no other stadium in baseball has such as a club behind the left field, a bullet proof fish tank behind home plate, and a museum of MLB bobbleheads. Along with really good Miami-style food and no really bad seats, Marlins Park would be way better if they just had some sort of loyal fanbase. Then again, they do seem to get rid of any good players they have.
8/10, B+, Go see the bobblehead museum.
Globe Life Field (2020) Texas Rangers Last seen: N/A
With baseball now "back," we can now look forward to the Texas Rangers opening the newest park in baseball. Just from the pictures taken, the stadium looks like a grill outside which is . . . cool? The insides of it show that it mimics a lot of Minute Maid Park and Marlins Park. For an area of the country that has some of the hottest times of the year during the summer, the plan to move into a climate controlled inside park is a good move.
Last but not least…
Trivia Question: The Cubs are known for playing at Wrigley Field, but what other team has called Wrigley Field home.
Answer: https://ballparks.com/baseball/american/wrigla.htm
Chris Kiely can be reached at christopher.kiely@student.shu.edu.