Miocic vs. Cormier will continue in UFC 252
Date: August 12, 2020
By: Michael Daly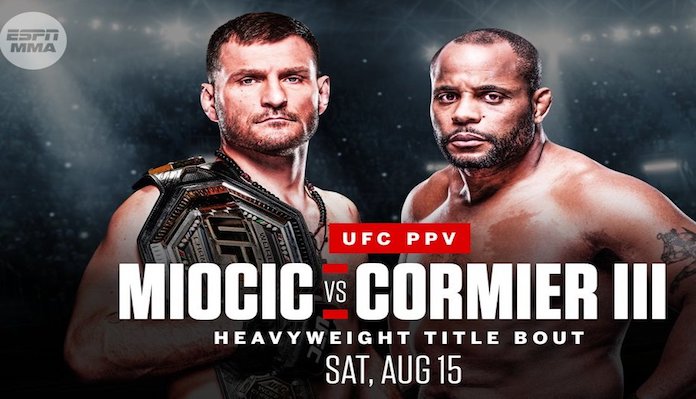 ESPN MMA
The greatest heavyweight in UFC history will be decided on Saturday night when heavyweight champion Stipe Miocic faces former heavyweight champion Daniel Cormier in a trilogy bout. The fight headlines the pay-per-view card for UFC 252 at the UFC Apex in Las Vegas.
The last time both fighters stepped into the Octagon was on Aug. 17, 2019 at UFC 241 where Miocic reclaimed his title from Cormier via a fourth-round TKO. Last year's bout was a rematch between Miocic and Cormier from their initial fight in July 2018 at UFC 226.
Saturday's fight is the most important fight in the heavyweight division's history because Miocic is regarded as the most accomplished heavyweight in the UFC with the most consecutive title defenses (three). When Cormier took the belt away from Miocic in 2018, he became the first UFC fighter to claim the light heavyweight championship and the heavyweight championship. Cormier was also a simultaneous double champion after he beat Miocic.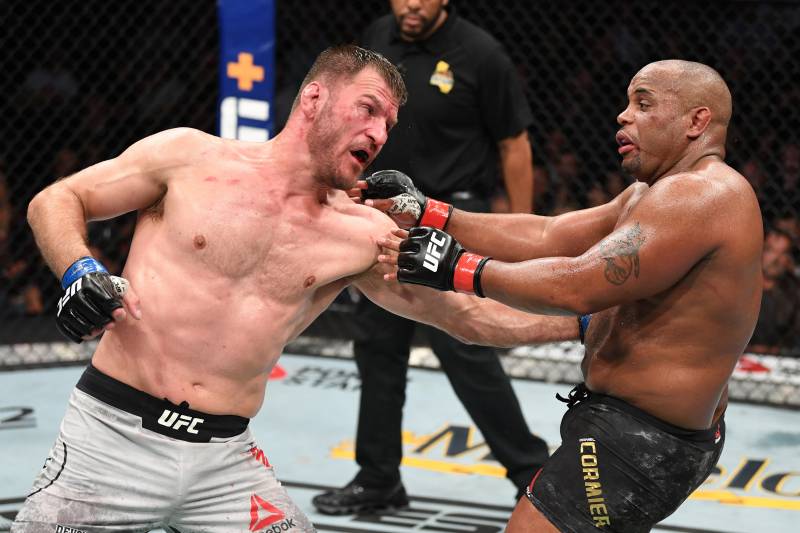 Josh Hedges/Getty Images
This bout features the two most decorated heavyweights in the organization's 27-years of existence. Miocic and Cormier have something more to prove than just defending or winning a title. To say that there is unfinished business would be a drastic understatement for the legacy of this trilogy series.
Miocic wants to put distance between himself and Cormier as the greatest heavyweight to step in the Octagon. Cormier needs a win in order to ride off in the sunset and have the fairytale ending to his career that he desires.
This rivalry has truly delivered. #UFC252 pic.twitter.com/YOHp6NHuGK

— UFC (@ufc) August 10, 2020
The preparation that went into each respective fight camp was far different than most of the training camps they were used to. Cormier and Miocic had unique experiences holding their training camps at their homes in Gilroy, Calif., and Independence, Ohio, due to the effects of the coronavirus pandemic.
For Cormier, this training camp allowed him to focus on training and hold off on his obligations as a UFC commentator, an ESPN MMA host, and the head wrestling coach at Gilroy High School. He discussed how his other jobs impacted his previous training camps on the DC and Helwani Show on Monday.
"I'm hardheaded. I would leave AKA by 2:15 p.m. and be home by 2:45 p.m., lay on the couch until 3:15-3:20, and then drive to wrestling practice. I'd be there until 6:30, and then it was time to do my cardio," said Cormier on his weekly show with Ariel Helwani. "As much as I love the sport, for this to be my final fight, I needed to commit myself to it in the right way."
When Cormier officially retires from fighting, he will become a full-time commentator for the UFC and ESPN. He possesses a great deal of charisma and knowledge of the fight game which makes him a terrific analyst for the UFC. Without fans in the arenas, several fighters noted how they could hear Cormier's commentary and they made in-fight adjustments based on what he said during their fights. Cormier and his wife, Selena, are expecting their third child in the coming weeks and he will have time to focus on his family and support them. It will be difficult for Cormier to fight on Saturday night without his family in attendance to see him step in the Octagon one last time.
Over 2,500 miles across the country from Gilroy, Calif., is the home of the current UFC heavyweight titlist Miocic on the outskirts of Cleveland. Miocic is a blue-collar guy who serves as a part-time firefighter in Cleveland when he isn't training for a fight. His hard work and dedication to his craft allowed him to win the belt against Fabricio Werdum in Brazil and defend his title three times in less than two years.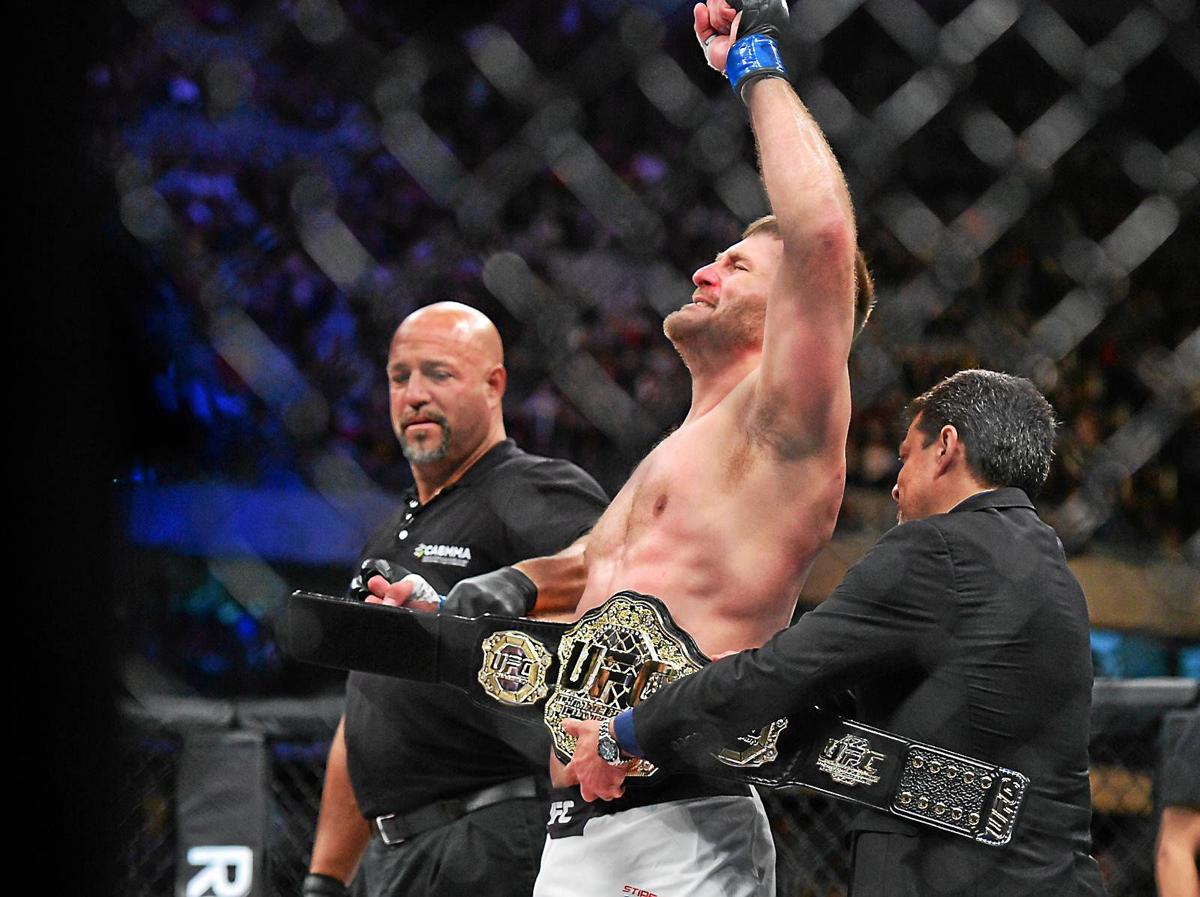 Associated Press
Miocic's life changed after his loss to Cormier in 2018. His first child was born two weeks after the first fight with DC and that helped him get through the depression of losing his belt.
The road back to the title took 13 months for Miocic since he was unable to land an immediate rematch with Cormier. At UFC 230, Cormier held his first heavyweight title defense against Derrick Lewis in a bout that Cormier won via a second-round submission. After the Lewis bout, Cormier flirted with the idea of a potential super fight with former UFC heavyweight champion Brock Lesnar, but that match never came to fruition.
Miocic sat on the sidelines until he struck a deal with the UFC for a rematch with Cormier at UFC 241. Miocic and his camp have been on record calling his knockout loss against Cormier a "fluke." He avenged his loss with a fourth-round TKO victory over Cormier.
Win or lose, Stipe Miocic is the greatest heavyweight of all-time based on his resume'.

Agree or disagree?

— Aaron Bronsteter (@aaronbronsteter) August 9, 2020
In the rubber match, both combatants will have enough tape on the opponent to feel confident enough to win. If Miocic wins on Saturday, he can continue his reign and defend his belt as many times as he wants in a loaded heavyweight division. A win for Cormier will cement his legacy as one of the all-time greats in MMA history dating back to his days as the Strikeforce Grand Prix heavyweight champion.
UFC 252's main event is far from the only entertaining bout on the pay-per-view card. The two fights leading up to Miocic-Cormier III include a heavyweight battle between former heavyweight champion Junior Dos Santos and Jairzinho Rozenstruik, and a co-main event bantamweight fight featuring Sean O'Malley and Marlon "Chito" Vera.
Are you ready to enter the show? @SugaSeanMMA - LIVE on PPV ➡️ https://t.co/F5vdwUv1iB #UFC252 pic.twitter.com/h9qnyb0CWm

— UFC (@ufc) August 11, 2020
O'Malley returns for his third fight within the last five months. His last fight was on the UFC 250 card where he completed a stunning walk-off knockout against former WEC bantamweight champion Eddie Wineland. He will face another serious test in Vera and the winner of that fight will likely see a title shot in their immediate future.
The UFC continues to deliver entertaining cards during a time that is slowly bringing sports back to the United States. The pay-per-view card begins at 10 p.m. on Saturday night from the UFC Apex in Las Vegas.
Michael Daly is the Station Manager of 89.5 FM WSOU, and can be reached at wsoustationmanager@gmail.com.