Metal Madness 2019
Date: February 28, 2019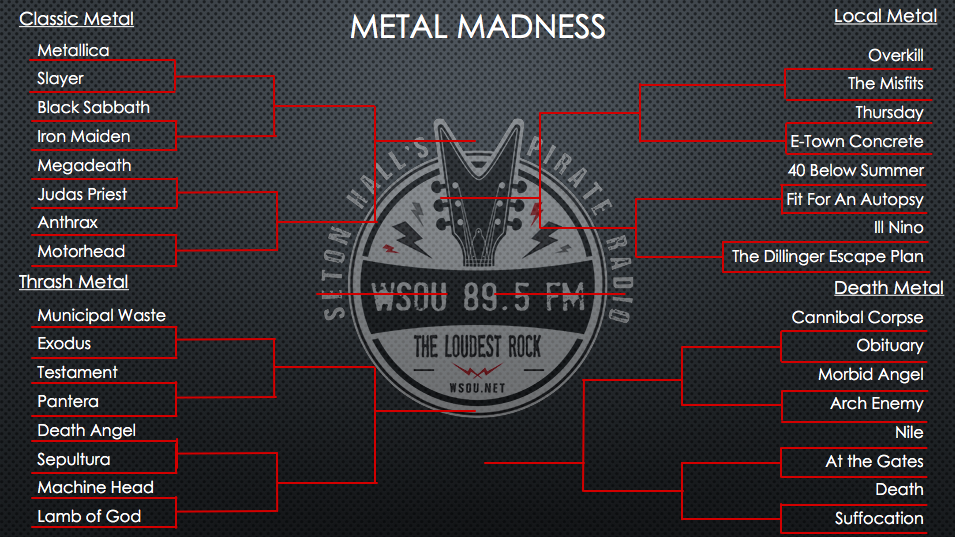 This might be the hardest bracket you ever have to complete. This month, you'll be able to vote for your favorite bands in each region. The competing regions are Classic Metal, Thrash Metal, Local Metal, and Death Metal. Eventually, each region will go head to head to find the ultimate band. 
You can vote DAILY through the month of March on our Facebook. 
March 1:
Metallica v. Slayer
March 2: 
Municpal Waste v. Exodus
March 3: 
Overkill v. The Misfits
March 4: 
Cannibal Corpse v. Obituary
March 5:
Black Sabbath v. Iron Maiden
March 6: 
Testament v. Pantera
March 7:
Thursday v. E-Town Concrete
March 8:
Morbid Angel v. Arch Enemy
March 9:
Megadeath v. Judas Priest
March 10:
Death Angel v. Sepultura
March 11:
40 Below Summer v. Fit For An Autopsy
March 12:
Nile v. At the Gates
March 13: 
Anthrax v. Motorhead
March 14:
Machine Head v. Lamb of God
March 15:
Ill Nino v. The Dillinger Escape Plan
March 16: 
Death v. Suffocation
Stay tuned all month long and vote daily to help your favorite bands win Metal Madness!
Click here to download and fill out your own Metal Madness bracket!