Marlins' COVID-19 outbreak may impact baseball going forward
Date: July 29, 2020
By: George E. Makris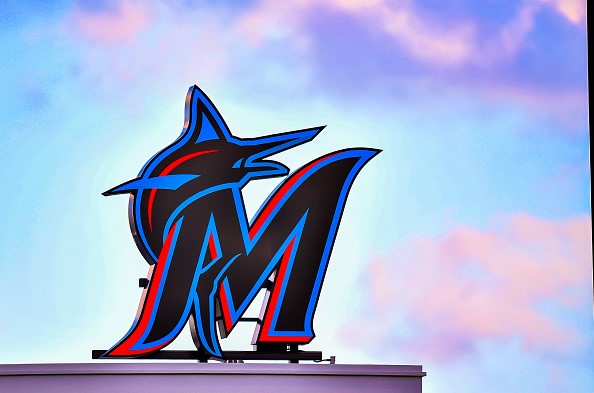 Mark Brown/Getty Images
Safety concerns plague Major League Baseball weeks after their first matches. 17 members of the Miami Marlins have tested positive for COVID-19, causing a sense of uneasiness for other organizations and postponing multiple gatherings.
"The health of our players and staff has been and will continue to be our primary focus as we navigate through these uncharted waters," said Marlins CEO Derek Jeter.
MIGGY ROCKED.

Tie it up. #JuntosMiami pic.twitter.com/tiV5TQg6zk

— Miami Marlins (@Marlins) July 26, 2020
The Marlins could not have asked for a better debut to their long-awaited season. Three games into the regular season, the team recorded 17 runs, 5 home runs, and 1 stolen base. Their batting average and pitching average increased from their previous season, thanks to leaders like Sandy Alcantara and Miguel Rojas. Alcantara currently leads the team with 7 strikeouts and averages 13.1 pitches per inning.  On the other hand, Rojas also leads the team with averaging 10.5 runs created and a batting average of .700. Their season, however, has taken a turn for the worst.
Since July 25, a growing number of players and staff have tested positive for COVID-19. Members began to feel the standard effects of the virus, such as fever and coughing, that is currently taking a toll on individuals worldwide. MLB is tracing where the organization caught the virus.
For the safety of teams in the league, the next series with the Baltimore Orioles as well the Nationals for the Marlins have been pushed back until further notice. Also, games at Citizens Bank Park, home of the Philadelphia Phillies where the Marlins played their last game, have been rescheduled to kill any remnants of the virus. This results in the series for the New York Yankees and the Phillies being pushed back.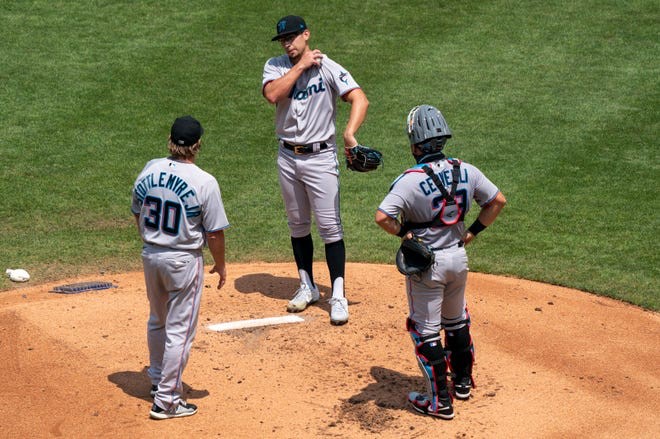 Chris Szagola/Associated Press
Even though MLB has not commented on any cancellation of games, fans are now left wondering will the 2020 MLB season end as fast as the season began? COVID-19 cases are dramatically rising across the United States, transforming arenas like Marlins Park into something baseball fans have never witnessed. Despite this, MLB executives are optimistic in keeping those arenas open for competition.
"We built protocols anticipating that we would have positive tests at some point during the season. The protocols were built to allow us to play through those positives. We believe the protocols are adequate to keep our players safe," Rob Manfred, commissioner of MLB, told MLB Network.
The 2020 MLB season protocols include expanded dugouts to promote social distancing, regionally-based schedules to limit travel and a designated hitter rule for the first time this century. Even with these protocols, health experts assume the season for the Marlins, and all teams, is in jeopardy.
"This could put it in danger. I don't believe they need to stop, but we just need to follow this and see what happens with other teams on a day-by-day basis," Dr. Anthony Fauci, director of the National Institute of Allergy and Infectious Diseases, told ABC's Good Morning America.
In May, MLB released a 113-page document outlining the reopening guidelines for the delayed season. The instructions explained how the 2020 season, consisting of only 60 games, will operate. After posting the guidelines, the Marlins went straight to their training facilities and played exhibitions with surrounding MLB teams.
When the regular season went underway, the Marlins led the NL East with two wins and one loss after their series in Philadelphia. More and more Marlins players contracted the virus as the regular season went on.
Miami Marlins reportedly partied in Atlanta prior to COVID-19 outbreak. This is the kind of behavior that is literally killing us. It may also cause MLB to shut down 2020 operations. #covidinamerica #MLB #TakeResponsibility https://t.co/2fO3r52Jx2

— Nicolette Fiore-Lopez, PhD, RN, CNEP (@NicoletteFiore) July 29, 2020
To avoid spreading the virus to other teams, the Marlins are currently quarantining in Philadelphia as they await more test results. The Marlins have added players from around the league, such as Justin Shafer and Josh Smith, to fill their roster when they eventually return to play in a few weeks. Florida is continuing to record over 440,000 total cases, making MLB teams take the initiative to ensure the safety of all members.
Teams, such as the Washington Nationals, have voted against traveling to Miami to prevent a cluster like this from occurring again. Other MLB organizations are to follow as more information is to release about what the Marlins' COVID-19 outbreak means for the 2020 season.
"We're talking about health, traveling back to their homes and their families and their kids. It's a reason we want to be safe," said Marlins manager Don Mattingly.
George E. Makris can be reached at george.makris@student.shu.edu.