Liverpool F.C. takes the Premier League throne
Date: June 29, 2020
By: George Makris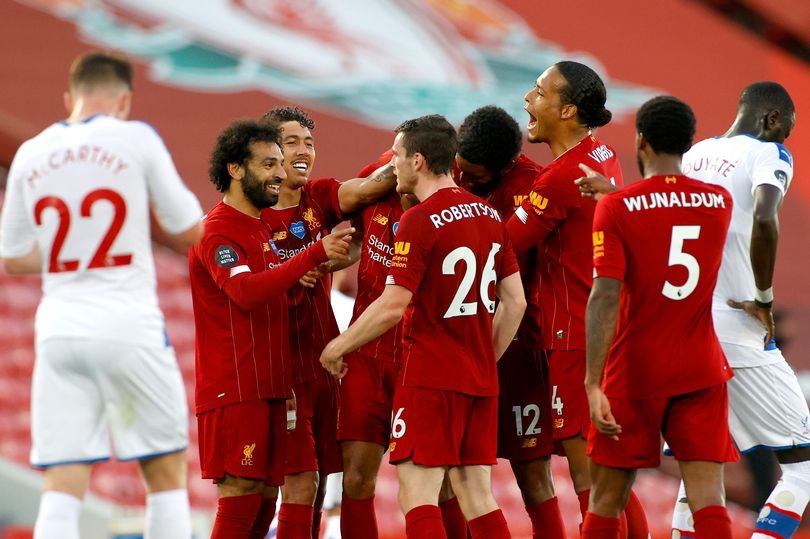 Phil Noble/Pool via Getty Images
The wait is over! After thirty years of determination, Liverpool has been crowned champions of the Premier League.
"This was a season for the ages and for the faithful of Liverpool Football Club. It has been an incredible year of magnificent achievement culminating tonight in capturing the Premier League title" John W. Henry, owner of the football club, expressed via Twitter.
Liverpool had a "season of the ages" as they officially won their first league title in thirty years on Wednesday, June 24 after beating Crystal Palace 4-0. This was such a joyous moment as the front office and players have been working hard to reach this point before the season even started. Managers went straight to work on July 1, 2019, when the transfer market opened for the first day. Ultimately, the club transferred out twelve players while transferring in five new players to their roster, including goalkeeper Adrian who is responsible for two clean sheets for the season.
The moves were able to free cap space and acquire young and motivated players to wear the red and white. After the team was set for the season, the team conducted endless shooting practices at their pre-season camp in France. The drills, led by head coach Jurgen Klopp, focused on players keeping control of the ball while dribbling, causing pressure on defenders, and creating space to attack at the goal. These drills ultimately prepared them for the successful season ahead.
The first match of the Premier League season for Liverpool was on August 9, 2019, against Norwich City. Anfield was filled with fans inside and outside of the stadium to witness the Reds win their first game of the season, 4-1. As Liverpool had more than half of the possession for the match, they shot sixteen shots total with seven on target while Norwich City was plagued with fouls and little corner opportunities. All four goals came in the first half of the play, as well.
Everything was rolling smoothly for the team as they were dominating the Premier League and beating rivals such as Manchester United and Arsenal until mid-March when COVID-19 postponed the season for the safety of the players and their families. This time was ultimately tough for Liverpool FC, and other sports teams alike, as the future was uncertain for the game they truly loved. Even with the unusual time in sports history, the team kept practicing and did not give up.
The club's first game back on the field was against Everton at home which ended in a draw, 0-0. Nevertheless, Liverpool dominated in their next game against Crystal Palace 4-0 as Liverpool had most of the possession for the game and had a greater number of shot attempts than their opposing team. Along with the win, Chelsea beat Manchester City to aid in their rankings. No fans were allowed to attend games due to social distancing guidelines, but it did not stop them from showing their appreciation. Individuals began to light flairs and chant in the streets of England to celebrate this glorious accomplishment for the organization.
Liverpool, however, is condemning the "wholly unacceptable" behavior of some fans as they have caused a threat with vandalism and fires in their communities. Days after the game, fans are slowly starting to relax from heading to the streets and are solely taking in the magnificent season for themselves.
Every angle of @MoSalah's well-taken strike against @CPFC ⚽️ pic.twitter.com/WxAmAL87St

— Liverpool FC (Premier League Champions ) (@LFC) June 29, 2020
With the season winding down, Mohamed Salah is leading the attack by scoring seventeen goals this season, making him the eighteenth leading scorer all-time for Liverpool. Also, in Liverpool's season this year, Trent-Alexander-Arnold has the most assists with 12 and starting goalkeeper Alisson Becker has 12 clean sheets in his twenty-two appearances, according to ESPN. The successful season, however, was a team effort. The Premier League reports Liverpool averaged 2.26 goals per match as they currently have seventy in their season in the Premier League alone.
Their pass accuracy has stayed constant from their last season of 86% and are also taking command on the defensive side with 128 blocked shots and 66 saves. The endless motivation from fans across the world, the front office, and players has pushed them to do amazing things this season. Ultimately, Liverpool looks to continue their reign of superiority in the football world for many seasons to come with head coach Jurgen Klopp acting as the catalyst to do so.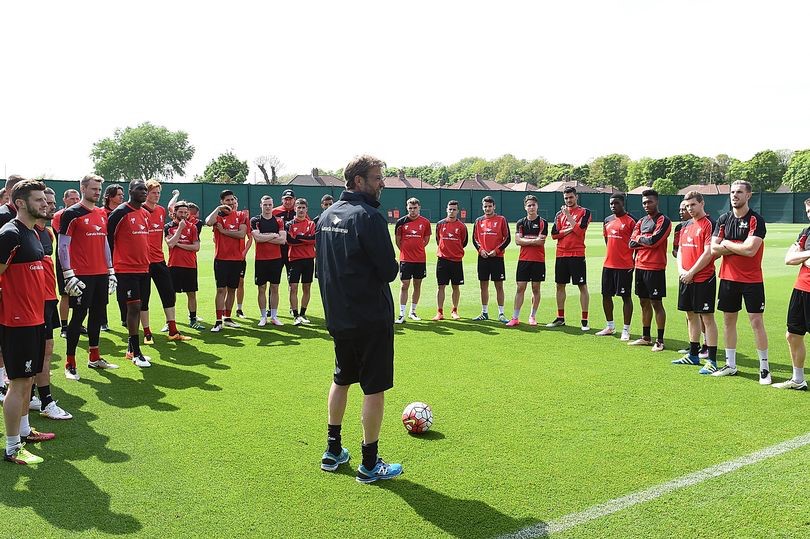 John Powell/Liverpool FC via Getty Image
Klopp will be going into his sixth season as head coach for Liverpool next year with all the experience and strength to guide his team. Born in West Germany, Klopp spent most of his playing career in Mainz 05, a club in the Bundesliga, where he averaged 4.72 goals per season during eleven seasons as a right-back striker. After retiring, Klopp acted as the club's manager from 2004 to 2008, making him the club's longest-serving manager, and for Borussia Dortmund for a few years after where he gave the team a Bundesliga title in 2011 and the runner-up position in the UEFA Champions in 2013.
Klopp was hot with the stamina to win after leaving the Bundesliga and entering the scene for Liverpool in 2015. The coach instilled the idea of Gegenpressing in players, which is where a team switches from offense to defense without regrouping after losing possession of the ball. Ultimately, Klopp has become famous for this philosophy as it has worked to help Liverpool create an "always attack, even when players are not attacking" mentality.
Klopp's strategies have inspired current players to have a great deal of pressing on opponents to attack the ball and win. Furthermore, retired players are impressed with the club in all their appearances in the Premier League this season.
"The progression in terms of belief and attitude is outstanding. The players he has brought in have been world class. You can sign forwards who will score you 20 or 30 goals but if you concede a lot you have a problem" Robbie Fowler, former Liverpool forward, told Sky Sports.
Players like Salah and Virgil Van Diijk have proved their leadership can teach new players how to win games. Their innovative ways to take advantage of defenses has influenced players to break away from traditional football concepts. It is not enough for management, however, as they feel they need reinforcements from the transfer market to defend themselves from other teams gaining skilled players, like AFC Ajax's Hakim Ziyech who scored sixteen goals for the season in the Eredivisie League before joining Chelsea this year.
"Whatever we do is for the club and our fans. We have to make decisions independent of public opinions" Klopp told Sky Sports.
The mentality to be the best is intertwined in the identity of Liverpool FC. The club was established in 1892 after John Houlding, the Lord Mayor of Liverpool, split Everton FC to fill his brand-new stadium. Since their first competitive match, the club has seen its bright days, like winning multiple European Cups, and dark days, like the Hillsborough Disaster where ninety-six fans passed away after being suffocated in the stands.
The club became established after winning First Division titles in 1901, 1906, 1922, and 1923. Their last league championship was in 1990 with Liverpool great Kenny Dalglish as manager and Ian Rush, franchise leading scorer with 230 career goals, helped beat the Queen's Park Rangers 2-1 with two games to spare. A few years after the championship, the Premier League made its debut with Liverpool finishing sixth in the league that year.
Liverpool was able to have multiple great seasons but not enough to win a league championship again for another thirty years. Their closest attempts to hold up the Premier League trophy was 2001 where they missed being number one by a mere seven points and in 2008 where they finished second after a tough match finishing 4-4 against Manchester United. The turning point was in 2015 when Jurgen Klopp arrived in Anfield to give the club their sixth European Cup and a FIFA Club World Cup title. The success they built up in the early '90s has finally led to the success they currently have.
With seven matches remaining for the 2019-2020 season, Liverpool has secured the bag for the year. Their next game will be on July 2 against No. 2 Manchester City and their untraditional season will end on July 26 when they face No. 13 Newcastle United at Anfield. Fans are also hoping for a back-to-back championship next year to celebrate properly in the streets without any social distancing guidelines.
Liverpool celebrated their Premier League title before training today pic.twitter.com/cMOlgQmJR2

— B/R Football (@brfootball) June 29, 2020
Liverpool has the chance to break Manchester City's record total for a 100-point season set in 2018. As of right now, the Reds are 14 points away with 28 victories, two draws and a single defeat from 31 games played. There is no doubt the Liverpool organization strives to dominate again in the 2020-2021 season.
"We want more trophies and to stay with the same mentality and desire, which I have no question we will," Jordan Henderson, midfielder, said to BBC.
George Makris can be reached at george.makris@student.shu.edu.