How will the Green Bay Packers handle the relationship between Aaron Rodgers and Jordan Love?
Date: May 14, 2020
By: Jorie Mickens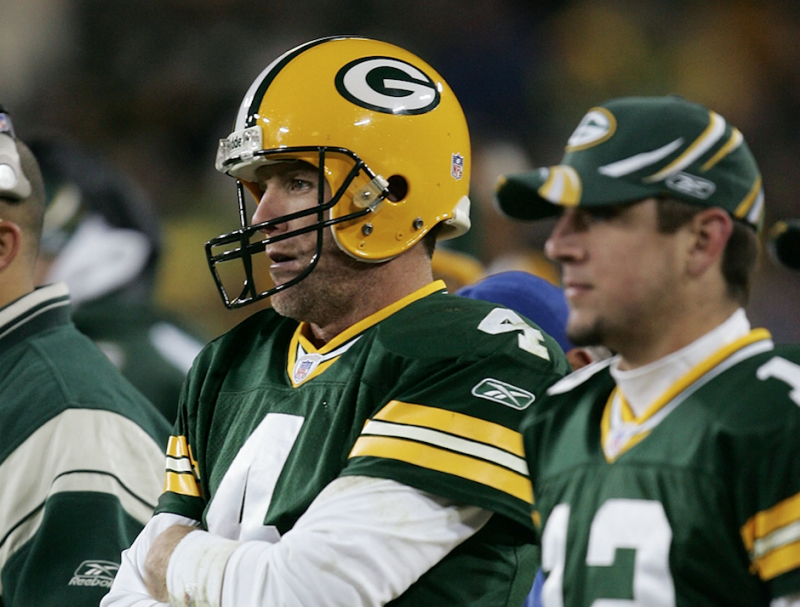 Getty Images
15 years ago, coming off a 10-6 season where Brett Favre threw for 4,088 yards and 30 touchdowns, the Packers used their 24th overall pick in the 2005 NFL Draft on California quarterback Aaron Rodgers.
Rodgers was seen by many as the best quarterback in the draft, but when fellow signal-caller Alex Smith was taken first overall by the 49ers, Rodgers began to fall. Rodgers didn't fall because of a lack of talent; it was simply because the 22 teams after San Francisco didn't need a quarterback. Hindsight is 20/20, we know now that every team outside of the Dallas Cowboys, who selected Demarcus Ware 11th overall that year, made a mistake passing on Rodgers.
But at the time, no one knew that. During Rodgers' rookie season, the Packers finished 4-12. Favre led the league in completions and attempts, but also threw a league-high 29 interceptions. It was arguably Favre's worst season in Green Bay, and despite using a first-round pick on a quarterback just a few months earlier, the Packers stuck with Favre for two more years.
Favre's final season in Green Bay was during the 2007 NFL season. Favre threw for 4,155 yards, 28 touchdowns and made the Pro Bowl at 38 years old. The Packers finished 13-3 that season and lost to the New York Giants in the NFC Conference Championship Game. If we fast forward to today, Green Bay has found themselves in a somewhat similar situation.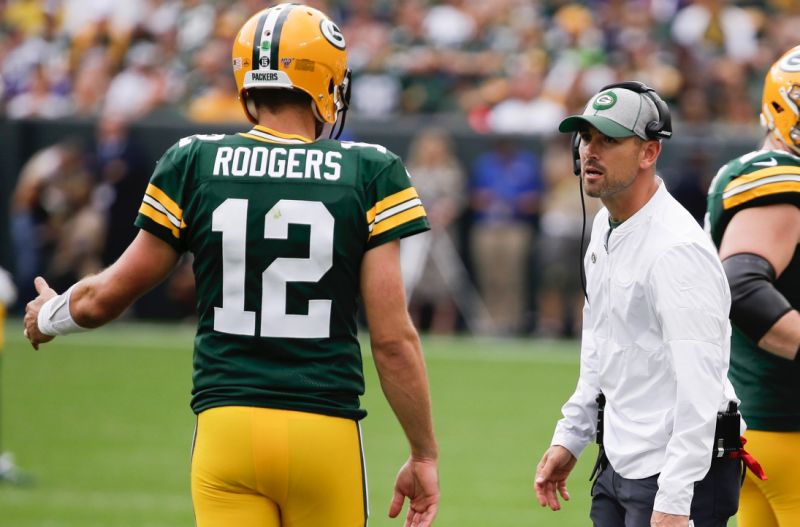 Associated Press
Last season, in their first season under new head coach Matt LaFleur, the Packers finished 13-3 and were a game away from the Super Bowl. And although Rodgers finished the season with 4,002 yards and 26 touchdowns, it was primarily running back Aaron Jones and the Packers' surprisingly good defense that carried the load most of the season.
Heading into the 2020 NFL Draft, Green Bay's first selection was 30th overall. When the Packers announced they were traded up four spots with the Miami Dolphins, many believed Green Bay would take a receiver such as Tee Higgins or Michael Pitman Jr. or solidify their defense with linebackers Jordyn Brooks or Patrick Queen. Instead, the Packers selected Utah State quarterback Jordan Love 26th overall.
There are a few differences between the Favre-Rodgers Packers and the Rodgers-Love Packers, the first being the Packers' standing in the league. Rodgers was one game away from reaching his second Super Bowl. Favre and his Packers had just lost in the first round of the playoffs. Rodgers also just signed a four-year extension with the Packers in the summer of 2018, and he will not become an unrestricted free agent until 2024. Favre also was a long way away from becoming an unrestricted free agent when the Packers drafted Rodgers, but he eventually retired (and unretired) in 2008.
Jordan Love Film Breakdown with @bgradkowski5 & @PFF_AustinGayle https://t.co/eGJjIvGzu7

— PFF (@PFF) May 12, 2020
Perhaps the biggest difference in all this though is that Love was not viewed as the best quarterback in his draft class, or even a top-three quarterback for that matter. Despite injury concerns with Tua Tagovailoa, and consistency concerns with Justin Herbert, Love was still the fourth quarterback taken in the 2020 NFL Draft.
Love has potential to be great in the NFL, but the key word is potential. Scouts are enamored with his arm strength, but his poor decision-making made him the FBS leader in interceptions last year. Some say he'll be the steal of the draft, but we won't know for a few more years. Learning from a Hall of Fame quarterback during the initial stages of his career, just like Rodgers, could be very beneficial for Love. But it will only be beneficial if Rodgers is willing to work with him.
On the ESPN podcast 'Wilde and Tausch,' Favre said, "Aaron's job is not to mentor Jordan Love, Aaron's job is to win football games for the Green Bay Packers." Favre also spoke on the relationship him and Rodgers had during his final years in Green Bay. "I can't tell you how many times Aaron would ask questions like, 'what are you looking at here? What are you thinking? Why did you check?' And I would certainly offer my reasons. Would I go out of my way to cultivate that relationship? No. I'm not going to go out of my way, but if you ask, I'm not going to say no."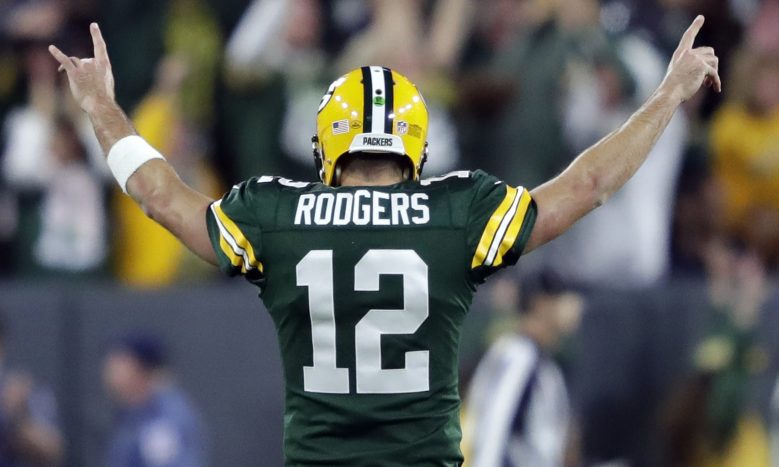 USA TODAY Sports
Since becoming the starter in Green Bay, the Packers have failed Aaron Rodgers. Rodgers has thrown just one touchdown pass to a first-round pick, and Green Bay hasn't taken a receiver in the first round in 18 years. After whiffing once again during one of the most highly anticipated receiver drafts in recent memory, Rodgers has zero incentive to groom the rookie quarterback who is looking to take his job. But I suspect Rodgers will help usher in the next era of Green Bay Packers' football.
It will take time, but Rodgers will eventually see his once, curious young self in Love. Once ready to learn how to read NFL defenses, how to evade defenders in the pocket and still make an accurate pass downfield. How to be a winning quarterback on and off the field from one of the best quarterbacks to ever play.
In landing with the Green Bay Packers, Love could be the biggest winner of this year's draft. But everyone's eyes should be on him, not Rodgers. It is now up to Love to reach his untapped potential, to ask the right questions, to come in early and stay late, and being content with being Rodgers' backup for the foreseeable future.
Despite showing signs of regression last season, I believe Rodgers has two more years of the high caliber play we're familiar with from Rodgers. Rodgers can get out of his contract in 2022, and that's when I'd imagine Love takes over in Green Bay. These next two years could be turbulent ones in Green Bay, let's see if Rodgers shows Love some love in that time.
Jorie Mickens can be reached at jorie.mickens@student.shu.edu.