How do the Orlando Magic get back on track?
Date: August 8, 2020
By: Jorie Mickens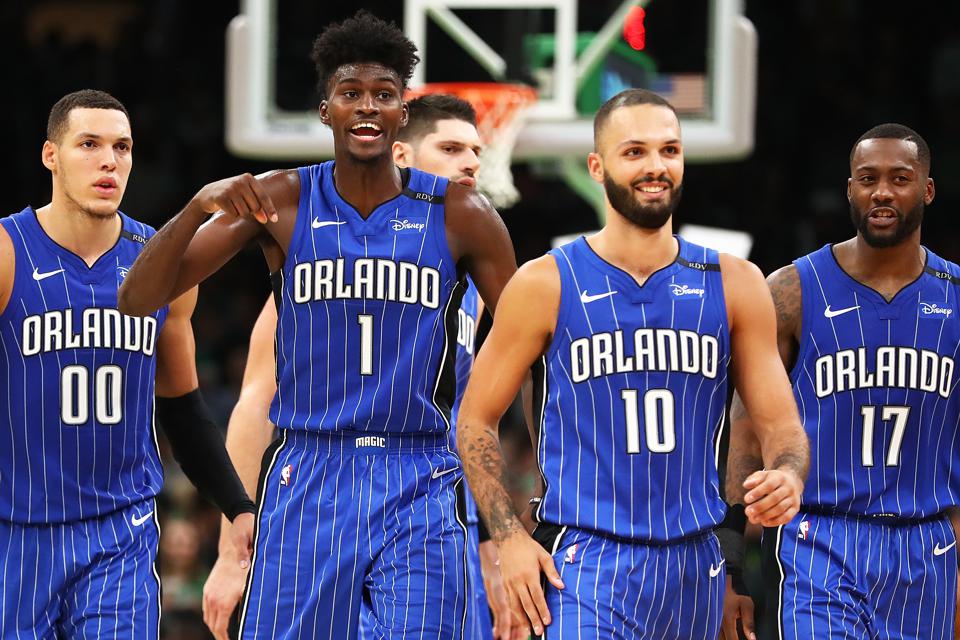 Getty Images
Up 28 points with nine minutes and 19 seconds remaining in their second seeding game, the Orlando Magic lost one of their young building blocks. Jonathan Isaac, a 6-foot-11-inch springy power forward, drove to the basket, jump stopped outside the restricted zone and collapsed to the floor. From the replay alone, one could conclude the extent of Isaac's injury was severe, and later reports confirmed that intuition—Isaac tore his ACL in his left knee.
Isaac has already dealt with a myriad of injuries throughout his young career. A sprained right ankle, a concussion and a severe bone contusion in the same knee have limited Isaac to appearing in just 136 of the possible 229 games thus far in his career.
According to ESPN's Adrian Wojnarowski, the 2020-21 NBA season will likely start in December of 2020 and extend through late July or August 2021. Due to the interminable coronavirus pandemic, those dates are not set in stone. But based on Isaac's injury history and Orlando's future playoff hopes, Isaac could miss the entirety of next season.
Jonathan Isaac was taken off the court in a wheelchair following an apparent knee injury. pic.twitter.com/z4D9zd4baH

— SportsCenter (@SportsCenter) August 3, 2020
After two relatively underwhelming seasons, Isaac was coming into his own this year. Before the injury, Isaac was averaging 11.9 points, 6.8 rebounds, 2.3 blocks, and had a 52 percent effective field goal percentage.
Before suffering a gruesome leg injury in January of this season that forced Isaac to miss 30 games, and likely more had the season not been suspended, he showcased his defensive versatility, his tenacity as a rebounder and flashes of an offensive repertoire that catered to Orlando's play style.
While the Magic do not necessarily have title aspirations this season or for the foreseeable future, losing Isaac remains a devastating blow to their roster. And his injury begs an important question: is it time for the Orlando Magic to rebuild? While the Magic just ended their six-year playoff drought last season, they may have already reached their ceiling with this roster.
With the Washington Wizards 7.5 games back of the eighth-seeded Magic, Orlando is destined to make their second straight playoff appearance. That said, Orlando is also headed toward another first-round exit, as they will either draw the Milwaukee Bucks or the Toronto Raptors in the first round, both whom Orlando is 0-4 against this season. The future is bleak for Orlando. Washington, the sole non-playoff Eastern Conference team invited to the NBA restart, will recoup All-Star guards John Wall and Bradley Beal next season.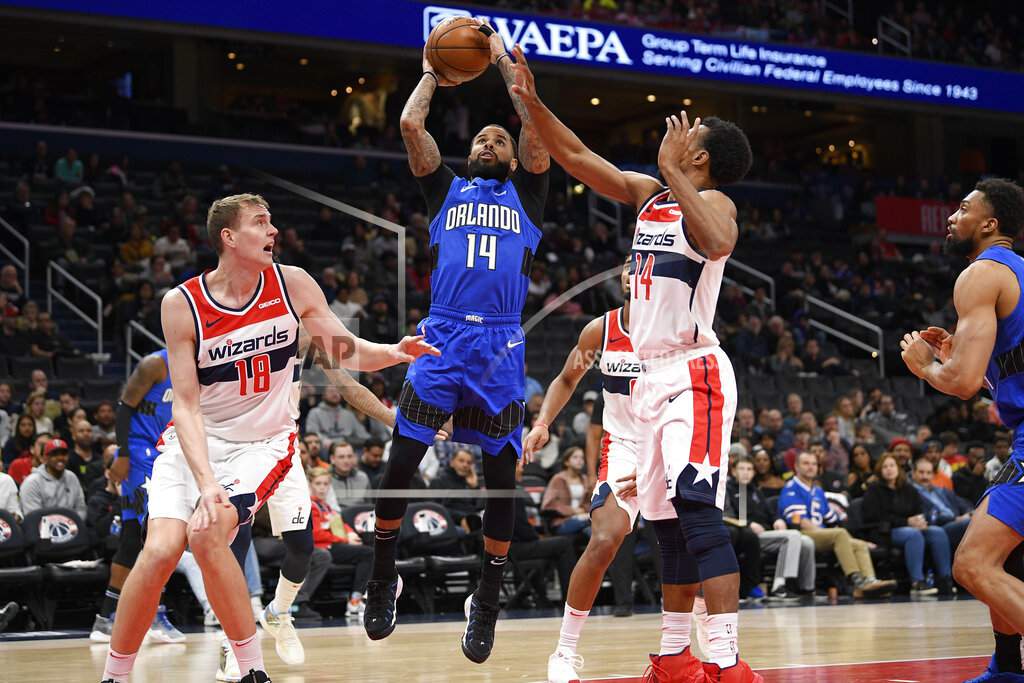 Associated Press
In addition to Wall and Beal, attempting to resign sharpshooting forward Davis Bertans, Rui Hachimura building on a promising rookie campaign and a lottery selection in this year's draft will all aid Washington in supplanting Orlando in the Eastern Conference playoff race next season.
With the Magic seemingly stuck in no man's land, how can they turn their ship around? The first order of business is trading forward Aaron Gordon. Taken fourth overall in the 2014 NBA Draft, Gordon has already spent six years with the Magic. Gordon is still just 24-years-old, but it may be time for him to move on to greener pastures.
While his raw numbers of 14.4 points and 3.7 assists-per-game may look decent, his efficiency is what holds him back. Gordon is only an adequate scorer within three feet of the basket, and while he has added a three-point shot to his offensive arsenal, Gordon shoots just 31 percent from downtown.
Sam Greenwood/Getty Images
Where Gordon is most impactful is on the defensive end. At 6-foot-8-inches, 220-pounds, with a great leaping ability and lateral quickness, Gordon is one of the league's most versatile defenders. His switch ability is one of the reasons why Orlando is ranked 11th in defensive rating and fifth in points allowed this season.
But how can the Magic afford to trade their starting power forward after losing their backup to a torn ACL? The answer is simple—Chuma Okeke.
Okeke was taken No. 16 overall in the 2019 NBA Draft and he could elevate Orlando to another level. At Auburn, Okeke went from averaging 7.5 points and 5.8 rebounds as a freshman, to 12.0 points and 6.8 rebounds while shooting 50 percent from the field as a sophomore.
The 2020-21 NBA rookie class is gonna get a nice boost from Chuma Okeke. Looking forward to seeing him again as much as any 2020 prospect. pic.twitter.com/0bujVPRzDm

— Jonathan Wasserman (@NBADraftWass) May 28, 2020
During the 2018-19 season, alongside Bryce Brown and Jared Harper, Okeke was a key cog during Auburn's Final Four run. But during their Sweet Sixteen matchup with North Carolina, Okeke sustained a gruesome knee injury in the final minutes of the contest. Okeke had torn his ACL in his left knee and would miss the remainder of the tournament.
Before the injury though, Okeke's draft stock was rising. Throughout the season, Okeke looked comfortable attacking the rim from the perimeter and was dialed in on spot-up and pull-up threes. Okeke shot 39 percent from deep on 142 attempts his sophomore season and 72 percent from the free-throw line.
Despite being a 6-foot-8-inch power forward, Okeke was also solid as an isolation defender on the perimeter. Regardless of where he played in a zone defense, Okeke was making an impact, evident by the fact that he ranked third in the SEC in steals.
With Gordon on the floor, Orlando, particularly Nikola Vucevic and Markelle Fultz, do not have the necessary spacing to flourish on offense. The Magic rank 25th in points-per-game and 27th in field goal percentage, both the lowest of any playoff team.
While Vucevic has shown a willingness to shoot threes, most of his shots come within 10 feet. And despite noticeable improvements from his time in Philadelphia, Fultz's jump shot is still a work in progress, so he takes 34 percent of his shots at the rim. The Magic need shooters, and while Okeke is just one solution to the problem, having him in the lineup could elevate everyone's game. But where would Gordon land and what would Orlando get in return?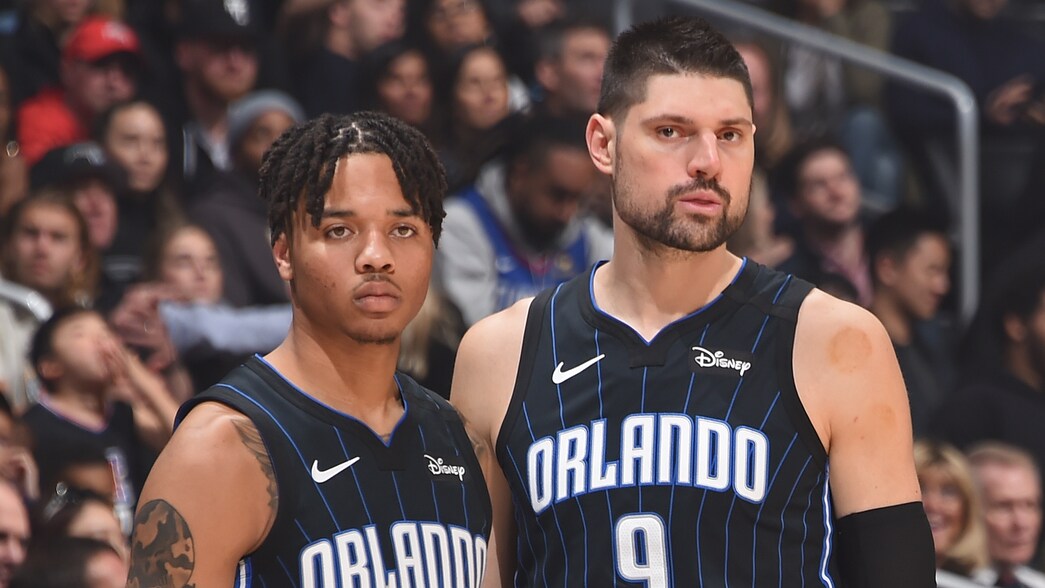 NBA.com
After competing in five straight NBA Finals, Golden State finished this season with their lowest winning percentage since the 2000-01 season. Kevin Durant signed with the Brooklyn Nets this past offseason, Klay Thompson was rehabbing a torn ACL, and Stephen Curry missed all but five games due to a broken hand.
With Draymond Green and the emergence of rookie forward Eric Paschall, the Warriors may be reluctant to trade for another power forward. But a lineup consisting of Curry- Thompson-Andrew Wiggins-Gordon-Green would be devastating on both ends of the floor.
Curry and Thompson's limitless range would give Wiggins and Gordon room to operate within the three-point arc, and Green could facilitate the offense from anywhere on the court. Defensively, outside of Curry, each player could guard multiple positions. The Warriors defense would be suffocating, and Golden State would easily compete for a top spot in the Western Conference.
New #WojPod:@warriors President Bob Myers joins @wojespn to discuss the restart of the NBA season, reshaping the Warriors to chase more championships, Kevin Durant and the toll the Warriors finals run took on him.

LISTEN: https://t.co/TkAbiFZnL5 pic.twitter.com/oU6XLjdr9V

— ESPN Podcasts (@espnpodcasts) August 1, 2020
In return, along with Andre Iguodala's $17.2 million trade exception and a prospect such as Jordan Poole, Orlando could pry away Golden State's 2020 first-round pick from them. Since Golden State's pick is guaranteed to be top-five, Orlando could target several different prospects. An elite playmaker such as LaMelo Ball would elevate Orlando's offense immediately. Anthony Edwards, who is likely the best shot creator in the draft, would provide instant offense for the Magic and his physical makeup (stands 6-foot-5-inches with a 6-foot-9- inch wingspan) makes him an intriguing defensive prospect. But even with the upside of Ball and Edwards, among others, the best fit for Orlando is Iowa State's Tyrese Haliburton.
Haliburton, like Okeke, exploded onto the scene his sophomore year, averaging 15.2 points, 6.5 assists and 2.5 steals for the Cyclones during the 2019-20 season. For a point guard, Haliburton has great size (stands 6-foot-5-inches with a 6-foot-8-inch wingspan) and his numbers suggest he can play on-ball or off. He shot 42 percent from three on 5.6 attempts-per-game, shot 49.3 percent off the catch and graded in the 99th percentile out of spot-ups.
Jamie Squire/Getty Images
Ironically enough, Haliburton's game is similar to that of Lonzo Ball's. Incredible court vision and passing instincts, cleverness with the ball in transition, efficiency from three-point land and high-level defensive abilities are all characteristics of Haliburton's game.
While a player like LaMelo Ball or Killian Hayes may have more potential, Haliburton can be an immediate contributor for the Magic, which will fast track their rebuild. A lineup of Haliburton-Fultz-Evan Fournier-Okeke-Vucevic may not sound great on paper, but if everyone hits their stride, the Magic could have a special team down the line.
There are a lot of moving pieces. Golden State may receive a better trade offer for their draft pick, or they may use it themselves to add a budding star to an already loaded roster. The Magic may be adamant on keeping Gordon and continuing to strive for mediocrity, but if everything comes to fruition, both teams could put themselves in better positions moving forward.
Jorie Mickens is an Assistant Sports Director for WSOU Sports, and can be reached at jorie.mickens@student.shu.edu.