WSOU Hall of Fame 2016 Induction
Date: April 11, 2016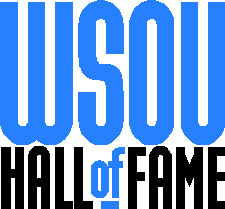 SOUTH ORANGE, NJ – WSOU welcomes Bernie Wagenblast '78 and Bob Picozzi '72 to its Hall of Fame and presents a new award to Stephanie Wightman '08, the WSOU Distinguished Young Alumna . Honorees will be inducted at Thursday April 14. Ceremonies will be held in the fourth floor atrium of Seton Hall University's Jubilee Hall at 7pm.
        The WSOU Hall of Fame honors distinguished alumni who have made significant contributions to their professions and recognizes their involvement with Seton Hall University's student-run radio station. Inductees are chosen based on their professional accomplishments, WSOU student career activities, service to WSOU and Seton Hall University after graduation, support of current students, personal examples of servant leadership and involvement with alumni activities.
        "It's been nearly 40 years since I left WSOU but I still feel its influence," said Bernie Wagenblast, "When I think of all the great people who have been a part of the station, it's a tremendous and humbling honor to be inducted into the WSOU Hall of Fame." Bernie Wagenblast is the voice of Total Traffic and Weather, which is featured on major metropolitan stations including 1010 WINS and 101.5 WKXW. His voiceover work is heard daily by commuters in New York City subways, PATH, PATCO and NJ Transit and by travelers on the AirTrain at the JFK and Newark airports. His work with transportation extends past the auditory with his electronic publication, the Transportation Communication Newsletter. Wagenblast used his vast radio knowledge to create several notable transportation communication services for the NJ and NY Port Authority during his time as the operations manager of TRANSCOM.
        Bob Picozzi established himself as a prominent voice in sports broadcasting through his time at various Connecticut radio stations before becoming an ESPN SportsCenter anchor in 1998. He won numerous sportscaster awards, including a New England Regional Emmy for Outstanding TV Sports Anchor and the National Sportscasters and Sportswriters Association's Connecticut Sportscaster of the Year. Piccozzi shares his passion for sports with his community by coaching youth basketball and baseball leagues in Cheshire, Conn. He also serves as vice-president for the Picozzi Family Foundation, which awards scholarships to high school and college students throughout NJ.
        Stephanie Wightman will become the first WSOU Distinguished Young Alumna Honoree. The award was created this year to recognize the accomplishments of recent graduates. Wightman, a former WSOU Promotions Director, has worked for Air America Media and New York Public Radio on esteemed programs such as NPR's Morning Edition andThe Rachel Maddow Show.  In 2010, she switched to television where her credits on various NBC Universal programs include MSNBC's The Ed Show, NBC's Early Today and MSNBC's First Look. She presently is a video producer for MSNBC's MTP Daily.  In her free time, Wightman coordinates food collections through the Center for Action and her condominium association for Bergen County families in need.
Posted in: Alumni, News, WSOU, WSOU Hall of Fame