Album Review: "Focus" by Laidback Luke
Date: December 3, 2015
By DJ Veiga
Filipino-Dutch producer Laidback Luke returns with studio album 'Focus', his first full-length outing since 2002. In that time, Luke has released massive standalone club singles including "Leave the World Behind" with the members of Swedish House Mafia as well as "Turbulence" featuring Steve Aoki and Lil Jon in addition to remixing dozens of dance floor hits.

In its pleasant length of 16 tracks, 'Focus' offers something different that pleases everyone while remaining intrinsically Luke. The album opens on "Let It Go" featuring Trevor Guthrie, one of the more mainstream songs on the album that is easily hit single material. "The Chase" featuring GTA and Aruna, and its use of vocal editing, funk and bounciness makes it a standout and one of my favorite records on 'Focus'. Directly following, "Hooked Again" featuring vocals from Sam Ashworth, a song that brings together electronic and organic instrumentals in a unique rhythm.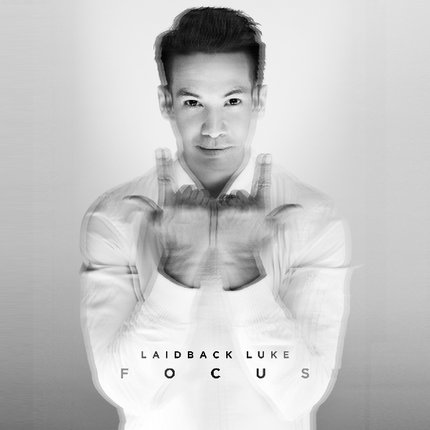 (Image courtesy of this source.)


The album takes a sharp turn on "KillaSound", an instrumental track that hooks the listener in with its groove before hyping up to a pulsating but not too aggressive bass drop. This is a track I would definitely include on a "getting ready to go out" or "pre-game" playlist for the energetic mood it puts me in. I could also see it being the new "Kernkraft 400" at some sports stadiums. The edginess of 'Focus' continues with "Won't Break the Feeling Down", which feels robotic like Daft Punk's French house with some '80s electro pop revivalism thrown in. The atmosphere mellows out on "Never Forget", but that doesn't make it dull. This song is actually the opposite. It is one of the more intriguing songs on 'Focus' with its mellow intro that transitions into an electric-meets-guitar-driven funk synth confection of sweetness about halfway through. Clearly, Luke doesn't want anyone to forget about this number. Focus reaches its center on "We Party" featuring D.O.D, a song that balances out the slower tempo of previous tracks with an in your face, hands in the air anthem that you must shuffle to, or who even are you? I mean, don't you want to party until the roof caves in and then 24 hours later do it again? Does D.O.D even need to ask?

The second half of 'Focus' picks up where the first half left off. Marc Benjamin assisted "Tell Me That You Love Me" is a melodic track that keeps listeners dancing, while lyrically begging earnestly for love, a winning formula for mainstream club hits. Luke goes a little deeper on "Scandinavia", which is bass-heavy and has this sort of rad, tribal chill out vibe to it that makes the song seem tropical and relaxing. Italian superstar producer Benny Benassi and popular dance vocalist Amba Shepherd collaborate with Luke on "Neon Sunrise", which sounds like the combining of all of their worlds for fans of each artist. Benassi's electro house style, Luke's funkier electronic elements and Shepherd's softness to her vocals staple to many progressive hits all blend as one in this soulful, melodic and animated dance track. It is definitely one of the highlights of the album. 'Focus' never gets stuck in a rut itself, and on "The Rut" Luke excels in bringing together grooves reminiscent of '90s house and modern booming bass drops to deliver the best of both worlds in a unique song that would ignite any club in the early hours of the morning. London-based artist Harrison assists Luke on "Never Rave Again", a go-to turn up party starter that lyrically explores rebelliousness. (I don't look for trouble / it's just trouble finds me) Luke may not have released many studio albums, but he has this innate ability to make it this deep into the album without losing any steam. From here, the fiery finale of 'Focus' is on the horizon.

Luke fans are going insane over this Yellow Claw and Dirtcaps collaboration, "Mic". The track has this grimy, buzzing electro beat that builds as time flows. This segues seamlessly into "Fantasizing", which has a melodic progressive groove and lyrics about yearning delivered by Natalia Isabella. The chilled out vibe continues with "Wudang", which may be the album's longest track, but this instrumental has a lot of character with its hissing, rattling and exotic house style intended for extended club sets. 'Focus' sets on "Don't Hesitate" featuring Mangal Suvarnan. This almost acoustic ballad peels back layers on 'Focus' with a dramatic and soothing conclusion.

'Focus' is a magical album for Luke. Its 16 tracks flow well together, making it an incredibly cohesive album for someone who releases LP's so rarely. However, what is stunning is how these tracks can be split into 16 puzzle pieces that fit together as a whole while also connecting to different people in different ways. Luke shows his true production talent with a variety of sounds and styles from different sub-genres while taking full advantage of a strong lineup of vocalists. With 'Focus', Luke was obviously fixated on the mission at hand: to create a cohesive, diverse and sonically intriguing album, and he succeeded with his phenomenal artistry.
---
Please note that the opinions expressed in this review are the opinions of the writer alone. They do not necessarily reflect the opinions of WSOU, Seton Hall University, nor any of its affiliates.
Posted in: Album Review, Electrified, WSOU Exclusive