Five reasons why Tom Brady signed with the Tampa Bay Buccaneers
Date: March 23, 2020
By: Wilnir Louis
After 20 years wearing the same uniform and playing for the same team, Tom Brady decided to venture off to a new team and will play for the Tampa Bay Buccaneers. According to ESPN's Adam Schefter, Brady agreed to a two-year, $50 million deal with $9 million in incentives and an agreement from the Buccaneers that they will not trade him or use the franchise tag when the deal expires. This move is one that is going to take some adjusting to for NFL fans, but here are five reasons why this move makes sense for Brady.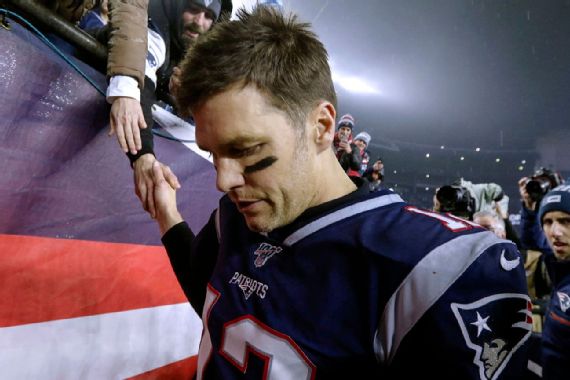 Brady's final game with the New England Patriots in the AFC Wild-Card Game at Gillette Stadium on Saturday, Jan. 4, 2020. Credit: AP Photo/Bill Sikes
1. The NFC is more Brady's Speed
When looking at some of the top teams in the AFC last year (Chiefs, Texans, Ravens), their style of play has begun to make the way Brady plays seem outdated. Patrick Mahomes, Deshaun Watson, and Lamar Jackson are all known for being able to extend plays outside of the pocket and take off when they need to. Because this style of play is more electric and more exciting than the traditional drop back and throw style that Brady plays, Brady started to be in the shadows of the other AFC quarterbacks.
The style of play for the quarterback position in the NFC is still very traditional. Jimmy Garoppolo, Aaron Rodgers, Drew Brees, they're known for their gunslinging ability. They drop back and they get the ball where it needs to go. Brady will be able to thrive in the NFC.
2. The NFC South is a division that Brady will be able to win
The division is not going to be a cake walk the way that the AFC East was for Brady (he won 11 straight division titles and 17 total since he was the starter for the New England Patriots), but it is still a division that is very top heavy.
Three times over the last five years, the team that finished in second place finished with a .500 record or below. In the last two years, the Saints have been dominating the division, posing a 13-3 record in 2018 and 2019, with Atlanta finishing second with a 7-9 record both years.
The Saints are still going to be good, so that duel between the Saints and the Bucs will be a good one, but outside of that, there really is not that much for Brady to worry. Atlanta and Carolina have both been struggling over the last couple of years, and that story could possibly repeat in 2020.
3. Brady will have quality weapons at his disposal
When it comes to the throwing options that Brady had in the 2019 season…there wasn't much. Brady has his tried and true receiver in Julian Edelman, who got a bulk of Brady's targets in the season. Edelman lead New England in receiving yards and was also the only player on the Patriots to have 1,000 yards receiving.
Second on the Patriots in receiving in 2019 was James White, the running back. Even with a lack of options, Brady still finished the season seventh in passing yards and tied for seventh in passing touchdowns. Atop those two categories? Jameis Winston had a great year finishing first in passing yards and second in passing touchdowns in the 2019 season.
He was able to make great use of his targets in Chris Godwin, Mike Evans, and Breshad Perriman along with O.J. Howard. Godwin and Evans both made the Pro Bowl in 2019 and finished the season with over 1000 yards receiving. The thing that hurt the Buccaneers was Winston's decision making and inaccurate throws.
Winston finished the season with 30 interceptions where Brady only threw eight. The most interceptions Brady every threw in a season was 14, and those where in the beginning of his career. If Brady is still accurate, the Bucs offense can be electric.
4. The Greatest of All-Time conversation will be a solidified story
Six Super Bowl rings, four Super Bowl MVPs, three NFL MVP awards, three time first-team All-Pro acknowledgements. The accolades go on and on for Brady. He is already regarded as on the best quarterbacks of all time, but haters bring up one argument; "he is a system quarterback."
Brady was able to get all these awards and championships under a coach that is also regarded as one of the best coaches of all time. If Brady can go to Tampa Bay and be successful under Bruce Arians and Byron Leftwich, the offensive coordinator, there will be nothing left for Brady to prove.

Brady and Patriots owner Robert Kraft celebrate after defeating the Seattle Seahawks on Feb. 1, 2015, to win their fourth championship. Credit: Mark J. Rebilas/USA TODAY Sports
5. When retirement comes, Brady will have a great life
Florida is a great place to retire. The weather is beautiful, there's no income tax, and there's minimal property tax. For Brady, going from the frigid temperatures of Foxborough, Mass., to the excellent weather of Tampa Bay, Fla., is going to be great for him and his family. After the career that he's had, he deserves it.
Wilnir Louis is the Station Manager at WSOU and can be reached at wsoustationmanager@gmail.com.