Fernando Tatis Jr. is the next big thing in baseball
Date: August 13, 2020
By: Rony Jerez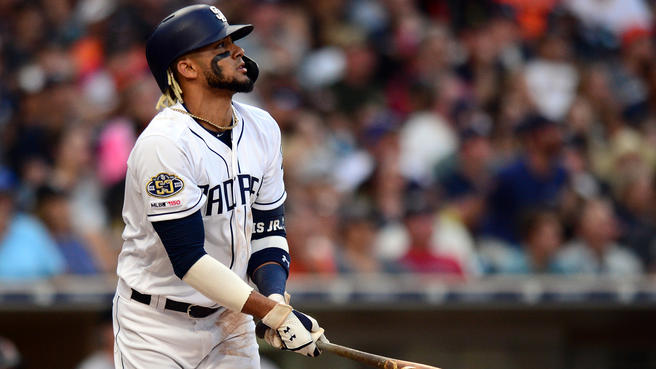 USATSI
Every few years, in all major sports, there comes a time where a new, transcendent talent comes bursting onto the scene to establish themselves as the future of the league. We have seen this in the NFL with Patrick Mahomes and Lamar Jackson. In the NBA, Luka Doncic and Ja Morant have taken the league by storm. And the MLB has found its equivalent young star: Fernando Tatis Jr.
Another one. 🔑🔑 pic.twitter.com/OLVdldOF9f

— San Diego Padres (@Padres) August 9, 2020
The 21-year-old shortstop for the San Diego Padres is as complete as a player can be. Very rarely do you see true five-tool players and Tatis Jr. fits the description like a glove. At the plate, he hits for stellar contact and power, has a vacuum of a glove at shortstop making highlight reel plays, a cannon for an arm and a speed demon on the basepaths.
He only adds on to being a complete player with having a radiant personality and unlimited style. His physical appearance oozes youth, quickness and power. The Dominican Tatis Jr. is already drawing comparisons to another junior, Hall of Famer Ken Griffey Jr., as they both shook the baseball landscape with their sweet swing and their unlimited swag. They even share a nickname as Ken Griffey Jr. was called "The Kid" and Tatis Jr.'s nickname is literally the Spanish translation, "El Niño."
@tatis_jr pic.twitter.com/DH6PPJRFs4

— San Diego Padres (@Padres) August 12, 2020
.@tatis_jr with a rocket for an arm.

His throw was tracked at 92.8 MPH. 💪 pic.twitter.com/uR0gFa9XIj

— MLB Stats (@MLBStats) August 12, 2020
As his name entails, Tatis Jr. is son to Fernando Tatis Sr., an ex-MLB player that experienced an 11-year career with five different teams. Tatis Sr. ended his career with 807 hits and 113 homeruns, while also having a record that has yet to be broken. In 1999, Fernando Tatis Sr. became the first player to hit 2 grand slam homeruns in the same inning, and it looks like that record could stand for a long time.
The San Diego shortstop entered the 2020 MLB season coming off a very promising rookie year. Despite only playing 84 games due to injury, he finished third in the National League Rookie of the Year race. He ended off his rookie season with 22 homeruns, 16 stolen bases, a .317 batting average and .969 OPS (highest in MLB history for rookie shortstop). Since these numbers came after only 84 games, Tatis Jr. was on pace for a historic rookie season if he had played a full season.
Last night, @tatis_jr went back for seconds. 👏 #FriarFaithful pic.twitter.com/3Yd2HdsO0F

— San Diego Padres (@Padres) August 9, 2020
Now in 2020, the 21-year-old phenom is putting numbers that only a few players have achieved. Tatis Jr. has recently surpassed his 100th career game played in the majors, and in those 100 games, Tatis Jr. is the only player in MLB history to have 30 homeruns, 20 stolen bases within their first 100 games. He is also the only shortstop in history to have 30 homeruns in that span. Besides the numbers, El Niño became a rookie sensation based on his electric highlights and his dynamic playstyle.
TO THE MOON.@tatis_jr 🌖 #FriarFaithful pic.twitter.com/mxyaz7AbdT

— San Diego Padres (@Padres) August 6, 2020
Currently on the year, he is second in home runs, third in RBI, first in stolen bases, fourth in slugging and sixth in OPS. He is putting up these numbers while also having a blast on the field while smiling from ear-to-ear and constant dancing in the dugout whenever he or his teammates hits a homerun. His goal is to become the "Dominican Jeter," and it looks like he is well on his way to become that.
Tatis Jr.'s teammate, first baseman Eric Hosmer for the Padres, stated, "He's 21 years old. And there's no question, he's the face of this franchise. And I think he's going to be the face of this game very, very soon."
With the personality, the looks, and his electric style of play, Tatis Jr. has the making of being must-watch television every time he takes the field and an ambassador of the game for young kids and baseball fans everywhere. Tatis Jr. Become familiar with that name. It will probably stick around for a long time.
Hip-notized by @tatis_jr 😵 pic.twitter.com/25eBSeokFn

— San Diego Padres (@Padres) August 8, 2020
Rony Jerez can be reached at rony.jerez@student.shu.edu.