Album Review: Embrace by Armin van Buuren
Date: November 22, 2015
By Veiga

This month, Electrified WSOU highlights the latest from electronic connoisseur Armin van Buuren. A legend in his own right, this Dutch producer's discography speaks for itself. For dance music fans, Armin has left a legacy with mega club hits such as "In and Out of Love" and "This Is What It Feels Like", five pristine albums and a devoted fan base of A State of Trance, his weekly radio show highlighting the best artists of the trance subgenre. Now, the Leiden, Netherlands native returns with his sixth studio album, 'Embrace'.

Forgive me for the cheese I'm about to serve, but this album allows listeners, new and old fans alike, to "embrace" Armin's current style, a mixture of his trance roots and his interpretation of today's popularized electro house boom. The album opens with the former on the title track, a seven-and-a-half-minute ode to the trance family Armin built with his radio show. Armin then flips the switch onto hit lead single, "Another You", a house track fit for today's dance scene yet still stained with Armin's artistry. This lead single features Mr. Probz of "Waves" fame on vocals. Dutch singer-songwriter Cimo Frankel keeps the momentum alive, appearing on "Strong Ones", a promising contender for next single with its upbeat bubbliness without being in your face like other dance songs at the moment. If "Strong Ones" is the song that gets you out of your chair and onto the dance floor, "Make It Right" is the song that keeps you there. Featuring vocals from The Voice contestant Angel Taylor, this track starts off with a sexy night out vibe before transitioning to a softer, almost ballad-like moment and climaxing at a melodic chorus. The first portion of 'Embrace' wraps with "Face of Summer" featuring Sarah deCourcy, similar in spirit to the tracks before it but with a softer melody.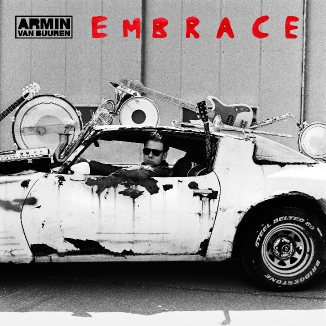 (Image courtesy of this source.)


'Embrace' segues into its center with "Heading Up High" featuring Dutch rock band Kensington. Armin perfectly blends his world of dance with their world of rock with the type of song that gets concertgoers in a carefree state of mind, waving their hands in the air from side to side. "Gotta Be Love" features American singer Lyrica Anderson, declaring a determination for love. (I was walking wounded / through frozen lonely nights / you tape my heart together / you kiss the pain goodbye) Premiering earlier this fall on Electrified, "Hands to Heaven" features sought-after American producers Rock Mafia. Armin is known for his lengthier club tracks, and clocking in at six minutes, this number reminds me of trance friends Above and Beyond sonically in its progression, but it is a quality song and is fitting for the heart of the album. BullySongs collaborates on "Caught In The Slipstream", showing a softer side of 'Embrace'. The verses are ballad-like in composition, building up to a chorus a few levels above deep house but a few below booming progressive or electro house, a happy medium. "Embargo", featuring prominent German trance duo Cosmic Gate wraps the center of the album with a festival appropriate piece that is both bouncy and melodic.

'Embrace' approaches its back end on a high point. BullySongs appears again on "Freefall", a song in line with popular progressive dance hits at the moment. American DJ DBX appears on "Indestructible", an upbeat house track that flexes its muscle with superb vocals. "Old Skool", like its name suggests, brings some throwback dance flavor and spins it for a new audience, a theme I picked up on throughout the album. The track sets the stage for the awaited collaboration with Hardwell, "Off the Hook". Hardwell remixed "Ping Pong", a record off Armin's previous release, 'Intense', and this collaboration is easily the follow-up, a continuation of bouncy, hypnotic electro house beats mixing with the trance sound. Gavin DeGraw, known for pop hits including "Chariot" and "I Don't Want to Be", is the lucky man who gets to sing us out. Album closer "Looking For Your Name" is definitely the softest song on the album and may feel more like Gavin featuring Armin than anything else, but the slower conclusion equalizes the album's up-tempo/down-tempo ratio, and for an album called 'Embrace', I think this was the right choice considering the more goose bump-warranting emotional theme.

'Embrace' is a solid release for Armin. Every song is like a different chapter out of a well-read book. At times it seems like the pages were torn and reattached at weird angles. The title track seemed out of place at the beginning of the album before such modern, house-centric dance hits, but it did serve its purpose in bridging the gap between Armin's listeners in 2005 and Armin's listeners in 2015. "Embrace' has exactly what fans are looking for in an Armin album: just the right measure of variety, emotion and rhythm.
---
Please note that the opinions expressed in this review are the opinions of the writer alone. They do not necessarily reflect the opinions of WSOU, Seton Hall University, nor any of its affiliates.
Posted in: Album Review, Electrified, WSOU Exclusive