Dak Prescott: the most hated quarterback in football
Date: June 25, 2020
By: Christian Gardner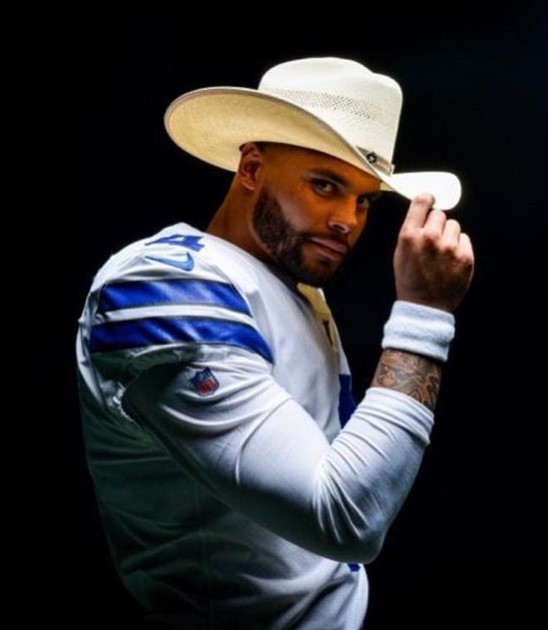 42nd Witness
"Heavy is the head that wears the crown."
As we enter a new era of NFL football with Tom Brady joining the Tampa Bay Buccaneers, the face of the evil empire that was the New England Patriots, doesn't seem to be the great villain of old. The hate for Brady has subsided but who has taken the unwanted mantle of "the most hated in the NFL?"
His name is Dak Prescott. No, I am not saying Prescott is the next Tom Brady, but Prescott has become the most disliked player within the league, including in his own fan base.
The day Dak Prescott is the starting QB of my football team is the day I stop watching football as a whole

— YOUR RETWEET PLUG (@_AyeJay25) June 23, 2020
I think there are 40 qbs in this league that could have just as much success if not more with THIS Team...especially when 72 was here. Dak is not special in any way,shape or form. And the fact h''s a franchise tagged qb by default proves it. pic.twitter.com/i9tWUQ9DvK

— RomieRome9 (@Rome9Romie) June 22, 2020
Prescott gets a lot of hate and I believe it's unwarranted. Prescott has been successful ever since he entered the league. Prescott has yet to have a losing season with a 40-24 record all-time, two Pro Bowl selections, two division titles, Rookie of the Year award, a playoff win, and hasn't missed a single game.
What are the traits of the ideal quarterback? Someone that is mobile and has an ability to get out of the pocket and gain necessary yards, someone with a big arm to make all the throws, someone that can come up big when the game is on the line. Prescott has shown he has all those facets within his game. Yes, he isn't elite at any one of those traits but as a young quarterback he has the potential to be one of the best in the game.
All of these traits are on display in this play in 2018 on 4th down versus the Giants.
Dak Prescott in the Cowboys' last 2 games against the New York Giants at MetLife Stadium: 47 of 74 passing, 719 yards, 7 TDs, 0 INTs, 127.0 passer rating (video: @NFL) pic.twitter.com/V6E4bJ3OAP

— Jon Machota (@jonmachota) December 30, 2018
Prescott, with the pocket collapsing, is able to move to his left and deliver a 50-yard bomb to tie the game on the final drive. Although Prescott has glimpses of greatness, many are still doubtful. Prescott had his best year statistically in this past season. Prescott finished second in passing yards, fourth in passing touchdowns, and finished in the top ten in total passer rating.
Prescott has always had the stigma of strictly being a quarterback who doesn't stretch the field, but the stats show otherwise. Prescott was one of two quarterbacks to throw more than five touchdowns over 40 or more yards. The only other signal caller to do that was Super Bowl LIV MVP Patrick Mahomes who finished with nine as Prescott had seven.
Free agent Dak Prescott is the best vertical passer in the NFL. He went 67/108 on throws deeper than 15 yards and 36/60 on throws deeper than 20 yards.

62% and 60% pic.twitter.com/rkszj9zGih

— QB Data Mine (@QBDataMine) March 12, 2020
Analytically, Prescott was one of the best quarterbacks in 2019 but his record didn't reflect that. Although it was a career year statistically for Prescott it was his least successful year in the win column as the Cowboys were a mediocre 8-8. In this league, it comes down to wins and losses not analytics. If that were true Matthew Stafford would be the greatest quarterback of our generation.
The hate for Prescott was at full force Monday when he signed his franchise tender for 31.4 million dollars. Many said that's too much money and were baffled that Prescott is in talks to receive even more. But the truth is that's the market for NFL quarterbacks nowadays. Ryan Tannehill, who hands the ball off to Derrick Henry better than anyone in the business, will be making just under 30 million dollars a year until he's 34. Prescott's 2016 draft classmates in Carson Wentz and Jared Goff have already inked their long-term deals for base salaries of 33 and 32 million dollars, respectively.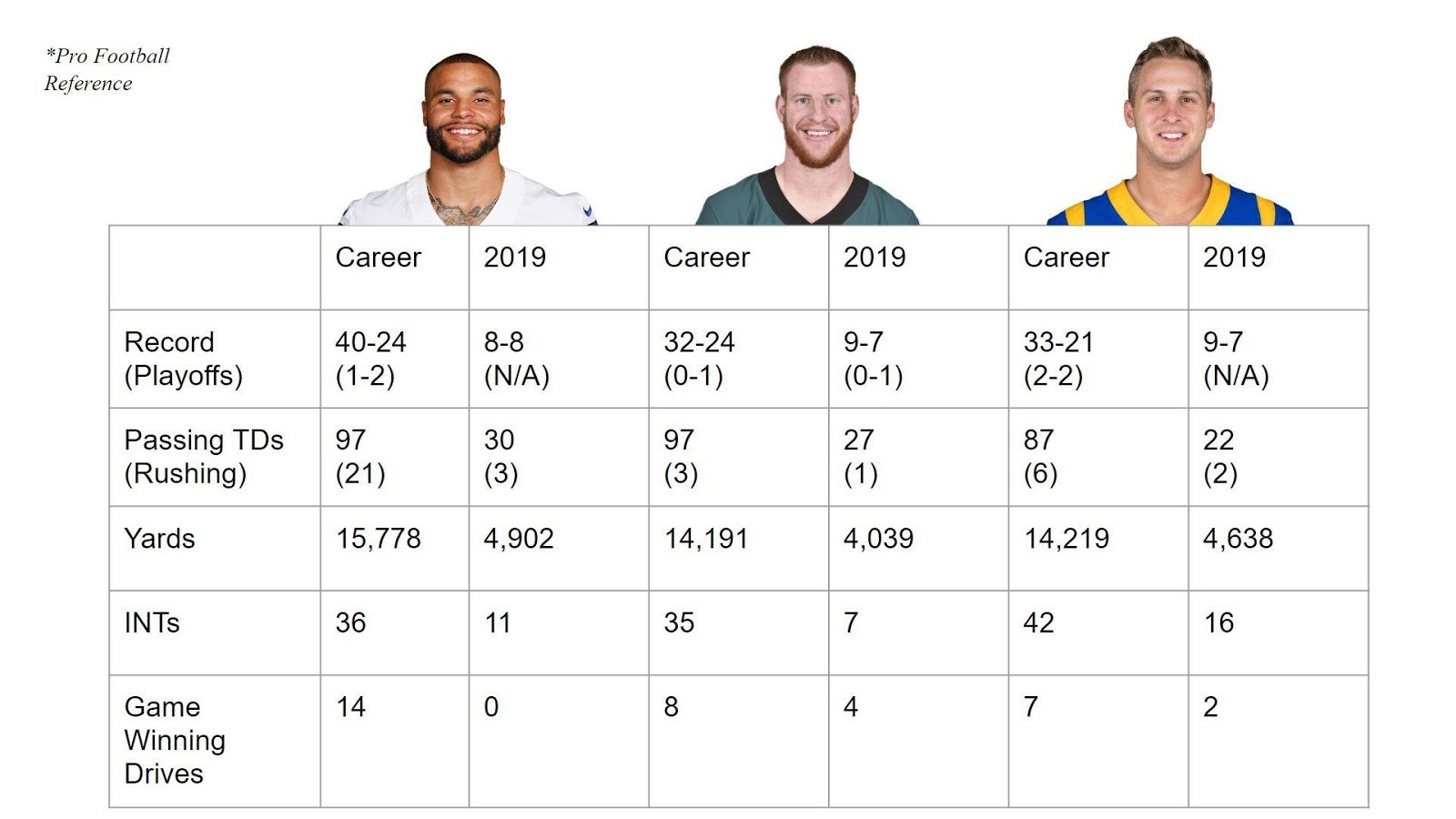 The numbers of Prescott, Wentz, and Goff are nearly identical with Prescott getting the edge in some. There were no problems when Wentz and Goff signed their lucrative deals, but when Prescott wants to come to the table, everyone is up in arms even though they are statistically the same quarterback. The cash that has been linked to Prescott has been daunting, but when you look at what other quarterbacks have received, the asking price of Prescott becomes more and more justified.
In 2018 Jimmy Garoppolo, who had only played five games for the 49ers at the time, signed a record setting contract for the NFL of 137 million dollars with a base salary of 27.5 million a year. Today Garoppolo sits as the tenth highest paid quarterback. (Lower than Ryan Tannehill if you're keeping track at home.) The numbers continue to balloon at the quarterback position with the number being set at 35 million a year by Russell Wilson. But before you say, "Dak Prescott isn't Russell Wilson," the next two highest base salaries are 38-year-old Ben Roethlisberger with 34 million a year and Jared Goff.
Prescott has played at the level of a top quarterback in the NFL and luckily for him the number for a top quarterback is high. But Prescott's contract in the coming years will look more like Garoppolo's because the market will continue to grow and players like Deshaun Watson and Mahomes will get their turn to set the market.
All those quarterbacks that I've mentioned have you seen any of them get the same flack that Prescott receives? I have probably given the most hate to Ryan Tannehill in this one article. The stats show that Prescott is on par or better than Wentz, Goff, Garoppolo, and Tannehill yet they all received contracts with little gripes.
Despite all the stats and ideal traits Prescott still receives disdain from all over. Prescott has the Hollywood story that we all love in a sport. A kid from small town Louisiana gets a chance to play in the SEC. Brings his school to heights they have never seen, and frankly won't see for some time. Gets overlooked by the league and falls into the late rounds of the draft. He finally gets his shot with the team he grew up rooting for, America's Team, the Dallas Cowboys. And that is the problem right there isn't it? Cause I know you rolled your eyes and groaned when you read that.
Dak Prescott has done nothing but produce for his team since he entered the league. Prescott has been able to do anything that you ask of him but since he has the star on his helmet, he must become the villain. He is the face of the number one franchise in sports and the face of the overrated, why do we hear from this team every year, who even named them "America's Team" franchise.
For Prescott, there will always be critics, as there was for Tony Romo in his years. For the so-called "Cowboys fans" that actively root against Prescott, they must only link him to the demise of Tony Romo.
Those fans may forget, Romo, who has now finally been accepted by all of the NFL community in the broadcast booth, was not so beloved in his time as a Cowboy either. Frankly, he had the same critics that come with being the quarterback of the Dallas Cowboys. The same could probably said for Hall of Famer Troy Aikman.
"Heavy is the head that wears the crown."
Prescott must embrace the label of most hated in football. They don't have to like you; they just have to respect you. That's how it worked for Tom Brady. Although Prescott has had some success in his young career, statistics won't silence the critics, only championships can do that. It's an uphill battle for Prescott as that means he must take Dallas somewhere they have not been in over 25 years.
Christian Gardner can be reached at christian.gardner@student.shu.edu.
Posted in: Men's Basketball, Sports, WSOU