Could Clyde Edwards-Helaire be the Offensive Rookie of the Year?
Date: July 31, 2020
By: Jorie Mickens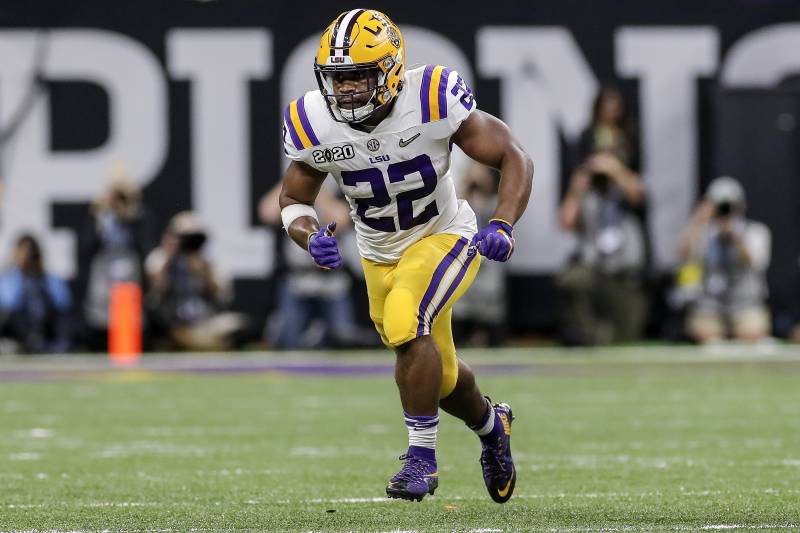 Don Juan Moore/Getty Images
Due to the seemingly everlasting coronavirus pandemic, numerous NFL players have decided to opt out of the 2020 season.
Players have until Aug. 3 to inform their teams whether they will be participating in the upcoming season, and some notable names have already made that decision. Patriots' linebacker Dont'a Hightower, along with five other New England players, will forgo the 2020 season.
Giants' tackle Nate Solder opted out due to concerns about his son's ongoing battle with cancer, and Eagles' receiver Marquise Goodwin, who lost a prematurely born son in 2017 and unborn twins in 2018, will miss the season to care for his five-month old daughter.
July 29, 2020
The impact of each absence will vary. Some players were backups who rarely got on the field, others were 16-game starters. But of all the reportedly opted out players thus far, one name reigns supreme: Kansas City Chiefs' running back Damien Williams.
The Chiefs had somewhat of a rollercoaster season last year. They started 4-0, scoring an absurd 33.8 points-per-game through their first four matchups. They dropped two straight home games against the Colts and Texans, and then in week seven against the Broncos, everyone in the organization was fearful of a lost season as quarterback Patrick Mahomes left the game with an apparent knee injury.
Luckily for the Chiefs, Mahomes was only sidelined for two weeks. Kansas City went 6-1 in their last seven regular season games, Mahomes threw the second most passing touchdowns in a single postseason and Kansas City took home the Vince Lombardi Trophy after defeating the San Francisco 49ers 31-20 in Super Bowl LIV.
Mahomes reaped the rewards of arguably the best start to a quarterback's career (he was named league MVP in 2018) by agreeing to a record-breaking 10-year, $503 million deal in early July.
Chiefs and QB Patrick Mahomes have reached agreement on a 10-year -- 10-year! -- contract extension that ties him to Kansas City through the 2031 season, league sources tell ESPN.

— Adam Schefter (@AdamSchefter) July 6, 2020
But as great as Mahomes is, he will be without his best running back from last year's championship squad. Last season, Williams led the Chiefs in rushing yards, attempts, yards after contact and broken tackles. And although he started just six games for Kansas City, Williams came through on the biggest stage when he rushed for 104 yards and a touchdown during their Super Bowl win.
If the Chiefs did not nail this year's draft, they would be reliant on running backs Darwin Thompson and Darrel Williams to get them through this season. But with the last pick in the first round of the 2020 NFL Draft, the Kansas City Chiefs may have selected this year's Offensive Rookie of the Year.
Clyde Edwards-Helaire spent three seasons with the LSU Tigers and had a breakout season this past year. Edwards-Helaire led the SEC in rushing touchdowns (16) and yards from scrimmage (1867), was second in rushing yards (1468), and led all SEC running backs in receptions (55).
Edwards-Helaire is not the most physically imposing back, standing at just 5-foot-7-inches, weighing 207 pounds and running a 4.61 40-yard dash, but he has the opportunity to be one of the most impactful players, not just rookies, this upcoming season.
An otherworldly ability to read his blocks, coupled with great acceleration and agility is just one of the reasons Edwards-Helaire was the first running back selected in this year's draft. As a pass-catcher last season, Edwards-Helaire routinely torched linebackers with crisp routes out of the backfield.
Now playing on a team that features Tyreek Hill, Travis Kelce, Sammy Watkins, and Mecole Hardman, Edwards-Helaire could have even more space to operate as both a ball-carrier and receiver than he did at LSU.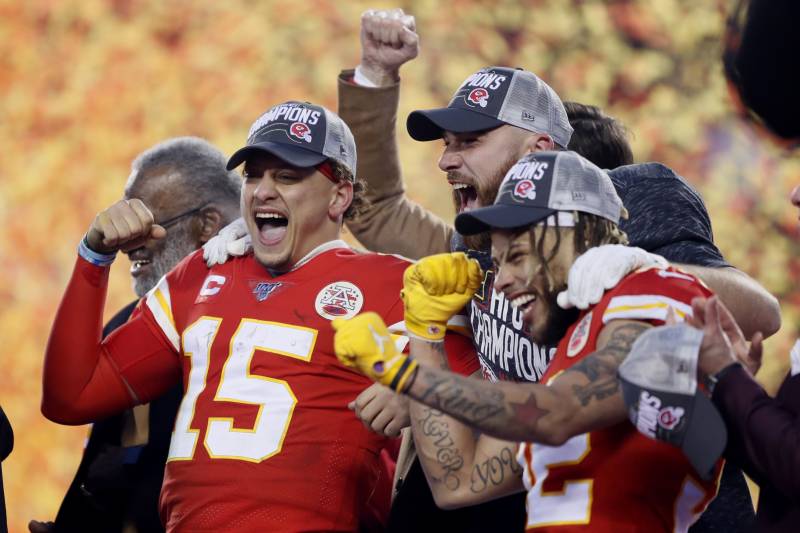 Charlie Neibergall/Associated Press
The biggest concern about Edwards-Helaire is his ability as a pass protector. At times he struggled to matchup with bigger and stronger defenders due to his smaller stature and poor technique—this could prove costly for Edwards-Helaire and the Chiefs' offense.
Darrel Williams is listed at 5-foot-11-inches, weighs 225-pounds, and has spent the last two seasons with the Chiefs. Because of the truncated offseason, and the announcement that Chiefs' starting right guard Laurent Duvernay-Tardif has opted out of the 2020 season, Edwards-Helaire could lose touches because of his inexperience.
My decision regarding the 2020 NFL season pic.twitter.com/jrY3nZfNWO

— Laurent D. Tardif (@LaurentDTardif) July 25, 2020
That said, three players who could challenge Edwards-Helaire for the Offensive Rookie of the Year title are Bengals' quarterback Joe Burrow, Colts running back Johnathan Taylor, and Lions' running back D'Andre Swift. Edwards-Helaire and Burrow won the national championship together at LSU last season, and Burrow previously praised the running back's body of work.
On an episode of "The Dan Patrick Show," Burrow said, "without question," Edwards-Helaire was the best athlete on the team. "He's going to play for 20 years [in the NFL]. Everyone looks at all my stats because we threw the ball so much, because we had great guys on the outside as well, but, I mean, Clyde is a different beast."
Selected with the first overall pick in this year's draft, Burrow has a plethora of weapons at his disposal and offensive guru Zac Taylor calling the shots. Quarterbacks have won five of the last ten Offensive Rookie of the Year awards and this season, Burrow will look to add his name to that list.
Almost more than any other position though, highly touted running backs generally have success in their rookie seasons. In just 13 games last year, Las Vegas' rookie Josh Jacobs was seventh among running backs in rushing yards. Saquon Barkley was second in rushing and fifth in touchdowns his rookie season, and both Kareem Hunt (2017) and Ezekiel Elliott (2016) led the league in rushing their rookie seasons.
Similar to Edwards-Helaire, Swift and Taylor are both in situations with a tremendous amount of opportunity.
Despite a quality start to last season, Lions' running back Kerryon Johnson missed eight games due to injury last year. Swift could come in and be an immediate force in that backfield. Taylor, on the other hand, has the luxury of playing behind one of the league's best run blocking offensive lines. Depending on the health and play of fellow Colts' running back Marlon Mack, Taylor could lead the Colts' backfield in touches.
There were plenty of quality wide receivers in this year's draft, notably Las Vegas' Henry Ruggs III, Denver's Jerry Jeudy, and Dallas' CeeDee Lamb. But only one wide receiver has won the Offensive Rookie of the Year in the last ten years, former Giants' receiver Odell Beckham Jr. in 2014.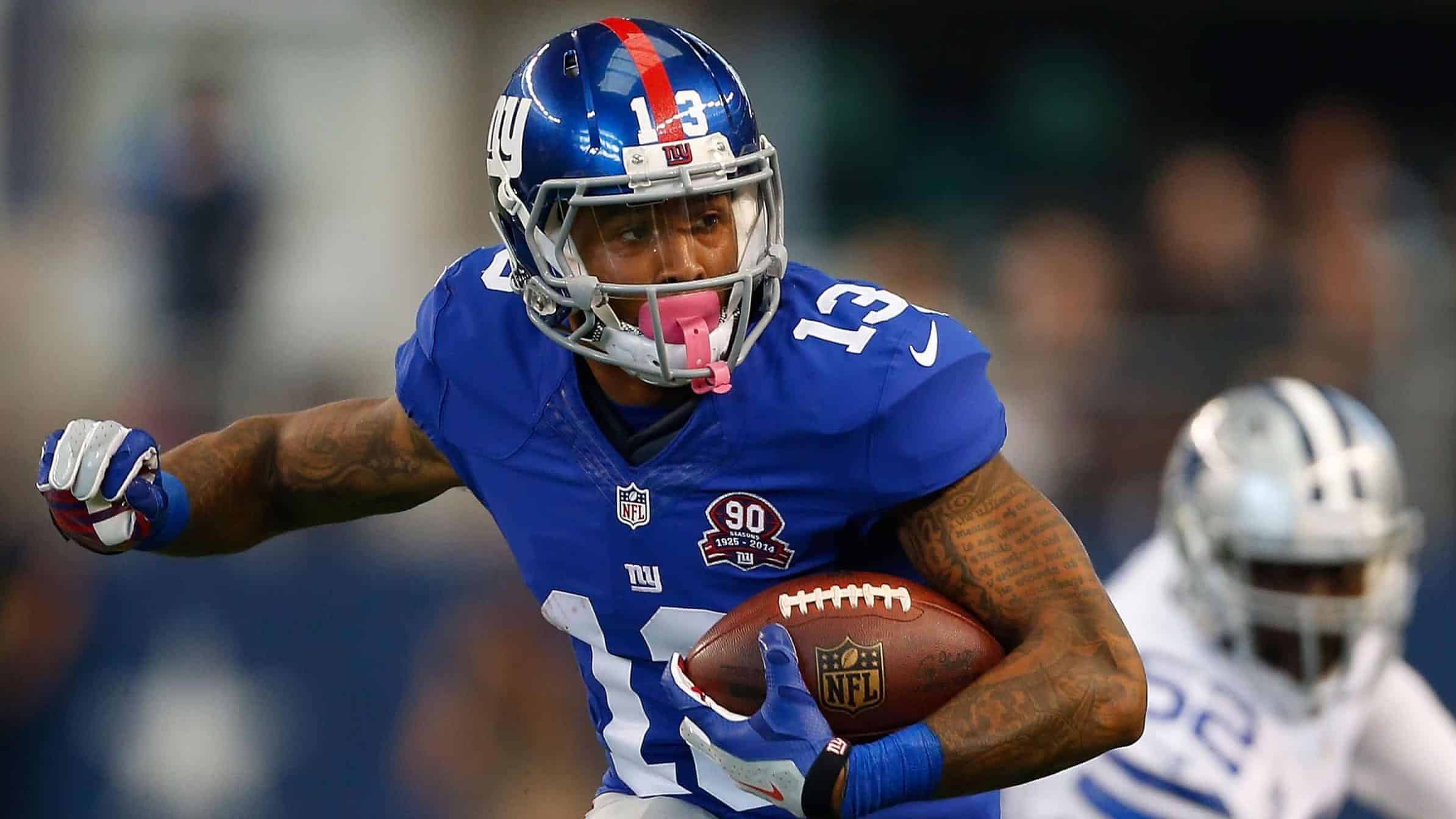 Wesley Hitt/Getty Images
That season, Beckham Jr. totaled 1,305 receiving yards (10th in the NFL that year), 91 receptions (9th), 12 receiving touchdowns (4th) and ranked first in receiving yards per game. As talented as these receivers are, it is unlikely they will outproduce the aforementioned players during their rookie seasons. With the restricted offseason, and the fact that it is already difficult for receivers to transition from college to the pros, it will be tough for those wideouts to contend for the award.
Another dark horse candidate is Rams' running back Cam Akers. Los Angeles as a team that regressed last season, but some of their individual performances were still remarkable. With running back Todd Gurley heading to Atlanta, the starting running back job is up for grabs.
Akers was very productive in three seasons at Florida State despite poor offensive line play. Given that the Rams invested high draft capital in Akers, (he was the Rams' first selection in this year's draft) there is reason to believe he could produce right away for Sean McVay's offense.
Edwards-Helaire has a chance to be special this season. He already proved he can stand out amongst stars during his time at LSU, if Edwards-Helaire can rush for 1,000-plus yards, catch 30-40 passes and help the Chiefs make another deep playoff run, voters may have no choice but to give him the award.
Jorie Mickens is an Assistant Sports Director for WSOU Sports, and can be reached at jorie.mickens@student.shu.edu.