Around the Big East: Conference Preview
Date: December 27, 2017
By: Matt Ambrose (@mambrose97)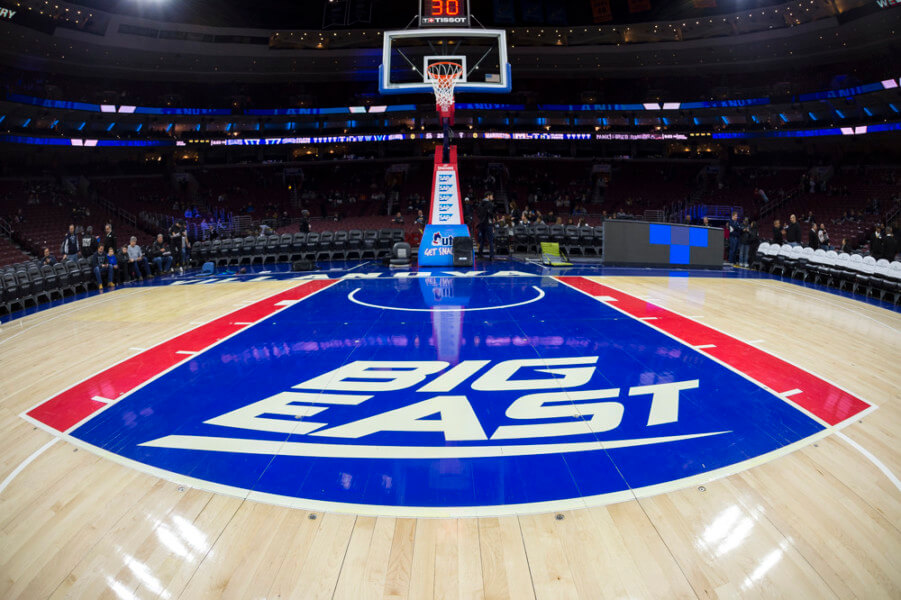 (Photo: FanRag Sports)
The wait is over. Big East play is finally here. It has been one of the most anticipated conference seasons since realignment, with many schools making significant improvements. Now that we have all non-conference games to go off of, here's where I rank all 10 Big East teams coming into conference play.
1. Villanova Wildcats (12-0, AP #1, KenPom #1)

 
(Photo: NBC Sports)
 
The top-ranked team in the country has to come in first on this list. The Cats have been the class of the conference ever since realignment, winning all four regular season Big East titles as well as two tournament titles. Oh yeah, they won a National Championship in there too. Jalen Brunson was my pick for Big East Player of the Year, and he's played the part so far, averaging 18.1 PPG while shooting 61 percent. Mikal Bridges has taken the biggest leap on this team, as he is second on the team in scoring at 17.3 PPG and is shooting the lights out. This team only has a seven man rotation, however all of those players are starter-caliber.
2. Xavier Musketeers (12-1, AP #6, KenPom #16)

 
(Photo: NCAA.com)
 
The second AP Top-10 team from the Big East, Xavier is ranked sixth in this week's rankings. Trevon Bluiett has been the guy for the Musketeers, averaging 19.8 PPG and shooting just under 50 percent. They've notched some notable wins this year over Baylor and Cincinnati, both of which came in the same week, with their only loss coming to now third ranked Arizona State. Where this team kills you is their size. Kerem Kanter, Sean O'Mara and Tyrique Jones clog the lane for a team that has grabbed the second most rebounds this season in the conference.
3. Seton Hall Pirates (11-2, AP #23, KenPom #21)

 
(Photo: SHU Athletics)
 
The Pirates are the team ahead of Xavier in total rebounds, grabbing a mere one rebound more than the Musketeers this season. The Pirates have had some off-court issues, but when everyone is focused, this team can be lethal. Desi Rodriguez has become the go-to guy for this team, averaging 17.9 PPG, while Myles Powell has expanded his game from a catch-and-shoot player to an all-around slasher. The sophomore is second on the team with 14.4 PPG, while shooting a lights out 41 percent from deep. Angel Delgado has become a double-double machine once again, churning out nine such performances this season. There are two keys for the Pirates success in Big East play: Khadeen Carrington and bench play. Carrington has had his ups-and-downs while adjusting to the point guard role, and time will tell if he will truly find his comfort zone. The bench has left a bit to be desired, but if they step up in conference play, this team is scary good.
4. Creighton Bluejays (10-2, AP #25, KenPom #29)

 
(Photo: Creighton Athletics)
 
Some thought they'd take a step back after losing Justin Patton. Not to be. Meet Martin Krampelj, the man who has filled in for Patton down low and is fifth in the Big East with 7.6 RPG. Not to mention he is pouring in 11.8 PPG while shooting 67 percent. Marcus Foster is going to do his thing, and Khyri Thomas is one of the most underrated players in the country. Creighton was undervalued coming into this season, and their matchup with Seton Hall on Thursday night is appointment television.
5. St. John's Red Storm (10-2, KenPom #47)

 
(Photo: Newsday)
 
They have Shamorie Ponds, who is the third leading scorer in the conference with 20.4 PPG. They have big men like Bashier Ahmed and Tariq Owens who wreak havoc down low. But perhaps two of the most important players on this team are the newcomers Justin Simon and Marvin Clark II. Both sat out last year after transferring from Arizona and Michigan State, respectively, and have made major impacts this season. They both are averaging over 10 PPG, and Simon is the team's leading rebounder and third in the Big East at 8.2 PPG. To complete the package, the Johnnies need Marcus LoVett back badly, as he has missed the last five games with a knee injury and his return remains unclear.
6. Butler Bulldogs (10-3, KenPom #41)

 
(Photo: NBC Sports)
 
Expectations for this Butler team were not as high as in recent years after losing Head Coach Chris Holtmann. LaVall Jordan has done well so far in his first year, leading his Bulldogs to a 10-3 record entering Big East play. This team goes as Kelan Martin goes, proven by his 17.9 PPG and 7.2 RPG. He is the lifeblood of this team, and any success this team will have in Big East play will depend on him.
7. Marquette Golden Eagles (9-3, KenPom #49)

 
(Photo: SB Nation)
 
Offense is the name of the game for Steve Wojciechowski's crew in Milwaukee. The Golden Eagles have the top two scorers in the conference in Markus Howard (21.8 PPG) and Andrew Rowsey (20.7 PPG). Sam Hauser is also a dangerous scorer for Marquette, putting up 15.2 PPG on 52 percent shooting. What this team lacks is defense, as they give up 73.5 PPG to opponents, the worst in the conference. Not helping that situation is the departure of one of their best defenders Hannif Cheatham, who transferred to Florida Gulf Coast.
8. Providence Friars (9-4, KenPom #65)

 
(Photo: MassLive.com)
 
Providence has been the biggest disappointment in the Big East through non-conference play. Picked to finish fourth in the conference to start the season, Providence has looked sluggish to say the least. Narrow wins over Belmont, Rider, Brown and Stony Brook, all at home, raise major red flags. Throw in a road loss to UMASS and people are scratching their heads about this Providence team, myself included. They sit eighth for me right now, but not by much. If it weren't for the final two teams on this list, PC would be lower.
9. Georgetown Hoyas (10-1, KenPom #96)

 
(Photo: Hoops Habit)
 
It's no secret that Georgetown had one of the easiest non-conference schedules in all of college basketball. The combined record of their non-conference opponents is 45-102. Take 10-2 Syracuse out of the mix and that record drops to 35-100. Not good. Syracuse was the only team that managed to take down the Hoyas, doing so in overtime. All the Hoyas can hope for is that the winning mentality gives them some momentum heading into conference play. They'll have to rely on that, because outside of Jessie Govan and Marcus Derrickson, there is not a ton of talent on this team.
10. DePaul Blue Demons (7-5, KenPom #107)

 
(Photo: DePaul Athletics)
 
DePaul is always a tough team to watch. They've been bottom-dwellers for a while now, and haven't made the NCAA Tournament since 2004. But hey, Max Strus can be a fun player to watch, averaging 17.3 PPG. Eli Cain is another solid backcourt player for the Blue Demons, as he know has the keys to the car after Billy Garrett Jr's departure.
That's how I see the teams entering Big East play. Now, taking a look forward, these next 18 games will have serious implications towards March and the NCAA Tournament, as well as the Big East Tournament at Madison Square Garden. I see the final Big East standings playing out like this:
1. Villanova
2. Seton Hall
3. Xavier
4. Creighton
5. St. John's
6. Providence
7. Butler
8. Marquette
9. DePaul
10. Georgetown
The Big East games kick off tonight with three matchups: Butler-Georgetown, Villanova-DePaul and Xavier-Marquette. Big East hoops are back, let the best team win.
Matt Ambrose is an Assistant Sports Director at 89.5 FM WSOU. He can be reached by e-mail at mambrose897@gmail.com and can be found on Twitter @mambrose97.