Are the Knicks the real deal?
Date: January 8, 2021
By: Jonathan Heite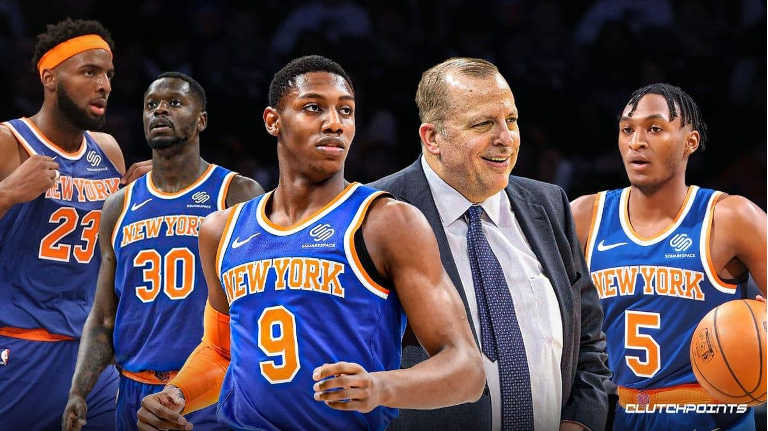 ClutchPoints.com
It has been a very long time since Knicks fans have been able to make that statement. In arguably the most surprising story of the NBA's short season, the revamped New York franchise has jumped out to a 5-3 record, currently holding the No. 5 seed in the Eastern Conference. The last time they were above a .500 record in January was during the height of the Carmelo Anthony era back in 2013.
On Wednesday night, the Knicks showed once again their early season dominance in a 112-100 comeback win, now adding a playoff caliber Utah Jazz team to a list of tough opponents New York has upset thus far.
Other big-time victories against the best of the Eastern Conference included a 20-point win against reigning MVP Giannis Antetokounmpo and the Bucks, a close four-point victory against the Pacers, and a clutch, five-point statement win against the resurgent Atlanta Hawks.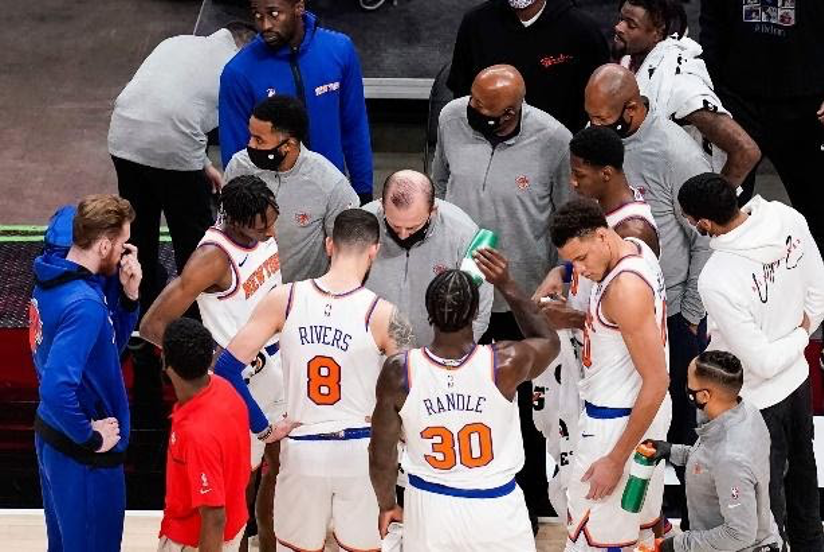 Dale Zanine/USA TODAY Sports
There have been many factors that have contributed to New York's first positive start in years, from the hiring of a brand-new coaching staff in the offseason to young talent proving their worth every single game, things seem to be on the rise.
First year head coach Tom Thibodeau has attempted to replace the losing culture that the Knicks have always been associated with ever season with a grittier style of play, which has greatly affected their performance on both sides of the ball.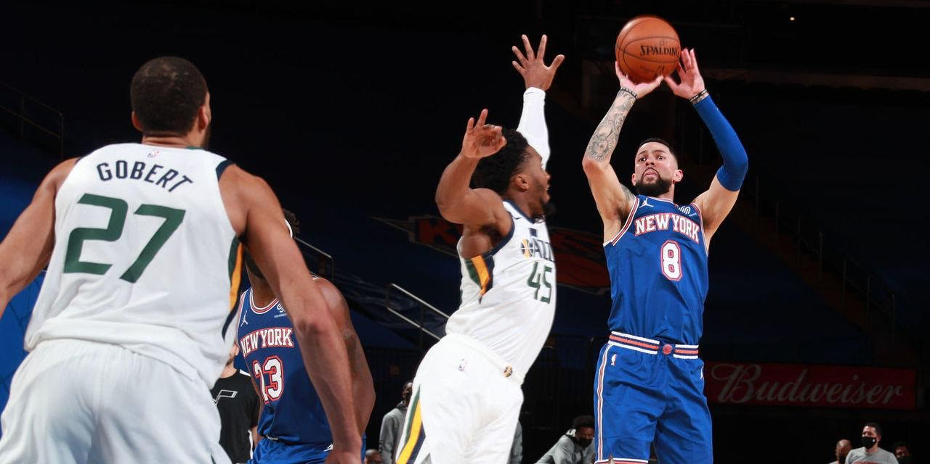 TheKnicksWall.com
From making defensive stops against some of the game's best to greatly increasing offensive production, the team has started to improve in a very short period of time. Thibodeau also has an excellent assistant coaching staff, with key members including former University of Kentucky assistant, Kenny Payne, who has been responsible for helping some of the brightest young Knicks (especially former Kentucky alums like Immanuel Quickley and Kevin Knox) flourish this season.
Along with the new coaching methods, multiple players have stepped up, showcasing the potentially bright future for the Knicks. Before talking about the new crop of draft picks from this year's NBA draft, there is one player who has silenced the critics with his outstanding play from game one this season – Julius Randle.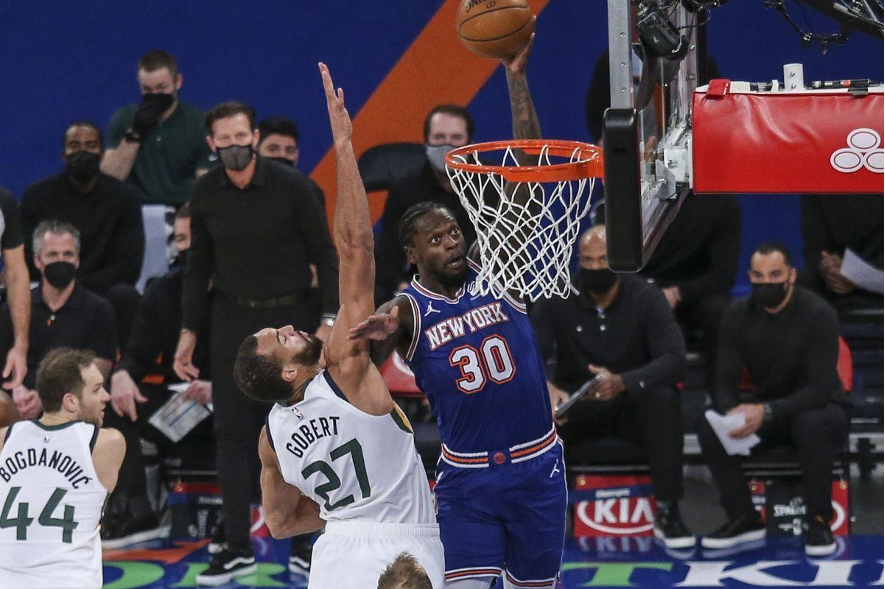 Wendell Cruz /USA TODAY Sports
For much of this past offseason, most Knicks fans were practically begging the front office to trade the 26-year-old power forward, who did not live up to his expectations in his first season in New York. When scrolling through the Knicks Instagram account, most of the comments were flooded with the same "trade Randle" statement, and with the rebuild of the Knicks getting kickstarted by this year's draft, this move seemed like a great possibility.
Using the critics as fuel, Randle has proved all his naysayers wrong through the first eight games, averaging career-high totals and leading the team with 23.1 points, 12 rebounds, and 7.4 assists in 38.6 minutes-per-contest.
While many have questioned the efficiency of his isolation/post-up style of play, if he continues to have a career year going forward, the Knicks could be in contention for a potential playoff spot by the season's end.
JULIUS RANDLE with another big game!
28 PTS, 17 REB, 9 AST, W

He has 8+ AST in 4 of 7 games this season. pic.twitter.com/cpMSSgGZkg

— Ballislife.com (@Ballislife) January 5, 2021
Beyond the Knicks's emerging star in Randle, 2019 third overall pick, RJ Barrett has finally shown the New York faithful that he can be a potential player to build around for the franchise. The former Duke Blue Devil has still shown inconsistency in his three-point shooting and defensive abilities, even dating back to his rookie season that ended with an absence from the annual NBA All-Rookie team.
In his sophomore campaign, he has averaged 38.1 minutes-a-night and has kept his scoring average to a respectable 17.1 points-per-game, constantly showcasing his athleticism and highlight drives to the basket.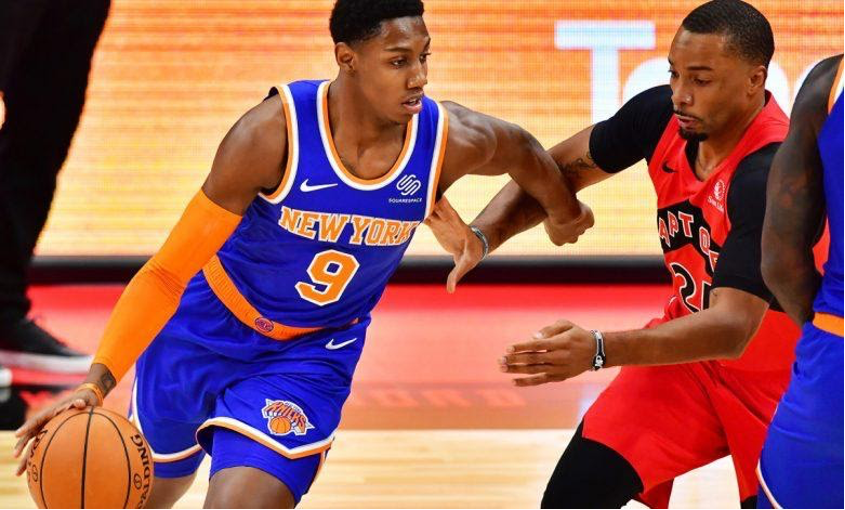 Eaglesvine.com
Both Randle and Barrett have led the way through the initial slate of games, but after watching this new Knicks basketball, contributions have come from various levels of experience. During the Jazz win, New York was reminded once again of the impact of their new veteran addition, Austin Rivers, who was the catalyst for the comeback.
The former Houston Rocket and LA Clipper torched Utah with 23 points on nine of 14 shooting from the field, and although he has only played a small sample size because of an early season groin injury, he has provided a great source of scoring off the bench.
Takeover badge activated

Looking back at @AustinRivers25''s 4th quarter: pic.twitter.com/s4UpEm5l5q

— NEW YORK KNICKS (@nyknicks) January 7, 2021
Another offseason acquisition who played a vital role in the first few games was Alec Burks, who averaged 21 points and became the sixth man of the lineup. Burks has been held out of action recently because of an ankle injury, but once he returns, Thibodeau knows he can rely on Burks for consistent offensive production when players like Randle and Barrett come off the floor.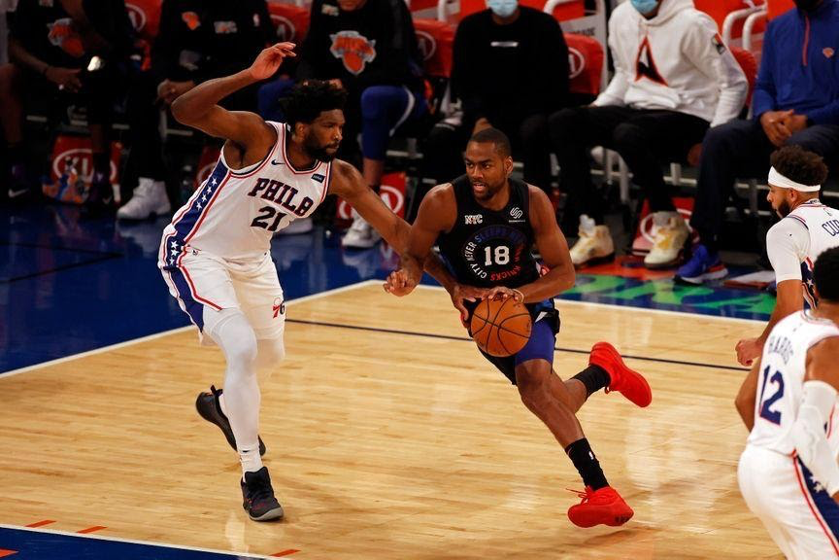 Yahoo! Sports
Other veteran players such as Elfrid Payton and Reggie Bullock have also contributed at times to Knicks victories, with Payton specifically controlling the starting point guard position. However, as the season goes on, this job could eventually fall into the hands of rookie standout Quickley, who has become a fan favorite since the preseason.
Young players such as Quickley and improved third-year center, Mitchell Robinson, have given fans a glimpse of the future foundations of the roster. Robinson has begun to improve earlier career struggles of staying out of foul trouble while continuing to be a defensive force, averaging 1.9 blocks on the season.
Even Kevin Knox, who many fans lost hope in over his first few seasons, improved his jump shot mechanics to become a steadier catch-and-shoot option on the wing.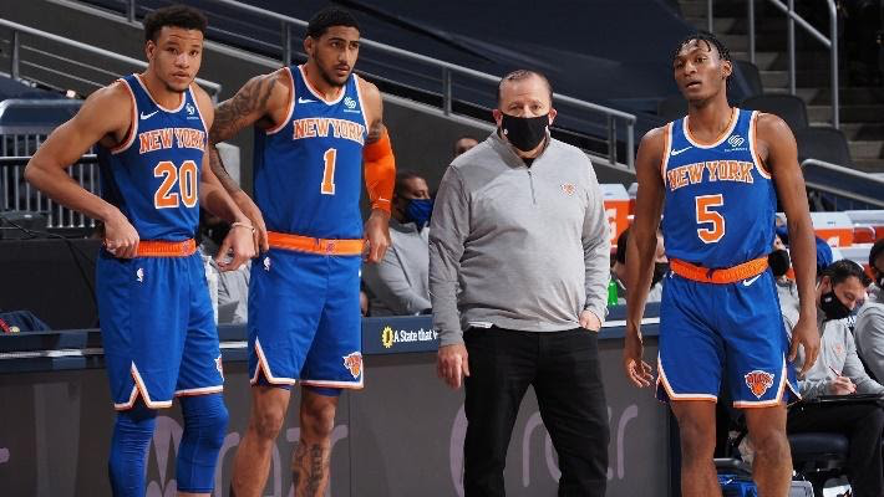 NBC Sports.com
One other bright part of the season is that despite the early surge, the Knicks faithful are still awaiting the return of fourth year point guard, Frank Ntilikina, as well as the full debut of the No. 8 overall selection of this year's draft, Obi Toppin. Toppin went down with a calf injury once the regular season began, and once the former Dayton Flyer comes back, he will bring even more offense to the table.
Overall, it is hard to say if the team will sustain this impressive start for an entire season. There could still be Knicks-level luck on the way, as it has been for much of the 21st century. However, there is much to be excited about, as things seem to finally be clicking for the new-look New York Knicks.
Jonathan Heite can be reached at jonathan.heite@student.shu.edu.