All in the (Watt) Family
Date: September 23, 2020
By: Jonathan Heite
Triblive.com
When thinking about families who have made significant impacts in NFL history, a few always come to mind: the Mannings, the Matthews, the Ryans, the Hasselbacks, and the Harbaughs. Today, there is a new trio of brothers that have been dominating on both sides of the ball since 2011.
The Watts are the brothers to beat in the NFL, and this upcoming Sunday will feature the first time all three will play in the same game. The Texans face the Steelers in Pittsburgh, Pa. at 1:00 p.m. and will showcase the matchup of J.J. against his younger brothers Derek and T.J. All three players have achieved some level of success in the NFL, with J.J. well on his way to a Hall of Fame career as a defensive end, T.J. as an All-Pro outside linebacker, and Derek as an important piece on offense at fullback.
Other than the Edmund brothers last season (Steelers vs. Bills) becoming the first trio of brothers to play in the same game since 1927, the Watt's will be the next family to experience this historic feat.
The Texans are coming into Week 3 looking for a spark after dropping their first two games, while the Steelers are looking to continue their early season momentum and remain undefeated. Regardless of the outcome, all three brothers will be looking to put up big-time performances for their respective teams and should also make for a very interesting Watt family dinner. Here is what each player brings to the table.
J.J. Watt
Wesley Hitt/Getty Images
Notable Accolades: 2-time NFL Sacks leader (2012, 2015), 5-time Pro Bowler (2012-2015, 2018), 5-time First team All-Pro (2012-2015, 2018), 3-time AP NFL Defensive Player of the Year (2012, 2014, 2015), 2017 Sports Illustrated Sportsman of the Year, 2017 Walter Payton NFL Man of the Year
The oldest of the trio, J.J. has been silencing his critics throughout his whole career since coming out of Pewaukee High School in Wisconsin. Initially, Watt was only considered a two-star recruit and started his collegiate career at Central Michigan University for 14 games, and then was a walk-on at the University of Wisconsin. He achieved great success with the Badgers, most notably winning the 2010 Ronnie Lott Trophy, as well as landing spots on the second team All-American and first team All-Big Ten.
Watt was drafted 11th overall in 2011 NFL draft by Houston and has built up his Hall of Fame resume with the Texans which has included many high and low points in his career. Standing at 6-foot-5-inches and weighing 288-pounds, the attributes of the defensive end have allowed him to become the dominant player he has been for the past decade.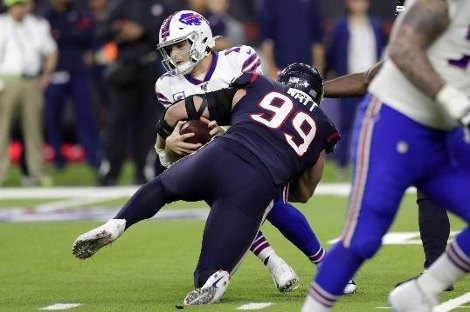 Michael Wyke/Associated Press
Beginning with his overwhelming success at the 2011 NFL Scouting Combine to the present, Watt possessed the tools to become one of the most dynamic big men in NFL history. His strength, athleticism, versatility, and explosiveness have allowed him to disrupt opposing offensive lines and quarterbacks throughout his whole career. He has played either defense end or tackle for the Texans, and the team has always utilized him in different roles in both the pass rush and run defense.
Despite being hampered by injuries the second half of his career which included multiple surgeries, Watt has overcome the odds time and time again. From a herniated disk to a tibial plateau fracture to a torn left pectoral, Watt may not be the player he once was, but still is one of the best game-wreckers in football.
After collecting two sacks last week against Baltimore to become 36th on the NFL's all-time sack list, Watt is looking to provide the energy Houston desperately needs to pick up steam in the first part of the season. Facing an injury-riddled Steelers offensive line, look for the future Hall of Famer to make a splash every defensive possession.
Derek Watt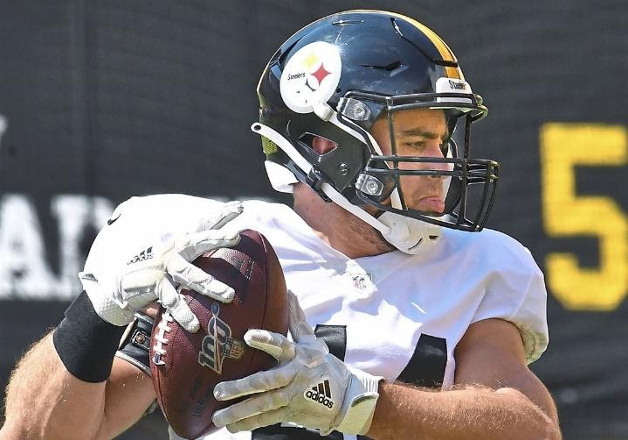 Peter Diana/Post-Gazette
Despite not receiving the same accolades of his older and younger brothers, Derek Watt has shown he is a crucial component to both the passing and running game. At 6-foot-2-inches, weighing 234-pounds, his performance as a fullback may not show up on the stat sheet, but his contribution will always help his offense on any given day.
Continuing the Pewaukee High School-Wisconsin tradition, Watt was a key factor in the running game as a blocker for the Badgers. He developed a connection with current Denver running back Melvin Gordon, who achieved great success at Wisconsin and with the Chargers where Derek began his NFL career.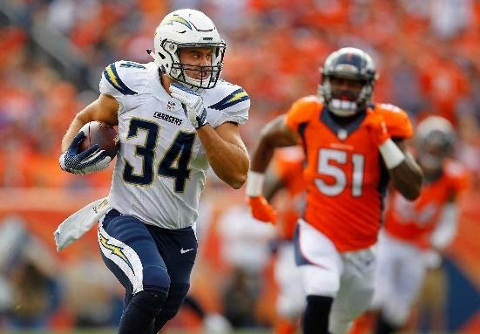 K.C Alfred/MBR
Drafted in the sixth round, 198th overall to the Chargers in 2016, Watt was a facilitator in the Philip Rivers-Gordon dominated offense. Whether he was blocking in either the passing or running game, or catching the occasional pass out of the backfield, Watt did it all. Derek joined T.J. earlier this year in March and will look to help his new offense flourish in the Ben Roethlisberger-James Connor led attack.
On Sunday, look out for a potential Derek block against J.J. sometime during the game. From their childhood backyard to the biggest stage of them all, neither Watt will hold back in this AFC showdown.
T.J. Watt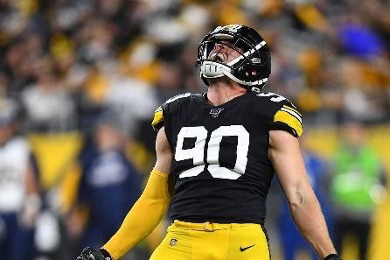 Joe Sargent/Getty Images
Notable Accolades: 2017 NFL All-Rookie Team, 2-time Pro Bowler (2018, 2019), First team All-Pro (2019)
Although T.J. is the youngest of the family, he has certainly lived up to the hype thus far in his young career. After coming out of Pewaukee High School as a three-star prospect, he shined at the University of Wisconsin and was also first-team all-Big Ten and first team All-American (Sports Illustrated) in 2016.
The Steelers picked T.J. 30th overall in 2017 and has become the staple of one of the best defenses in the NFL at outside linebacker. At 6-foot-4-inches, weighing 236-pounds, the pass rushing gene runs in the family as Watt has averaged 13 and 14.5 sacks respectively over the past two seasons. His aggressiveness in the pass rush and coverage is prevalent each week and has been part of many big-time turnovers for the potent Steelers defense.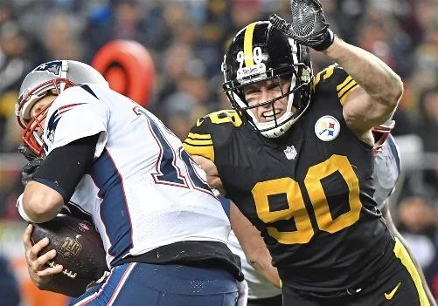 Peter Diana/Post-Gazette
Watt already has one interception (Week 1 against the Giants) and 2.5 sacks (also won AFC Defensive Player of the Week against the Broncos) to begin his 2020 campaign and will look to build upon this momentum against the dynamic Houston Texans gunslinger, Deshaun Watson.
Watt's speed has been crucial to his game his entire career and will continue to pursue another All-Pro season for a Steelers team looking to make yet another Super Bowl run in their storied franchise. Only time will tell if T.J. can replicate his oldest brother's Hall of Fame success, but he is already on the right track and is one of the premier pash rushers in the NFL today.
Jonathan Heite can be reached at jonathan.heite@student.shu.edu.