Alex Smith cleared to play after gruesome injury
Date: July 26, 2020
By: Ben Harris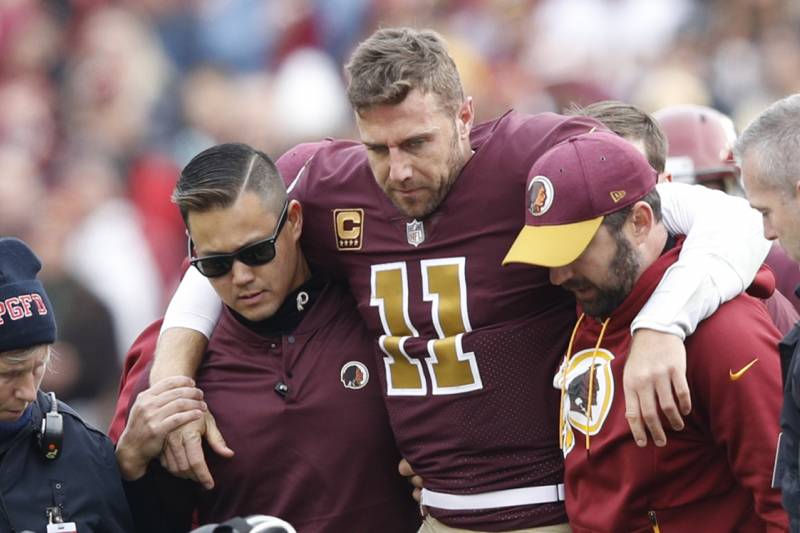 Joe Robbins/Getty Images
After suffering one of the most horrific injuries in league history, Washington quarterback Alex Smith has been medically cleared to return to all football activities.
Smith infamously fractured his right tibia and fibula in brutal fashion while being sacked by the opposing Houston Texans. Even with the break's sheer on-field gruesomeness, the injury's true effects were beyond the already horrific expectations. Smith's leg caved under the pressure of two Texans defenders, folding over itself and resulting in 17 invasive repair surgeries.
Then after the surgeries, Smith began to have some unforeseen complications. His leg became infected, resulting in an extremely high fever, plummeting blood pressure, and eventually, a near-death case of sepsis. Thankfully, he was able to survive, keep his leg, and now, shockingly, return to football.
15 years ago, Alex Smith was the #1 overall NFL draft pick. Now, he is trying to do the impossible. E60 brings you inside the life and near death story. pic.twitter.com/JhZsl1V2jC

— E60 (@E60) April 22, 2020
The injury was haunting on multiple levels, with many coincidences lining up between Smith's injury and Washington legend Joe Theisman's identically infamous injury. The Washington quarterbacks had the same injury on the same day, Nov. 18, 33 years apart from one another. Additionally, both games ended 23-21 at home in Landover, Md. with both injuries being caused by sacks from three-time defensive players of the year, Lawrence Taylor and J.J. Watt.
Smith's recovery process has been long and grueling, but he and his family are just thankful for the opportunity to have said recovery process. To Smith, his medical clearance was a big accomplishment in and of itself, going through so much to even get to this point. But he has his sights set on becoming the player he once was, knowing he still has a long way to go.
Smith told ESPN, "For me, all eyes are on practice. That's the next step. I have to go prove to myself and certainly to everybody else that I can go practice."
Smith's path back to football has been one of triumphant sedulousness and courage that the sport has never seen the likes of. Obviously, he has a long way to go to prove he can be Washington's starter once again, but after escaping death and nearly losing his leg, anything seems possible.
Ben Harris can be reached at benjamin.harris@student.shu.edu.