WSOU Student DJs Inspire Unique Burrito
Date: February 16, 2017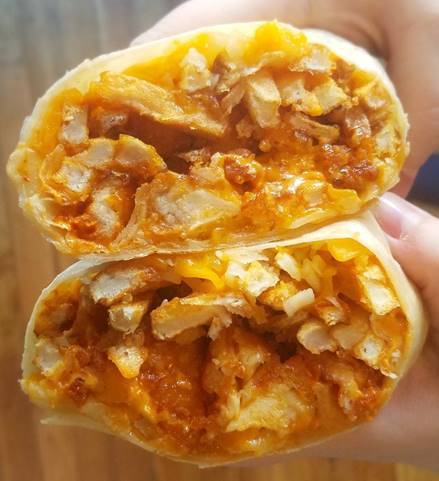 Photo Caption: A shared love for WSOU inspired the chefs of Tito's Burritos & Wings and the DJs of WSOU to collaborate on the creation of a new menu item, the Fat DJ Burrito. In the tradition of the Jersey-born "fat sandwich," the Fat DJ features chicken bites, fries, cheese, chipotle mayo, hot sauce and more.  

South Orange, N.J. – What happens when radio station DJs and a local business are fans of one another? They put their creative juices together to produce a culinary creation – the Fat DJ Burrito! 
WSOU 89.5 FM and Tito's Burritos & Wings have enjoyed a friendship ever since the iconic burritos, tacos and wings joint opened a location in South Orange. It's a relationship that began over food that helped sustain the staff of WSOU and blossomed into ongoing collaborations between the two organizations.
"Working with a radio station as legendary as WSOU, that I myself have listened to since my teenage years, has been a lot of fun for Tito's," said Victoria Reyes, Tito's General Manager. "We've been impressed by the students' professionalism and many of our employees and customers are fans of the station. It just seemed natural to work together to create a WSOU inspired burrito - and people are loving it!" 
WSOU Promotions Director Megan Stolarz led the brainstorming effort that helped create the Fat DJ Burrito. "We wanted something that reflected our metal format, our Jersey roots and our love of Tito's," said Stolarz. "A burrito in the tradition of a fat sandwich made sense and we had a blast thinking up the ingredients."
Fat Sandwiches were born in the restaurants and "grease trucks" of New Brunswick, N.J. nearly 40 years ago. Over the decades, the fat sandwich spread to restaurants, pizzerias, food trucks and delis all over the state.
"This is an example of the power of radio, and the power of food," noted Jennifer Kajzer, the station's Underwriting Sales and Marketing Manager. "Creating this new burrito grew organically out of the relationship between Tito's and WSOU. It shows the delicious things that can happen when two organizations admire each other's work."  
The Fat DJ is served at all Tito's Burritos & Wings locations and is available through March 31. A description of the burrito can be found at http://www.titosburritos.com/menu/.
Posted in: WSOU