WSOU Connects with Beartooth before Special NYC Album Release Show
Date: June 7, 2016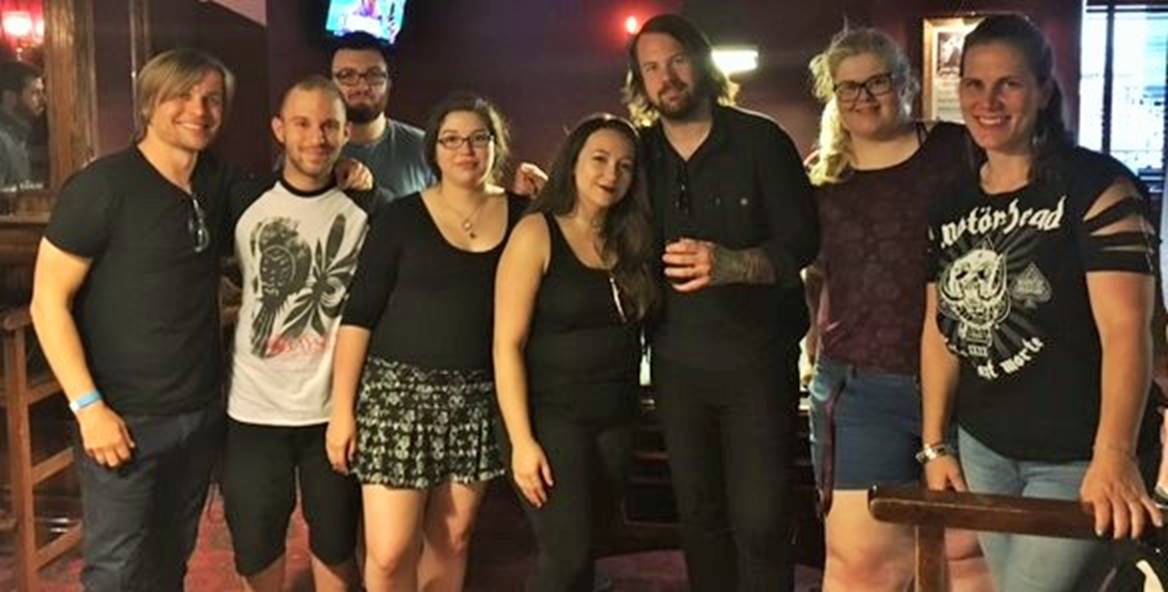 Before taking the stage at New York's Webster Hall on June 6 for their album release show, members of the band Beartooth caught up with the staff of WSOU-FM.  (From left to right) Red Bull Records executive and WSOU alumnus Joe Guzik, WSOU music director Mike Colantuoni,WSOU Campus Buzz host Grant Palluzi, WSOU news director Katelyn Fatzler, WSOU assistant promotions director Alicia Campos, Beartooth Lead singer and founder Caleb Shomo, WSOU program director Holly Fitzpatrick, and WSOU underwriting sales manager Jen Kajzer.
South Orange, N.J. – On Monday evening, June 6 in Manhattan, several members of the WSOU 89.5 FM staff caught up with heavy metallers Beartooth before the band's album release show at Webster Hall. Gathering at a restaurant not far from the venue, members of the band, Red Bull Records employees, WSOU staff members, and others discussed the band's new album, "Aggressive," and shared stories.
As the area's only metal and loud rock radio station, WSOU has been the station where the New York market discovered Beartooth. "Since we started playing Beartooth shortly after their formation, the response from our audience has been huge," said WSOU program director Holly Fitzpatrick. "Listeners love their unique sound and intense energy."
Beartooth's single off the new album has been tracking at or near the top of WSOU's charts for the past few weeks. "Aggressive" is available on Red Bull Records.