WSOU Reporters Get a First Look at Macy's Thanksgiving Day Parade
Date: November 22, 2019
by Jillian Fitzpatrick 
WSOU News Reporters visited Moonachie, New Jersey a week before Thanksgiving to get the low-down on the floats that will be used for the 93rd Annual Macy's Thanksgiving Day Parade. In Moonachie, lucky elementary school students and WSOU got to get a sneak-peak at the floats that will be tranported to more than 3.5 million spectators lining the streets of Manhattan and more than 50 million viewers nationwide into worlds of fantasy, these landscapes are a marvel to behold.
Kali Diamond, the Staff Representative at WSOU, said "As an lifelong watcher of the parade, it was fascinating to see the floats up close and personal." She and Bob Towey, the News Director at WSOU got to view the new Blue's Clues float, Cracker Barrel float, Coach float, and more, and as Kali says "hearing about them from the designers themselves was fascinating," and that it was "[suprising] to learn that they started working on NEXT Thanksgiving's parade three months ago!"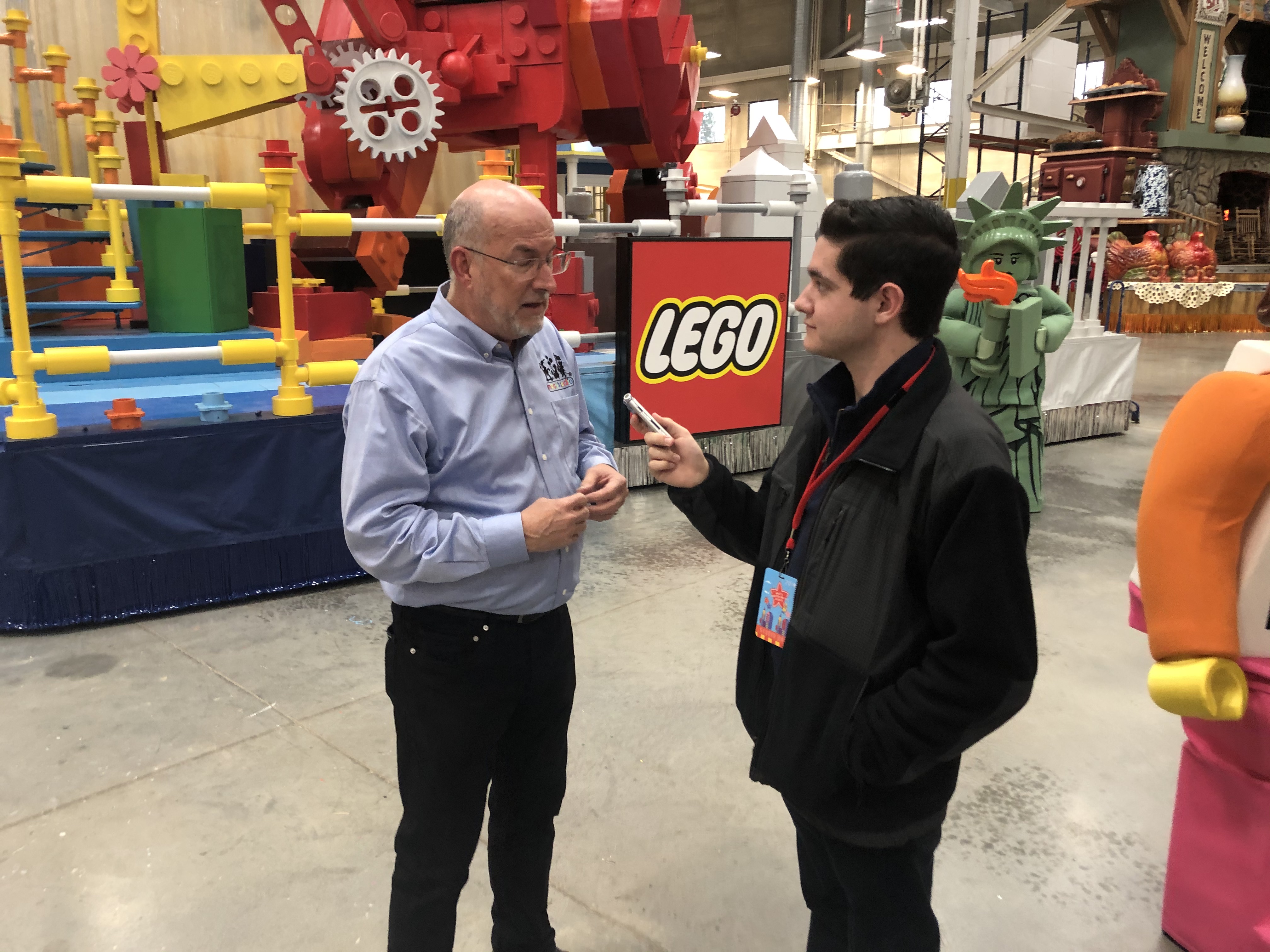 News Director Bob Towey talks with the Vice President of the Macy's Day Parade Studio, John Piper.
Diamond also had high praise for the new float from LEGO, saying "the LEGO float was definitely most interesting because LEGO is apparently a very particular client & they had to design a float that resembled what a child would make. Then, constructing it was challenging because they had to make the LEGO sculpture to scale as an enormous structure. All in all it really gave me a new appreciation for the parade and everything that goes into it year round!"
Both Diamond and Towey got the chance to talk with producers of the parade, the Vice President of the Parade Studio John Piper, and designers of many of the floats. They say this won't be a parade you'll want to miss! Tune in to NBC on Thanksgiving Day at 9 a.m. to noon to see the new floats in action!
Jillian Fitzpatrick is the Director of Technical Operations at WSOU. She can be reached at wsoutechops@gmail.com
Posted in: WSOU Exclusive, WSOU