UPDATE: Extra Show Added! King Crimson Reuniting To Play 3 New York Shows
Date: June 11, 2014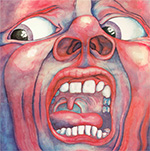 Prog superstar group King Crimson is living up to their word of promising to reunite as they plan on playing three shows at the Best Buy Theater in New York City. The dates of the shows are September 18th, 19th, and 20th. Tickets go on sale on June 6th. WSOU has got the hookup for you!
Check out www.axs.com and enter to the PROMO CODE: THRAK for your opportunity to score these tickets before they go on sale! You can also tune into WSOU during the months of August and September to try and win yourself a pair of tickets.
UPDATE: With the speed tickets have sold out, King Crimson has added an extra show date on the 21st. Tune into WSOU, one of the only places you can still score a pair tickets to see King Crimson.