Erika's Interview with Brian Fallon
Date: February 8, 2017
By Erika Szumel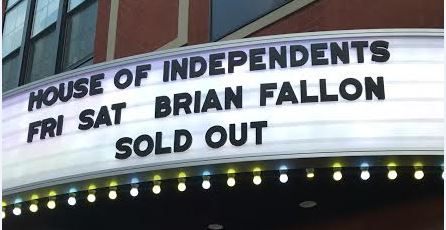 On Friday Feb. 3
and Saturday Feb. 4, Asbury Park's House of Independents was packed to capacity for Brian Fallon's sold out show. Just Fallon, no Gaslight Anthem buddies performed and no Horrible Crowes stood with him. The stage was set with a chair, a vintage lamp, harmonicas, a microphone, and a guitar.
A few hours before the show, I had a chance to sit down with The Gaslight Anthem's frontrunner and ask him a few questions about the Painkillers tour, which promoted his first solo album,
 Painkillers. Fallon started playing Painkillers

 before it was released on March 11 of last year. When I mentioned this, he said that these two shows at the House of Independents are just an "intermission" until what's coming next: a new album.
"Painkillers was more of an Americana record," Fallon said. "This one's not like that at all. It's definitely more up tempo and I've sort of flirted with soul music and what I call R&B". In his early Gaslight days, Fallon mentioned that he "flirted" with soul music on The '59 Sound, one of The Gaslight Anthem's early records. He has also derived influences from 60s bands like The Animals, The Jam, early Rolling Stones, and The Box Tops.
Fallon's writing style is similar to Bruce Springsteen, Joe Strummer, and Oasis. He explained that he's not different or rare. "I don't sit around and wait for inspiration to hit," he said. "I just get to work, because if I wait for inspiration it'll take me four years to write a record."
The set list included nearly the entire Painkillers album, a cover of both Bob Dylan and Neil Young, and "Stray Paper" from the Gaslight Anthem's latest album, Get Hurt. Near the end of the show, Fallon played another Gaslight track, "Blue Jeans and White T Shirts" where he sings, "someday I'll buy you that house on Cookman, we could sleep on the beach all night." The House of Independents sits on Cookman Avenue.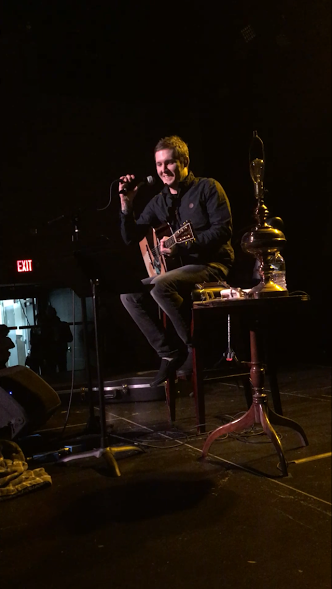 Posted in: Interviews, WSOU Exclusive, WSOU