5 NL teams that can benefit from the DH rule
Date: June 29, 2020
By: Rony Jerez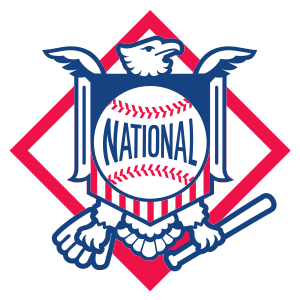 Wikipedia
Baseball is back! After very strenuous negotiations between the MLB Players Association and the league owners, baseball is expected to return in late July with some revamped rules. The regular season will consist of 60 games through Sept. 27. As of now, the date for opening day is July 23 or July 24 with spring training beginning in early July. Amidst the negotiations, tweaked rules have been implemented to an already strange season. MLB has decided to have a runner in second base to start the 10th inning to shorten games. Another new rule that will be in place this year is the universal designated hitter (DH) rule.
The DH is already a staple among American League teams, but this rule implements the DH for National League teams as opposed to having the pitcher take at-bats. Having a DH in National League can certainly boost lineups and give teams new and refreshed strategies. It is safe to say that every team in the National League will improve offensively with the addition of the DH, however, these are the teams that will improve the most.
All the teams on this list will at least one have these factors that allows the DH to be even more vital:
Surplus talent

Age

DH style player

Injuries
5- Chicago Cubs
The Cubs have one player on the team that embodies the qualities of a DH, and that player is Kyle Schwarber. He is listed as a left fielder, however, his numbers show that he outshines his defense with his offense. In left field, his defensive runs saved (DRS) rating was -3. This statistic basically evaluates a fielder by calculating how many runs the fielder saves. By scoring a -3, it shows he is a below average defender in left field. At the plate, he posted 38 homeruns last season with a .871 OPS. The pop in his bat is too impactful to leave him off the lineup entirely, but his defense leaves much to be desired. The Designated hitter position was made for players like Schwarber.
Kyle Schwarber dot lol dot gif pic.twitter.com/9sjjEjIpKD

— Bill Baer (@Baer_Bill) October 9, 2017
4- Cincinnati Reds
The Cincinnati Reds are in for an exciting season as they have improved their roster with free agent signings this past offseason. The Reds may be set to be MLB's Cinderella story team as they quietly assembled a talented roster and look to contend in the Central division. In terms of DH, the Reds can go in many different directions. They may opt to assigning newly acquired Nick Castellanos the DH role as the numbers shows he is a below average defensive right fielder.
For 2019, he ranked 204th in the MLB for outs above average, which judges the difficulty of every defensive play and gives the player a score if the play is made or not. He does not have impressive defensive numbers, but his offense is too good to leave off the lineup. Another option can be having the power hitting Aristides Aquino penciled as the DH as he made his mark by having a historic pace in homeruns. He broke the record for fastest player to 9 career homeruns last season. The 36-year-old Joey Votto may also be a good fit for DH as he looks to turn his offense around after two down years. Allowing him to put his glove on the shelf shifts his focus entirely to offense and can prove to turn his hitting around as well.
Joey Votto's 150th homer at Great American Ball Park!#BornToBaseball pic.twitter.com/Zz3s39757i

— Cincinnati Reds (@Reds) July 31, 2019
3- Washington Nationals
The reigning and defending World Series Champions fall under the category of aging as they were the oldest team in the MLB last season and have had very few changes to help them in age. The entire lineup is riddled with veterans that have DH written all over them. Mr. National, Ryan Zimmerman, is a prime suspect for the DH spot as he enters the season at a ripe 35-years-old. Usually, the first baseman of the team transitions well into the DH spot, and seeing that this will be Zimmerman's 16th season, DH looks to be calling his name.
It has been reported that Zimmerman is skeptical on playing this season due to the coronavirus, which certainly hurts their team but opens the door for other players to get opportunities. Other candidates consist of 14-year veteran Howie Kendrick and 13-year veteran Kurt Suzuki who are both older than Zimmerman. These are players who are still impactful at the plate and can provide some offense to a team that lost their star player, Anthony Rendon, to free agency.
HOWIE KENDRICK FOR THE LEAD 🔥 #WorldSeries

(via @MLB)pic.twitter.com/3u2BwhGyTw

— SportsCenter (@SportsCenter) October 31, 2019
2- New York Mets
The Mets have a very interesting roster and could have a big season ahead of them. One dark cloud that looms over their season is the health of Yoenis Cespedes. Cespedes injured his ankle as a result of a wild boar encounter in his Florida ranch. While taking all of quarantine to heal and rehab, Cespedes may be healthy enough to swing a bat and be effective at the plate. If that is the case, he will be the clear-cut DH of the Mets this season. The magnitude of his bat is too impactful to leave off the lineup and taking him out of left field raises the chances of keeping his bat in the lineup. In the event that Cespedes cannot play at all this season, things become interesting. The veteran Robinson Cano would be a likely candidate to take at-bats as the DH, being that he has risen in age and his defense at second base is not what it used to be.
In 2019 with the Mets, Cano posted a -6 DRS which is a clear indicator that his best defensive days are behind him. That move alone allows their defense to improve, while keeping a dangerous bat in the lineup. Dominic Smith is someone that has a DH style as a player, however he will only see the position if his bat translates into production for the Mets. Otherwise, he may very well be a platoon player. The DH position all rides on the health and availability of Cespedes, who is the frontrunner for the spot.
Prime Yoenis Cespedes was just different pic.twitter.com/ydpOydNnT0

— Phill (@MeekPhill_) April 5, 2020
1- Los Angeles Dodgers
The Los Angeles Dodgers are undoubtedly one of the top contenders for a World Series Championship. The main strength that puts them at the top league is their depth, and that depth is only further reinforced with the addition of a former MVP Mookie Betts. The Dodgers main issue was having too many great players with not enough positions to fill. Having pitchers take at-bats takes one lineup slot away from a talented player, but now manager Dave Roberts has his hands full with choosing which player to fill up that DH slot. In reality, it will not be likely that only one player is going to fill that position as a daily spot. It is more likely that Dave Roberts will cycle through players and change the DH every day to accommodate matchups.
The leading candidates for the position include Kike Hernandez, Joc Peterson, and Max Muncy. These are players that are routinely substituted for during a regular season and now have the opportunity to play together with the DH rule. Roberts can opt to have Muncy have half a day off by not playing the field and having Peterson at first base. Or if Hernandez has a hot bat, pencil him in the DH slot while keeping the infield intact. The name of the game for this team is versatility and flexibility. We may very well see Betts and Cody Bellinger in the DH spot just to give them some rest, but adding a DH to this team makes them all the more dangerous in the National League.
Take me back to the days when Joc Pederson had 5 homers in 6 at bats pic.twitter.com/JrPGlLmFYv

— Dodgers Nostalgia (@RetroDodgers) February 20, 2020
Rony Jerez can be reached at rony.jerez@student.shu.edu.