2021 recruit Tyler Powell commits to Seton Hall
Date: August 9, 2020
By: Cameron Kharazmi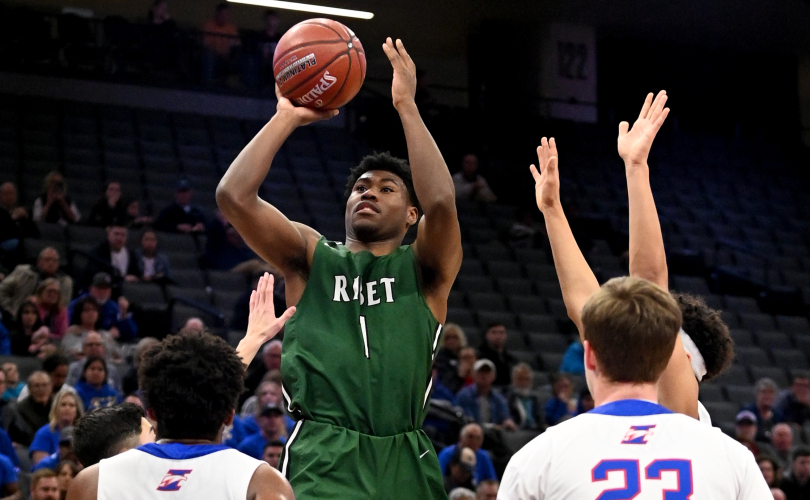 Libby Birmingham
After a long and busy recruitment process, three-star and nationally ranked prospect Tyler Powell committed to Seton Hall University, through announcement via Instagram Live on Aug. 8. Schools such as Nevada, Pepperdine, Stanford, LMU, and Washington State were also heavily in the mix.
Landing a prospect like Powell goes against the narrative for a typical Seton Hall recruit. Coming out of Ribet Academy in Northridge, Calif., Powell is the first commitment from California that Seton Hall has received in five years, since Dalton Soffer in 2015 (Poway, Calif.) . Furthermore, Powell never made a formal visit to the university due to COVID-19 restrictions, having conducted the majority of his recruitment process virtually.
Spearheading the (virtual) recruitment process was Seton Hall assistant coach Grant Beillmeir, who saw Powell for the first time in an AAU circuit, and liked the toughness he saw from the prospect. Of course, having former backup Seton Hall point-guard Pookey Wigington, a big-part of the Seton Hall 1989 Final Four Team, also aided in his recruitment, as Wigington had been a big part in giving Powell knowledge and background in regards to the East coast.
Seton Hall has made a significant Class of 2021 pickup. ESPN 4-star prospect Tyler Powell has committed to the Pirates. The 6-foot-5 small forward averaged 19 points and nine rebounds this past year for California state champion Riblet Academy. #shbb

— John Fanta (@John_Fanta) August 9, 2020
In an interview with Jerry Carino of the Asbury Park Press, Powell mentioned that Wigington has "been telling me how the east coast is…It's not going to be a hard transition for me".
Coming in at 6-foot-5-inches and 210-pounds, Powell is a crafty wing player with the ability to defend at four positions on the floor, in addition to possessing a solid three-point jump shot. As a junior at Ribet Academy, Powell averaged 19 points and nine rebounds-per-game, and was a major factor in Ribet Academy winning the extremely competitive California Division 1 (CIF) state championship.
However, some of Powell's best traits come with his defensive prowess, as Wigington noted that Powell possesses a blue-collar, hard-hat, East coast mentality that has Powell "built on the defensive side of the ball. He's always been coached to play defense in that Big East, P.J (Carlesimo), physical, legendary style".
2021 Ribet Academy wing Tyler Powell has committed to @SetonHallMBB ‼️ @_Yeahtyy pic.twitter.com/iz6mQ9Vqio

— BallerTV (@BallerTV) August 9, 2020
The San Fernando Valley product is the 133rd ranked recruit per 24/7, and in the top 30 at the small forward position nationwide. The Class of 2021 prospect joins Maryland guard Ryan Conway as Seton Hall's second commitment for the class of 2021, leaving them with three open scholarships for the class.
While the bar is certainly high given the career established by another Seton Hall player of the same surname (no relation), Powell is exactly the kind of recruit who will flourish under Kevin Willard's system and will certainly offer Seton Hall fans some consolation after the loss of a fantastic senior class.
Cameron Kharazmi can be reached at cameron.kharazmi@student.shu.edu.
Posted in: Men's Basketball, Sports, WSOU