2020 Pirate Player Preview: Victoria Keenan
Date: July 27, 2020
By: Daniel LeMoine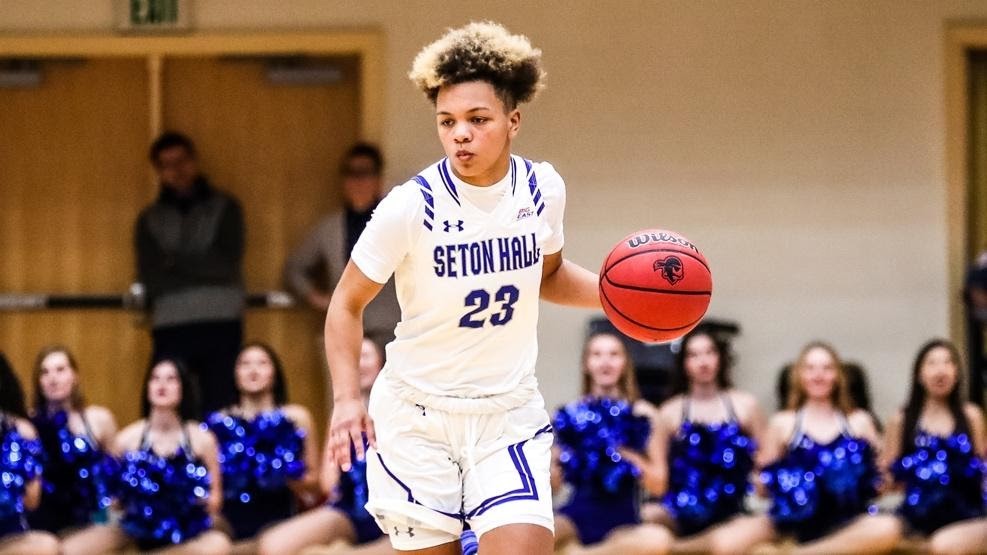 Seton Hall Athletics
1,707 career points in high school. School record for made three-pointers in a season. 2019 Lehigh Valley Live and Morning Call All-Area Player of the Year. Pennsylvania Sports Writers All- State Team. Now sophomore, Victoria Keenan is responsible for all of those accomplishments. Remember this and do not become distracted looking at her stat sheet from her freshman season at Seton Hall.
Sure, the statistics only show 11 games, 11 points, two assists, and four rebounds. Yes, that's for the season and no, fans should not get used to this. Keenan is a truly electrifying player that has just gotten her feet wet in the collegiate basketball landscape and has so much more to offer moving forward.
On Keenan's rookie year, Coach Bozzella said, "I know statistically Vic didn't have a great year, but I saw a lot of improvement with Vic throughout the year."
There are four main things everyone should know about Keenan. First, she is a quick and versatile guard who plays with acceleration and quickness, whether it be in transition or in the half-court. Second, she is a terrific ball handler who has the ability to attack favoring both her left and right hand, eliminating turnovers.
Third, she has excellent vision when she steps on the court and is a true playmaker for her teammates. The fourth and final thing about Keenan is the most important. She is a lights-out shooter who will punish you from behind the arc and that is a promise. Whether it be spotting up off the dribble or catch-and-shoot, she has a quick release and a smooth stroke.
Take a look at one of Keenan's dynamic games in high school at Northampton:
Video Courtesy: William Allen
Now, we must look at what the Pirates squad looks like for this upcoming 2020-21 season and who Keenan will have to compete with to up her minutes from her freshman season. Also, the question is what she must do to translate her obvious talent and feel for the game offensively to the collegiate level in order to be an impact player for Coach Bozzella.
The 2020-21 Pirates team is guard-heavy and features a starting lineup that will feature sophomores Lauren Park-Lane and Mya Jackson at the helm. Behind these two who exceled in their freshmen seasons at the Hall, the roster features senior guard Jasmine Smith, junior guard Danielle Robinson and then sophomore, Keenan. After that, there are also three incoming freshman who will look to get minutes in the Pirates' backcourt this season. Britany Range and Amari Wright, both come to South Orange from their respective schools in Florida and joining them will be McKenna Minter out of Lincoln, Neb.
With all these guards, Coach Bozzella is going to have his hands full with rotation decisions and how he splits up his minutes but in fact, this can just attest to this team's depth. With that being said it is also great news that this is an extremely young team that will have the chance to develop and grow in minor roles and expand their responsibilities in their upperclassmen years.
Out of those backup guards, it is expected that Jasmine Smith will see more minutes after averaging 15.1 per-game last season and probably be the first backup option off the bench.
Robinson is coming off of a serious ACL injury but will look to build off her freshman year where she made 18 appearances. Then, the freshman trio previously discussed is hungry and coming off of quite the high school careers, earning various accomplishments and honors.
Keenan must come into the season with some swagger and show growth and maturity from her freshman season. She has now seen what the collegiate level of basketball looks like and learned from guards before her who played similar styles of basketball. Take Alexis Lewis for example, who was also a fantastic shooter from deep and a player that could catch fire at any time. Her off-ball movement to get open behind the arc was phenomenal as was her defense. She was a menace for the Hall last year, recording countless steals and often guarding the opposing team's top scorers.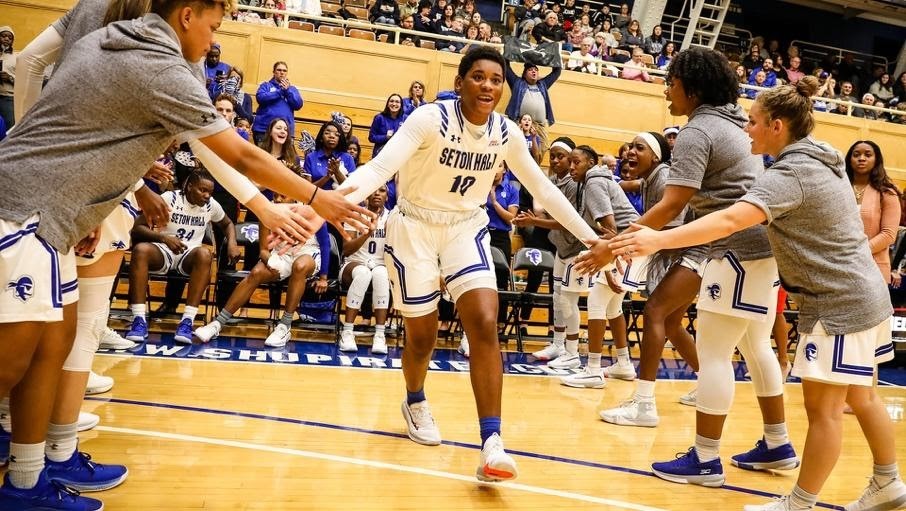 Seton Hall Athletics
Keenan can learn a lot from recently graduated Lewis and model her game after her while continuing to fine tune her skills on both ends of the court. By continuing her success with ball-handling and ball security she will further gain the trust of the coaching staff and be reliable in key moments. Also, her passing ability and speed in which she has will play a huge role in Coach Bozzella's style of play.  With forced turnovers often leading to buckets for the Pirates, Keenan will look to showcase her vision and acceleration to create plays for her and her teammates.
As for her shooting, she must continue to knock down shots, knock down her free throws and keep defenders honest through offensive variation. Coach Bozzella has said, "There's no one that can really shoot the ball the way she can" and that's coming from a coach that has seen some terrific shooters over the past few seasons.
Lewis had a 5-foot-10-inch frame that could back up defenders and add another layer to her game. As for Keenan, standing at 5-foot-7-inches, she most likely will not be in the post. This is why her off-ball movement will be key this season in creating a shot for herself and being an outlet for her teammates to find her for buckets.
She may find time playing at shooting guard and a lot of her responsibilities will come in the catch-and-shoot game, once again reiterating the need for her to find space on the court without even needing a dribble. Most of all, she must knock down the open shots she gets because a good shooter always hits those open ones before worrying about the contested jumpers.
Defense is also an area of Keenan's game in which she will need to earn those precious minutes she is competing for. Keenan is a quick on ball defender but will look to become more active with her hands and add to this squad that finished third in the Big East in steals and second in turnover margin. Her willingness to defend will also further illustrate her maturity from her rookie season and create a sense of reliability with the coaching staff.
As Coach Bozzella has said, "she just needed the year to get her feet wet, on the ground and just mature a bit."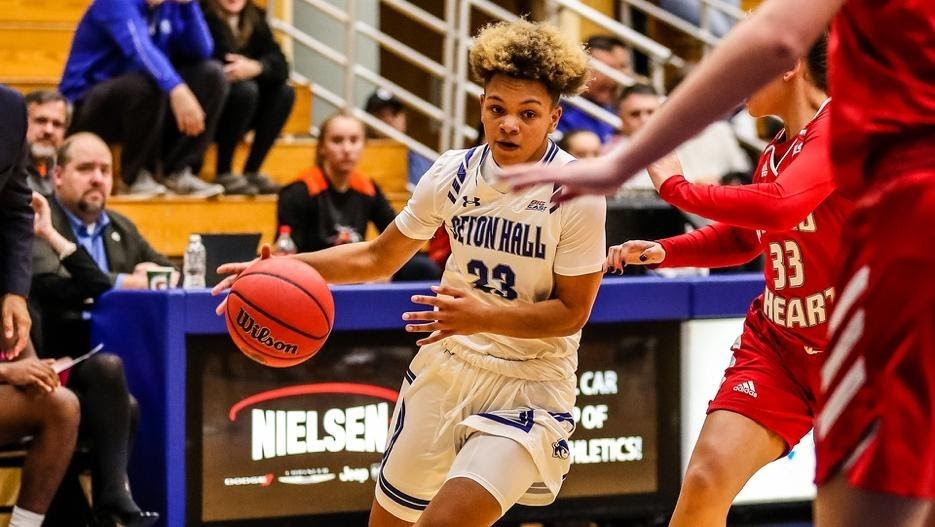 Seton Hall Athletics
There is no doubt that Keenan is a talented basketball player and can score in streaks like very few players can. It's all about putting that talent to good use and adjusting to the college game, and more importantly the competitive Big East landscape. When you put the "ability, skill, and vision" together as Bozzella has said, she will be an impact for this team not only this year but years to come. If defenders don't already know not to leave Keenan open downtown, they might just learn this season.
Daniel LeMoine is an Assistant Sports Director for WSOU Sports, and can be reached at daniel.lemoine@student.shu.edu.
Posted in: Sports, Women's Basketball, WSOU