2020 Pirate Player Preview: Skylar Treadwell
Date: August 13, 2020
By: Liam Plate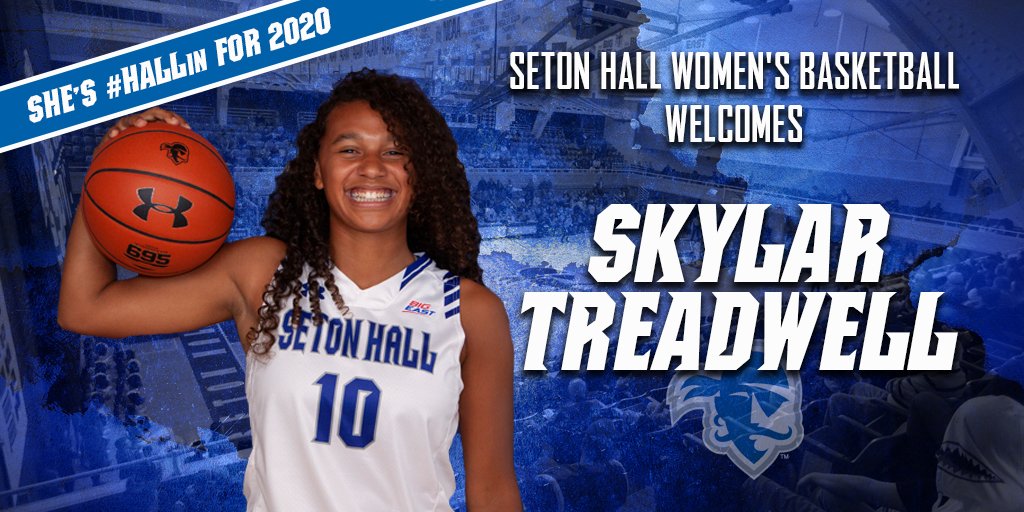 @SHUWBB via Twitter
Once again in our Pirate Player Preview series, we're going to take a look at one of the Lady Pirates' first year players. Skylar Treadwell is not from Florida like her fellow classmates Britany Range and Amari Wright, but she is from Maryland which means she has to be tough.
Treadwell, a three-star recruit, played for the girls basketball team at Saint James School in Hagerstown, Md. Where she was a four-time Washington County Coaches Association Player of the Year award winner and also was a four-time All-Area first team selection. She also earned a number of other awards including in her senior year when she won Herald Mail Player of the Year and Defensive Player of the Year.         
SKYLAR TREADWELL!! PLAYER OF THE YEAR!!

Any guess as to where she's playing NEXT YEAR???

‍☠️ https://t.co/SQ1wGUBiNN

— Seton Hall WBB (@SHUWBB) March 17, 2020
During her senior year she notched 18.2 points, 9.5 rebounds, 3.1 assists, 2.6 steals, and 2.1 blocks-per-game. Treadwell also finished her career as Saint James' all-time leading scorer with 1,618 points and she also added 762 rebounds over her four years of high school, as well. She was also quite the player on the soccer field as she was an All-Area selection for when she played as Saint James' goalkeeper.
Another exciting accomplishment Treadwell has made was that in 2017 she was selected to play in the U-16 basketball tournament for Team USA at the United World Games in Austria.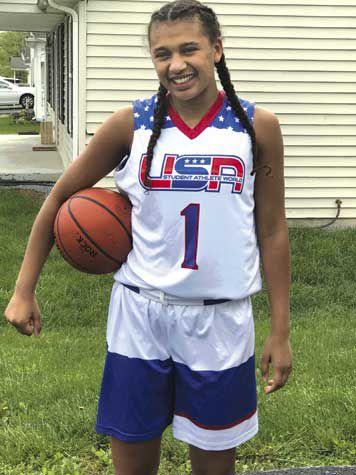 Skylar Treadwell photo submitted to The Journal
Treadwell can play all over the floor for the Pirates. With her 6-foot-1-inch build it will be tough for anyone to stop her defensively or for anyone to get by her while she is playing defense. She will fit right in to Seton Hall's fast-paced style of play, which will make it less of an adjustment for her.
Look for Treadwell to play a big role down low to help fill in the loss of Shadeen Samuels. She will play a big part in grabbing rebounds on both sides of the glass. Mainly, she will be grabbing boards on defense and swinging them out to make an outlet pass so the Pirates can run their fast-paced offense. Her and Desiree Elmore will be a dangerous duo down low.
Treadwell is a one of a kind player that will play many different roles for the Pirates over her four years and will make an impact right away as she is an overall talented and skillful player. She knows how to score the ball because she has hit the 30-point mark multiple times throughout her high school career. She has an incredible shooting range that consists of pretty much anywhere on the floor. She is also able to facilitate the ball easily in transition and can handle it well.
Saint James' Skylar Treadwell makes good on her second 3-point attempt against Mercersburg Academy during the Saints' 72-32 victory. pic.twitter.com/kELcEZ2NWg

— Bob Parasiliti (@HmsportsBob) January 23, 2019
Expect Treadwell to make an impact all four years at the Hall. She made that same impact in high school, so what's to say we won't see another consistent four years out of Treadwell. I think the Pirates got something special in Treadwell and Seton Hall fans should be excited to see where she can take the Pirates during her time in South Orange.
Liam Plate is the Web Editor for WSOU Sports, and can be reached at wsousportswebeditor@gmail.com.
Posted in: Sports, Women's Basketball, WSOU