2020 Pirate Player Preview: Sandro Mamukelashvili
Date: May 22, 2020
By Justin Morris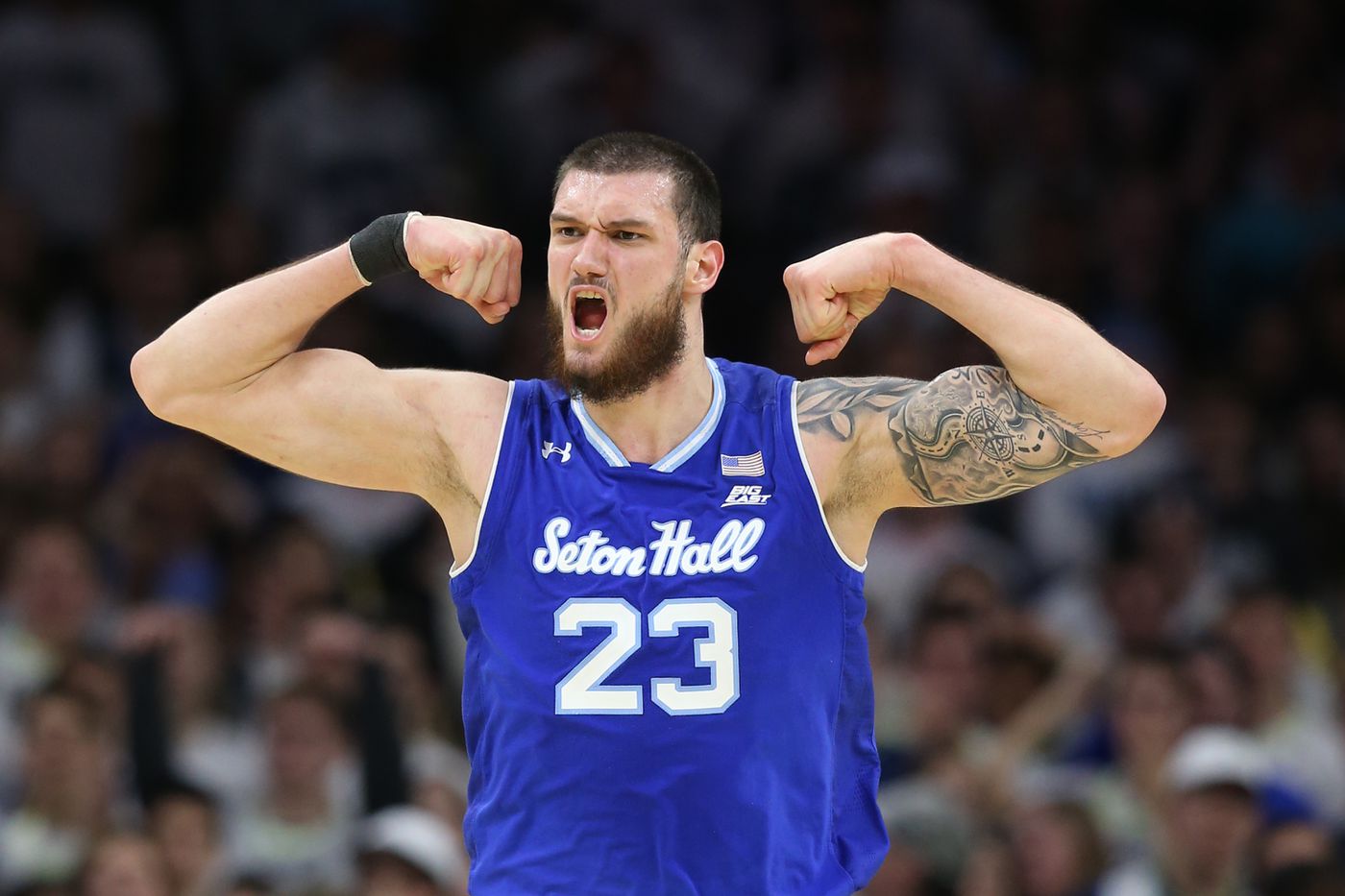 Charles Fox/The Philadelphia Inquirer
There was only one Seton Hall basketball player from the 2019-20 squad that could elicit a collective jeer-reminiscent sound from the Prudential Center's often electric crowd in response to a big play or clutch shot. But, what could've easily been likened to resounding boos echoing over the arena's rafters were actually specifically-tailored group cheer sessions for one of the Hall's beloved players upon closer examination of their connotations.
When "MAMUUUU" circulated throughout The Rock's confines, you knew number 23 had just graced the vibrant stadium with something special on the hardwood. "Mamu," in this case, refers to rising senior forward Sandro Mamukelashvili, which makes the existence of the shortened chant perfectly understandable considering his full name. Seton Hall's own "Air apparent" Georgian incarnation of the legendary number 23 had his wings clipped mid-flight in 2019-20 before he was able to fully take off and mature into apex elevation, but when he was fully healthy, he posed a full-on problem for opposing defensive strategists.
A quick glance at his numbers tells all:
Despite missing 10 contests, the 6-foot-11-inch, 240-pound crafty lefty still finished second on the team in scoring output and rebounds, posting nearly 12 points per game at 11.9, and pulling down six boards a night, as well. On top of that, his field goal (54) and three-point percentages (43) would have placed him second amongst all Big East players had he qualified for conference rankings.
Sandro Mamukelashvili is 6'11.

He broke the press and took it coast to coast.
(via @CBSSports) pic.twitter.com/EmE7tpi0Sk

— Yahoo Sports (@YahooSports) February 23, 2020
Perhaps the largest indicator of his integral role to the team's success last year was the extent his absence played in their overall prowess once he went down with a shooting hand injury in a December tilt vs. Iowa State – the second of the team's back-to-back games against the Cyclones. Yes, I'm fully aware that his untimely exit marked the unbeknownst start of some of the best basketball fortunes the Pirates have ever been favored with, and their historic 10-game win streak was no small feat by any means.
Head coach Kevin Willard made sure fans and media knew just how massive a role Mamukelashvili played to their unit despite having to continue without his services. He revealed in late 2019 that he viewed 23 as the most important piece to their successes or possible imminent failures that forthcoming  March. It's hard to argue with the man behind the drawing board.
It was Mamukelashvili who led the charge in the Pirates' 84-76 victory over Iowa State in their first matchup just days earlier in the Bahamas as he erupted for a 7-10 (3-4 from three) shooting night en route to 18 critical points, adding six boards in the process. He was the high man with 17 points in an early-season conditioner against Stony Brook in November, doubling down on his efforts that night with 17 big ones in road barn-storming of St. Louis's Billikens two games later.
While his impairment didn't stop his team from winning, it created glaring holes within their defensive backside height-wise, and significantly shrunk floor spacing as Willard and his staff were forced to opt either for a small-ball approach, or lean towards a more straight up, post-infused true big man double-entendre without the stretch four's contributions.
Mamukelashvili continued to work voraciously in the face of limitation, though. He was a man on a mission in his efforts to nurse his hand back to full strength and dexterity, and participated in conditioning drills, weight training, film study – basically everything that didn't entail shooting during his time on the pine. This not only eased his transition back to game shape, but established him as an undisputed soulful leader.
He even began undergoing personal shooting training to bolster the abilities of his off right hand in quintessential Kobe-esque fashion.
Never Forget to when Kobe Bryant once went to practice with a broken right hand, wearing pajamas and continuously shooting with his left hand. pic.twitter.com/A04jgUu2AO

— Lake Show (@LakeShowFamily) January 27, 2020
And boy, did he have something big in store for all that questioned his necessity to the Pirate brigade's onslaught. At times, he was their obvious most potent killer – the final lethal blow the team shot out of their massive arsenal of cannonball weaponry to ultimately put their opponents to sleep.
He scored 10 points on 4-5 shooting in 16 limited minutes vs. Xavier, before brazenly announcing his return to full form with a 17-point, eight-rebound carving of Villanova in a historic team performance in Philly. From there, he was a virtual double-double machine. He had 16 and 10 in a home bludgeoning of St. John's before a career-high 26 points on just three missed shots to lead the Hall past Marquette, and was their lead man in their second matchup with Villanova, posting 20 points and 10 boards.
There was no bigger personal night for him, though, than the miracle finish he hoisted up off of an inbounds pass from Quincy McKnight against no. 21 Butler in late February. The game was of immensely critical Big East proportions for the 16th ranked Pirates, but for Mamukelashvili, that couldn't hold a candle to his own personal incentives for performing well.
His father, Zurab, had made the trip overseas from Georgia and was in attendance at the Prudential Center for the first time that season. He hadn't seen his son play in person for at least a year, and after battling and defeating Hodgkin's lymphoma, he felt that there was no better time to venture abroad to revel in a fatherly experience like no other. No one could've better scripted what happened next.
It was a relatively quiet night for Mamukelashvili as the game got underway, and with Butler seeking vengeance after being upset by the Hall as the no. 5 team in the country the month prior, it was the Bulldogs who ultimately seized control early in the game. The Pirates charged late in the first half, and by the midway point of the second, they'd built a relaxingly comfortable lead. This surge carried them into the game's closing minutes, and even saw them flirting with a double-digit lead around the five-minute mark, but three consecutive deep bombs from Butler in the game's final seconds knotted the tilt at 72 with .6 seconds remaining with Seton Hall inbounding on their own baseline.
What took place next is done little justice when put into words.
Sandro heroics pic.twitter.com/tjHk804yPS

— WSOU Sports (@WSOUSports) February 20, 2020
SANDRO MAMUKELASHVILI. AT THE BUZZER.@SetonHallMBB gets a huge W over Butler
(via @BIGEASTMBB) pic.twitter.com/8dUTqjsC9D

— SNY (@SNYtv) February 20, 2020
By Mamukelashvili's own accounts, time just seemed to stand still once the ball trickled in, and he was a frozen prisoner (a happy one, at that) of the moment as his teammates hurried towards him in celebration. Mamukelashvili said all that was going through his mind was "damn, that just went in." And the long-awaited embrace with his father after the initial frenzy was suspended in time as well; a mutual on-court display of respect, adoration and familial pride from both sides.
There may be one embrace between the two in response to a far more momentous occasion impending very soon, and this one could see Mamukelashvili replacing his Seton Hall digs with more formal suited attire, and perhaps a fitted cap representing one of the NBA's 30 franchises. Mamukelashvili has the potential to be drafted should his production increase his senior year.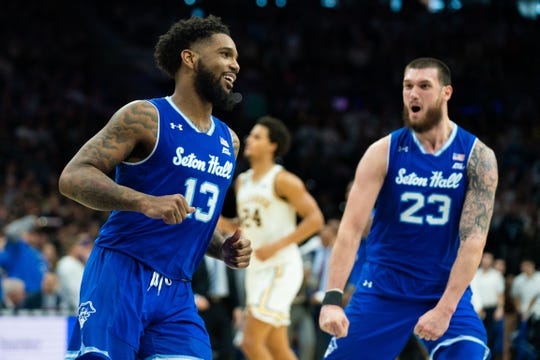 Bill Streicher/USA TODAY Sports
With the departure of Myles Powell, he will undeniably step into the team's head leadership role, and will likely form a one-two scoring punch with newly signed Harvard transfer, Bryce Aiken, similar to the one he had with Powell last season. His scoring averages are bound to go up with an increased dependency on his output, and if he can maintain his rebounding numbers while continuing to put the ball in the basket at a more than efficient clip from both close range and with the long ball, he projects to be an ideal representation of what the league desires in terms of a shooting big. Size can only pose an extra threat to his skillset, and if he can add muscle while continuing to remain nimble, his combination of IQ, spraying ability and hand-eye coordination will have scouts salivating over his services come next summer.
Thankfully for Pirate fans, he's got one more year left of eligibility in South Orange before his tenure comes to a close and Hall supporters surely will be more than ready to shower him with their "ooh's," their "ahh's," and of course their "MAMUUUU's" once college basketball tips off again.
Justin Morris is an Assistant Sports Director for WSOU Sports and can be reached at justin.morris@student.shu.edu.
Posted in: WSOU, Sports, Men's Basketball