2020 Pirate Player Preview: Kevin Willard and Staff
Date: June 29, 2020
By: Liam Plate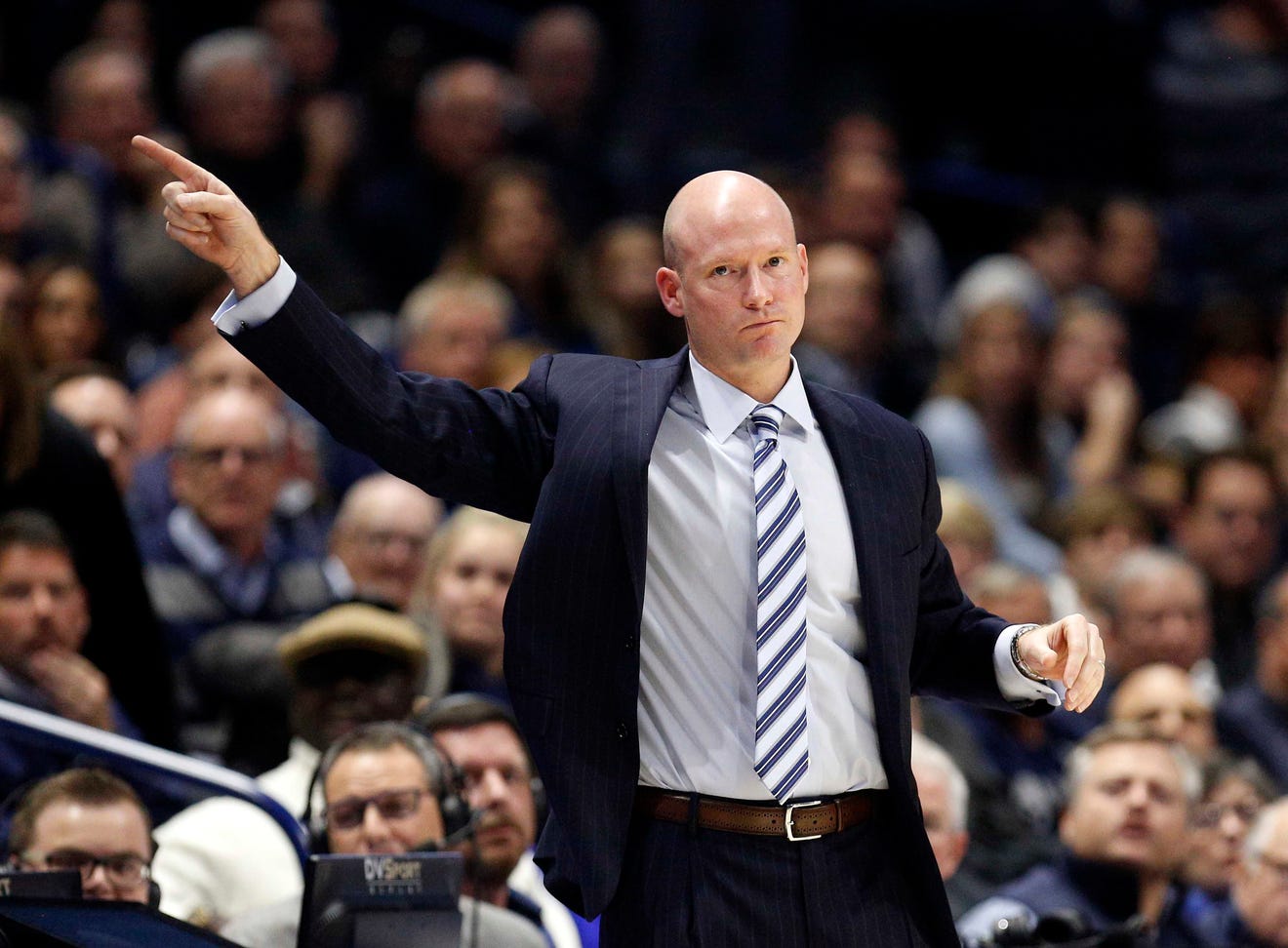 Frank Victores/USA TODAY Sports
These past few weeks we have been releasing articles about all the talented players on the Seton Hall men's basketball roster, but what about the people behind the team?
Head Coach Kevin Willard will be entering his 11th season at the helm for the Pirates and there are big expectations for the Pirates coming up for this season. Before we get in to what to expect from Seton Hall in the 2020-21 season, let's take a look at Willard before this season and before Seton Hall.
Willard started off his college playing career at Western Kentucky in the Sun Belt conference where he played his freshman year before transferring to Pittsburgh to finish off his college playing career. In his three (Willard sat out his sophomore year due to transfer rules) playing years, Willard averaged 3.4 points per game, 2.2 assists per game, 1.0 rebounds per game, and shot 67.2% at the free throw line.
After college, Willard started his coaching career in the NBA as an assistant under Rick Pitino for the Boston Celtics. Willard didn't experience much success with the Celtics as the team failed to make the playoffs each season he was there. In 2001, Willard left Boston as Pitino returned to college basketball to coach the Louisville Cardinals. Willard was an assistant a Louisville until 2007 when he earned his first opportunity to be a head coach at Iona College of the MAAC.
Willard coached the Gaels for three seasons winning 12 games each in the first two seasons and then winning 21 games in his third season. In total, Willard finished with an overall record of 45-49 at Iona and a conference record of 27-27 in the MAAC. In his first two seasons, Willard led the Gaels to two straight seventh place finishes and in his third season, the Gaels finished in third place.
In 2010, Willard moved to a power conference where he began is coaching career at Seton Hall. It didn't take Willard long to find success in the Big East. He led the Pirates to a 21-13 record in 2011-12 and reached the second round of the NIT during Willard's first playoff berth as a head coach. After that season, the Pirate failed to hit the 20-win mark until the 2015-16 season when the Pirates were champions of the Big East.
In 2015-16, Willard needed to prove that he could bring success to the program and that success took time since many people put him on the hot seat at the start of the season, but Willard and his Pirates did not disappoint. Seton Hall had an incredible 25-9 season and upset eventual national champion Villanova in the Big East Tournament championship to punch their ticket to the NCAA Tournament. The Pirates lost in the first round, but it was a breakthrough for Willard and the Hall as it was his first NCAA Tournament appearance as a coach and at Seton Hall.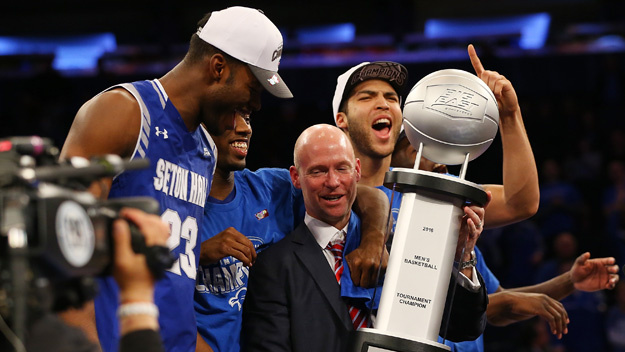 Mike Stobe/Getty Images
After that season, Willard has led the Pirates to three more NCAA Tournament appearances. Seton Hall advanced to the Round of 32 once and the other two times lost in the Round of 64. Unfortunately, the Pirates had what would have been their fifth straight NCAA Tournament appearance stolen from them due to the COVID-19 pandemic forcing the tournament to be cancelled.
Last season was a special one for Willard's Pirates and it was the type of season for Seton Hall basketball that might not be seen for some time, but with starters Myles Powell, Quincy McKnight, and Romaro Gil graduating, Willard will need to put together a new starting five that can bring the same kind of impact as last year's.
The two returning members of the starting five will be Myles Cale and Sandro Mamukelashvili, who will need to be the leaders on the court for the Pirates. Willard will have the new addition of Bryce Aiken as the team's point guard. It is always tough to have a new floor general to start out the season, but Aiken is mature enough to be able to work with Willard to make the transition smooth for the graduate transfer.
Kevin Willard announces Bryce Aiken signing: "We are thrilled to welcome Bryce & his family to the Seton Hall basketball family. Bryce is a gifted scorer & playmaker, he has strong basketball IQ & he is fast. His skill, work ethic & experience will fit in well w/our veteran group

— Jerry Carino (@NJHoopsHaven) April 20, 2020
Then most likely, Ike Obiagu will fill in at the center positions, but then the question remains for the final starter. The Pirates could play Cale at the three spot and then bring in Takal Molson or Shavar Reynold Jr. at the two or they move Cale to the two spot and then bring in Jared Rhoden at the three. There are many different combinations that could play out in the Pirates' starting five, but Willard won't have to make these decisions alone.
What would the coaching staff be without the incredible assistant coaches? Willard's assistant coaches include Tony Skinn, Duane Woodward, and Grant Billmeier. A brief history on the three assistants: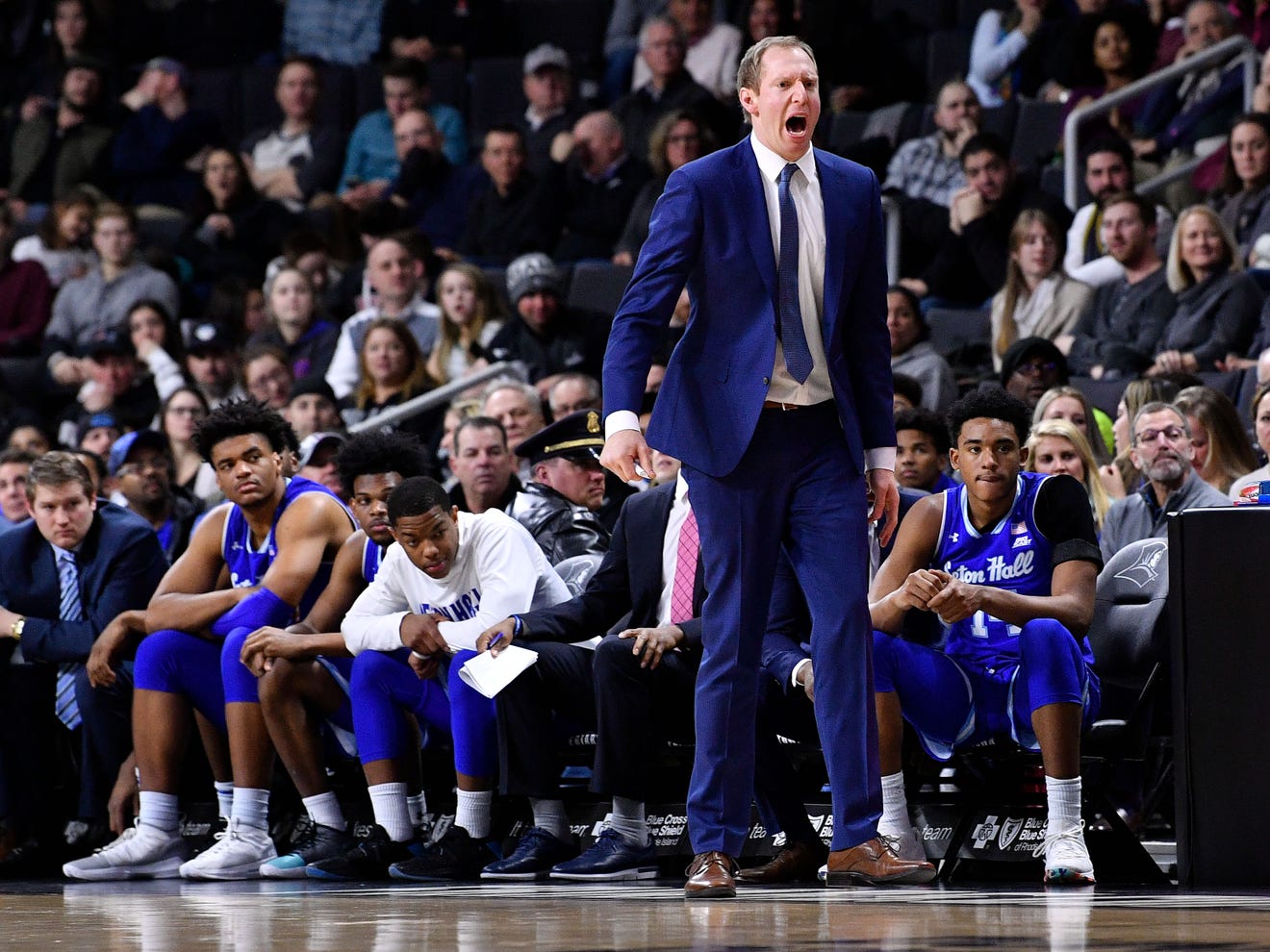 Brian Fluharty/USA TODAY Sports
Skinn joined the staff in April 2018. He was an assistant coach at Louisiana Tech where the team won 63 games in his three years there. Before that he was the director of athletics at Paul International High School in Washington, D.C. and assistant coach NIKE Team Takeover. In his playing career, Skinn was a part of the George Mason team that had an improbable run to the Final Four and played professionally in Europe for many years after leaving George Mason. Skinn mainly works with Seton Hall's guards to develop their skills and translate them to the game.
Woodward was made part of the coaching staff in July 2018 and spends his time developing and improving the skills of the team's wing players. Before the Hall, Woodward spent four years as an assistant at Monmouth, two of which were some of the program's best seasons in its history. In 2015-16 and 2016-17, Monmouth won 27 and 28 games, respectively. Woodward spent his time at Monmouth working with the guards and played a big role in recruiting and scouting. Before Monmouth, he was an assistant coach at SUNY Maritime. In his playing days, Woodward spent four years at Boston College where he won a Big East Championship and spent 13 years playing in Europe.
Billmeier was brought on as an assistant coach in September 2015 but before being an assistant coach at the Hall, he was an assistant at Farleigh Dickinson. Right before breaking into coaching, Billmeier was the Director of Basketball Operations for the 2013-14 season at the Hall and previously served as a Coordinator of Basketball Operations. In his playing days, Willard spent four years at Seton Hall where he helped the Pirates reach the NCAA Tournament twice during his four years in 2004 and 2006. Billmeier also spent time as an assistant coach at his alma mater St. Patrick High School and spent time playing professionally in Germany and Portugal.
I think it's safe to say that a lot people don't expect the Pirates to perform as well as they did last season since last year was an extremely special one for the Hall, but Seton Hall could surprise a lot of people this year.
Villanova and Creighton will most likely be the top dogs in the conference since they are losing the most talent on their team. While Seton Hall has lost a few very talented players, I think it's safe to say that the Pirates have added and developed incredible talent in their players. I expect the Hall to finish in third place in the Big East because I think they have the right tools to take the Big East by storm this year.
Willard and his staff have proven time and time again that they are able to instill a culture of hard work and dedication in their players, which helps them play together as a team to reach their highest potential. Even when the teams gets away from playing that way and plays more selfishly, the coaching staff is able to refocus the group. Willard is known for making "more adjustments than a chiropractor."
Kevin Willard. More adjustments than a chiropractor. #shbb

— Jon Rothstein (@JonRothstein) February 20, 2020
A narrative you hear from some Seton Hall fans every year is that the Pirates need to get rid of Willard, but that should be the attitude among this select group of the Pirate faithful. Willard has 236 career wins (191 of which came from Seton Hall) and 4 straight NCAA Tournament appearances. He's also a 3-time Peter A. Carlesimo Award winner, 2016 Big East Co-Coach of the Year award, 2016 Big East Tournament champion, and 2019-20 Big East Regular Season Co-Champion. Willard has also helped is players achieve great success on and off  the court including 13 All-Big East players and one consensus All-American.
College basketball should expect another exciting year from Willard and his Pirates. There might not be as much hype as last year's team, but the 2020-21 Seton Hall Pirates could make some noise.
Liam Plate is the Web Editor for WSOU Sports and can be reached at wsousportswebeditor@gmail.com.
Posted in: Sports, Men's Basketball, WSOU