2020 NFL Division Preview: AFC West
Date: September 7, 2020
By: Cameron Kharazmi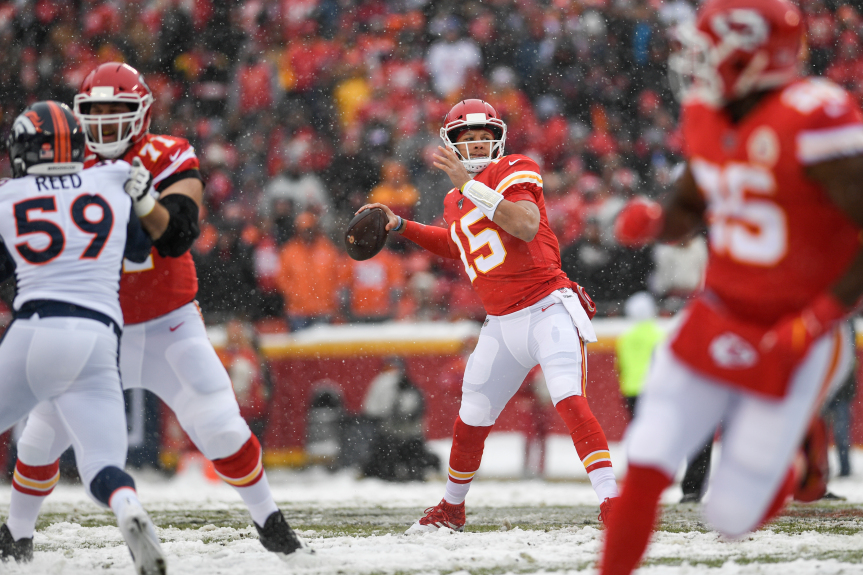 Aaron Ontiveroz/The Denver Post
After a history-making 2019, all eyes are on the Kansas City Chiefs to repeat as Super Bowl champions after a tremendous season. However, lost in the plethora of attention on Patrick Mahomes and the Chiefs is the rest of the AFC West division, which could collectively play their way into relevancy this season. Ahead of what is sure to be one of the most interesting seasons in NFL history, we break down the AFC West, listing them in order of expected standing in the division.
Kansas City Chiefs (Predicted Record 14-2)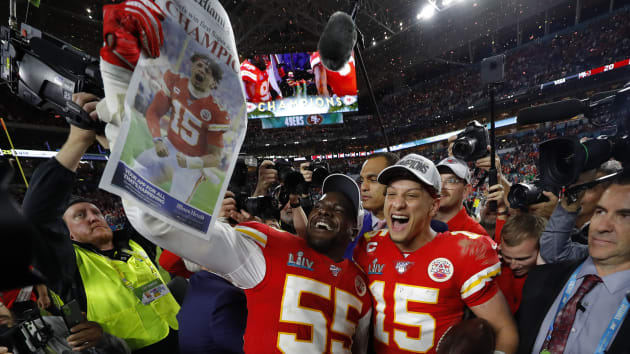 Kevin C. Cox/Getty Images
Barring an abundance of catastrophic injuries, you could safely bet the house that the Chiefs repeat as division champions in 2020. Bringing back 20 of the 22 starters from last year's Super Bowl winning team, Kansas City committed to taking care of its own in the offseason. They started with gifting their 24-year-old QB, Mahomes, a record-setting 10-year $450 million contract to lock him as the leader of their franchise for the foreseeable future.
They also extended Travis Kelce, arguably the best tight end in football, for another five years, and locked star defensive end Chris Jones to a four-year extension worth $86 million. The Chiefs also set out to solve their relatively uncertain backfield by drafting the dynamic LSU running-back Clyde Edwards-Helaire in the first round, who many expect to have a stellar rookie season and take on the chunk of the bell cow duties with Damien Williams opting out of the season. From a statistical perspective, their offense should only improve in 2020. Lost in their magnificent playoff run last year were the injury problems that plagued them early in the season, which included Tyreek Hill being out the first six weeks of the season, as well as Mahomes missing several weeks due to issues related to his ankle and a dislocated right-knee cap. With the added veteran presence of Kelechi Osemele and Mike Remmers to their offensive line, expect a healthy Mahomes and his explosive supporting cast to set more records in 2020.
The defense was re-tooled in 2019 under new defensive coordinator Steve Spagnuolo and gained a new identity with the addition of Pro Bowl safety Tyrann Mathieu. Their defensive line did not fail to impress, as evidenced by their long-term commitment to DT Chris Jones, who in tandem with DE Frank Clark combined for 17 sacks and 34 pressures. While their secondary will be rather questionable with the loss of CB Kendall Fuller and the suspension of Brashaud Breeland for four games, expect their safety tandem of Mathieu and Juan Thornhill to help cover some of their weaknesses.
The stage has never been brighter for the Kansas City Chiefs to become the first team to repeat as Super Bowl champions since 2004. With experience under their belt and confidence in their roster, expect the Chiefs to roll through their regular season schedule, win the AFC West, and set their sights on the Lombardi trophy in 2020.
Denver Broncos (Predicted Record 9-7)
Dustin Bradford/Getty Images
Outside of the Chiefs, the Broncos were the hottest team at the end of the 2019, winning four of their last five games to close out their season. Given that the Broncos hold the longest playoff drought of any team in the AFC West (2016), expect Denver to be competitive and hungry for a spot alongside the league's elite. After the flurry of quarterback problems that plagued the Broncos in the post-Peyton Manning era, it seems as though the Broncos have found their guy in second-year starter Drew Lock.
Seemingly impressed with the Mizzou product after he led the Broncos to a fantastic late-season finish, GM John Elway sought to support the quarterback through the draft, taking receivers Jerry Jeudy and KJ Hamler in the first and second round, respectively. Those receivers will join other talented pass-catchers such as Pro Bowl wideout Courtland Sutton and breakout tight-end Noah Fant, who had a stellar season as a rookie in 2019. Add a backfield that just made a splash with the signing of a former AFC West rival in Melvin Gordon and retained Pro Bowl RB Phillip Lindsay, and you have an offense with high potential for success and one that would be sure to exceed the Broncos measly 2019 offensive stats, which included being ranked 28th in points (17.6), 28th in passing (194.7 yards-per-game), and 20th in rushing (103.9).
Of course, the Broncos are not simply betting on talent alone, as they hired former Giants head coach Pat Shurmur as their offensive coordinator, seemingly to spice up the offense with creativity and a West- Coast coaching style.
However, the Broncos bread-and-butter has always been their defense. Such is exemplified through the hiring of defensive "genius" Vic Fangio as head coach prior to the 2019 season. While they lost some key players such as CB Chris Harris Jr. and DE Derrick Wolfe, they retain the crux of the defense that ranked 10th best in points-per-game at 19.8. This includes the linebacker core of Todd Davis, Alexander Johnson, and former-Super Bowl MVP and perennial All-Pro Von Miller, in addition to a stellar secondary that includes All-Pro FS Justin Simmons and SS Kareem Jackson. A big part of this defense that remains an unknown is the production of OLB Bradley Chubb, the fifth overall pick in 2018, who returns from an ACL surgery this year. If Chubb plays anywhere near where Denver expects him to, you can safely count on Denver being a top-five overall defense in the NFL.
With an offseason that saw Denver get great value on former All-Pro players such as DT Jurrell Casey (acquired in exchange for a seventh-round pick) and CB AJ Bouye (acquired in exchange for a fourth-round pick), expect this defense to be the driving factor in many of Denver's wins this season.
The Denver Broncos have proven themselves to be a world-class organization with a winning culture. As such, there will be immense pressure on this team to perform well and break their rather unusual playoff drought. Given the circumstances, you can expect Denver to live up to those expectations and offer some challenge to Kansas City's domination of the division.
Los Angeles Chargers (Predicted Record 8-8)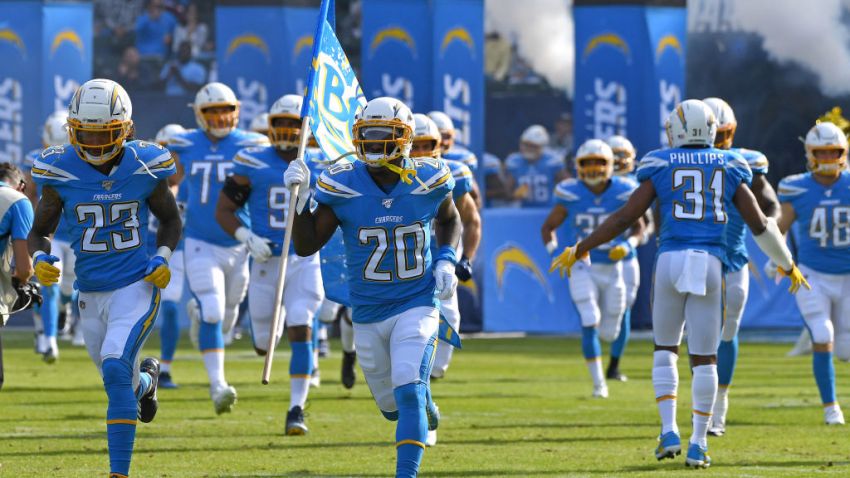 Getty Images
After a down season, the Chargers remain a very talented team on paper. However, there are a number of questions related to their personnel and most importantly, their quarterback, that will follow them throughout the 2020 season. In one of the more notable transactions of the offseason, the Chargers saw their former franchise QB, Philip Rivers, sign with the Indianapolis Colts, a move expected by many as the Chargers sought fresh blood for their offense. They responded by signing Tyrod Taylor, a quarterback familiar with head coach Anthony Lynn after playing under his offense in Buffalo, in addition to taking former Oregon QB Justin Herbert with the sixth overall pick in this year's draft. But make no mistake, this is a team that will rely upon its ground-game to score points in 2020.
The Chargers let former Pro Bowl running back Melvin Gordon walk in the offseason after a tumultuous negotiation process over the course of 2019, committing their money to extending RB Austin Ekeler, a dynamic player who has proven to be uber effective as a satellite back who is adept as a receiver and primary ball-carrier. They also drafted a solid prospect in UCLA running back Joshua Kelly in the fourth round, who will serve as a terrific goal-line and early down back in competition with Justin Jackson.
Anthony Lynn has been known to use a run-heavy offense and starting Taylor will only divert further from the passing game. As such, you can bet on their talented receiving core, which includes Pro Bowl WR Keenan Allen, to take a statistical hit this year. From a statistical perspective, this will likely be a middle of the pack offense, with the variable being the Chargers ability to develop Herbert into a standout offensive player. Like the Broncos, the Chargers will likely earn their wins with their defense. While the loss of safety Derwin James for the season (torn meniscus) is sure to hurt them, the Chargers secondary will likely be held afloat by the signing of former AFC West rival CB Chris Harris Jr. To fill James' role, expect the Chargers to go all in on the development of their 2019 second-round pick Nasir Adderly, a talented safety who missed most of his rookie season due to injury.
The strongest part of their defense will be their pass rush, spearheaded by Pro Bowl defensive ends Melvin Ingram and Joey Bosa, the latter of whom just signed a huge five-year, $135 million extension that would make him the highest paid defensive lineman in the NFL. Add in the signing of defensive tackle Linval Joseph, and you have a defensive line that is sure to wreak havoc against opposing offenses.
This season will be quite the test for Anthony Lynn and the Chargers coaching staff. While Taylor is a fine quarterback, it's hard to see him leading the Chargers to wins against the league's best. As such, the onus will be on the coaching staff to turn their prized pick, Herbert, into a developed quarterback with the capability to help keep the offense competitive with rivals such as the Chiefs. If not, it's hard to see the Chargers contending for a playoff spot and being a relevant team in 2020.
Las Vegas Raiders (Predicted Record: 6-10)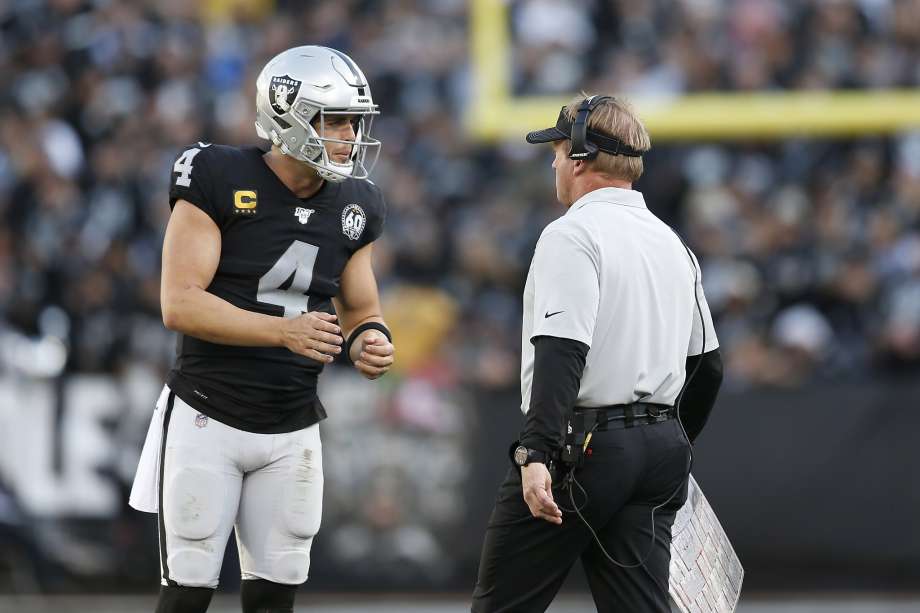 D. Ross Cameron/Associated Press
As the Raiders begin their first campaign in Las Vegas, expectations will be high on Jon Gruden and Co. to churn out a playoff appearance and be a competitive team. After a re-tooling of the roster with the arrival of Jon Gruden in 2018, Raiders fans expected big things from a team that seemed destined for a Super Bowl appearance in its future. The years since have seen quite the opposite, but the Raiders maintain confidence in the progress they have made with their roster. Revelations were made in their roster last year with the production of rookie RB Josh Jacobs (1,316 yards from scrimmage) and third-year tight end Darren Waller (90 catches for 1,145 yards), after a relatively up season from Derek Carr (career best passer rating of 100.8).
In the offseason, GM Mike Mayock set out to add explosiveness to a relatively conservative offense, drafting speedy receivers such as Lynn Bowden Jr. and Henry Ruggs III, in addition to a big target guy in South Carolina wideout Bryan Edwards. Of those three, expect Ruggs to have the biggest impact, as many in the coaching staff expect Ruggs to fill the offensive role they thought Antonio Brown would fill in 2019, drawing comparisons to Tyreek Hill. With an already strong offensive line, the Raiders look like a great offensive team on paper.
However, their season will come down to the play of Carr. In his seventh year and in the midst of a five-year $125 contract that ends in 2022, expectations will be high on Carr to be more than a game manager and move the chains guy. To compete with the big guns such as Kansas City, Carr will need to take more risks as a passer and be willing to throw the ball deep downfield. If the Raiders want to be competitive in this division, Carr needs to be nothing less than the second-best quarterback in the AFC West.
The Raiders faced many problems with their defense in 2019 and sought to fix that in this past offseason. They tried to shore up linebacker issues with the signing of former Pro Bowl inside linebacker Cory Littleton, in addition to former Bears linebacker Nick Kwiatkoski. This will be a very young defense, as the Raiders will be expecting big production from their 2019 picks such as DEs Clellin Farrel (first round, fourth overall) and Max Crosby (fourth round). The return of another 2019 first rounder in heavy hitter safety Jonathan Abrams is sure to help what was a depleted secondary. The coaching staff also projects big production from 2020 first round pick corner Damon Arnette, who has impressed in training camp. With a young and rejuvenated defense, the Raiders expect a turnaround in 2020, and hope to do damage against the stronger offenses in the AFC West such as Kansas City or Denver.
It may seem odd for the Raiders to be projected this low given the talent and the roster overhaul they experienced in 2020. The Raiders remain the biggest wild card in the AFC West, as they have the talent to keep up with teams such as Kansas City, but have not shown much in recent years. As previously mentioned, this season will come down to the play of Carr. Will he rise to the occasion and win games for this offense, or will he regress as a player as the pressure mounts?
Given the circumstances, I believe he will not do enough for this team to be competitive and expect that the Raiders look for an answer at the position in the 2021 draft. Don't count out the Raiders but keep expectations calm given the unknowns related to this team. If one thing is for certain, the AFC West will not be a pushover division in 2020. While Kansas City will garner most of the attention this year (and for good reason), expect the rest of the division to remain competitive. With an expanded playoff (seven teams-per-conference) making its debut this season, having three playoff teams from this division is not out of the question.
Cameron Kharazmi can be reached at cameron.kharazmi@student.shu.edu.