2020 NFL Division Preview: AFC South
Date: September 6, 2020
By: Haley Zemek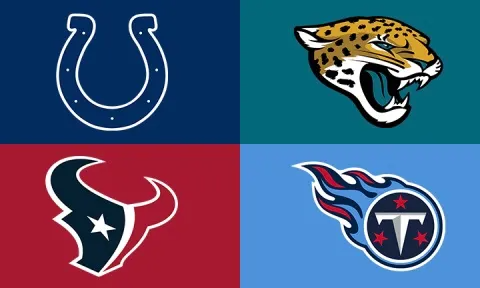 SkyBook
Both overlooked and underrated, the AFC South which is usually seen as the joke of the NFL, was one of the most competitive divisions in 2019 and should be expected to perform just as well for the 2020 season.
The Indianapolis Colts are projected to be the team to beat especially since plenty of changes have been made to their roster during the offseason and they have one of the best head coaches in the league. The Houston Texans are fresh off a second consecutive division championship win and hope to succeed despite some offseason struggle with the departure of WR DeAndre Hopkins. The Tennessee Titans also made an appearance in the AFC Championship and are looking forward to building on that playoff success. Lastly, the Jacksonville Jaguars are very much in transition after losing both Nick Foles (QB) and Leonard Fournette (RB), while trying to improve and see some new up-and-coming talent within their new starting QB Gardner Minshew.
Indianapolis Colts
Bleacher Report
After the sudden retirement of Andrew Luck that occurred before the 2019 season, the Indianapolis Colts were badly affected, but remained confident in their ability to compete for the title. After a 7-9 record for the regular season and finishing third in the AFC South, they failed to make the playoffs behind division rivals Houston and Tennessee. This year, while the team has definitely improved, they have a tough 2020 schedule ahead of them and will most likely clash with the reigning Houston Texans for the top of the division.
As for their roster, they found solace in the veteran duo of QB Philip Rivers and WR T.Y. Hilton and that of a top-five ranked offensive line and a high-level defense led by newcomer defensive tackle, DeForest Buckner. The Colts have also bulked up offensively with rookies, WR Michael Pittman Jr. and RB Jonathan Taylor alongside young RB Marlon Mack and WR Parris Campbell.
Head coach, Frank Reich, stated to Inside Training Camp Live, "It's been a long time coming, we're ready to go and looking forward to playing some good division opponents."
It may be too early to consider Super Bowl contenders but I believe the Colts could bring surprises to the NFL that other franchises cannot; every other team in the AFC South has lost key players and didn't think to make any significant offseason upgrades to their rosters like the Indianapolis Colts did.
Key Arrivals: Philip Rivers (QB), Trey Burton (TE), DeForest Buckner (DT), Sheldon Day (DT), Xavier Rhodes (CB), T.J. Carrie (CB)
Key Departures: Brian Hoyer (QB), Jonathan Williams (RB), Devin Funchess (WR), Eric Ebron (TE), Joe Haeg (OT/G), Pierre Desir (CB), Adam Vinatieri (K)
2020 Prediction: 10-6
Tennessee Titans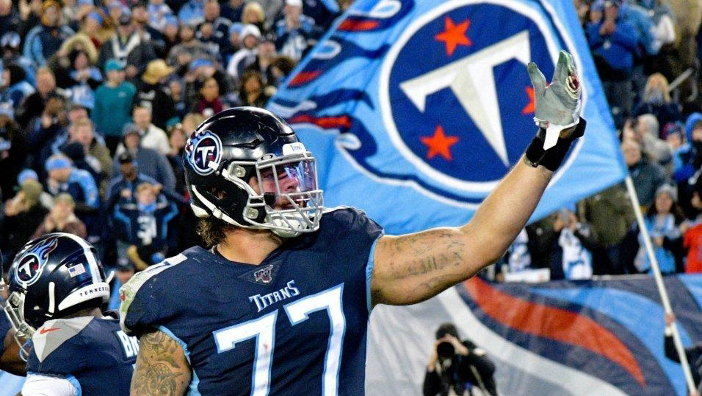 PFF.com
After an incredible 2019 season and almost playing in Super Bowl LIV, the Tennessee Titans are ready for yet another spectacular year. General Manager Jon Robinson made the decision to keep QB Ryan Tannehill and RB Derrick Henry at the forefront of their roster, which is a smart move on his behalf. The Titans previous success was all in contribution to these two leading men but don't underestimate the rest of the team; a lot of changes have been made but every traded player has someone taking his place.
While DT Jurrell Casey was traded to the Denver Broncos, former Atlanta Falcon DE/OLB Vic Beasley was picked up. TE Delanie Walker and OT Jack Conklin are now both free agents but their positions have been filled by TE Jonnu Smith, who is ready to step into the starting spot, and former Georgia OT Isaiah Wilson. CB Logan Ryan has been traded to the New York Giants, but the Titans picked up LSU's CB Kristian Fulton. All this offseason player movement leaves a lot of room for questionable offensive and defensive decisions and how the team will truly run.
Like the Colts, the Titans also have a daunting beginning to their scheduled season, with games against the Pittsburgh Steelers, the Buffalo Bills, and the Houston Texans. If the Titans are able to have a repeat season like last year, they most definitely will be in the thick of success within the AFC divisional and playoff ranks.
Key Arrivals: Ty Sambrailo (OT), Jack Crawford (DE), Vic Beasley (DE/OLB), Nick Dzubnar (LB), Johnathan Joseph (CB)
Key Departures: Marcus Mariota (QB), Dion Lewis (RB), Delanie Walker (TE), Jack Conklin (OT), Jurrell Casey (DT), Cameron Wake (DE/OLB), Wesley Woodyard (LB), Logan Ryan (CB), Ryan Succop (K)
2020 Prediction: 9-7
Houston Texans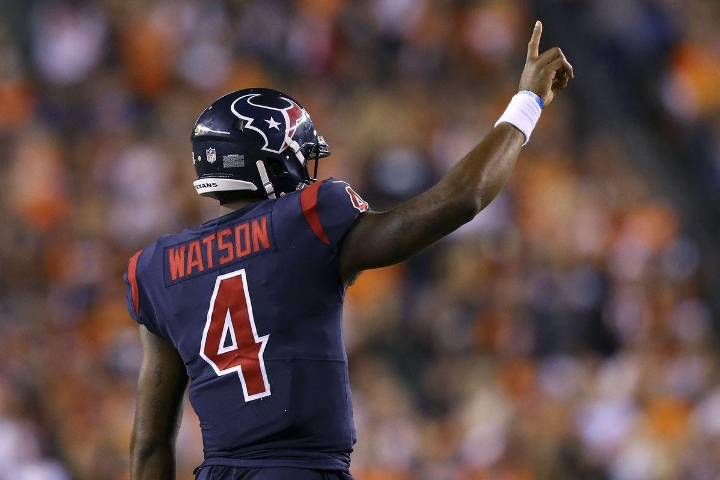 SBNation.com
After winning the last four out of five divisional crowns, the Houston Texans have been labeled the AFC South team to watch. Although this year, their season may be defined in the early stages with games against the defending Super Bowl champion, Kansas City Chiefs, the Baltimore Ravens, and the Pittsburgh Steelers all within the first three weeks. Another tough break for the Texans was the decision to trade WR Hopkins to the Arizona Cardinals for RB David Johnson.
While this choice does diminish the offense's confidence, the team hopes to find success in newcomer, veteran WRs Brandin Cooks and Randall Cobb. As for the rest of the offense, QB Deshaun Watson is one of the best quarterbacks in the league and recently agreed to a 4-year, $160M contract extension which means he won't be going anywhere any time soon. The offensive line also has five returning starters in LT Laremy Tunsil, LG Max Scharping, C Nick Martin, C Zach Fulton, and RT Tytus Howard. The Texans' defense may struggle this year with J.J. Watt's previous injury and a rookie defensive coordinator in Anthony Weaver.
As Head Coach, Bill O' Brien stated in the Sept. 3 press conference, "It's hard, we have a long way to go. We know we are playing great opponents and we feel like we are pretty good. We know it's going to be a team effort."
Hopefully the team will be able to pull it together this season on both the offensive and defensive fronts and bring another division win home to Houston.
Key Arrivals: David Johnson (RB), Brandin Cooks (WR), Randall Cobb (WR), Brent Qvale (OT), Jaylen Watkins (S), Eric Murray (S)
Key Departures: Carlos Hyde (RB), Lamar Miller (RB), DeAndre Hopkins (WR), D.J. Reader (NT), Jaleel Addae (S)
2020 Prediction: 8-8
Jacksonville Jaguars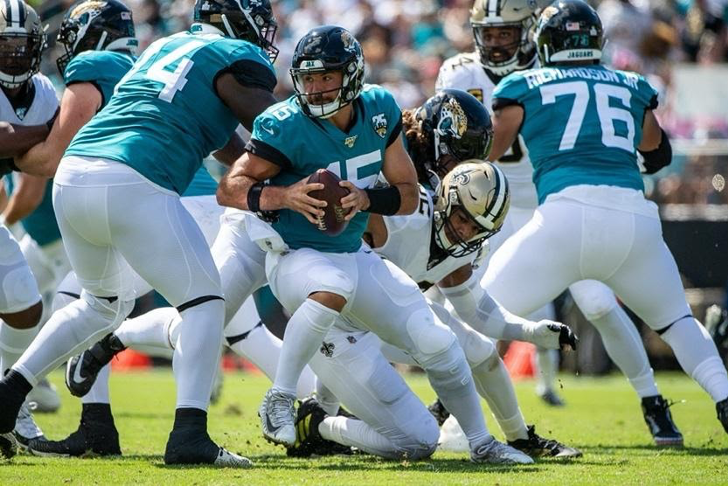 Insider Sport
The Jacksonville Jaguars, a team that hopes and prays for miracles, whether it be of a playoff push or a possible AFC South win, they normally struggle to succeed. As seen in their 2019 campaign, week one started off with QB Foles breaking his left clavicle and leaving the Jaguars out of most playoff conversations with a 6-10 record. Luckily, second string rookie QB Minshew stepped up and took control and did the best he could to lead this team. The Jaguars are obviously rebuilding, they have been for years but when does it hit the point where the right steps are being taken to achieve success?
In the offseason, the squad has certainly been stripped down after losing Foles, DE Yannick Ngakoue, S Ronnie Harrison, and RB Fournette, but since this occurred plenty of rookies and other players will be getting more playing opportunities. Earlier this year, General Manager Dave Caldwell and Head Coach Doug Marrone redesigned the operations of communication between coaching and scouting so everyone will now be on the same page with how they want the team to run.
As for the Jaguars schedule, they have it much easier than their divisional opponents since out of their first six games they face the Miami Dolphins, the Cincinnati Bengals, and the Detroit Lions which are all possible wins. Maybe this year will be the time for Jacksonville to truly succeed and get higher in the AFC South than their usual fourth place.
Key Arrivals: Mike Glennon (QB), Chris Thompson (RB), Tyler Eifert (TE), Cassius Marsh (DE), Aaron Lynch (DE), Al Woods (DT), Joe Schobert (LB), Rashaan Melvin (CB)
Key Departures: Nick Foles (QB), Marqise Lee (WR), Cedric Ogbuehi (OT), Calais Campbell (DT), Akeem Spence (DT), A.J. Bouye (CB), Leonard Fournette (RB)
2020 Prediction: 5-11
Haley Zemek can be reached at haley.zemek@student.shu.edu.